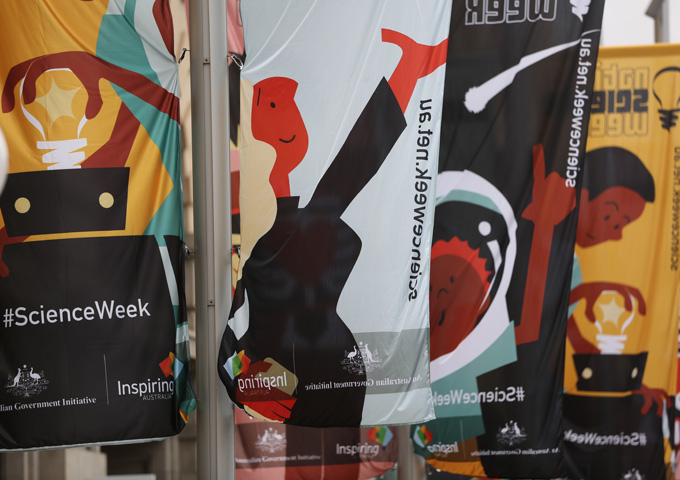 Hi, my name's Steve and I'm a scientist! Most kids call me Science Steve...
That's how I start my science lessons these days. Things are a bit different now to how I taught in the past. Let me give you some background of where I've come from. I've always been keen on science, always wondered how stuff works and why things happen.
When I left school I went to university and did an Applied Science degree. At the time of graduation there weren't a heap of jobs around for Environmental Scientists, so after a few years of part-time and casual work I decided to become a science teacher. This was the start of something special, a career path I can't recommend highly enough.
Working with children is always challenging, and the newspapers regularly remind us of this. The impact that a passionate teacher can have on the lives of Australia's youth however can't be underestimated. Teachers have the opportunity to spark an interest in the sciences, technology, engineering & maths, and provide a base for Australia to grow into the educated and well-informed nation that we all want it to be.
After 7 years of classroom teaching, including numerous heart dissections, regular sodium + water demonstrations and more excited students than I knew what to do with, I decided it was time to try something new, something different.
With the assistance of an Inspiring Australia 'Unlocking Australia's Potential' Federal Government grant I set up a business to take engaging science workshops around Queensland. This has evolved to now include a variety of explosive stage shows where I, along with my team of educators, use visual demonstrations to teach kids about science.  Exploding balloons, interesting sounds, a bit of magic and bubbling potions…. we use all the good stuff that the kids want to see.
Street Science has fast become one of Queensland's premier science productions and now regularly tours primary schools throughout South East Queensland.
We have recently expanded to run science-themed birthday parties for kids aged 6 – 12yrs. Parents have loved the refreshing change from Tarzan or Fairy parties, and are amazed at how excited their kids get when you present them with quality hands-on science activities. I've found that people of all ages are intrigued by science and if we keep reminding our kids that science impacts them on a daily basis, I honestly feel that these children will continue to question and therefore better understand the world in which they live.
If you're living in South East Queensland (or anywhere on the east coast of Australia) and would like the 'Street Science' team to visit your school or community event, or even liven up your next kids' birthday party, drop us a line at info@streetscience.com.au or call on 0410 550 481.
Guest post by Steve Liddell, Street Science.