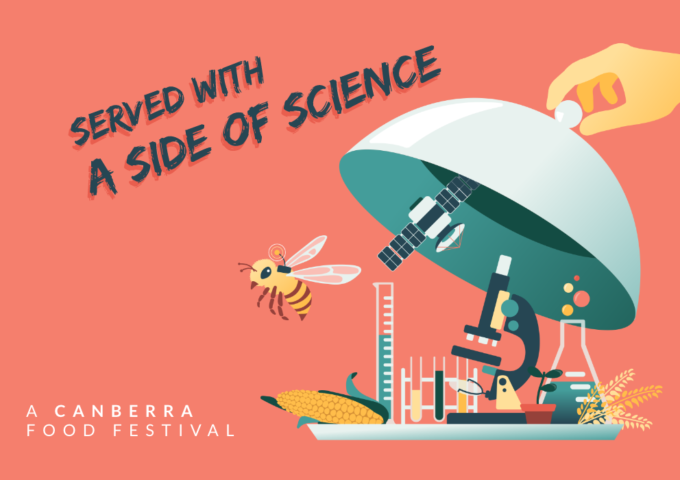 Update: with the announcement of a 7 day lockdown for the ACT from 5pm 12 August the festival will be postponed, until at least 4-5 September.
Served With a Side of Science: A Canberra Food Festival is a weekend-long, city-wide event celebrating all things science and food as part of National Science Week. No matter your interests or where you live in the ACT, we've got a buffet of events and activities on 14-15 August.
Whether it's a tour of an urban farm, workshops on Indigenous plant use or seed growing, talks about beekeeping, demonstrations on how to reduce food waste, or riveting panel discussions and film screenings, we've got you covered! Served With a Side of Science is sure to have something for everyone with both online and in-person events from Tuggeranong through to Gungahlin, so get those brains and taste buds ready!
Friday 13 August
We will launch Served With a Side of Science with a special webinar presented in partnership with the Royal Society of Victoria. Join us online for Indigenous Food and Agriculture from 6:30-7:45pm.
Please check back as we update the list
Saturday 14 August
Sunday 15 August
The Canberra Youth Science & Entrepreneurship Festival – 9:00am-3:00pm
Native Plan Use stall – TBA
Fuzzy Logic Science Show – 11:00am-12:00pm
Mt Majura On Country Tour – 1:00-3:00pm
Growing a Seed Workshop – 2:00-3:00pm & 3:00-4:00pm
Sustainability and Composting at Home and in the Workplace – 3:00-4:00pm
The Wholesome Show LIVE – 4:00-6:00pm
Future Food Perspectives: Food Security, Nutrition, and Culture – 6:30-7:30pm
The Role of AgTech in Reducing Food Waste – TBA