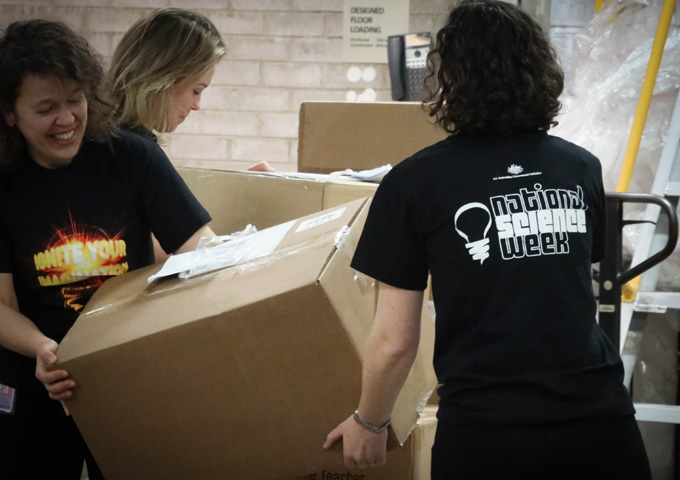 Each State and Territory has a National Science Week Coordinating Committee, made up of enthusiastic and energetic volunteers. They come from diverse backgrounds and day jobs, including members of the science, education, industry, art and community sectors.
The committees organise events, coordinate guest speakers and drive all state-based promotional strategies ensuring science receives maximum exposure through the events and activities that are delivered to communities across Australia during National Science Week.
They provide support and advice to local event holders and in some jurisdictions administer local grant rounds to stimulate public activity around their community. Each year, every committee comes up with creative ways to encourage interest and activity in all things science.
Our coordinating committees are the backbone of the festival and without them, National Science Week would not function. Some of the events the committees have organised include state and territory based launches:
the ACT launched National Science Week with the Future Earth Festival, held at the National Film and Sound Archives. The festival included robot coding, virtual reality goggles, 3D printed fashion and eating crickets, the food of the future.  ABC's Nate Byrne kicked of the ACT's event, and the ACT Scientist of the Year, Dr Kai Xun Chan, shared stories about how he became interested in science.
in the NT, the launch included an act by Brown's Mart Theatre Circus who were commissioned to produce a Future Earth piece which was performed at the launch of the Darwin Festival.
South Australia kicked off the festival with South Australia's Excellence Awards and Unsung Heroes. Science Communicators are celebrated at these awards and this is a highlight of National Science Week in South Australia.
Tasmania launched the Festival of Bright Ideas (FoBI) at Princess Wharf Hobart. FoBI is a festival with a difference. Created for the community, FoBI is an inclusive celebration of the Tasmanian science sector showcasing engaging hands-on activities, displays, workshops, performances, lectures and tours.
in Western Australia the launch explored music and our brains which included watching a participant's brainwaves while listening to a recital from the Perth Symphony Orchestra Quartet. The evening of science celebration was held on Thursday 10 August at the Harry Perkins Institute of Medical Research.
The state and territory launches are just a sample of the effort from all the committees in making sure National Science Week is a huge success. Visit the event listing on the National Science Week website to find out what's happening near you.
National Science Week is now underway across Australia. Get involved and enjoy the festivities!