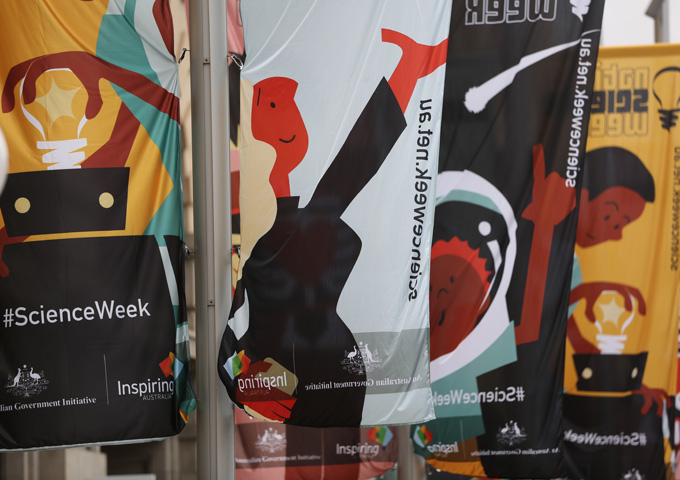 We're partnering with Australian Poetry to present the inaugural Australian Poetry Science Poetry Prize.
Submissions for the prize opened this morning and will be open until Friday 23 August 2013.
The winner will receive an invitation to attend the gala Prime Minister's Prizes for Science in the Great Hall of Parliament House in Canberra, as well as flights and $1000. The winning poem will feature on the place setting menus at the awards dinner.
To celebrate the Prize we'll be publishing a science poem of the day all through National Science Week. The poems are from the Science Made Marvellous series of poetry books published in National Science Week in 2010 by The Poets Union.
The three books are:
Today's poem is from Holding Patterns: physics & engineering poems.

Fiona McIlroy
The smallest articles of faith
Once they were grains of sand
then particles or atoms
flowing on to wave theory
segue to the more recent
string theory
how our view of life
has matured
from narcissism
solipsism existentialism
individualism
to pragmatism
tribalism
fanaticism
patriotism (viz the Mexican wave)
where we are all indebted
and bonded by systems
of prohibition and moiety
followed by a more
playful interactive
view of the ties that bind
where loops intertwine
truth metamorphoses
into two of a kind
now we practice random
acts of kindness
between stockmarket
rises and falls
everything is knitted
into a universal blanket
in an act of creation
only gaia can second guess
finding the end of the ball
of wool becomes our best bet
short of cutting the Gordian knot
A joint project by Inspiring Australia and Australian Poetry. Image by Darwin Bell (CC BY-NC-2.0).