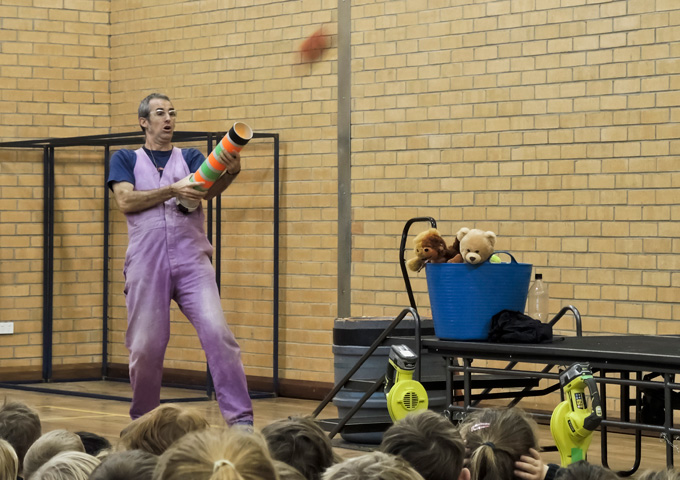 Science Week with Dr Graham Walker
Dr Graham Walker held 3 amazing workshops on Wednesday 9 August at Cooma Public and Jindabyne Central Schools to over 1200 people, including the surrounding smaller regional local schools, the general public and home schooled families.
Explosions, fire, spooky fog and flying teddy bears all showcased how science, chemistry and physics work in our everyday lives. The halls were packed with excited children who were delighted and amazed at every experiment, and most were eager to put their hands up to be part of the action when invited. The highlight was Dr Graham's latest invention  – the Snowboard Hoverboard – which was a huge hit. Even more so for those who were lucky enough to be picked to demonstrate how it works!
What a fabulous educational and entertaining show Dr Graham puts on and such a great opportunity for the Snowy Monaro Region to join in the amazement of Science Week.
But it doesn't end there – 2 more shows will be held on Wednesday 16th August at Bombala Public School at 10am and Berridale Public School at 1.45pm. If you would like to attend please phone Snowy Monaro Regional Library on 6455 1730 to book.
Science Week at Cooma Library
What great fun we had during the Brain Break Morning Tea last Saturday 12 August. Mums, Dads & lots of kids turned up to make ice cream in a bag and have some outdoor fun using water pistols filled with paint to make some creative artwork!
But the biggest challenge was the brain teasers! After a little warmup everyone learnt pretty quickly to think outside the square and picked up chocolates for their correct responses. It was all topped off with a fabulous morning tea, a fascinating display of STEM books, copies of lots of puzzles to take home and of course, more brain teaser questions to try out on other unsuspecting friends and family!
One final event for this week includes a film showing of the movie 'October Sky' based on the true story of Homer Hickam, who as a teenager built a rocket and then went on to work for NASA as an engineer. A fabulous family film that must be enjoyed with some hot popcorn at Cooma Library on Saturday 19th August at 11am! Everybody welcome.
This guest post was written by Pam Veiss from the Snowy Monaro Regional Library. Would you like to write a guest post for National Science Week? Please contact us at Inspiring.Australia@industry.gov.au