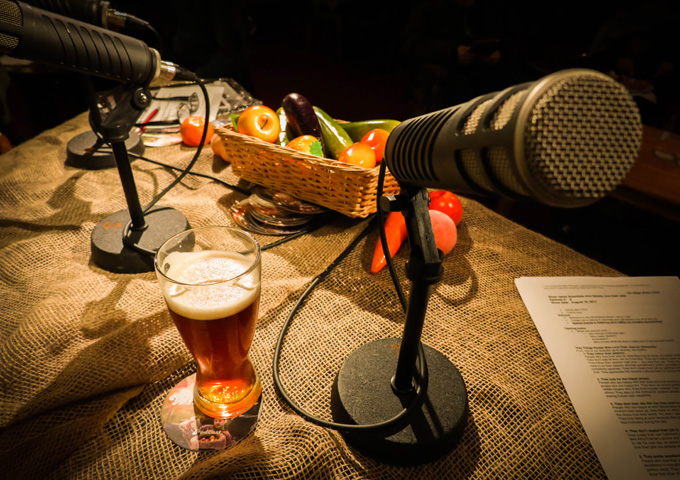 Science in the pub events are a definite favourite during National Science Week, with many venues getting involved by hosting trivia nights, science talks, and science-of-insert beverage here events happening across Australia.
Last night, the Wholesome Show did a special National Science Week event titled 'Scientists who bloody love their jobs'. The guest speakers spoke of their passion and general career happiness in research, while hosts, Dr Will Grant and Dr Rod Lambert, comedically compared their happiness to a very scientific Huffington Post article.
The night kicked off with Dr Niru Mahendran who spoke of how she fell into research and her work now as a "real doctor" in clinical neuroscience research. The audience then heard from Prof. Susanne Scott about gravitational waves that have recently allowed astronomers to observe black holes or potentially even 1 cm tall "mountains" on the side of white dwarf stars. Fortunately, we were assured that while these gravitational waves are all around us, they are so small that they won't knock over your beer.
Dr Erin Walsh described her personal quest for answers – and how it didn't really matter for her career happiness what the question was (although it does help that she is currently working on the important problem of brain aging). The night concluded with Dr Brad Tucker talking of his plans for a meteor mining mission, while trying to convince us that he wasn't Dr Evil ("You're not truly evil if you've consulted all stakeholders!").
The podcast is available online and via iTunes.
A slightly different take to the science in the pub theme is the BeakerStreet@TMAG approach who will host Australia's first pop-up science bar this weekend, featuring hands-on workshops, SCINEMA short films and live music.
But what is a science bar? BeakerStreet say it's an experimental, experiential event where you will be able to witness live anatomical body painting, enjoy local live music, chat to some excellent experts, and see the finalist images from their science photography competition.
Guest speakers included senior curators from the Tasmanian Museum and Art Gallery (TMAG); Prof Rob Brooks of UNSW, author of Sex, Genes and Rock 'n' Roll; Costa Georgiadis, host of the ABC's Gardening Australia; and members of the Tasmanian digital media studio involved in the filming of Attenborough nature documentaries.
Find out more on the events calendar or by checking out beakerstreet.com.au
There are plenty of events left in the National Science Week calendar – make sure you don't miss out on a pint of science at your local. Cheers!