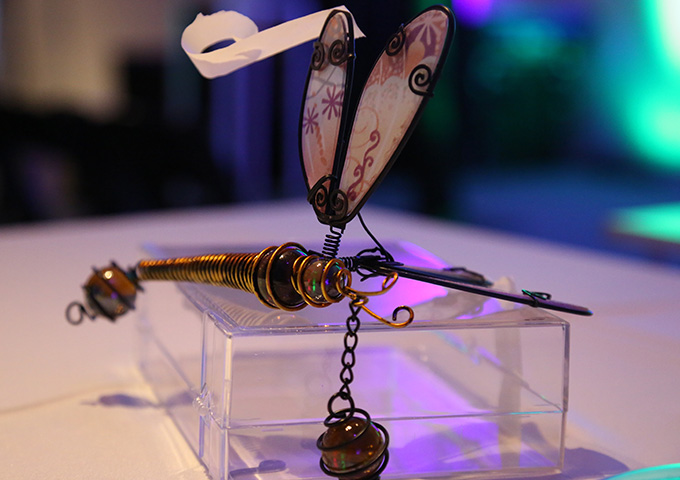 On Argyle Street in Hobart there is a large art piece, spray painted using stencils. It features Tasmania's only Nobel Prize winner, Professor Emerita Elizabeth Blackburn, and images inspired by Tasmanian scientific research. The artwork was painted as part of the Science Street Party held on Saturday 3 August 2019 and it can also be seen on the Tasmanian National Science Week program of events and poster. This is part of a new initiative to bring science and art together each August., and give local artists the opportunity to have their work represent a major festival.
The Chair of the Tasmanian National Science Week Coordinating Committee, Andy Baird, sees huge potential in merging arts and science. Baird also serves as the Tasmanian Museum and Art Gallery's (TMAG) Deputy Director of Engagement.
"Science and the Arts have much to contribute to each other, and both serve to enrich our understanding of the world. A sample of TMAG's events during National Science Week exemplify this cross over. Our Into the Vaults tours of the Herbarium look both at real pressed plant specimen and the beauty of carefully rendered, detailed scientific drawings capturing critical taxonomic details. BakerStreet@TMAG (16-17 Aug) – a pop-up science bar with talks, performances and workshops amongst the splendour of the museum and art gallery– is like a living artwork, full of visual delight and careful observation. The entire National Science Week program has the arts woven throughout it."
Fine Art
NEON by Drill Youth Dance Company presents performances inspired by local scientific research (14-17 Aug); Matter with Sean O'Connell is currently showing at the Moonah Arts Centre and the artist will speak about the science behind the work. (17 Aug)
Film Screenings
Southern Tasmania features Dream Big: Engineering Our World brought to you by Engineers Australia (15 Aug); Watch a movie as you pedal for power to run the projector at Pedal Powered Cinema (17 Aug).
Dark, Creepy, Cool featuring Neil Gaiman will be screening at the Marakoopa Cafe in Mayberry (10-18 Aug); MakerX Burnie presents Inventing Tomorrow and SCINEMA (18 Aug).
And for those more into nightlife, Comedy will stand-up for science with two Melbourne International Comedy Festival favourites headlining shows in New Town (14 Aug) and Franklin (15 Aug); Science meets improv in the pub with SciPubImpro (14&15 Aug). Launceston hosts the Bright Ideas Pitch Night (16 Aug) for the start-up crowd; BeakerStreet@TMAG (16-17 Aug) returns with a cabinet of curiosities and oddities at the annual pop-up bar. A quiz night will engage the trivia inclined in Hobart (13 Aug). Science hits the pub for the first time in Zeehan (29 Aug).
Past events
On Bruny Island, visitors learned about a vintage scientific photography technique in Blueprints of Nature (10 Aug); The Hadley's Art Prize held Painting a Changing World (11 Aug).
Taken from a media release: Mon 12 August 2019.