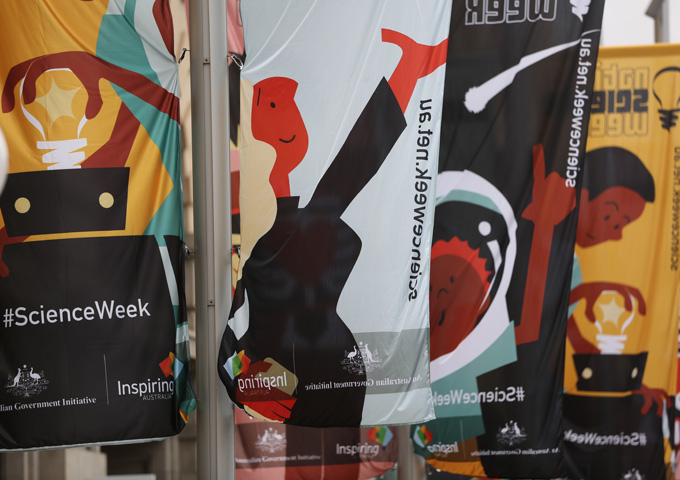 Clover Hill State School, Queensland Academy for Health Sciences, Southport Special School, Pimpama State Secondary College and Marsden State High School are among 22 Queensland schools which have received National Science Week school grants in 2013.
More than 190 schools around the country have received grants from the Australian Science Teachers Association to conduct fantastic science events during National Science Week, 10-18 August 2013.
Clover Hill State School
To reflect the changes in our country and science over the last 100 years Clover Hill State School will hold an Earth Sustainability Expo that will involve students, teachers, parents and the wider community, including a local Kindy, the Mudgeeraba Special School and local community elders. The students and community will develop a variety of sustainability skills which they can incorporate into their daily lives for a more sustainable existence.
Activities will include learning about and participating in a Permaculture Vegetable Garden, seed planting, food tasting, plant and animal drawing, Water saving practices, Electricity saving workshops, Green Cleaning workshop, Waste reduction, Biodiversity scavenger hunts, and talks by local Environment group "Gecko",the "Gold Coast Permaculture Group", University environmental scientists, and Gold Coast City Council environmental experts.
Queensland Academy for Health Sciences
Fifteen schools will be involved in the South East Region Solar Boat Challenge.  Each school, in teams, will build their solar boat to be raced on the assigned day.  Students will be able to discuss the science behind how their boat was created.
Southport Special School
A number of senior students will complete research, discuss and practice science experiments, then present and explain these experiment to the whole school during an all day, hands-on Science Fair. Some of the experiments the students are going to present at the fair include:  balloon powered car, solar and wind powered projects using recycled products, tornadoes in a bottle and slime.
Pimpama State Secondary College
Pimpama State Secondary College has established Science Excellence partnerships with Primary Feeder Schools and will involve these schools in a Science Fair/competition during National Science Week.  Teachers will provide hands on science experience days to feeder schools. This will culminate in a day with parents, students and teacher from all participating feeder schools.
Marsden State High School
Groups of Year 11 Science students will be performing and demonstrating a variety of experiments at Waterford West Primary School during National Science Week. The theme is chemical reactions.