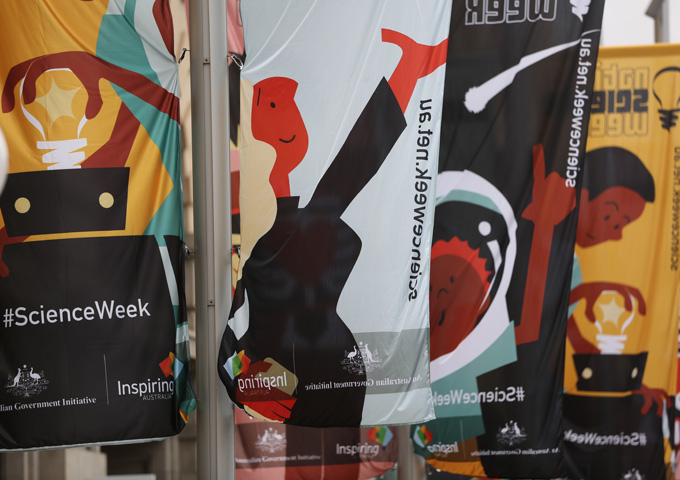 Beerwah State School, North Lakes College, Fraser Coast Anglican College and Urangan State High School are among 22 Queensland schools which have received National Science Week school grants in 2013.
More than 190 schools around the country have received grants from the Australian Science Teachers Association to conduct fantastic science events during National Science Week, 10-18 August 2013.
Beerwah State School
Beerwah State School will hold a hands-on mobile Sustainability Workshop for upper primary students in which individual students construct a working, electricity-producing wind turbine from recycled materials including an empty 2L milk container. Students will investigate the need for sustainable practices, uses for recycled materials, renewable energy sources and transformation of energy to electricity.
North Lakes State College
Throughout the Week, science teachers of Years 8-12 will conduct Science, Technology and Engineering activities beyond the usual science program to engage Years P-6 in the relevance of science to everyday life and industry. All classes from Years P-6 will visit the science labs and participate in episodes of peer teaching. Activities are designed by teachers and have previously ranged from exploring wind energy by making pin wheels to exploring static electricity through Van Der Graaf generator demonstrations.
Fraser Coast Anglican College
Fraser Coast Anglican College will involve all students from kindergarten to Year 12 with a Science Fair, lab visits, subject selection nights and daily competitions. Students will participate in knot tying (Marine science), bridge building (Engineering), titrations (Chemistry), identifying micrographs (Biology), and problem solving (Mathematics). The junior school and kindergarten will participate in a sunflower growing competition, competing for the tallest and biggest flower head prizes. There will be daily trivia about famous scientists, inventions and events, and students from the Science Club will share their work.
Urangan State High School
Senior students at Urangan State High School will run a Science Fair for the students from the neighbouring primary school.  This will enable senior students to showcase their science skills in a way that engages younger students.