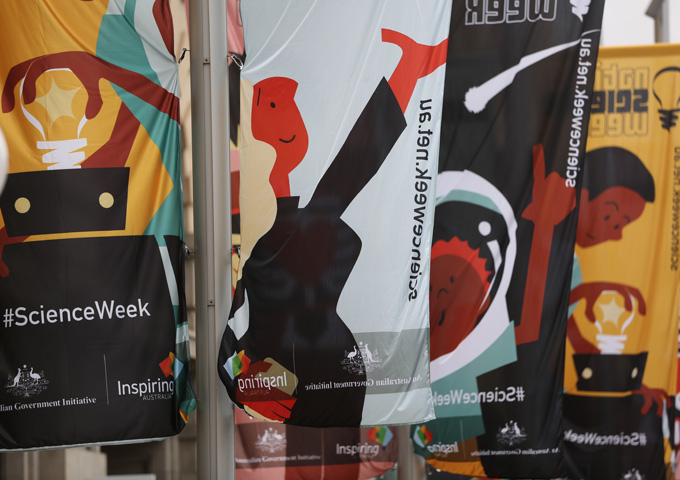 Congratulations to the 263 schools that have been successful in receiving grants of up to $500 to help them conduct a range and variety of science activities during National Science Week.
Thank you to each and every one of the 468 Australian schools who applied for school grants. It is fantastic to have such a huge interest in running activities in schools during National Science Week.
Thanks also to PrimaryConnections for their generous contribution of $10 000 to the grant pool, and to the Australian Science Teachers Association (ASTA) for coordinating the grant round.
ACT
1  Erindale College
Erindale College Science and Mathematics Enrichment Day. Students from 9 high schools in Southside Canberra are invited to participate in the day with fun, engaging science activities in the morning and lively, challenging mathematics activities in the afternoon.
2 Maribyrnong Primary School
A Science Extravaganza is planned to celebrate National Science Week at Maribyrnong.  There will be viewing of School Science Fair, a series of workshops organised by the senior students for the preschool and junior students. They will plan, organise and run the event with support from Maribyrnong staff and pre service teachers from the University of Canberra.
3 Marist College Canberra
Lunch time science extravaganza in the science labs, finishing with a staff v's student 'top Marist scientific minds' quiz revolving around light in our world.
4 Mawson Primary School
Mawson Light Show: 120 students from years 4/5/6 will be facilitating activities, which will explain the concepts of light. Students from Melrose High School will be invited to act as mentors during the evening event
5 Namadgi School
Primary Community Science Fair ( Preschool – Year 5 ). Each year level will be responsible for providing a range of science experiments and activities relevant to their year level. Parents and community members will be invited.
6 O'Connor Cooperative School
Everyday, Everywhere. The school will host a fun science morning. There will be experiments and demonstrations showing how science is involved in our everyday lives. The students will get to visit each classroom to participate in different science activities.
7 Palmerston District Primary School
Fair Test Invest Quest Fest. The whole school will be involved in performing fair tests based on investigable questions (Invest Quest). The grouping will be a mix of K-6. The topics include soil testing and light absorption.  Data gathered on the soil testing of garden beds will be used to inform planting and possible soil modification.
8 Saint Clare's College
Science Fair Projects. This will be St Clare's first year of participating in the SEA*ACT Science fair. We have our science club with 15 groups projecting to enter a project.
9 St Anthony's
Science Fair and Science Expo. This year the Expo will focus on the theme of light. Classes are asked to submit an exhibit or experiment to the expo. The local high schools will be asked to join in the day and run a series of hands-on activities for students. In the evening we will host a community event so parents and members of the community can also get involved.
10 St Michael's Primary School, Kaleen 
Our National Science Week day will investigate the question 'Can Light Bend?' Students from K-6 will work together in multi-age groupings. Older students will extend their learning by working with local college students to conduct experiments which demonstrate refraction and reflection as well as how light can be absorbed.
11 St Thomas the Apostle, Kambah
Science expo day. Students in mixed groups will rotate through activities set up by the teachers covering a range of scientific areas. Parents and the wider community would be invited in to share the day with students.
12 Sts Peter and Paul Primary School
The Sts Peter and Paul Science Expo. Students from across the school will be involved in a wide variety of hands-on, fun and educational science activities. Parents will be invited to join in the activities to share their science understandings with their children.
13 Wanniassa School
A weighted challenge. Students can choose from 2 activities (or both) that involve constructing an object that can hold an amount of weight.  Choice # 1: Construct a spaghetti bridge. Choice # 2: Design a boat using a limited amount of paper, aluminium foil and sticky tape. Students will showcase and test their designs at an assembly.
14 Weetangera Primary School and Cranleigh Primary School 
Science fair 'Science Builds Bridges'. Every year Weetangera School (a mainstream school) choose between 15 and 20 year 6 students to participate in an inclusion program at Cranleigh School (a special school). This program has been an incredible success for many years.
This year our two schools have decided to plan our entire year program around science and to use our students' mutual love for science as a means to close the gap between the more able students and students with special needs. During Science Week we envision each small group consisting of students from both schools to present their science projects of the year to both their peers and communities at Weetangera as well as Cranleigh School.
NSW
1 Barham High School
Workshops for Primary Students:  The students from the high school will take pre-prepared science kits to the surrounding Primary Schools and deliver workshops with the Year 5/6 students and teachers. Activities will include lava lamps, mini volcanoes, straw kazoos, slime, and sensory boxes and so on.
Science Open Night: The High School will hold an open night for families and community members, showcasing student works and the efforts of the Science Club that meets each week.
2 Ben Lomond Public School
Science Fair. All students will conduct an investigation and present a practical demonstration.
3 Beverley Hills Girls High School
Water filter competition (Yr 7-12) where students will be required to construct a water filter with limited resources and the water clarity of the filtered water will be tested. The purest water in each year group will be awarded.
Bridge building competition (Yr 7-12) where students will be required to build a bridge from a packet of spaghetti and a small roll of sticky tape. The bridge extending the furthest from the table and able to support a matchbox car will be the winner. Winners will be awarded from each year group.
4 Canterbury Public School
WS science fair K-6 and 4 support unit classes plus parents. Stage 3 students will run activities based on the National Science Week theme in conjunction with a local scientist and parent helpers. Parents and community members are also invited to participate.
5 Carinya Christian School
Year 9 students will undertake some group research to investigate phenomena and principles related to light and light technology and then perform some science experiments and demonstrations. They will then do this for our Year 5-6 students as each of the junior school classes spend some time in the science laboratories learning from them by doing hands on activities and observing demonstrations. Parents will be invited to participate in the day's activities.
6 Castle Cove Public School
'Science Under the Stars' – Community science event. Will involve all teachers, students, parents and wider community and will showcase science education at the school (exhibitions, hands-on activities run by senior students). We will also have talks by scientists and viewing of the night sky using telescope from the North Shore Astronomical Society.
7 Colo High School
'Flying High – Investigations into flight'. We will have in-class and lunch time events around the theme of flight. We will invite a representative from Richmond RAAF as a guest speaker and judge.
8 Dubbo College, Delroy Campus
We will run a Science Fair where students get to present an inquiry they have made about the scientific explanation of an everyday phenomenon.
9 Dubbo College, South Campus
Science Fair. Students will be invited to enter their projects into a competition involving display and demonstration of their work. There will be two sessions that will occur; one in the afternoon for invited primary schools, and one in the evening for parents and community members (which will include a presentation of prizes for each category).
10 East Hills Girls Technology High School
We plan to conduct an application of light project in each science class during the preceding weeks and during National Science Week, set up a science trail including one lab and our new greenhouse featuring the student projects so that all students and teachers can view and interact.
We will have selected secondary students guide our visiting Primary Links Year 6 students on the Thursday through the stations in the laboratory. At lunch we will have a science trivia quiz and competitions based on light and general science. We will plant seeds in pots to give away on the Thursday of Science Week.
11 Epping Boys High School
Exhibition of science-themed illuminated art installations (working title 'The Art and Science of Light'). Works to be displayed in evenings at the school during National Science Week. The creation of the works is to be cross-curricular in focus, taking in the science, creative arts, and technical and applied studies learning areas. The works are to communicate principles, ideas or history of science using a variety of techniques and methods. Students will work in groups, with older students mentoring younger students.
Expected audience are the parents and school community, and local primary schools. The event will coincide with existing community events at the school, providing a sizable audience.
12 Goonengerry Public School
Cool Communities Go Calico.  Our school is studying sustainability, our environment, the importance of recycling with a vision to challenge our local community to go plastic-free. Students will be visiting the Lismore recycling centre, participating in a marine park education program and finally designing a logo and screen-printing calico bags for distribution in our local community. Launching at our local store during National Science Week 2015.
13 Griffith High School
Science Expo to be held over 2 days that involves having Year 5-6 students from local primary schools come and take part in a range of science activities with a focus on the National Science Week theme. The program will be delivered by Year 9 and 10 science students.
14 Helensburgh Public School
A 'Science Fun Fair' day will be held in the school hall during National Science Week. There will be a variety of fun and engaging activities for students to explore. Other schools from the local area are to be involved, including the two local feeder high schools as well as parents and community members.
15 Hill End Public School
Science in Our Garden. Students will undertake a range of ongoing scientific experiments within our established school garden. Results will be graphs, plotted and presented in a shared community event to celebrate the official opening of the Hill End PS Kitchen Gardens.
16 International Grammar School
Light Fantastic – An exploration of photography underpinned by scientific principles of light. The project applies curriculum content to real-world applications while embedding the Arts into scientific theory. The current STEAM focus of our school promotes engagement in creative and critical thinking via inter-disciplinary collaboration.
The Light Fantastic project aims to meld current and emerging photographic technologies with an understanding of the physics of light. We aim to use digital pinhole and microphotography techniques to create an exhibition of work. The project will incorporate varied techniques of recording light, scaffolded for students in kindergarten to Year 12.
The culmination of the week will be an interactive Light Fantastic assembly within which the entire school community will engage in a light show. In addition, the exhibition will be open to the wider community, including our precinct partners from Ultimo Public School, UTS, MAAS and Sydney University.
17 Inverell Public School
Light me up Week. Throughout the week students in all 4 stages will be participating in rotating science activities (supported by students from the local high school) that investigate the properties of light. This will culminate in a whole school presentation and sharing of activities, which will be open to parents and community members.
18 Jesmond Early Education
Early Developers (0-2) sensory experiment/play making oobleck with rainbow colours, finally changing into brown 'mud' so rubber toy pigs can play too! Creating bubbles and printing pictures, Early Learners (2-3) movement, density and volume… Making boiled eggs float in water by adding salt, experimenting with other liquids, honey, cooking oil water etc to see where they sit. Preschool room (4-5) insect exploration finding bugs outside and looking at the close up and discovering how they are made, legs, how many? Wings? and also observation of eating habits and caterpillars making silk, moths and butterflies.
Parents will come Friday afternoon to see what the children have been learning about and pre-schoolers will do a show and tell.
19 Kanahooka High School
In conjunction with our school science club, The Burners, we hope to expand on the National Science Week activities from 2014, by running a week of scientific activities everyday at lunchtime in public areas around the school, in the hope of engaging students who may not be interested in science. Activities will include demonstrations with liquid nitrogen and dry ice, a science trivia competition, a crystal growing competition, a bottle rocket launching competition, the science of cooking demonstrations and making 'snow.'
The highlight of the week's events will occur on the Wednesday night at our second annual Kanahooka High School Science Fair.
20 Marsden High School
National Science Week at Marsden. Marsden Science club students are again planning and organising science activities and hands on experiments for local primary school students.
21 Mount Ousley Primary School
Science is a Blast. Students K-6 will explore rocketry through pop rockets (K-2) and bottle rockets (3-6). The focus will be design and make via the engineering design process with repeated iterations. Think, make, improve.
22 Mullumbimby High School
Mt. Stromlo Observatory along with Questacon and the ACT National Science Week committee are planning to set two Guinness Book of World Records – most people stargazing at a single site (no record exists) and most people stargazing at multiple sites in a country.
23 Nambucca Heads High School
Students will develop a 'Magical Light Show' to perform at the High School and at the three feeder primary schools. They will develop the props and have a good understanding of the science behind the magic. The 'Magic of Light' would include acts such as 'Bird in the Cage', 'Laser Jelly', 'Anti-Gravity Mirror', 'Touch the Spring' and 'Moire Patterns'.
24 Narrabeen Sports High School
Peninsula Community of Schools Science Fair. The activity we plan to complete for the Science Fair is:  'Can fibre optic cables be used to light a home?' – We plan to build two scale models of a basic home, with one using actual optic fibres and a single light source to light the rooms and the other using a single light source and mirrors.  We will accompany these with details of how reflection and refraction are used to hopefully make the models work.
25 Nowra High School
The Shoalhaven River Learning Community will be hosting the 2015 Shoalhaven Science Fair. This Science Fair will involve students from local schools presenting their student investigation projects for judging.
26 Oatley Public School
Young Minds Light Up Oatley. Multiple activities including an assortment of light experiments by kids for kids, a Kaleidoscope Science Light Show, Stage 3 CREST students will demonstrate numerous light experiments to 11 classrooms (250 students), ranging from Kindergarten to Yr 2 and interactive guided experiments. We will also have a science project competition where all students will be invited to participate in a science competition to create a diorama – Topic: Uses of light in our lifetime. This project encourages family participation. Projects will also be displayed in Hurstville Library for the community to observe.
27 Pennant Hills High School
Science Fair. High school students will travel to primary schools conducting science demonstrations (a travelling fair).
28 Penrith South Public School
Science Fair 2015. WS (K-6) Science Fair. Students will rotate around science activities organised by teachers. Displays and activities will also be run by a horticulturalist, including upgrading our vegetable garden, (all students will take home their own vegetable plant), NP&W will set up displays and rangers will organise activities modelling insect life cycles. Our CWA will run cookery classes. Year 11 science students from Jamison High will support all groups.
29 PLC Sydney
During National Science Week we aim to carry out science experiment share activities between High School students and Junior School students.  The students will teach each other how to do simple science experiments. We also aim to carry out a whole school activity (about 1200 students) where we join together in the name of science, as a complete circuit, with an energy stick, to light the energy stick.
30 Sam Bowhay Family Day Care
I plan to host a science night setting up various science experiments that the children can perform with the assistance & supervision of their parents and also invite a local astronomer to look at the stars with the children and point out significant constellations.  I will also invite other family day care educators to this event.
31 Springwood Public School
Science Spectacular. Stage 3 students will demonstrate a number of experiments that the younger students will rotate through. 1. Making Kaleidoscopes  2. Cellophane Torch Colours  3. Invisible Ink with UV Black Light  4. Mini Volcanoes  5. Lava Lamps  6. Milky Rainbows
32 St Patricks School, Trundle
Science Challenge and Fair. Students will take part in a challenge in the week leading up to the fair. Once their project is created they will have the opportunity to show their findings at a Science Week Fair, to which their parents and community members have been invited.
33 Sydney Children's Hospital School
Mad Scientist Week. The hospital school would like to run a mad scientist week with the inclusion of a science workshop at the school and on the wards.
34 Tallowood School
A science fair will be held for students from a number of local schools for specific purposes (SSP's) and support units, at Tallowood School. The science fair will involve engaging a large number of students with special needs with a range of chemistry, physics and biology demonstrations and activities.
35 Tangara School for Girls – Tangara Infants
Science Funfair: Science Lights up our World, a 2-day event. We will hold a science incursion, invite guest speakers from the school community to speak about their branch of science, hold experiments in the classroom as well as parental support at home with experimentation and general science around us education.
36 Turramurra High School
A Solar Car Competition will be held during National Science Week 2015 at Turramurra High School. All stage 4 students will be involved in a project based learning task in building a solar powered car during science lessons prior to Science Week. The best design will be chosen to compete at a school competition at a whole school event held during Science Week 2015. This competition will also be open to senior students who are interested.
NT
1 Acacia Hill Special Needs School
Sight and Sound Sensory Show. The hall and small storage room at Acacia hill school will be transformed into a sound and light sensory experience.
2 Dripstone Middle School 
Students at Dripstone Middle School will display examples of how light is important, the science behind light and some cool things we can do with light. The students will become teachers and science communicators to a large audience of primary school students, peers, parents and teachers. Shine a light on science
3 Epenarra School 
Sensational Science fair. Epenarra School will hold a science fair with each class contributing different hands-on activities demonstrating different science investigations.
4 Gray Primary School
The Science of Light. Our intervention centre classroom will be set up for the week with 6 hands-on activities based around 'the science of light' and linked to the Australian Curriculum. Upper primary classes will join with their lower primary buddy classes to explore and experiment with the hands-on activities.
5 Henbury School
Our event will include a series of student led activities which includes a stage play, hands on activities and games. Participants will also be making their own kaleidoscopes, mini telescopes and paper dolls that they can use for shadow play. There will also be gardening activities wherein students will learn the value of sun and light in the production of food.
6  Howard Springs Primary School
Science Day. A variety of activities including paper aeroplane and crystal growing competitions
7 Kiana School
Community science day. The whole community, encompassing both the school, Indigenous community and station, engage in a variety of science activities.
8 Kormilda College Primary School
A day of awesome oscillations. Students in Year 9 will conduct a series of tasks across the day with a focus on oscillation, light and waves.
9 Larapinta Primary School
The Science of Light Expo. The event will be linked to a school open night and will be run by senior students from Grades 5 and 6. The expo will feature the theme of 'Making Waves – The Science of Light' with students developing activities to present to families and younger students.
10 Moil Primary School
Big and little buddy group rotational activities throughout the school and preschool.
11 Nightcliff Primary
The great mini solar challenge. A whole school exploration into solar energy and the developments in solar car. technology. Students will be challenged to invent or construct a solar car which will be trialed then raced on Thursday 20 August, prior to the NT Solar Car Challenge.
12 O'Loughlin Catholic College
Fluorescent physics lab. Creation of a fluorescent physics lab to create a fun learning environment which celebrates National Science Week, increases awareness of physics and encourage students to consider physics in Years 11 and 12.
13 Our Lady of the Sacred Heart College, Bath Street
Buzz Light Year. We will create activities in Buddy Classes and all classes will rotate around each activity, learning lots about science, in a fun, practical way.
14 Sacred Heart Catholic Primary School
Science Station Rotation. 18 science stations will run a 15-minute activity that will host 6 rotations of students. The students will be grouped into lower primary and upper primary groups of about 16 students each.
15 St Francis of Assisi Catholic Primary School
Science Spectacular Science Fair.  An open evening providing students the opportunity to share with their families and the wider community the work they have been doing in science classes.
16 St Paul's Catholic Primary School
Star gazing night with Star Safaris.
17 St. Joseph's, Katherine
Class presentations.  Each classroom teacher will be given a small budget to design and present a practical inquiry that will be presented in a school based expo on the theme "Making waves the science of light".
18 Stuart Park Primary School
Super Siskamanis Science Show – An action-packed, fun and exciting science show to the whole school.
Super Science Week Lesson – Each class in the school will come up to the science room to engage in experiments based on the science of light and to highlight to importance of National Science Week.
19 Taminmin College
Science competition.
20 The Essington School Darwin
Science fair based on the theme: Making Waves – The Science of Light.
QLD
1 Aspley State School
It is proposed to create a habitat in two existing garden beds adjacent to the Year 1 and 2 teaching block. The focus of the gardens will be to encourage colonisation and/or utilisation by a range of endemic butterflies, insects and small reptiles. The gardens will be planted with a relevant selection of Australian native shrubs, climbers and ground covers that are known to attract the desired species.
2 Boyne Island State School
P-6 students conducting hands on investigations around the theme of light on a rotational basis. Pre-service teachers from the local university will assist.
3 Burdekin Catholic High School
Science Spectacular –  Yr 10, 11 & 12 students will demonstrate, and run, a number of different science experiments for younger students (Yr 6 main focus) in a group rotating environment.
4 Caboolture Montessori School
Science in the environment. Science Day for all children from 15 months to 12 years of age.
5 Calvary Christian College
A weeks worth of science experiments. The school typically will do a different experiment each lunchtime (and some class times). We also have long running challenges over the week and one day competitions.
6 Camp Hill State Infants and Primary School
Students are presenting science projects across the following categories – Scientific Investigations; Engineering and Technology Projects; Classified Collections; Communicating Science; and Environmental Action Projects. Our Scientist in School Dr Kathryn will be on hand to view the presentations.
7 Centenary State High School
Science Showcase Extravaganza. Centenary State High school will be hosting its 3rd Annual Science Showcase Extravaganza on the evening of Thursday, 20 August 2015. The event is a culmination of a range of activities during the National Science Week. The objective of the Science Showcase Extravaganza is to promote science in our community through a range of presentations and activities.
8 Cooktown P-12 State School
Lunchtime activities where students conduct simple experiments and create take home gifts. A photography competition will be held. Solar cook off – participants will be using the sun's energy to cook various foods. Night Sky and Science Evening.
9 Corinda State High School
Space Settlement Design – How to Shape and Resource Our Future. Students, staff and invited guests will be shown how to become involved in the Australian Space Design Competition
10 Djarragun College
Primary Science Fair. Year 9 students will provide science activities and teaching for students from Years 2–4 in a science fair set up.
11 Ferny Grove State School
Prep to Year 3 Science Fair. The Science Co-ordinator will run a full day of science demonstrations for 9 pairs of classes to visit for 40 mins each. Students will participate in hands-on demonstrations.
12 Gumdale State School
Shining a Light on Science. Our school will be celebrating Junior Science by holding a week of science displays, competition, interactive hands on activities and an incursion where the students will conduct their own experiment and take home their work.
13 Highland Reserve State School
HRSS Science Night – 'Making waves: the science of light'. Students, parents and staff will engage with a variety of interactive activities which are designed to inspire their curiosity for all things Science focussing on this year's theme.
14 Ingleside State School
The Hinterland Small Schools Environmental Science Day. The event involves students from the four Gold Coast and Hinterland Schools taking part in a fun and educational day comprised of interactive workshops presented by government, local council and community groups, on the theme of environmental science.
15 Isabella State School
Science Expo. Using local high school students to assist with running a number of rotational science activities, which engage students and develop scientific skills
16 Junction Park State School
School science fair. All students in Years 4-6 will be required to submit a scientific investigation and for students in Prep-Year 3 it will be optional to submit an individual scientific investigation. We will then have a day of judging with prizes awarded for first, second and third place in each year level.
17 Kawana Waters State College
A week of engaging science activities. Science stations and student presentations.
18 Lockyer District High School
Science Fair. We are planning on conducting a science fair to be held during lunch breaks for students to be involved with hands on activities and demonstrations around the theme 'Making waves – the science of light'.
19 Lutheran Ormeau Rivers District School
Yr 1 to Yr 6 will be involved in practical science experiences supervised by senior school students in class time during science week.
20 Mackay Northern Beaches State High School
Science demonstrations. Make and do stalls, mini science fair and lunchtime science trivia competition hosted by the schools "Mad Scientists Science Club".
21 Macleay Island State School
MISS Technology Challenge Technology Challenge. Students design, test, appraise a nominated construction. Class competition for best will be held and class winners will enter final to establish school champion. Parent competition will be run concurrently with the winner going up against class winners.
22 Mango Hill State School
Mango Hill State School Science Quest. A student lead Science Expo involving a variety of interactive science exhibits across all Science strands, open to the whole school and local community with a theme of "Never stop questioning".
23 Marshall Road State School
School science fair. Children will be encouraged to conduct a scientific investigation making use of the Cows Moo Softly technique and enter in the Science Fair. Judges from the community will come in to judge entries.
24 Maryborough Special School
The Light Force Brigade will present " Enlightening Encounter".
25 Meringandan State School
Science challenge day around the theme 'Making waves: The science of light'.
26 Miami State School
National Science Week spectacular in conjunction with Book Week which has a theme of "Reading lights up the world". The week will be run out of the library by our science committee, librarian, senior students with a passion for science. Hands on "light" activities running all week, Ipad activites, movies, optical illusion art, display in library of science books.
27 Minden State School
A variety of events ranging from a Science Show, a science competition, high school display, visit from an astronomer, student display etc.
28 Moreton Bay Boys College
Annual Science Fair. Whole school evening of science related activities and demonstrations, presented by students from every class (Prep–Yr 12).
29 Mount Larcom State School
National Science Day. The day will be open to a number of smaller regional primary schools in the Gladstone and Rockhampton regions.
30 Mt Crosby State School
'Slime Time'. Demonstrations, experiments
31 Mueller College
Growing plants using banana fertilizer plus a whizz bang science assembly using liquid nitrogen and bananas among other things!
32 North Rockhampton High School
Prepare a lab for junior classes to visit. Teacher and senior student demonstrations and activities of light and related science concepts.
33 Pacific Lutheran College
Switch on Science. This event will be for P–5 students, teachers and community members. The Fair will provide a hands-on opportunity for students and community to conduct experiments.
34 Pimpama State School
Pimpama State School Science Fair
35 Pimpama State Secondary College
Pimpama Science Fair. Students from Pimpama SSC and surrounding primary schools will attend the Pimpama SSC science fair during National Science Week to look at displays and get involved in activities.
36 Pine Rivers State High School
Forensics is Fun. A group of our students will visit our cluster schools to run forensics activities because we can cover biology, chemistry, physics and earth science which means there will be an activity for everyone!
37 Runcorn State School
Runcorn Science Expo. Every class in the school will provide hands on activities and displays through out the school. Parents and other members of the community will be invited.
38 Saint Anne's Catholic Primary School
Science Activity Week. Each class will conduct activities using 'Making waves: the science of light' as their topic. Other classes as well as community members and families would be invited to attend.
38 Somerset Hills State School
Family Science Night.
39 Southport Special School
Interactive Science fair. Students will research and experiment to come up with ideas for the science fair – guided by a teacher.
40 St Benedict's College
En-lightening Engineering. A group of 15-20 students (Years 7–10) build on existing robotics and programming knowledge as they complete a full day Arduino programming workshop with Dr Damien Kee (mechatronics and electrical engineer).
41 St Elizabeth's, Tarragindi
'Inventors Forum'. Students will come up with inventions. They will need to research if their idea has been invented, look into the practicality of their invention, build and test and modify. They would then present their invention to a group of 'industry professionals' (parents and community members).
42 St Therese's, Bentley Park
Science Expo. School hall will be divided into various stations and our Year 5 students will conduct and perform different science experiments for the rest of the students.
43 St Thomas More
We will run a mini-conference where our new students to high school (Yr 7 & Yr 8) are given the opportunity to display their work, but not just any work, their new and exciting engagement with science through the use of apps.
44 Trinity Anglican School
Science in the Courtyard science fair, involving approximately 1000 students from Kindergarten through to Year 12 from both of our school campuses. Parents and members of the wider community will be invited to participate, attend and host activities.
45 Warwick Christian College
Gifted and Talented students will create a community garden. Students will design and implement a solar powered water recirculation system.
46 Woree State School
'Stop, Drop and Do' Science activity day. For the first 4 hours of Tuesday 18th August 2015 all 900+ students will stop their usual curriculum and take part in an age appropriate series of science activities.
47 Yeppoon State School
Science Fair and Showcase. Science fair during the day for students, with older students, and science club students teaching younger students. Evening program will be open to the public, parents and guests, with students demonstrating and explaining science experiments.
SA
1 Aberfoyle Park High School
Whole day event with 3 sessions. Secondary school students to tutor primary students.
2 Auburn Primary School
Light up Auburn. Investigate and install solar lighting in the native garden and nature play areas.
3 Balaklava High School
Year 9 students create an "on the road" mobile science fair that can go on the road and visit primary schools in the region.
4 Brighton Secondary School
Science Week Science Fair. Year 9 students will develop a presentation to display to their peers and students from other year levels
5 Burc College – Secondary
A student presentation of Science topics and experiments to parents and the school community on light and other topics.
6 Burc College – Primary
Science Fair. Every class in the school will demonstrate an experiment on the theme of light. Classes will go to a different class everyday for 1 lesson for the week (there are 8 classes) and learn one aspect about the topic Light. Students will be demonstrating the experiments with the assistance of the teacher.
7 Cardijn College
A timelapse camera will be installed in the school's herb garden. Biology and IT students will observe changes in the environment as well as have the opportunity to utilise ICT skills in a cross curricular program
8 Cowell Area School
Lunchtime activities for R–12 students on the theme of light. We are also planning a model making competition and science fair to show off models.
9 Elliston Area School
Science Crazy Day, with a whole day of Science experiments for all 65 students. Another small school, Pt Kenny, will be invited.
10 Findon High School
Primary school visits will coincide with whole school activities that are cross-curricular and based on the theme of light. Students will present science-based activities to peers and primary students.
11 Flinders Park Primary School
Whole school science open day. Yr. 6 and 7 students will present to a younger class. Local kindergarten children and staff will be invited to attend.
12 Grant High School
Bones! A bones/skull/skeleton/exoskeleton display. Students will identify specimens.
13 Highgate School
Science expo for R–7 with a 'Build A Bridge' challenge. Materials used will be age specific. Students will have a 2-hour time limit and their bridge must support a toy car.
14 Kildare College
Middle school students will participate in demonstrations about heat transfer with dry ice and liquid nitrogen. Robotics unit of work to be used for all Year 8 students in maths and science.
15 Koolunga Primary School
I See Science. A science expo run by CSIRO for our rural students. Staff members will also run a Science Show with experiments.
16 Lonsdale Heights Primary School
Forensic Science activities.
17 Madison Park Primary School
Whole day science fair. A full day focused on science explorations and learning. We will set up various stations which students can work around in small groups with assistance from teachers and support staff. Parent volunteers will be able to assist also.
18 Mary Mackillop College
Years 8 and 9 students to see a musical educational presentation on forces and light supported by the government for National Science Week.
19 Mary MacKillop Memorial School
Are there really scientists in Penola? Year 7 children will research what it means to be a scientist, identify people in local community whose background is in science, interview them and host a hands on science workshop in conjunction with their chosen scientist.
20 Memorial Oval Primary School
Whole school event for all 10 classes with a range of activities. All activities will relate to the theme of light and are chosen to best represent aspects of light to students.
21 Mercedes College
Create a worm farm composting system for the school gardens to help manage food waste in the Junior School.
22 Mimili Anangu School
Night under the stars. We plan to hold a community night under the stars where students in years F–6 and their families will be able to look through telescopes at the night sky, examine stars and locate planets. Knowledgeable elders will be invited to talk to the children about local stories involving the night sky and navigation using the stars.
23 Mitcham Girls High School
Science Magic Shows –  designed, written, practiced and performed by groups of Year 9 students. These shows will be presented to primary school students and interested parents. The focus will be on chemistry and light.
24 Morgan Primary School
A science day where local small rural schools can join in to share scientific activities.
25 Poonindie Community Learning Centre
The community will see the wonders of the universe with a portable movie planetarium. Other rural schools will be invited.
26 Port Lincoln Primary School
Pt. Lincoln Primary School Science Fair. Celebrating science with interactive displays. Year 7 students will coordinate this event. Other schools to will be invited to attend.
27 Seaford Secondary College
Science lights up my Life – a joint venture between Seaford Secondary College and its feeder primary schools. Current students representing each of the primary schools will demonstrate chemistry/physics experiments that highlight the use of light with a forensic science lens. This will be live fed using webcams to the primary sites.
28 Springton Primary School
Year 5 to 7 students will identify an issue (e.g., antibiotic resistance) and investigate some solutions. They will interview real life scientists. Students will work on a research project about this. Projects will be shared at a community evening with parents, community members and other local school students.
29 St Peter's Girls' School
School-based Science and Engineering Challenge. All Year 9 students will participate in a house-based science and engineering problem-solving day. There will be a number of activities requiring teams of students to work together to design and test solutions to engineering-related problems.
30 St Philip's Preschool Kindergarten
We will have experiment/discovery tables and hub corners where we will be investigating the properties of light in a range of age appropriate activities.
31 St. Joseph's Primary School
Whole school Science focus. We will create a variety of science experiments that students can explore in the school hall.
32 Tatachilla Lutheran College
Science week to be run with junior school F to 6 students. Age-specific activities will be run across the whole school. Activities will be photographed/videoed and shared.
33 Trinity Gardens Primary School
Investigating light. The junior school will look at simple circuits and the middle school will conduct class activities that focus on UV light. The upper school will focus on light and movement.
34 Victor Harbor R7 School
A science expo of students work in the school hall where students in small groups demonstrate and explain a science experiment to their peers, and repeat this 3 or 4 times as the groups move around the hall.
35 Wasleys Primary School
Science Expo – workstations, presenters and demonstrations of science experiences and investigations. The workstations and demonstrations will be run by the students of the school and will open to the community and other schools.
36 Whyalla High School
Primary school science fair, bridge building competition, Science Community fair, Minute-to-win-it challenges, 'I see Science' competition and much more
37 Whyalla Town Primary School
Whole school science day with hands-on science all related to light. At the end of the day classes will share what they have learnt in an assembly.
38 William Light R-12 School
Lunchtime science show. Science and engineering competitions. Model building at lunchtime.
39 Windsor Gardens Secondary College
Week long science focus with a Science Fair.
40 Yorketown Area School
Dean Davidson to visit with Skywatch Planetarium and movie theatre to our regional school. For students R–9.
TAS
1 Bracknell Primary School
Family Science Night.
2 Brighton Primary School
Years 3 to 6 will learn light experiments and will then guide the K-2's through the experiment.
3 Burnie Primary School
Burnie Primary School Science Expo. A whole school hands on visual science experience demonstrating student science understanding.
4 Clarence High School
To engage students from Clarence High School and local primary schools in a celebration of Science. Lunchtime activities – Clarence High School students will have the opportunity to be involved in lunch time science activities for the duration of the week. The main lunchtime attraction being a classroom sized laser light chess game based on the board game Khet.
Science Fair – a day-long science fair with local primary school students.
5 Cygnet Primary School
Regional Science Project. Senior University of Tasmania students and staff plan to run a series of Science Inquiry projects for interested students from different schools in the Huon Valley.
6 Dodges Ferry Primary School
To create an organic vegetable garden by developing biodiverse above-ground and below-ground ecosystems
7 Exeter High School
Science Fair. A day-long science fair will conducted at one of our feeder primary schools.
8 Flinders Island District High School
High school students will run sessions through out National Science Week with the primary school students. The activities will be aimed at preparing the younger students for school wide STEM challenge on Friday afternoon.
9 Herdsmans Cove Primary School
National Science Week Expo. Students in Years5 and 6 will prepare hands on science experiments/activities based on the Australian Curriculum science understanding, physical sciences.
10 Hobart College
Parent and community night – combined with parent teacher night – using the theme of light and interactive displays for hands on activities and students work. Snug Primary School will visit for a science fair coordinated by the students in level 2 class.
11 Huon Valley Home Schoolers
Science in the Huon Valley. Senior University of Tasmania students and staff will run a series of science inquiry workshops for interested students. Topics covered will include, posing a question, designing an experiment, recording results and making conclusions.
All Huon Valley home schoolers will be invited to join the public and private schools of the Valley to display their works  at the Huon Valley Science Expo
12 Huonville High School
Making waves: the science of light. Senior University of Tasmania students and staff will run a series of Science inquiry workshops for interested students. Topics covered will include, posing a question, designing an experiment, recording results and making conclusions. Students' work will be featured in a regional National Science Week event where they will have the opportunity to display their work.
13 John Calvin School
Solar oven design and cooking session catering to students from Kinder to Year 10. Another activity is devising a challenge, whereby students need to use only solar/light power to keep an object (marble/ball bearing) in motion for the longest time.
14 MacKillop Catholic College
Students from MacKillop will provide an assortment of science based activities for the students at the Southern Support School. Students will run Science Fair activities through lunchtimes during National Science Week.
15 Montello Primary School
Senior students will visit classes from K-6, carrying out various scientific investigations and technology activities throughout science week.
16 Mount Carmel College
Science is Alive at MCC!  The intention is to run an expo from Kindergarten to Year 6 in order to highlight the marvellous world of science.  It would be open to all of the students in the primary school.
17 New Norfolk High School
Light up My Life Science Show. Throughout the National Science Week we will have a variety of activities set up in a hall where students will participate one or two classes at a time.
18 New Norfolk Primary School
Science expo for our students and families.
19 New Town High School
A Series of Scientific Challenges! Based on the challenges undertaken as part of the school's focus on Science by Doing, student teams will be invited to take part in a series of these challenges during the week, accruing points leading to qualification to the final culminating challenge at the end of the week. The successful team at the end of the week will then challenge a team from neighbouring Ogilvie High School, and a parent & community team, for the grand prize.
20 Newstead College
A week of activities for local primary schools. The sessions will be run by our college students and are designed to be fun science activities.
21 Ogilvie High School
Let there be Light – and let us all understand it! During National Science Week there will be an array of learning demonstration/opportunities for students from the school and local primary schools to learn about light and what it means for us.
22 Ravenswood Heights
Science All Around Us. The event will comprise a science activity afternoon where students will interact with a variety of science activities, and will follow up with a visit to Camp Banksia's Nature Study Resource Room.
23 Riverside Primary School
Riverside Science Room  – 'Making Waves – the science of light'.  This year Riverside Primary School is setting up a room for science week that has various experiments and activities that explore light. Classes will have a designated time during the week with their buddy classes to explore each of the activities and learn in a hand on environment under the guidance of their class teachers, trained up grade 6 leaders and our science teacher.
24 Rosetta Primary School
All students and members of the school community will be invited to share their morning tea in the school hall while they are entertained with demonstrations that showcase scientific concepts. Designated students will work in small groups to present a demonstration of a scientific principle to the audience.
25 Scottsdale High School
Science expo. Year 9 and 10 students from the Science Extended class will plan, organise and run an activity that will last for around 10 minutes. The visiting students will rotate around each group.
26 Sacred Heart, Geeveston
School Science Fair to be held for the first time at our school. We are hoping to have an extensive range of hands on science activities that our primary school children can engage with. A major focus will be around electricity.
27 Somerset Primary School
Curious Stars. A 10 week science focused program designed for 2-5 year olds and their parents. Everyday science experiments parents can do at home with their children.
28 South Arm Primary School
Tyre recycling challenge, marine debris survey, art from found objects, recycled objects swap meet.
29 Southern Support School
A science fair will be run during National Science Week for the whole school. Students from a neighbouring school (Mackillop Catholic College) will plan the fair. Science activities will be set up in our school hall giving priority to 'hands-on' activities and this year's theme of 'Making waves: the science of light'.
30 Taroona High School
Year 8 STEM hands on science experience for our local primary school.
31 University of Tasmania
The University of Tasmania – Science Investigation Awards is a competition for investigations completed following the scientific method. The Awards are open to any student in Years 5 – 12, either individually or in small groups. The Awards are hosted by the University of Tasmania and will be held on the University of Tasmania Newnham campus.
VIC
1 Allansford and District Primary School
STEAMing ahead into light. A science expo of three parts:
 involving student leaders/experts in the community conducting activities thru out the school;
cluster day involving local primary schools and experts; and
Family Science Night.
2 Bannockburn Primary School  
Engineering on the Farm. A science challenge day for schools in the local area. The activities students take part in will be all related to farming and the great Aussie inventions that have made life easier throughout our history.
3 Bethany Primary School
Developing a vegetable patch involving whole school community.
4 Coburg High School
It is the first year that Year 7s have been at the school. We will establish a science club where the students will be able to run regular meetings and participate in scientific investigations outside the classroom. These students will be responsible for coming up with a program for science week activities as well as outlining the science fair that all of Year 7 will be having at the end of term 4.
5 Dinjerra Primary School
'Garden Science'. We are in the process of establishing a food garden for our school as a part of our health and inquiry programs.
6 Eaglehawk Secondary College
Science Spectacular Show during NAtional Science Week at each assembly. A group of Year 10 students will volunteer to design the format and science staff will assist them to perform demo experiments. During this week we will also allocate a year level specific experiment or demo to be completed in each science class so that every student in the school is exposed to the events of the week.
7 Epsom Primary School
During National Science Week we will implement three Unit science expositions throughout Epsom Primary School that will incorporate the wider community.  This will be achieved by utilising the students of our Secondary feeder school 'Weeroona College'.  The Secondary students will assist Epsom students with the expositions.  Additionally the feeder kindergarten school 'White Hills Kinder' and 'Epsom Early Learning Centre' will be invited to attend the day.
8 Geelong Lutheran College
GLC will provide several activities for 2 schools over the science week period. Lunchtime activities, which run across primary and secondary school times.
9 George St. Primary School
The school community will come together to participate in a fun, hands-on science evening. We will have a BBQ, science activities, displays and take home bags.
10 Gilmore College for Girls 
Exploring connections between the discovery of gravity by Isaac Newton and Albert Einstein's research on light. School students in Years 5 and 6 from neighbouring schools will participate in this activity.
11 Glengarry Primary School
Blue Banded Bee Community Project. The honey bee will eventually die out in the wild. Attracting native bees especially the Blue banded bee is vital for pollination of flowers for vegetables and fruit trees in our area. Information sessions for students and community members will take place as well as workshops on creating blue banded bee friendly habitats and gardens.
12 Gunbower Primary School
Discovering light. Making Periscopes. Funding will cover the cost of acquiring light boxes and prisms that will help students understand the properties of light.
13 Harrisfield Primary School
Star Light, Star Bright. During National Science Week we will set up telescopes. Each telescope will be focused on the moon and planets such as Jupiter, Saturn or Mars.   The local community will be invited to come and use the telescopes. An astrophysicist from Monash University and Melbourne University has agreed to be involved in the project.
14 Hawkesdale P-12 College
Family Science Fun Night. Our emphasis is on hands on activities that all members of the family can participate in. It is hoped that science conversations happening on the night will continue at home.
15 Healesville High School 
Students will research, create and install a human sundial within an allocated area of the school grounds.
16 Hillsmeade Primary School
Science is Everywhere! Hillsmeade Primary School Science Expo. Invited guests will include Monash University Education students, Hillsmeade students, parents, community members. Our local Early Learning Centre families are also invited to both attend and join the fun with a family entry. In the weeks leading up to the expo students are invited to work with their families to produce a 'family science entry'.
To open the evening Class Teachers and Monash Pre Service Teachers will be setting up approximately 15 science experiments and demonstrations in separate classrooms. All experiments include a what you can do at home handout so students can replicate the activity with family and friends.
17 Horsham College
Horsham College 2015 Science Extravaganza. An evening of science activities run by the teachers and students of Horsham College. One teacher with the Year 12 chemistry students will perform science demonstrations and explosions every half hour in a science show. There will be many interactive displays and experiments for participants to enjoy. We have invited local businesses who use light in their practice to set up displays.
18 Keysborough Secondary College
Stem Science Spectacular. An event where our Year 10 STEM program students will plan and conduct a number of light-themed activities for 7, 8, and 9 students. Local primary schools will also be invited to bring Year 5 students during National Science Week to participate in light themed activities.  The Year 10s will use a variety of activities as springboards to educate their younger peers about the properties of light.
19 Lakes Entrance Secondary College  
The 2015 Victorian Certificate of Applied Learning (VCAL) students will be visiting each of the primary schools in Lakes Entrance and the immediate surrounds, working with the Year 5 and 6 classes in small groups of 3–4 to perform a number of science experiments focusing on light and sight.
20 Little Bendigo Primary School
Light Up Little Bendigo. Students will make and play their own buzzer game, making their own electrical circuits and buzzers.
21 Maffra Secondary College 
Maffra Science Expo will involve students in Year 8 undertaking a Science investigation of their choice, whilst working closely with the RMF representatives to build their interpersonal and teamwork capabilities. Representatives from local businesses will work alongside the students when they are completing their inquiry. Other MSC students, parents, students from local primary schools, teachers, RMF organisations and sponsors will be invited to attend the Expo where the student's will be expected to communicate their findings to these interested parties.
22 Mentone Girls Grammar School
National Science Week Breakfast. This event is being run by Mentone Girls' Grammar School in partnership with the Alliance of Girls' Schools (Vic), with girls from 35 Alliance member schools invited to attend. The event will have an engineering focus, with the aim of addressing the underrepresentation of women in this particular field.
23 Milawa Primary School
The activity will involve students taking photos and short videos of wildlife in the region. They will use cameras, phones, i pads and night vision motion sensing cameras.  The students will then collate a series of slides and movies for a 'Slide and Movie' night at the school during National Science Week. The local Landcare groups will be invited to provide specialist knowledge.
24 Mornington Secondary College
The grant will be used for a science incursion program for primary school students at our College during National Science Week. Year 5 students from six surrounding primary schools will come to MSC over three days during Science Week.  Students will work in small groups of 6-8, led by our Year 9 students and Science staff, undertaking rotating experiments based on Chemistry, Biology and physics fundamentals.
25 Mount Alexander College
A multi-sensory Science Spectacular for the junior students as well as the general community throughout the Science Week. Science Spectacular will be designed, produced and performed by a group of Year 7 student leaders.
26 Murtoa Kindergarten    
A science fun day. Hands on science activities for the students to enjoy. Secondary students from Murtoa College will assist on the day. Parents and grandparents will also be invited to come and participate.
27 North Geelong Secondary College      
Cane toad dissection. This activity will be open to all interested students at lunchtime and the Year 11 Biology class will complete the dissection during class time. The whole week's activities will be planned and organised by students. Local primary schools will also be involved.
28 Orrvlae Primary School 
Multi aged science day with rotation through various activities. As a wrap up to the day we will have a mural/image of science.
29 Preshil  
Eternal sunspots. A programmable heliostat array that will continually reflect the sun as a matrix of 8×8 plate size spots. The 8×8 matrix will be programmed by students to display varied artistic designs, text and animations.
30 Rochester Secondary College 
Rochy Science Show. Students in Year 10 will design and showcase a range of experiments for the local primary school students.
31 Sirius College (Meadow Fair Campus)
The development of a garden bed and the purchasing of an organic waste bin. Year 7–10 students will be actively involved with planting and fertilization of the garden.
32 Sorrento Primary School
Student-led Community Science Learning Walk. Community members and families will be invited to attend. During this visit students and visitors will participate in a variety of science activities, which will be led by the students.
33 St Mary's Newborough       
Tower building competition (Years P-2) based on natural and processed materials. The challenge is to build the tallest tower possible using a variety of materials (spaghetti, newspaper, straws and commercial building products) to support a weight of 500g.
34 St Peter Apostle Primary School
Celebration of science learning. Students go through an inquiry process to produce an item that requires electrical power in some way. At the conclusion of the inquiry unit, parents and other teachers and students are invited to share in their children's learning about electricity.
35 St Albans Heights Primary School
St. Albans Heights P.S. Knit-In.  The students will participate in a Kids teaching Kids activity where the Year 5/6 students demonstrate and show the younger students how to knit (using a knitting Nancy). They will also explore the neural pathway activity involved in this activity and use the finished product to yarn bomb the school and in particular the school garden.
36 Sunbury and Macedon Ranges Specialist School
Science in food production. The students will be looking at the science used to grow and produce vegetables.
37 Surf Coast Secondary College
Science Magic Show. A group of volunteer engaged students from middle years (9-10) will visit the five local Primary Schools and perform a science magic show.
38 Sussex Heights Primary School
During Term 3 as part of their community engagement project, the Year 3 students will work with our local preschool (4 year olds) exploring science.  Over the course of the project, the primary students will lead the pre-schoolers through a range of experiments and observations around light.  To celebrate the five-week project, parents/family/friends will be invited to an expo where students will share findings and some of their favourite experiments.
39 Syndal Preschool
Science Week experiments based on light will be explored. At the end of National Science Week there will a Family Science Night where children can demonstrate what they have learned.
40 Talgarno Primary School
What Really Lives in the Hume Weir? Students will walk to the weir to find and identify the fauna living there. Students will then make a 3D model of a creature that they found.
41 The Grange P-12 College (Deloraine Campus) 
An interactive science night at our secondary campus, partly run by both our secondary and primary students as well as supporting teachers. The night will also include demonstrations by science professionals living in the area. Local primary schools will be invited to participate.
42 Toongabbie Primary School
Students in the middle and senior classes have been working on learning about sound in their music classes. In order to promote science and maths through this medium we are planning to build one or more Plosive Aerophones (Thongophone). After making the instruments, students will write pieces and perform them on the instruments. During NAtional Science Week, we plan to do a performance for our community that highlights the links between music, science and numeracy.
43 Upwey High School
Dissection Week. We will run a dissection program with different specimens everyday. The program will involve visits to local primary schools with staff from Upwey High School to carry out specimen dissections.
44 Warnambool West Primary School
Making Waves with Solar Boats. Warrnambool West Primary School will host Year 5/6 students from our school and two local schools, Allansford PS and Woodford PS. Students work in collaborative learning teams and will be encouraged to explore solar energy through the design and construction of model solar boats. We have invited our local secondary school, Brauer College, to bring a group of students across to work with each learning team.
45 Woady Yaloak Primary School (Ross Creek Campus) 
Science Week Lunchtime Expo. At the Ross Creek campus, a National Science Week Lunchtime Expo, showcasing an array of scientific experiments and demonstrations.
46 Woodford Primary School  
We will invite our local science cluster schools to Woodford to promote and share what we are doing within science. Year 3/4 students to host other students from cluster.
WA
1 Anzac Terrace Primary School
The Year 4 classes will organise and prepare twelve different learning stations around the school science room. Each station will be run by small groups of Year 4 students who specialise and become experts in their research area. Throughout National Science Week all classes in the school from K–6 will be scheduled to visit the science room.
2 Banksia Grove Catholic Primary School
Science expo day. This will showcase some of the experiments students have been undertaking including mirror, light and shadows producing activities.
3 Bencubbin Primary School
We hold an annual science night each year. We are a very small level three school with only 30 students. All students and their families, including grandparents and community members attend school and complete a rotation of science activities and investigations set up by the students.
4 Bicton Primary School
Bicton Primary School in collaboration with the Big Science parent team are hosting "LOL – Light Out Loud" night-time event during National Science Week!
Kindy through to Year 6 students, along with their parents will learn and explore the science of light. Reflection, refraction, diffusion, and absorption of different types of light, are just some aspects that will be taught through age appropriate interactive presentations and hands on activities. This will include kaleidoscopes, pinhole cameras, and optical illusions using water and colour. A Tesla Coil presentation and a Laser Maze transitioning into a UV Tunnel will allow the students to further experience the science of light in a fun and exciting way. Finally a set up of infrared cameras will conclude the spectacular evening events.
5 Byford Secondary College
Byford Secondary College is a new school in its second year of operation and will be holding its inaugural Science Fair during National Science Week. During the fair student CREST projects will be on display for BSC students, parents and students from feeder primary schools to view. Activities during the fair will include demonstrations, hands on activities and quizzes related to the National Science Week theme and careers in science.
6 Cape Naturaliste College
Biology-based series of activities, with a focus on the importance of light and soil to reflect the International themes this year. We will organise workshops for students based on vision and the eye, on soil microbes and microscopy and on the evolution of organisms where there is no light – deep sea and underground – and on unusual phenomena such as bioluminescence.
7 Charthouse Primary School
Students will engage in a school event. Parents and partner class students will be invited to attend each class presentation. Topical information; media displays; investigation graphs and results will be showcased for visitors to see. A representative from Fortescue Metals will be also speaking to the senior classes regarding the oil and gas mining processes in WA.
8 Connolly Primary School
Whole school science experiment. Students will explore UV light; what it is, where it comes from and its effects. Differentiated experiments will be coordinated across year groups with older groups designing experiments and mentoring the younger students. There will also be science challenges which will include a variety of hand on challenges and quiz questions.
9 Cue Primary School
Science of the outback. The students, family and community members will be invited to participate in an afternoon of science activities.
10 Dampier Primary School
Whole school science fair for kindergarten to Year 6 students. Students will be split into multi-age groups where they will engage in a variety of hands on science-based activities. Students are expected to collaborate with others in the group and mentor others as necessary. Students will rotate through several activities throughout the day.
11 Esperance State High School
Esperance Science Fair 2015. Projects will be on display and the event is open to all community members, with projects being judged by guest judges from local industry and from STEM areas of education.
12 Good Shepherd Catholic Primary School, Lockridge
On a chosen day during National Science Week, the upper grades Years 4-6 will complete 'Light/Electricity/Circuit' related experiments. Photos and videos of experiments will be showcased at assembly at the end of the week.
13 Gosnells Primary School
Light Fantastic. Our entire school will be participating in age appropriate science activities, and creating displays on the theme of light. This will culminate in a whole school science exhibition for our parent/teacher night event.
14 International School of Western Australia
Full week of science activities. This year we are planning a daily form quiz (on waves), lunch time activities – magic milk (PS), titration competition (HS), signalling morse code competition (any), making pin hole camera (any), making a microphone (any), making an indicator and using it for an investigation to solve a problem (PS and parents), DNA extraction and food dye electrophoresis (parents). We will also provide activities for the lower primary school in their lesson time.
15 John Curtin College of the Arts
Steam, Lights And Action! This year JCCA is pushing STEAM within the school and celebrating National Science Week in a 'FLASHY' style with researching and preforming a son et lumiere created by theatre arts students, that will be available for the whole school and surrounding primary schools to view as a celebration of Light. There will be opportunities for students to showcase their musical talents with the annual rap battle based on science concepts. Students will also be battling it out to create a 'scientriffic' T-shirt design. There will be a number of science challenges throughout the week during science lessons to enhance celebrations.
16 Kalamunda Secondary Education Support
All students will participate in a rotation of 'light' activities at school. Activities will be multi-sensory as this is how these students learn best; plenty of visual aids, hands-on activities for them to immerse in and fun experiences to participate in.
17 Kambalda West District High School
A science exhibition within our school will be run during National Science Week, with activities that include hands on interaction with all year groups from Pre-Primary to Year 10 in conjunction with a school Science Fair.
18 Lakelands Primary School
Lakelands Science Festival. The festival will occur during science classes and lunch times.  The students will participate in a variety of experiments in chemical and physical sciences. The festival is to celebrate science within the school community and develop the love of science.
19 Madeley Primary School
Light up Madeley. Each year level will have an investigation box designed for them with activities based on light and colour. At the completion of the week photos and articles about each investigation will be placed in the school newsletter for parents to see.
20 Mt Barker Community College
A Light Show. Both Year 5/6 classes will combine into groups of 3 to design an experiment based around the National Science Week theme of "Light". They have to make posters to explain the science behind the experiment, write out a shopping list for the teacher and practice how they will present their experiment to their audience. Staff and students and parents from PP–Yr 12 will be invited to come and see the experiments in a marketplace-style set up.
21 Mt Magnet District High School
We are running a hands-on science activity day to engage students in science and to promote scientific interest in the wider community.  Rotating groups will be engaged in various activities from mid morning till the end of day. Community members and parents and guests will be invited to come and observe and/or participate in the activities as well as joining the school for a BBQ lunch. We will be promoting the event through the town.
22 Parkwood Primary School
In National Science Week we will be having the following activities:
Whole school incursion with 'Science Alive';
Family night of Light, Sight and Sound interactive activities; and
School community construction of a sun clock.
23 Perth Modern School
National Science Week will be celebrated at Perth Modern School in 3 ways:
By a series of talks by experts in the different fields of science;
By teacher led activities related to light and photonics, the scientific background of each activity will be explained to the students; and
By a student led science fair where students will choose a research question that they are excited/fascinated about and will then design and conduct their own experiment to investigate the question.
24 Somerly Primary School
Students will engage in scientific demonstrations, experiments, hear experts, and be involved in their own scientific inquiry during National Science Week. The week will culminate with a whole school science tabloid fair where classes present their learning to visitors from across the school and community.
25 St Joseph's School
Enlighten Me! A 3-4 hour Science Expo will highlight a range of scientific applications, a range of hands on exhibits, activities and demonstrations. These will be organised around four key areas – Vision and Light, The Solar System, Bubbles and an Ultra Violet Glow zone.
26 St Norbert College
We will have an Amazing Race style quiz where mixed teams of students have to solve science puzzles and look for clues. This will involve students having to make a kaleidoscope, taking pictures of crystallisation using a light microscope with 3D glasses and completing general knowledge quiz on science.
27 Tranby Primary School
Science activity day. The whole school will participate in hands on science activities. Activity stations will be set up and each class and teacher in the school can participate on a rotation basis through each of the activities. Parents will also be encouraged to attend.
28 Warriapendi Primary School
The Year of Light – rotational activities. Students will partner up with their buddy from Buddy Class (eg Yr 5 with Yr 1; Yr 2 with Yr 4, etc) and will rotate through five different activities throughout the day. Teachers will facilitate the activities with parent helpers.
29 Willetton Senior High School
Students in the STEM/Robotics extension class will make a series of sun-tracking solar ovens. They will celebrate results with the rest of the school in National Science Week, in a big student solar barbeque. Banners and displays highlighting the sun's importance, and optics will be presented.