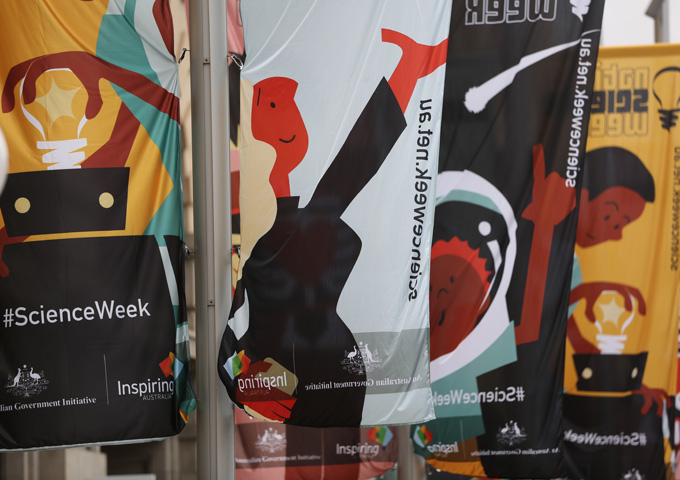 Thank you to each and every one of the 440 Australian schools who applied for school grants. It is fantastic to have such a huge interest in running activities in schools during National Science Week.
Congratulations to the 205 schools that have been successful in receiving grants of $500 or less to help them conduct a range and variety of science activities during National Science Week.
An additonal 47 schools have been awarded grants of up to $700 to conduct science activities related to the theme 'Food for our future: Science feeding the world'. These grants are generously supported by the Grains Research and Development Corporation (GRDC).
Here is the list of all of the successful applicants:
ACT
Erindale College. Science and Mathematics Enrichment Day with students from 6 local high schools.
Giralang Primary School. Giralang Science Fair.
Latham Primary School. Construction of science kits to give to teachers for National Science Week. Growing seasonal vegetables in cooperation with the canteen.
Lyneham Primary School. National Science Week and Book Week – a range of literacy based science activities plus a Science Fair.
Lyons Early Childhood School. Lifecycle of food from seed to compost. Installing gardening beds and creating a worm farm.
Maribyrnong Primary School. A School Science Extravaganza.  Students in the 5/6 classes will develop, organise and run a selection of science activities for the rest of the school and the preschool.  Activities will either focus on food production or use food in some way.
Marist College Canberra. Science Fair.
Mawson Primary School. Science night – The hall will be set up with hands on experiments, facilitated by teachers and lead students. Parents, carers, grandparents and other students will be invited to participate in these activities.
Ngunnawal Primary School. Fair Test Fest – students will develop interactive displays that demonstrate some aspect of fair testing. Year 5/6 students will host the fair.
Saint Clare's College. Develop a Science Club that will travel to our local primary school, Saint Benedicts, to help them develop a mini science fair.
Southern Cross Early Childhood. Set up simple science experiments in boxes for each class to use during our daily Investigations Program.
St Anthony's Parish Primary School. A Science Fair – showcasing of student's science projects, class investigations and science inspired art. Evening for parents and the community including a science show performed by students and a science inspired cafe including some of the food grown in our school garden.
St Thomas the Apostle Primary. Science Expo day – students will be divided into groups of various ages to complete a variety of science activities throughout the day.
Taylor Primary School. Family and community science evening.  A 2 hour session of about 60 hands on activities that celebrate the joy of discovering from a scientific perspective for Early Childhood students.
Theodore Primary School. A cluster extension day involving the local primary schools and selected students. These students will work with year 10 mentor students from Calwell High to complete science challenges.
Turner School. An 8 day STEM festival with students participating in a broad range of tasks.
Wanniassa Hills Primary School. Preschool to Year 6 science fair based around a broad topic related to sustainability and how science supports human endeavour.
Wanniassa P-10 School. A weighted challenge for years 7–10. Students can choose from 2 activities (or both) that involve constructing an object that can hold an amount of weight. Students will showcase and test their designs at an assembly.
ACT GRDC Grants
Cranleigh. We can all be scientists and farmers! Before National Science Week our excursion will be to the nursery to choose seedlings and seeds for our garden. We will have a day of fun science experiments with the help of the Marist college students. We will invite parents and the different classes to choose an appropriate experiment, according to students' abilities, and they can come and observe and interact with our experiments and science club students.
Harrison School. Comparison of different watering regimes on soil profile and plant growth.  Several plots within the school vegetable garden (both inside a greenhouse and outside) will be monitored for pH, conductance and CO2 levels whilst undergoing a variety of watering techniques.
O'Connor Cooperative School. Life for Plants, Plants for Life  In preparation for National Science Week our Preschool and Kindergarten students will be conducting experiments to look at the effects of surface and deep root watering on plant growth, in particular wheatgrass. The students will get to meet and question experts from the CSIRO, post-graduate students who are conducting similar experiments with wheat. During Science Week our students will display and discuss their science experiments with the school community and one other school.
St Michaels, Kaleen. More Crops From Our Vegie Patch. Using our existing vegetable garden plots we will conduct investigations to see how we can improve the quality and quantity of food we produce for use in our school canteen. Each class will plant new crops (vegetables) and some fruit trees.
Telopea Park School. Sustainable Eating. Students will research GM foods and sustainable eating, interact with invited speakers and conduct a range of experiments watering plants with different concentrations of salty water to study specific plant tolerance and to relate this to salinity, times of drought and barren islands, watering plants with sugar and water to observe the effects on the plant and wow long can seeds be frozen and still yield a decent crop?
NSW
Baulkham Hills North PS. Consumer Science Day – investigating commercial products that are widely available for sale. Conducting fair tests to investigate packaging, quality, value for money of these products. Parents and industry experts will be invited to participate in an open day at the school.
Beauty Point Public School. Garden project – expanding our gardens into vertical gardens, green walls and class micro gardens.
Belmore Boys High School. Cool Science – dry ice and liquid nitrogen. Junior classes will have a series of class demonstrations and experiments that deal with the 'cooler' aspects of science.
Ben Lomond Public School. National Science Week Expo. Students will be required to present that investigation of a topic of their own choice by demonstration or experiment.
Canterbury Public School. Whole school science fair with a focus on physical sciences.
Castle Cove Public School. Science Under the Stars – a community science event.
Coonabarabran High School. Middle School Science Challenge with Year 10 students acting as facilitators, Year 6 (from Coonabarabran Public), 7 and 8 students work in small teams to complete a number of science and engineering challenges.
Falls Creek Public School. Small School Science Day, a whole school event (including parents).  The children will be in groups (mixed levels K-6) and rotate around the school investigating, experimenting and exploring a range indoor/outdoor hands on activities (including technology).
Faulconbridge Public School. Faulconbridge Primary Pioneers. Students will be invited to create and demonstrate science projects of their own as well as participating in a range of hands-on experiments designed to illustrate key elements of the primary school science curriculum.
Ferncourt Public School. The second Annual Ferncourt Science Big Day Out – fully hands-on, inquiry-based, whole school Science Fair involving parent and community members, teachers and students. Students will be involved in rotational activities including rocket science, extracting DNA from fruit, tests for acidity/alkalinity, microscopic exploration of the natural environment, etc.
Griffith High School. Griffith High School Science Expo. The Expo involves inviting our feeder primary schools to the High School to participate in a range of science activities, which will be demonstrated and run by Griffith High School students and staff.
Gundagai Public School. GPS Science Fair in conjunction with the local high school. The science fair is an opportunity for Gundagai PS students to showcase their curiosity, imagination, creativity and construction skills.
Hill End Public School. Combined small school space-themed day including a community dinner with guest speaker and night sky observations for all ages.
Hillston Central School. K–12 science day based on theme of Science – feeding the world.
Hillston Central School. Science Challenge Day. Students from primary and secondary work collaboratively in mixed year groups to conduct a number of science investigations and solve problem based activities. Senior students will assist in planning the activities and organising them on the day.
Inverell Public School. Exciting Energy Experiment Day. Students from Year 6 working in small groups will research, design and prepare a fun and interesting energy science.  These will be set up in the school hall students from the whole school to attend various sessions to observe, participate and ask questions.
Kanahooka High School. The 2014 Inaugural Kanahooka High School Science Fair. We want to put a whole new spin on the traditional Science Fair. We aim to make our fair completely digital, via the KHS internet site. This will allow students to display their hard work and scientific knowhow to the wider community. The fair will be open Years 7-12 from KHS and Year 5-6 from the feeder primary schools.
Kariong Mountains High School. National Science Week activity day and expo evening – The High school hosts the regional primary school to experience a day of science activities relevant to the theme. This will culminate in a community expo evening where primary school projects and student work in this area will be showcased.
Karonga Special School. Science Fair. Senior students, with assistance, will help conduct and demonstrate a number of different science experiments. There will be 7 stations that the students will be rotated through.
Kingstown Public School. Using different workstations at school kids will teach kids. They will use their senses to learn about different seeds, experiment with seeds and learn about how important seeds/grains are as sources of food for our future.
Lake Munmorah Primary School. A week of science. A week of hands-on science activities with visiting specialised science teachers during National Science Week. Parents will be invited to come and be part of the activities and visit the finished products at our mini school science fair. The week will finish with an astronomy evening on our school oval.
Lidcombe Public School. Lidcombe Public School's Science Week Festival Extravaganza! All students will participate in a week long Science Festival of practical science activities beyond the usual Science program. Class teachers and support staff will run it, with the assistance of parents & community members and local high school science students.
Lurnea High School. Science Swap Day. Parents will attend school as learners and our students will be the teachers for the day.
Maitland Grossmann High School. Traditional ecological garden. Students will plant endemic species of grasses, shrubs in and around our Yarning Circle. Plants will be specifically chosen for their traditional use by Indigenous Australians highlighting the importance of Aboriginal involvement in natural resource management.
Marsden High School. Science Fair. Starting a Science Club in school for students in Years 7 & 8 and to get students involved in the planning and setting up of experiments for a Science Fair during National Science Week.
Mayfield East Public School. MEPS ScienceFest 2014. A week-long science event focusing on the theme 'Food for the Future', including the local preschool.
Nowra High School. The Shoalhaven River Learning Community will be hosting the Shoalhaven Science Fair with the aim of hosting the same event each year. Students from the Shoalhaven region will present their Student Investigation Projects for judging. The Science Fair will be open for local school students and general public to visit.
Oakhill College. Science Fair and National Science Week activities. The Science Fair will be a night to display projects and investigations students have completed throughout the year. Local primary schools will be invited to attend.
Our Lady of Mount Carmel Primary School. Science activities and experiments are planned for each year level. During the whole school assembly on the 20th August, a few students from each grade will present their findings and what their grade did during National Science week. Parents will be welcomed to participate in the activities during class time.
Pennant Hills High School. Science Fair – sustainable energy resources. Students will research energy efficient systems both in domestic and industrial situations. They will design and build models to display during the Science Fair. This will raise awareness and influence the community about energy use and conservation.
Penrith South Public School. Whole school Science Fair. Students will rotate around a variety of Science activities, including cookery classes led by local CWA ladies; kite design, construction and testing supported by local high school Science students; movie making using iPads at UWS, Hawkesbury, using their reptile farm and resources, which will culminate in movie showings for students and parents; Lego Technic design competitions and extending and improving our vegetable gardens.
PLC Sydney. Every junior school class will be linked with a Year 7 to 10 class to share a science experiment. The share will be two ways with a Kindergarten class doing an experiment for the Year 7 class and then the Year 7 class doing an experiment for the Kindergarten class.
Queanbeyan Public School. Science Fair. Stage 3 students (6 classes) will prepare science stalls (teams of 2 students) and present their scientific knowledge/experiment to an audience.
Retaval Infants, Belfield. Science Funfest. An interactive and fun approach to science knowledge using experiments and demonstrations by the students for pre-schoolers, their teachers and parents. Set up as a festival with each stall/station around the school exploring a different concept. A student with teacher/parent support will man each station. The experiment / demonstration will presented by a student.
Ross Hill Public School. Science Day with our local feeder high school (Inverell High School). Year 9 and 10 students will coordinate several science experiments to demonstrate scientific concepts at a primary/infants level.
Sacred Heart Central School, Cootamundra. Science Fair – students work individually or in groups to research and prepare a science experiment to demonstrate at the science fair. Prior to the fair, students submit their experiment and resource list.
Shoal Bay Public School. Science Fair. Students will work in pairs or teams to teach science concepts to the rest of the school. Students will research various concepts related to the new K-6 curriculum.
St Joseph's College, Banora Point. Accelerated Year 9 science students will conduct some engaging and fun learning experiences for junior students from local feeder catholic primary schools.
St Peter's Primary School, Stockton. Science Fair. Students will be supported to set up and conduct experiments for a school science fair. Each student will have the opportunity to create and experience different experiments in the school's hall.
George's Preschool, Eastwood. Science Expo. We will conduct a science experiment/activity each week of term three (July-Sept) with two science expo days in National Science Week in August including CSIRO Early Learners Science Lab. During this week parents, grandparents and friends of the preschool will be invited to attend and participate.
Trinity Anglican College, Thurgoona. 18 cool demonstrations/hands-on practicals will be passed around the K-12 classes. Running concurrently, each student from K to 12 will use a hand-held digital microscope to take an image or a video of any microorganism, insect or any object and present it to the wider community in a year-based competition for the most unusual/cool image.
Trinity Catholic College, Regents Park. Science Olympics. Teams of students work together to complete scientific-based activities using research, practical skills, interviews and surveys.
Undercliffe Public School. Students will be organised into class-sized groups across K-2 and 3-6.  Students will then rotate around five different activities that will enable them to learn about science concepts through hands on investigations.
Walcha Central School. A middle school science fair that includes students from Years 5-8, plus students in Years 9-10 will have involvement early in the day.  The event will also have a community evening to show case to parents and community members the fair and the theme for the year.
Widemere Public School. A full day science fair for students, parents and the community during Science Week with a range of activities, experiments, observations and application of knowledge, suiting all students from K-6.
Wilton Public School. Stage 3 students in groups will be investigating and designing and making specific age appropriate science experiments for ES1, S1 and S2 students. This will be a whole day activity as well as other science experiments presented to the whole school daily throughout science week.
Wiripaang Public School. A Science Fair where students, teachers and community from K-6 and Special Education connect with high school students of the local community of schools to work and learn from each other.
NSW GRDC grants
Arranounbai School. Through real-life experiences students will explore the needs and features of living things, the relationship between the sun and the earth and how the conditions of the environment affect the growth and survival of living things. The senior students will be given the task of designing an edible garden. They will be in charge of sourcing materials and plants and will assist with the construction of the garden.
Elermore Vale Primary School. All students will participate in creating a raised vegetable garden for students to manage.
Gosford High School. Growing Profitable Pastures. To establish and manage a grass/legume pasture on the school Ag plot which can provide productive and nutritious growth to sustain our small sheep flock.
Kentucky Public School. Sustainable School Organic Kitchen Gardening. Workshops on organic vegetable and fruit production with a focus on climatic suitability (temperate to cool growing seasons) / Composting, worm farming and their uses and benefits in relation to the above. Three neighbouring schools will participate in workshops during National Science Week.
St Francis Xavier Primary School. Re-establishing vegetable garden beds within the school. Children will learn about establishing the garden, managing planting, harvest and food preparation, health and safety in the garden, cycles of growth, improving soil fertility and pest control.
Turramurra High School. Construction of a model aquaponic system. This will demonstrate the use of wastes from a native fish aquaculture system in hydroponic culture of food plants. This system will complement activities that support food gardening within the school. The system consists of a fish-growing tank connected to a plant culture system.
Wauchope High School. We would like to establish a Bush Tucker garden in consultation with the local Birpai people.
NT
Acacia Hill School. The Acacia Hill Science Theme Day – Let's get Yucky! A range of experiments take place to celebrate Science and the role it plays in the lives of kids with disabilities
Alyangula Area School. Science Fair. Individual classes and students will complete a science fair investigation/project. Students will display their projects at the Science Fair in which all students, parents, family and community will be invited to attend. Groote Eylandt Hub will be invited to be involved.
Centralian Middle School. Crystal growing competition.
Elliott School. Elliott Science Tsunami. Elliott School will join forces with Elliott community and neighbouring communities to showcase their recent scientific explorations and understanding through demonstrations, hands on activities and guest speakers at Elliott School for a one-day event during National Science Week 2014.
Jabiru Area School. Science Fair. The whole school and the wider community will come together for an afternoon of science experiments and exhibitions.
Jingili Primary School. The whole school is adopting the eggs-citing theme of EGGS. Through our Kitchen Garden Program, Health Program and Science Program, each class will take on an egg project to present in a National Science Week Eggs-po. Activities will range from comparing the differences between battery eggs and free-range eggs from our garden; keeping an egg safe; hatching an egg (maybe); how chickens provide an ongoing source of food in the third world.  Students will research, conduct experiments, collect data and communicate it to the school.
Kormilda College. Science Challenge – filtration project. Teams of students will get together to construct a water filter using very basic items.
Malak Primary School. Upper primary students will choose a concept that they can teach to the early primary students.
Nightcliff Middle School. Applications of dry ice now and in the future of food and everyday life.
O'Loughlin Catholic College. Different interesting science activities available for students and teachers at lunchtime. Exploration of dry ice, helium filled balloon animals, making ice-cream using liquid nitrogen and creation of an ant farm.
Our Lady of the Sacred Heart, Bath Street. Science is Fun. There will be five stations covering each of the science strands run by Years 3 and 4. The whole school will be involved.
Palmerston Senior College. Mouse Trap Car Challenge. Students in every Year 10 class and all Year 11 science classes will have the opportunity to build the best mousetrap car (for distance).
Parap Primary School. A whole school activity day where older students assist younger buddies to complete a hands-on activity to do with the area of science studied in Term 2.
Sacred Heart Catholic School, Woodroffe. The whole school conducts a brief science activity in each classroom. The teachers of each classroom and other support staff will host science experiences for the students – primary (T-3) mixed groups and upper primary (4-6) mixed groups.
St Mary's Catholic School, Darwin. A science evening. Parents will be invited to explore science with their children. These sessions will be organised by Year 6 students and will be enquiry-based.
St Paul's Catholic Primary School, Casuarina. A science expert will be invited to run some science activities during National Science Week in our junior classes.
Stuart Park Primary Schools. 'Super Science Week Activities' and the 'Super Siskamanis Science Show'.
Taminmin College. Science Fair. The theme of this year's science fair will be sustainability with a particular focus on food production and the environment.
Wagaman Primary School. Wagaman astronomy evening . Students, staff, families and community members will participate in an astronomy evening with a local astronomer (with telescopes), local Indigenous family and community members sharing night sky stories and a multi media astronomy presentation.
NT GRDC Grants
Durack School. There's a Hole in My Bucket. We will run a science competition to create the most effective water efficient watering can, and provide the students with materials to construct them to test their innovative ideas for their effectiveness. The students will design experiments for the rest of the school to participate in during National Science Week that revolve around the garden and sustainability.
Howard Springs Primary School. Feed the World: The Howard Springs Way.  Students will be involved in a whole day science and tree planting day. They will participate in gardening activities including tree and seed planting in the bush tucker and vegetable gardens, laying irrigation and setting up the native beehive in the Early Childhood area.
Jilkminggan School. Opening of the school vegetable garden with the students and families of Jilkminggan community. At the opening families and students will be given some ideas and a booklet of recipes and can participate in cooking workshops.
Kintore Street Special School. Growing vegetables by hydrophonics. They will use the vegetables they grow in their nutrition program, to feed their chickens, rabbits and guinea pigs and to sell at the local market.
Milkwood Steiner School. Sustaining soil fertility. Activites will include biodynamic composting demonstration, involving the children and parents in the creation of a biodynamic compost heap, the launch of a chook tractor, complete with chickens to build up soil fertility (as well as providing eggs for cooking projects), preparation of our own potting mix  and propagation of seeds in our own school potting mix.
QLD
Calvary Christian College, Mt. Louisa. Calvary Science Week Challenge. Events will include bridge building, egg drops, Ecohabitech and catapult constructions.
Capalaba State College. Fast Food Festival. A week of fast science activities designed to give students, teachers and other community members an insight into the science of food run in many different areas of the school.
Carinity Education, Southside. Greenhouse Project. Construction of a greenhouse by Year 12 science students.
Currumbin Primary School. Science Enrichment Day – building a rubber band racer. The students will design, build and test their racer. Parents and school community members will then be invited to view the final testing of the cars in the afternoon session of the day and listen to students explain the design and testing process.
Dutton Park State School. Food for the Future photographic competition. Students will be asked to take photographs that represent the theme and to write a paragraph to explain their image.  The winners and runners up in each category will be displayed in the Bogo Road Ecoscience Center and the Queensland Museum as part of the BSHS display.
Home Hill State High School. HHSHS will hold a number of events including and annual solar viewing for students and community, an astronomy night, the annual mouse-trap-car construction and racing competition, growers video competition and a presentation evening including Brain Box quiz.
Ingham State High School. Ingham SHS Community Engineering Challenge . The school's Science and Engineering team (made up of Year 9 and 10 students) will host the event, where parents and the wider community can enter a team of 4 and compete in engineering challenges such as bridge and catapult building, constructing sustainable housing and other group science challenges.
Lota State School. Whole school is to participate in science/engineering activities. Each class will progress from one activity to the next as a group, but be broken into smaller groups to perform the Science experiment. Particular experiments will be performed either by a staff member or by the older Year 6/7 students under supervision of a teacher.
Mackay Northern Beaches State High School. A crystal growing competition using potash alum and a science trivia event.
Macleay Island State School. Science Day to be hold for whole school with students rotating between activities based on Science Week theme of Food for our Future.  Activities are to be run by classroom teachers, feeder high school staff, local scientist and an indigenous worker.
Maryborough Special School. Earth Foods Science Show. Full of fun and activities of natures recipes for selected students to make including fruit fizz whizz, edible chocolate slime, dyed vegetables with beetroot, egg white and sugar mountains and maple syrup crystals.
Meringandan State School. How do gardens grow? Investigating how to improve the health of our gardens and to extend them by starting our own fruit orchard.
Mitchelton State School. Science competition for children in Years P-7, with varying categories: Scientific Investigation, Classified Collection, Communicating Science and Models/Inventions. The competition will culminate in an open parent afternoon; our local high school is also participating in the event with their student science ambassadors as part of the judging panel.
Moreton Bay Boys College. Whacky Science in Action. A family science night.
Mt Morgan State High School. Open day for aquaponics. Primary schools, high school students, parents and community will be invited to visit and learn how our aquaponics system works. There will be hands on experiments.
Our Lady of the Angel's, Wavell Heights. A new approach to farming. Students will investigate the use of automation for the completion of a range of tasks in industry, specifically learning more about QUT's AgBot program.
Pacific Lutheran College, Birtinya. The Junior School (P-6) will present our inaugural Science Expo / Fair 2014.  Each class will have a project stall that reflects an investigation based on the Food for the Future theme. We will invite local media to cover the event and of course our parent body and local community members will be invited.
Pimpama State School. Science Fair. The fair will be a whole school event whereby each class is asked to contribute to the fair.  Each year level will be given an area of study/or investigative question in which those classes are to examine and present their findings at the fair. Community groups will also be invited to attend the fair, add displays and show how science impacts everyday life.
Pine Rivers State High School. School Anniversary and Expo. We will have 10-15 hands on Science experiences such as DNA extractions, Iodine from salt, acid practicals, microscope work, plants etc as well as posters that all relate to famous Australian Scientists, Nobel prize winners in science as part of our 50th Anniversary in August.
Rosewood State High School. Rosewood Cluster Science Competition: Plants. As part of the National Science Week Food for our future: Science feeding the world theme for 2014 we will run a plant science competition amongst the high school students and the students in the cluster primary schools in the area.
Saint Anne's Catholic Primary School, Sarina. How can we help feed the family? – Whole school science fair.
St. Francis College, Browns Plains. A focus Science Day to raise awareness of the significant role science plays in production and presentation of food. Older children will prepare food related investigations and competitions in the College hall, and all will be involved in hands-on planting of herbs and vegetables.
St. Patrick's College, Gympie. The senior science students (Year 11 and 12 Chemistry, Biology and Physics) will design and implement science enquiry activities based on the discipline they are studying.
The Cathedral School, Townsville. Hands-on workshops, a science food fair and the traditional Quiz in the Quad.
Tingalpa State School. Everyday Scientists, Every Day. Parents & visitors will be invited to visit classroom exhibits of students' work in science. Students will be asked to be the experts explaining the concepts, thinking and processes highlighted during the current unit of study.
Townsville State High School. Students will engage in molecular gastronomy activities, linking with a qualified chef and scientist that use these skills in their restaurant and for scientific research.
Trinity Anglican School, White Rock. Science in the Courtyard is a science fair for students from Kindergarten – Year 12, staff and the wider community. There will be a focus on the design and presentation of engaging hands-on activities that support science process skills and reflection on the role of science in everyday life.
Wavell State High School. Planting of traditional food plants. As well as this area being used for direct teaching, the students and wider community are involved in large plantings for special events.
Yeppoon State School. Yeppoon Science Week. Students from the senior classes will work with the Science coordinator and personnel from the university designing science activities to teach to other classes. The week will cumulate with a demonstration to community members and parents of science experiments and knowledge by students.
Yorkeys Knob State Primary School. Vege patch and worm farm. Students will plan, participate and reflect on the rebuilding of the yearly worm farm and vegetable/herb patch for the purpose of supplying products to the tuckshop and when possible sale of herbs to parents.
QLD GRDC Grants
Laidley District State School. Celebration of International Year of Family Farming. The main focus will be a showcasing the value of family farms to the economic and scientific life of the Laidley Valley, both past and present
Mount St Bernard School. The science of exotic and rare tropical foods community forum aims to promote and engage the local community – farmers, migrant, traditional owners, students and scientist's interest in exotic fruit and nut agriculture. Participants will be asked to bring along fruits, nuts and plants to discuss properties. This will be documents/photographed and made into a booklet.
Silkwood School. Food security – enough for all forever? Student run workshops – Year 9 students will create hands-on workshops for Middle School. Rotations will include making mini-biomes, food tasting, role plays, soil analysis, bee security (we have natives bee hives on site), case study analysis, experiments, short film clips and more.
St Andrew's Catholic College. Chocolate – Beans to Bars. Daintree Estates, a local cocoa growing and chocolate production enterprise, will provide cocoa beans at various stages of production. All 550 students in Middle Years at St Andrew's (Yrs 6 to 9) will complete a round robin lesson where they examine the cocoa beans from the pods through to fermenting, drying, roasting and cracking.
St Mary's Catholic College. Natures Wild Tropical Foods. Indigenous elders will provide detailed knowledge of tropical foods and herbs used for medicine and eating. The elders will provide a cooking demonstration and students will design and develop a bush tucker garden in partnership with the Cairns Botanical Garden.
SA
Blackwood High School. Students will visit primary schools and conduct science demonstrations and activities.
Booleroo Centre District School. Science Palooza. A week of difference events on different days to encourage and engage students with Science and STEM careers.
Burc College. Science Fair for secondary and primary students.
Elliston Primary School. Science Fun morning . Different fun activities will be set up in different classrooms around the school and students rotate through the different activities.
Fulham Gardens Primary School. Watch it Grow from seeds, bulbs and cuttings. Students will develop their own propagating garden and monitor the growth and cycle of various plants species from ornamentals, herbs, fruits, vegetables and flowering.
Good Shepherd Lutheran School. A mini science fair/expo in which the whole school is involved. Each class will be responsible for creating and setting up a science display/activity in their classroom, which will be visited by other classes.  These children will act as 'experts' in their chosen science activity. Parents & community members will also be invited and possibly help out with activities.
Grant High School. Hands on science by looking at various day-to-day objects, including food under portable microscopes.
Ingle Farm East Primary School. Establishing a propagating area for planting vegetables to be used in breakfast club and for healthy lunches.
King's Baptist Grammar School. Patch to Plate with a Fungi! (fun-guy ). As part of the Patch to Plate gardening program students will grow mushrooms and also be actively involved in an experiment, which will be conducted on a plot of soil contaminated with diesel oil and inoculated with mycelia of oyster mushrooms.
Koolunga Primary School. CSIRO – Lab on Legs Program morning session, incredible insects afternoon session and Blown Away science show for 3 combined schools and community.
Lockleys North Primary School. The Year 6 and 7s will present science activities to the younger students at our school. They will research the activity they would like to present, with an emphasis on hands on and preferably something the students can take home.
Mercedes College. Create a composting system (a combination of compost bins, worm farms, Bokashi bins) for the Junior School to reduce the amount of organic waste going to landfill.
Mitcham Girls High School. Mitcham Science Road Show. Year 9 students will write, practice and perform science shows for classes of primary students to help them celebrate National Science Week.  They will incorporate food into their show to fit in the farming theme.
Morgan Primary School. Mobile Science Education will come to our school to conduct workshops for the whole school community.
Murray Bridge South Primary School. Mythbusting. Experiments will be devised with the students to carry out fair tests to test their predictions. This will be videoed and put on the science class blog. Parents will also be invited to an assembly to watch our program. The local paper will be asked to come in for an article on what local schools are doing around National Science Week.
Springton Primary School. Science expo for our school community and other local small school students. Students will be involved in creating displays and activities linked primarily to biological and chemical sciences.
St Brigid's Primary School. Science Day. Students will be split into 4-5 cross-age groups. Each teacher will plan a science activity or experiment. The event will be advertised and parents and community members will be invited to come along and participate.
St James School. Year 12 science ambassadors will be conducting various experiments for the younger students at the school to help them understand various scientific concepts, such as momentum, gravity, chemical energy transfer to other energy forms, elasticity and states of matter.
St John's Grammar School. Primary science fair. Each of our 16 classes will choose from science areas such as: (1) Scientists in action; (2) Biology; (3) Chemistry; (4) Earth and Space and (5) Physics or a focus on sustainable environments. The children will set up their classrooms with small group hands-on demonstrations and experiments to view and/or complete.
Stella Maris Parish School. Planting seeds, seedlings around the school and in established school vegetable gardens with family members participating. Establish and learn about worm farming and the links with gardening and plant health. Learning about worms and their role in the garden food chain.
Waikerie Primary School. Outback Garden program extension enabling each class to make further investigations into the scientific and sustainability processes involved in food production. We will be conducting 'hands on' growing activities combined with theory in class written lessons. We will also be visiting our community learning partners, the childcare and senior day-care centre to share our activities.
Wasleys Primary School. Science is Fun! The students who attend Science Club would like to set up workstations and demonstrate experiments to students in the school, their parents and the community. They then want to set up workstations so these people can then try the experiments themselves.
William Light School. Engineering competitions including bridge building for middle school and more complicated challenges for senior students. Science show by middle school students doing demonstrations for junior school students.
SA GRDC Grants
Cardijn College – A whole school activity involving the construction and maintenance of an organic herb garden working with the local indigenous community.
Emmaus Catholic School. We want to explore food growing as a school community. Each class will research then plant the most appropriate vegetables or herbs to grow within a garden beds or in their classrooms. We will use a range of methods such as garden beds and vertical gardens using recycled materials. Future directions would be to set up a market place where students could sell their produce to the school and local community.
Faith Lutheran College. Afternoon extension to our Science Fair. Food for the Future: Our Student Scientists meet local food scientists. Production of a short video about the afternoon.
Findon High School. Students will be investigate the effects of pH, salinity, soil type and the impact of using various type of water (eg rain, grey and tap) on vegetables growth and resultant yields. Various feeder primary schools around the district will work with Findon students on this project.
Henley Beach Primary School. Natural Resource Management from the Ocean to the Outback.  Thole school will participate in a range of land and water management activities appropriate to their age level. Activities will include learning about and constructing a water desalination model, learning about dry land salinity, conducting soil PH tests, conducting tests to investigate seed viability, recreate models of the land to investigate the impact of wind and water on soil erosion.
Port Lincoln Junior Primary School. Seafood on the Move. Discovering how seafood is grown, processed and exported on the Eyre Peninsula. We will host a seafood exhibition at our school and also visit the aquaculture centre and industrial kitchen located across the road at the high school.  We'll also invite people who work in the seafood industry.
TAS
Bracknell Primary. Dad's Science Night. Dads and granddads will be invited into the school, with students, to visit and participate in activities together with a particular focus on science.
Burnie Primary. Burnie Primary Science Expo and Year 5/6 science inquiry competition. The expo will allow students to explore science through hands on inquiry.
Collinsvale Primary. Food for Thought' Science Expo. All K–6 students will participate in free, hands on experiments and investigations pertaining to the Food for our future: Science feeding the World theme.
East Launceston Primary. Primary science professional development program with targeted presentation for Foundation – Year 2; Years 3 &4 and Years 5 & 6 in order to build teacher capacity and enthusiasm for teaching and learning of science in primary class rooms across Tasmania.
Exeter High. Science Fair for Exeter. Classes will be allocated session times and will be able to walk around the various mini experiments that will be run and explained by the Year 9 and 10 students.
Fairview Primary. New Norfolk High School is hosting a Science Expo for primary schools within the Derwent Valley Learning Precinct and the broader community.
Glenora District High. Various activities – The activities will involve visual and interactive experiments, information stations and a variety of displays relating to food, developing a solution for various shortages in resources, designing a poster relating to food and its importance to humans and the environment they live in and science competitions involving foods.
Howrah Primary. Older Students Showing Younger Students. Buddy classes will share and participate in a variety of investigations depending on the particular year groups. Findings will be communicated on various notice boards around the school and in the school newsletter.
Jordan River Learning Federation. Science Expo. A week-long event that includes a science fair run by the grade 5/6 students with activities for early learners, early childhood and primary students. Each level of activities will be run on different days to allow for students to access science at their level.
Landsdowne Crescent Primary. Sharing our interpretive walk with students from Mt Stuart Primary, Lenah Valley Primary, our own students and members of our wider community. Student leaders from Lansdowne will lead the interpretation and will use appropriate technology to access the Land To Sea app.
Lauderdale Primary. Kids Teaching Kids Science 2014 – A science based activities session will be conducted where senior students in the school worked with younger students on a series of science based demonstrations.
Leighland Christian College. Science quiz to be held each day for primary and secondary schools.
MacKillop Catholic College. We'l  be running a hands-on Science Fair at our school during National Science Week.
Miandetta Primary School. Science Fair and Expo. Year 5/6 science investigations, school-based plants investigation "Where is the best place to grow seedlings in our school?" ECE and primary National Science Week presentations, family event incorporating school goals related to Kids Matter and enlisting parents working in science fields as demonstrators.
Molesworth Primary School. Science Expo 2014. New Norfolk High School is hosting a Science Expo for primary schools within the Derwent Valley Learning Precinct and the broader community.
Montello Primary School. Year 6 students will carry out a range of investigations and demonstrations throughout the school. An agricultural scientist will speak to the school about his global database of food and nutrition. Photographs will be taken and these will be enlarged to poster prints for display in the school. We will conduct a school wide National Science Week challenge.
New Norfolk High School. Science Expo 2014. New Norfolk High School is hosting a Science Expo for primary schools within the Derwent Valley Learning Precinct and the broader community.
New Norfolk Primary School. Science Expo 2014. New Norfolk High School is hosting a Science Expo for primary schools within the Derwent Valley Learning Precinct and the broader community.
Ouse District High School. Science Expo 2014. New Norfolk High School is hosting a Science Expo for primary schools within the Derwent Valley Learning Precinct and the broader community.
Riverside Primary School. During National Science Week we will be running a series of science-based activities linked to the TSTS theme of Feeding a Hungry World. Activities will be run in our school gymnasium where two classes at a time will test, explore, hypothesise and complete experiments, based around agriculture and food.
Scottsdale High School. Science Expo, this event will be managed (planning, organisation, event structure etc) by our Year 9/10 Science Extended class. They will be inviting our local primary school classes and junior school students to explore various themes in science education through hands on activities and demonstrations.
Southern Support School. A number of science related events including a Science Fair for the whole school run by Mackillop Catholic Colleges students, construction of Science Week kits and science poster competition.
St Patrick's College, Prospect. To provide science and engineering challenges for Year 9s to gain hands-on experiences that cannot normally be offered.
Taroona High School. The Star Studded Energy Efficient Building Model Challenge. This will be a collaborative project involving science students in a Science and Technology Enrichment Program, to build models of an energy efficient building. The best models will be displayed at the school, for the community, during National Science Week, at the Sustainability Learning Centre and tour the feeder Primary schools. The designs will be showcased on the Green Hub Website for Greening Australia.
Triabunna District School. Hands on science. High school students will prepare a range of activities for younger students to explore.
Westerway Primary School. Science Expo 2014. New Norfolk High School is hosting a Science Expo for primary schools within the Derwent Valley Learning Precinct and the broader community.
Yolla District High School. Science Extravaganza. Students in Year 10 will research a science activity each. The students will then combine their activities with others as a group and present one major activity on stage to the other students in the school.
TAS GRDC Grants
Family Food Patch. Seeds for Schools: sharing small vegetable seed kits (two local vegetable seed packets, 10-20 pots and written resources) with local primary schools.
Kingston Primary School. Food For Thought School Fair. Hands-on activities including setting up a table with a variety of fresh, processed, canned, frozen, freeze dried food samples etc and getting students to discuss production processes and technologies.
Ogilvie High School. Backyard Bounty for School Families. Students and staff will germinate heritage vegetable seeds and grow to seedling stage in a greenhouse designed to allow for this. The seedlings will be used by staff and student families to grow their own vegetables.
Ringarooma Primary School. Inter-school Agricultural Expo Students from the Year 5/6 class will create their own science fair stand to explain science links with agricultural processes in their local area.
Rosetta Primary School. Can We Do It? Yes We Can! We will issue a challenge within our school to provide lunch for each child for $1 per head. The children would be offered a range of soups from different cultural backgrounds using natural and sustainable products. In addition the soups would be served with a choice of breads (using different grains) which we would bake ourselves.
St Mary's College, Hobart. Science and Sustainability Fair. The fair will showcase students' individual and group Science Inquiry investigations on this years National Science Week theme. Footprints, our student sustainability group, will run workshops and displays on sustainable food production, with focus topics such as water usage, drought resilient crops, processed vs non-processed foods and nutritional content of food.
VIC
Auburn Secondary College. Secondary students working with the local primary school.
Beaconshill College. Pond restoration for the endangered Growling Grass frog.
Bendigo Senior Secondary School. 3D design. Students using CAD software.
Briagalong Primary School. Food production around the World. Considering six countries, their farming and food. Students will produce and cook food from these countries.
Chewton Primary School. Looking at the physical environment of the local creek through the eyes of a local author. Science dinner involving the whole school community and members of the various district Landcare groups.
Dimboola Primary School. Have a blast science day. Kitchen chemistry for the whole school.
Grace Park Pre School. Whose tooth? Investigating teeth and how to look after them.
Hawkesdale P-12 College. Family science expo involving all the local primary schools.
Highlands Primary School. Recording the weather using a weather station.
Immaculate Heart of Mary Primary School. Students will explore our sun, moon and the stars and planets in our solar system through a portable CSIRO Starlab and Cosmodome Planetarium visit to our rural school.
Irymple South Primary School. Explosive plant propagation. Experimenting with novel seed germination technique – seed bombing.
Ivanhoe Grammar School. The planting of a variety of food plants and herbs.
Kaniva College. Exploring sustainable solutions to world food production. Experimenting with regard to the effect of climate and soil on food production.
Maffra Secondary College. Maffra Science Expo. An opportunity for Year 8 students to apply the scientific method to conduct independent and team research. The results of each student's or team's research will be presented in a community event to be held in during National Science Week.
Mentone Girls Grammar School. National Science Week breakfast involving girls from 35 Alliance member's schools and 50 female scientists.
Murrayville Community College. Science feeding the world. Looking at crop choice, crop growth and water requirements.
Notre Dame College. Under pressure. How the principles of air pressure are applied in the local food manufacturing industry.
Romsey Kindergarten. Further development of their garden program. Exploring their environment.
Rosebud Secondary College. Planting indigenous edible plants from the local area. Considering practices relating to sustainable food in the Australian environment.
Royal Children's Hospital. Marvellous Movement. Patients and family investigating the science of movement.
Southern Autistic School. Chicken hatching program. Building a coop to house hatched chickens.
St. Macartens. Growing food in small spaces. Growing food using hydroponics.
Woodford Primary School. Testing soils in the environment.
Yarraville West Primary School. Raising a variety of edible plants from seed using different medium and microclimates.
VIC GRDC Grants
Allansford and District Primary School Science for OUR  future'Expo. This expo will include classroom tasks and visiting experts completing tasks that demonstrate: Food for the future and sustainable energy practices, cluster day visits and a family night where the senior students share their learning and understanding with fellow students and parents and community members.
Brentwood Secondary College. Green Team agricultural analysis. With the introduction of a greenhouse to our garden and sustainability program we would be able to extend the skills of our volunteer students in the Green Team to be able to research ways to enhance growth and yield in preparing and caring for plants in a more controlled environment during our weekly sessions.
Fintona Girls' School. Micro-propagation of native bush food. Years 9,10 and 11 will be introduced to aseptic micro-propagation of native traditional bush food plants which can be sold to the public at the Schools Food and Wine Festival.
Goroke P-12 College. Develop a local school seed growing experiment to further explore sustainability in farming.
Keysborough Secondary College. Asian/African Fusion Food Garden. Convert unused spaces into a fusion food garden based on permaculture principles and using traditional foods and plants of our school community.
Marong Primary School. Fixed Vegie Garden Bed Challenge. Students (multi-aged groups) will design a fixed garden bed in different locations on the school grounds. They need to consider and explain (literacy) how their design and plants chosen are sustainable, the chosen soil type and why, efficient water use and cost (numeracy).
Werribee Primary School. We dig gardening! Our gardening project can be divided into four parts:  Plant propagation; Plant science experiments; Linking gardening to other subject areas  and Community – demonstrations, tours and sale of vegetables.
WA
Armadale Primary School. Themed science boxes for students to take home and use with parents or friends at home. Each box will contain a range of equipment and some suggested activities but essentially be an opportunity for open-ended exploration at home.
Ballajura Community College. Liquid nitrogen and food. Investigating and demonstrating the uses of liquid nitrogen in food preparation and dry ice in the food industry. Investigating and demonstrating the uses of dry ice in food preservation.
Boulder Primary school. School garden. We will plant a fruit/vegetable and herb garden to provide hands-on activities that will engage and support students to achieve science outcomes specifically.
Jurien Bay District High School. Sustainability Expo. Primarily run by the well established horticulture VET program students and the marine tourism students, the secondary school will create an interactive sustainability expo for the primary school as well as the local community covering a variety of aspects of sustainability in farming and fisheries.
Landsdale Primary School. Science Extravaganza Day. Students will investigate, plan, set up and run a wide range of hands on science experiments to engage students from 6 years of age through to 13 years of age.
Little Grove Primary School. Science afternoon for staff, including experiments and afternoon tea (titrations). Science quiz activities for students during form time; crystal growing competition and amazing Science Race run at lunchtime.
Meadow Springs Primary School. Great Biological Science Quiz> Competitive quiz for all students in Years 4 – 7.
Newton Moore Senior High School. Community Science and Engineering Fair. Students will run a science and engineering fair featuring over 150 Crest Awards completed in 2014, interactive and hands on activities, industry partner displays and a keynote speaker.
North Balga Primary School. Sizzling Science! Students from Kindergarten to Year 7 will participate in hands-on learning activities exploring food science.
Padbury Catholic School. Garden project: from seed to plate. Set up garden beds so each year group has the responsibility of sowing and harvesting fresh verges and herbs.
Rawlinson Primary School. Students will be participating in a range of activities in relation to the theme 'Food for our Future'. The whole school event will involve activities such as planting seedlings, mini compost bins, healthy meal recipe books, investigating what we can grow from seed, making mini green houses and investigation of GM foods.
Settlers Primary School. Science Week Tabloid Challenges. Each teaching block in the school will participate in a variety of age-appropriate hands-on science activities in small groups with their teachers. The activities will introduce them to a range of different science concepts and experiences.
South Coogee Primary School. Sustainability in Action. Cultivating school gardens that will contribute to our kitchen garden project to enhance the good food health choice for the primary school and to experiment on different growing techniques, which are more productive.
St Emilie's Catholic Primary School. The future of our food supply. Through a variety of relevant and challenging science investigations students will learn where our food products come from and how healthy eating habits and food choices contribute to a healthy lifestyle.
Tambellup Primary School. Science Day. Including teacher run science demonstrations, a series of scientific hands-on learning stations facilitated by our school's science extension class, a school science fair competition where students from all participating schools are entitled to enter.
Warnbro Community High School. Sustainable Food. Year 6 and 7 students from our local primary schools will visit to work with students at WCHS in lab activities on how foods are grown in a sustainable fashion, requirements for soils and plant types in order to produce a maximum yield of food.
Woodlands Primary School. Clean water for food production and preparation. Classes will be involved in creating and testing water filters to determine whether water contaminated with harmful elements can affect the safe production and preparation of edible food. The planned activity will be conducted in buddy class groups to enable younger students to discuss and learn concepts with their older buddies.
WA GRDC Grants
Anzac Terrace Primary School. Investigating the science and technology used to increase yields, reduce costs/waste and encourage sustainability in grain farming. More specifically how modern science and understanding influences the different stages of the grain cycle including Choosing the right type of crop; Sowing; Soil and climate; Harvesting technology; Storage; Transport; Processing; Food packaging; Environmental impact; and Sustainability.
Ashdale Primary School. School wide K-7 Science Week activity boxes. Two activities per year group, (one based on Science as a Human Endeavour and one Science Understanding) linked strongly to plant growth, food sources, soil types, growing food sustainably, plants for food, food chains and others.
Cecil Andrews Senior High School. Creation of a permaculture garden will incorporate permaculture practices to sustainably grow organic herbs and vegetables. With the help of the local Indigenous Elders we will integrate the use of indigenous medicinal plants, based on an already developed a six season calendar. In collaboration with the Elders we use various scientific, technological and traditional practices to extract oils from both traditional and non-traditional plants.
Corrigin District High School. Whole school science afternoon with various activities including a debate by Year 10 students on the pros and cons of gene technology in agriculture, food tasting of samples made from lupin products (Lupin smoothies and biscuits), display of primary students' posters on the Corrigin community feeding the world and microscope display showing local crop pests.
Muludja Remote Community School. Establishing fruit and vegetable gardens as a buffer against the depletion of traditional food source (goanna and fish) by the imminent arrival of Cane Toads. The school will establish a permaculture system of vegetables, fruit and nuts as a model for community food growing.
St Mary Star of the Sea, Carnavon. The upper primary and selected middle school students will be invited to submit designs for a vertical edible garden. A representative from the local agricultural department will nominate the best design. The design will then be built and a trial will take place with the students recording a video diary of their observations