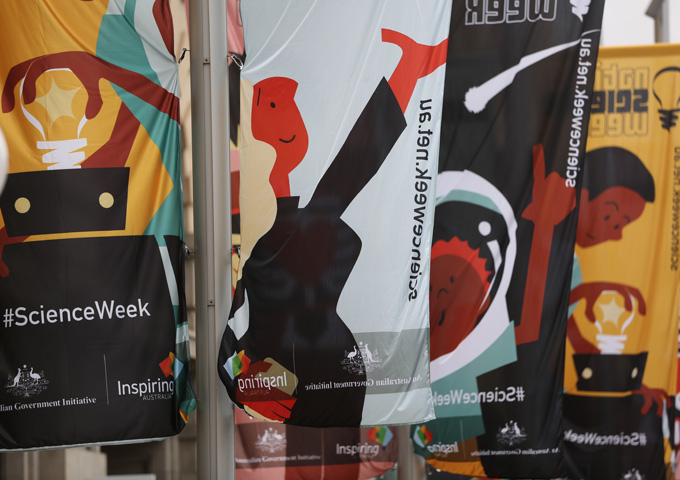 The Queensland National Science Week committee is pleased to announce these successful projects for this years' event. The launch event is being supported with $10 000 and the seed event grants are for up to $2000.
Queensland launch event
To celebrate the launch of National Science Week, Griffith University is partnering with Westfield Garden City to showcase science to the public.
There will be a launch presentation by the Queensland Chief Scientist followed by a 45-minute panel discussion with science experts on how to "Future proof your career with science".
These experts will share their inspiring stories on how science has shaped their career, the exciting opportunities a science career offers, how scientific skills have helped them become successful and the importance of these skills.
The three day event will take place from Thursday 10 to Saturday 12 August to allow visitors to the centre to view and engage with the exciting installations.
Shoppers will engage with flight simulators, street science, career information, industry displays, and hands-on discovery activities in an environment where they would not expect to see such things.
Seed grant recipients
Battle of the Brains Science Nation
To celebrate National Science Week the Science Nation is holding the greatest contest of intelligence and wit the world has ever seen. Covering everything from quantum mechanics to the Big Bang, and everything in between, Battle of the Brains is an intellectual obstacle course that will be terrify the contestants and entertain you! Come along and join the fun as the Science Nation tries to find the best, brightest, and funniest physicist in the land.
Gold Coast Primary Science and Engineering Challenge Upper Coomera State College
Upper Coomera State College in collaboration with Dreamworld, will host the 3rd annual Gold Coast Primary Science and Engineering Challenge. The Primary Science and Engineering Challenge is a day-long competition, designed to provide Year 5 and 6 school students with a positive science and engineering experience. Students work in small teams on 2 half-day activities.
This year the challenges will reflect the physics and engineering behind theme park rides. Students will participate in two challenges each, positioned alongside the thrill rides that they are trying to construct a prototype of in an effort to complete their challenge and accrue the most points for their school teams and become the overall winner of the Gold Coast Primary Science and Engineering Challenge.
A culinary journey through the world of science Woodridge State High School
Chefs around the world are turning their kitchens into laboratories, experimenting with taste and texture, exciting our tastebuds and extracting surprise. Would you like to know what the physical and chemical scientific processes are that transform food produce from a useful resource that sustains us into an experience? Chefs love to share, so why not create of a team of "Sci-chefs" with your friends.
You have heard of the chef and the cook, well now meet the chef and the scientist: Master Chef finalist Ben Milbourne and physicist Dr Joel Gilmore together they will launch the afternoon by explaining and demonstrating scientific principals through cooking. Then, after rotating through several scientific investigations looking at Australian bush foods and traditional cooking methods the afternoon will conclude with a Kup-murri (Indigenous earth oven) organised by a team of dedicated senior students with the support from their Elders and community.
Future Earth: Rural Future Blackheath and Thornburgh College
The Future of Energy, Water and Food with lunchtime activities for students including energy design challenges, water chemistry, the sustainable chef and more! Starry Night: The Charter Towers community are invited to view the stars from the college observatory.
Future Earth Science Evening: an evening of science demonstrations and interactive displays by college staff and students for the whole community. Come and see STEM in action and learn about the use of robots in agriculture.
Snitch Hunt: a game highlighting the dangers of mass surveillance for whistle blowers and society as a whole, or workshops about using technology to protect your data and your privacy online, or a hackathon programming an Indigenous language preservation app using the JILA framework.
Minden Science Fair Minden State School
A variety of exhibitors and activities including two shows. We also have the support of two of the high schools in the region one private and the local high school.
Robot Revolution – Codename: Playtime Mackay Regional Council
Join the robot revolution. This National Science Week join Mackay Regional Council Libraries as they host a range of fun sessions across the region proving that coding isn't just for kids. Showcasing Blue-bots, Ozobots, Spheros, and Lego Mindstorms, Mackay Libraries is the place to test your coding skills, "try before your buy" and join the revolution.
Physics in the Pub Australian Institute of Physics (QLD branch)
A fun night of physics in a relaxed atmosphere. Eight scientists, eight-minute talks, songs poems and experiments. From astronomy to quantum physics, from geophysics to future energy generation, come and hear local physicists discuss their work over a beer and a few nibbles. Staged by the Queensland branch of the Australian Institute of Physics and MCd by the inimitable Dr Phil Dooley from Phil Up On Science, it will be a fascinating night to remember.
FLOW Fitzroy Basin Association
The Fitzroy Basin Association is a community based organisation that works to protect natural assets, and promote sustainable land management by fostering community stewardship, increasing community awareness and conducting programs that improve land use. The association's FLOW Visitor Centre is a public space designed to inform and engage locals and visitors to discover our region's natural beauty, diversity and range of land use.
FLOW's National Science Week activities comprise of two aspects; community event in Rockhampton in the Centre and FLOW on the Go tours with events in regional towns. The seed funding will purchase a new, innovative, interactive educational resource; an Augmented Reality (AR) Sandbox, which will be used across two Science Week events (and many more over time) to demonstrate how a catchment, its soils, water and topography functions.
The AR Sandbox allows users to create topography models by shaping sand, which is then augmented in real time by an elevation color map, topographic contour lines, and simulated water.
Opportunity Workshop – Science Intensive! Fiftysix Creations
The workshop will teach students ages eight to twelve about the importance and real world applications for scientific skills. The Workshop will involve tablet exploration, robotics, entrepreneurship and virtual reality. The Lead Facilitator for the day will be Fiftysix Founder & The Queensland Young Australian of the Year, Taj Pabari.
Primary School Science Fair Heatley Secondary College
Each day, a different primary school from the area (Heatley SS, Currajong SS, Aitkenvale SS and Vincent SS) will come in and participate in a science fair, run by Year 8 and 9 students. The primary school students will learn and participate in a range of science concepts, including sustainability in our aquaculture classroom. We will also host an evening of science, with parents and community members invited to participate in similar activities including a chance to view and learn about the solar system.