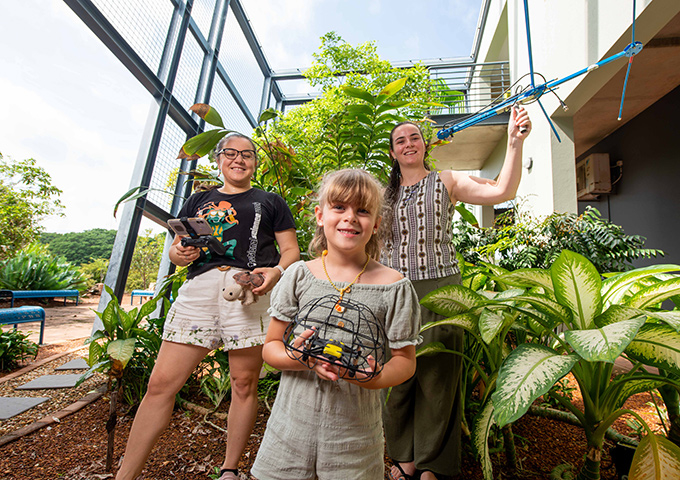 Inspiring and innovative science projects fit for all ages are being sought from the Northern Territory community for National Science Week in 2022.
National Science Week will run from 13 – 21 August across the NT, bringing a wide range of science activities to children and adults in the Territory.
In 2022 National Science Week is expected to include a range of displays including presentations and workshops on science, robotics, drones, chemistry experiments and even tracking teddy bears.
A highlight of last year was the STEAM Spectacular, making essential oil and liquid soap, glow-in-the-dark jewellery making and solar power bank workshops for young children.
This year we're seeking bright ideas for projects that could receive funding ranging from $2,000 to $10,000.
Individuals and groups, especially members of the community such as university students and researchers, and STEAM providers are encouraged to bring their bright ideas forward to spark the public's interest in science.
Inspired NT Manager and Charles Darwin University STEM Pathway Lecturer, Dr Carla Eisemberg, said anyone passionate about STEM should give their ideas a go.
"We need people who are passionate about STEM, and they can be anyone from all different fields," Dr Eisemberg said.
"The beauty of the Science Week is that anybody can apply for grants and they can share their passion for science and technology."
"We have had amazing results in previous years that engaged people of all ages."
The purpose of Science Week is to involve the community in fun and innovative activities in STEM and share science discovery processes with the public.
The week starts with an award ceremony that celebrates achievements in science outreach.
"The NT has very interesting and unique science and technology, and it's the time of the year to celebrate that," Dr Eisemberg said.
"The NT has its own challenges, which need to be tackled with innovation.
"When people come along and experience the science behind everything, that can prepare the next generation for the upcoming challenges and developments in science."
The closing date for applications is 28 March. Apply online.