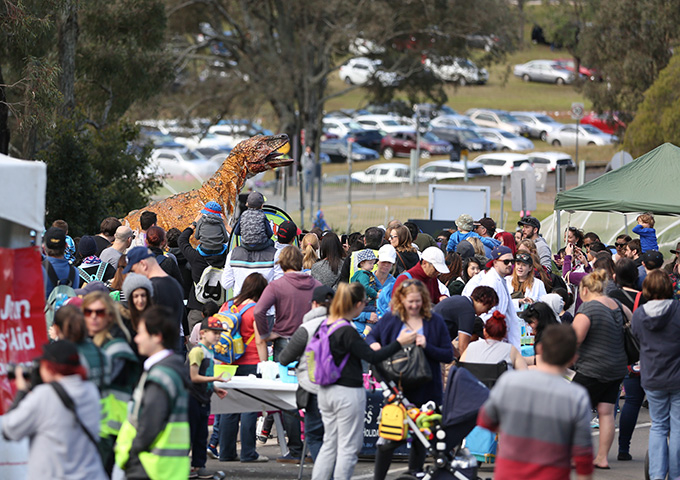 Grants to support National Science Week events have been announced by Professor Hugh Durrant-Whyte, the Chief Scientist and Engineer in New South Wales. A total of 17 projects will receive funding from Inspiring Australia NSW.
There are a record number of funded events in regional NSW this year, from Armidale to Yass, from Kyogle to Wagga Wagga, on topics as diverse as the black swans of the Murrumbidgee River to the people behind the burgeoning Australian space industry, from the scientific research into halting the invasive myrtle rust, to the work of Indigenous Rangers in protecting Country.
Large-scale community events that provide for families across metropolitan Sydney continue to be popular. Funded events this year include Science in the Swamp at Centennial Park, Science in the Scrub at Western Sydney Parklands, and for the first time, a Science of Nature community open day at Sydney City Farm in the inner Sydney suburb of St Peters.
Congratulations to:
Sounds of the Bush – Using Acoustic Monitoring in Fauna Conservation
Border Ranges and Richmond Valley Landcare Network (BRRVLN)
A Science in the Pub event at the Kyogle Bowling Club during National Science Week will the launch the 2023 Kyogle Koala Festival. The panel will discuss the recent eight-year koala monitoring project in Richmond Range National Park and also examine what was learned from it.
Following the public event, interested people will be trained in the use of acoustic monitors, selecting appropriate locations, deployment and retrieval of the units, documentation of the context and analysing and interpreting the resulting data. Data collected will be available for use by organisations involved in the conservation of koalas and, potentially, other species that may be captured.
Future Science Talks: Comedy Edition
BrightStar Communication
Future Science Talks' communications program, developed in partnership with the Sydney Comedy School, will help up to 20 early to mid-career science professionals turbocharge their presentation and delivery skills. They will work with MCs and comedians to learn techniques aimed at winning over crowds and will gain skills to help them communicate more effectively and confidently.
Participants will feature in a range of shows during and around National Science Week. This includes an event at the Garvan Institute, in partnership with Girl Guides NSW, where researchers will connect with high-school students interested in embarking on a career in science.
Gloucester Landscape Felting
Gloucester Arts and Cultural Council Inc (GACCI)
GACCI will host a workshop designed to engage children from the Gloucester region in the importance of biodiversity. The children will first have a chat with a volunteer from the local Environment Group about our environment, specifically Gloucester River and Barrington Tops.
Gloucester is situated at the base of the Barrington Tops National Park where unique flora and fauna exists.
Under the guidance of local artist and teacher Gemma Cross, the children will engage in a wet felting activity to create a landscape picture based upon their favourite place; Barrington Tops or Gloucester River.
During the session, they will gain an understanding of the science behind wet felting and the origins of wool. They will have the opportunity to touch some raw and unprocessed wool, observe photographs of wool under the microscope, and learn about the properties of wool that make it shrink.
Hunter Science Festival
Hunter Innovation and Science Hub
The Hunter Science Festival is back for its always-popular and jam-packed day of STEM activity at Newcastle Museum. This year's theme of Innovation: Powering Future Industries will include hands-on interactive learning experiences, showcasing local technology and scientific research happening across the Hunter.
Highlights this year include the return of the Brain and Biomes Exhibition – a deep dive into the fascinating world of brain health and its changes throughout life, with an interactive art-science exhibition. The giant inflatable Poo Palace, presented by HMRI, is now fully operational, offering a fun and educational experience for both children and adults to enter a 'digestive system' full of twisting tunnels and slides.
A first for the Hunter Science Festival, the new Aldrin Moon to Mars experience offers a space science show and interactive activities on the giant moon and Mars maps, donated by the Aldrin Family Foundation.
Wyangala
Orange Cowra Cabonne Science Hub
A First Nation science program at the CORRIDOR project in Central West NSW, Wyangala, focuses on the recent Wyangala Dam water release, which caused significant environmental change. The program raises awareness about flood-related environmental implications, focussing on habitat, natural ecologies, and riparian health.
Taking place over a full day and evening, activities include Aboriginal cultural burning, Indigenous astronomy, and identification of plants and medicines. The program aims to deepen an understanding of the complex interactions between humans, natural events, and the environment, whilst highlighting the conservation of local ecosystems.
Interactive workshops, field trips, presentations, and hands-on learning experiences will enable participants to learn about culturally led traditional scientific knowledge, and methodologies, facilitated by First Nation knowledge holders.
Wise Waterbugs
OzGreen
Bellingen Riverwatch will run two community events for National Science Week to introduce the local community to macroinvertebrates, the small waterbugs that live in rivers.  They are particularly sensitive to water quality, so the type and diversity found reveal how healthy a river is.
Community members will be supported to sort and identify macroinvertebrates using a range of scientific tools including identification guides and the Waterbug Blitz app.
Bellingen Riverwatch is an award-winning river health citizen science program that involves community, government, consultants and researchers. Local citizen scientists monitor water quality at 25 sites in the Bellingen catchment on a monthly basis and another cohort of citizen scientists monitor and identify macroinvertebrate twice a year. The data collected by volunteers is validated by qualified scientists to ensure that it is accurate and can be used to support river health action.
Rhodes Science Fair
Canada Bay Council
Rhodes Science Fair is a free community event that sparks curiosity and inspires a love of science, for the whole family. The program includes a mind-blowing Liquid Nitrogen Show, an entertaining Robot Storytime, a dive into the world of AI with an opportunity to learn some basic AI programming and use different AI technologies, along with a range of interactive drop-in activities and captivating shows for the whole family.
The fair builds on the popular STEM engagement programs run by the City of Canada Bay Libraries including Science Clubs Science Workshops, and activities for all ages on a broad range of scientific topics, from environmental conservation to cutting-edge technology.
Intergalactic Brews & Cosmic Views
Sleap Business Consultants

Intergalactic Brews & Cosmic Views is a captivating National Science Week event hosted by Dr Scott Sleap, a recent Winston Churchill Fellow and space enthusiast. Participants can expect a lively panel discussion featuring renowned experts from various fields within the Australian Space Industry.
Attendees will have the opportunity to ask questions and interact with the panellists, gaining invaluable insights into the rapidly developing sector of space. Space-themed cocktails and mocktails will set the mood for an evening of cosmic exploration.
The informal setting will provide a unique opportunity for further discussions, networking, and the exchange of ideas with some of the industry's brightest minds.
Science of Nature Community Open Day
Sydney City Farm
The Science of Nature is the first community open day for National Science Week at Sydney City Farm in Sydney Park, St Peters. It will engage visitors with science in nature and First Nations science through demonstrations, talks and hands-on activities.
University of Sydney scientists will guide nature exploration activities and discussions on the farm, and visitors will learn about creating habitat for urban wildlife, be offered an identification guide to the birds of Sydney and see the bushcare native plant display. An urban ecologist will demonstrate how to participate in citizen science by recording nature observations with the iNaturalist app. Indigenous educators from Koori Kinnections will deliver bush food tours and tastings on the farm and provide cultural interpretation of native plants on the farm, and there will be an opportunity to create botanical art and learn about foraging and wild plants in the city.
Science of Gamay Knowledge Exchange
Sydney Institute Marine Science (SIMS)
Sydney Institute Marine Science will host a day of knowledge exchange workshops and public events involving First Nations people, scientists, community members and local primary school students from the Gamay (Botany Bay) area in Sydney.
The events will focus on important marine organisms found in Gamay and the exciting research projects that SIMS is running within the bay, some of which involves the local Indigenous group, the Gamay Rangers. 
The day will consist of a combination of workshops, interactive activities and talks for school groups, and a public evening panel discussion. Both activities will include the Gamay Rangers and the scientists involved who are involved in research projects.
Invasion and Extinction
Mark Temple, University of Western Sydney
Invasion and Extinction is a unique event that will combine science data, new music compositions, Aboriginal art, and video projection to represent how the invasive Myrtle Rust is causing extinction to Australian native plants.
Produced by musician and molecular biologist Mark Temple, it will form part of the Powerhouse Late program for National Science Week. The format will feature a panel discussion between scientists and Aboriginal artists from the Boomalli Aboriginal Artists Co-operative, followed by a live ensemble music performance of compositions made from sonification of the Rust genomic sequence.
The Boomalli artists will also exhibit and talk about their art and run a painting workshop and story time for Family Science Day at Phive Parramatta, as part of the Powerhouse Family Science Day.
Science at the Markets and Science at Central
UNE Discovery

The UNE Discovery team will hold two public events in Armidale for this year's National Science Week: Science at the Markets and Science at Central (the local shopping centre). 
Both events are free and open to all, and held in busy public places to attract curious kids and all passers-by. Activities include display specimens and artefacts relating to geology, paleontology, ecology and physics that visitors can look, touch, and play with.
A Magic of Physics show (is it magic or is it physics?), will create moments of wonder with awe inspiring displays that defy intuition. This show would include demonstrations featuring the properties of magnets, air pressure, sound waves, and fire produce "magical" effects such as magnetic levitation and producing visible patterns from sound resonance.
Science in the Scrub – Superpowers of Nature
Western Sydney Parklands
Science in the Scrub is Western Sydney Parklands' annual celebration of National Science Week. With the help of Inspiring Australia's funding, the Education and Community Programs team has been able to set up one of the biggest community events of National Science Week last year.
This event is the ideal platform to engage completely new audiences and present the newest research of Sydney's science community. This year's theme is Superpowers of Nature highlights how superpowers of nature are all around us  and how and science explains them to us.
Visitor will gaze through solar scopes with the Sydney Observatory, find out about the fascinating superpowers of animals with the Australian Museum and the Frog and Tadpole Study Group or Taronga Zoo, and learn about the powers of the Cumberland Plain Woodland's plants and animals with the Parklands education team. The Aboriginal educators from Murru Mittigar and Deadly Ed will introduce vistors to the fascinating world of Australian plants and their powers sharing unique First Nation's knowledge.
SciFest 2023
Virtual Excursions
SciFest 2023 is a celebration of science offering a range of free online events and virtual excursions. A comprehensive program of 15 live virtual events is designed to empower participants to have a long-term involvement in science. 
The events target a range of audiences through a series of live and engaging online shows, panels, workshops and trivia from our major scientistic institutions such at the Australian National Maritime Musuem and Sydney Olympic Park, and leading science communication professionals. Everyone is welcome to join in the fun.
There are sessions three times a day Monday to Friday in National Science Week.
Swan Song
Wagga Wagga Art Gallery
Wagga Wagga Art Gallery will present a multidisciplinary program Swan Song for National Science Week that aligns with the Gallery's strong environmental exhibition theme for the year, Green '23.
Swan Song will provide an opportunity for participants to learn about black swans and other birds that once thrived on the banks of the Murrumbidgee River in the Wagga Wagga region but have disappeared due to the destruction of their habitat by farming and human intervention. 
The program has three components that will engage visitors in a thoughtful exploration of the impact of the loss of these birds: a public forum featuring experts across the fields of science, ecology, creative practice, and history; a riverwalk focusing on the indigenous sanctuary areas where birds once nested, led by a Wiradjuri Elder; and a relief printing workshop focusing on the feathers of lost and endangered birds of the district.
Sustainability in the Dilly
Wollondilly Shire Council
Sustainability in the Dilly is a week-long celebration for National Science Week that will engage the Wollondilly community in the practical and accessible science of sustainability.
Wollondilly Shire Council's Library and Environmental Services teams will collaborate to encourage people of all ages to pursue an interest or aptitude in science, and particularly the way science can be applied to care for the environment around us. 
This series of hands-on activities will include recycled art classes, waste sorting activities, special Science Week editions of their Storytime and STEAM Punks for kids, workshops on  toxin-free cleaning, composting and worm farming, as well as a 3D printing demonstration.
National Science Week Extravaganza
Yass Valley Council
Yass Valley Council will host Dr Graham's Science FUNomena, two workshops for children, early learners and the families of the Yass Valley in the Yass Memorial Hall. The interactive shows are all about the scientific process, being curious and creative, and using science to make the world a better place.
The program includes a poster competition, on the theme of innovation, placed on public display in the Memorial Hall with the public voting on their favourite poster. Participants will also be shown how to do basic scientific experiments at home.