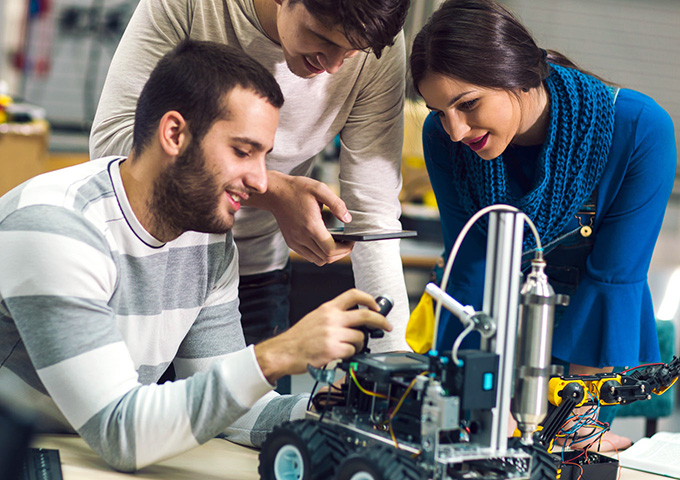 This year's Community Grants for National Science Week in Victoria support 21 programs and events at 18 public libraries and community organisations across the state.
Applications were assessed through consideration of program quality, geographic distribution, relative disadvantage and value for money, along with an alignment with UN Sustainable Development Goals and the targeting of equity groups.
Please congratulate the following grant recipients, who will be delivering these programs during National Science Week:
Time Detectives: Cold Case
The National Trust of Australia
Archaeologists are time travellers. We use the everyday items of the past to build portals through time and space; windows through which we can view landscapes thousands of years old and the people and cultures that they supported. In this event, you will work collaboratively with your Dig Team to help solve an archaeological cold case.
In these sessions – one in South Yarra, the other in Geelong – NTV Education will provide an opportunity to experience modern archaeology  utilising place-based, object-based and experiential learning principles.
Everything Old is New Again – a new way to manage our urban environments
Geography Victoria
During COVID people became more aware of their local area – they walked and rode within their 5 km limit for months and months. This project aims to assist people to now explore their backyard with environmental experts and to learn more about their local environment. Not only will it reveal the transformations that are happening in their city, we hope that it will galvanise them into getting involved in a more sustainable future. It will focus on the importance of water and sustainable practices in creating healthy and liveable communities.
Big Science Big Fun Show
Frankston City Libraries
An introduction to the world of science, interactive experiments and demonstrations covering Newton's third law, physics, chemistry & cryogenics, demonstrated through gigantic bubbles, flying toilet paper, hair-raising electricity experiments, bubbling liquid nitrogen demonstrations, levitating beach balls, volunteers on a nail chair, a giant gyroscope, fireballs, and much more.
Get the Ball Rolling
Goldfields Libraries
Get the Ball Rolling invites visitors to Woodend Library to engage with a set of interactive boards that allow participants to create and modify marble runs – a series of ramps, tunnels, jumps and funnels that control the path of a marble. The activity is simple, open-ended and appeals to people of all ages. The Library will install a series of Marble Run boards in the centre of the space to provoke discussion, collaboration and wonder.
Launch into Science Week
Ballarat Libraries
Ballarat Libraries invite the community to explore the wonders of astronomy and our natural world at Ballarat Observatory – an important scientific and historical facility – right in the heart of Ballarat. Led by Observatory tour lead, Judith Bailey, the session will include:
learning about different types of telescopes, including the disability access telescope, Federation-Adcock Telescope
an opportunity to launch water rockets and learn the science behind them
an opportunity to see and learn about the camera obscura.
Scouting the Skies
2nd Mornington Sea Scouts
A technical payload will be built to be launched on a high altitude balloon. The Scouting group will be involved in the mission design, constructing the payload, and programming the radiosonde transmitter and camera system. The payload will be designed to record atmospheric data during the flight, such as temperature, air pressure, and CO2 concentration. It will also be able to record photos and video of the flight, showing the amazing panorama from the top of the stratosphere.
Power Up Pakenham: Learn About Electricity
MYLI
Pakenham Library will provide children with an opportunity to embark on multiple projects in groups of 4 (accompanied by parents/carers), working with the Snap Circuits 750 Educational Version Exploration Kit. Children and their families will be able to engage with the kits, with support from our facilitator to learn about electricity and electronics in a hands-on, fun workshop.
Coding with Robo Trains
Eastern Regional Libraries
Coding with Robo Trains will be run at Croydon, Boronia, and Yarra Junction Libraries. Participants will learn the basics of coding by programming an electronic train to move efficiently around a train track. These sessions provide an opportunity to discuss public transport, its social and ecological function, and how it is a sustainable alternative to cars and motor vehicles.
Create a Working Computer with Anything – even Playdoh
Corangamite Moyne Library Service

Two consecutive sessions will be held at the library with teacher Tracey Gray, using Makey Makey kits. During this guided session, children can create a keyboard, using anything at hand like Playdoh or even bananas. Technology meets creativity: they will learn about circuits and how computers work while having fun.
Songs from the Lab
Pint of Science
Experience the fusion of science and music in Songs from the Lab. Brilliant scientists take the stage, sharing their ground-breaking research through captivating melodies. Prepare to be inspired, informed, and entertained during this hour-long performance celebrating the interplay of science and creativity. Join us for an unforgettable journey of scientific exploration through song.
Everyone's an Inventor
Glenelg Library
An afternoon program that allows every child to become an inventor. Makey Makey is a versatile and interactive invention kit that can be used to teach various STEM concepts, including electrical circuits, conductivity, coding/programming, and creative problem-solving.
Solar Cars
East Gippsland Shire Library
Children can attend one of the East Gippsland Shire Library Centres at Bairnsdale, Lakes Entrance, Orbost, Paynesville, Omeo or Mallacoota, where they will have the opportunity to be involved in a interactive session and learn about solar power. Topics covered will include: where solar power comes from, how its works, what we can do with solar power, examples of how we are currently using solar power in our day to day lives, and the benefits of using solar power to the community.
STEM Zone
MYLI
My Community Library Warragul will be collaborating with STEM Zone to explore this year's Science Week theme of Innovation: Powering Future Industries. STEM Zone will be hosting a workshop to explore:
production of energy via sustainable alternatives;
investigation of different types of fuels and how they can be used to create a greener, more sustainable yet productive future; and
exploring different technology through AI, virtual reality and robotics in order to investigate how these may be used to create future industries and solve current issues.
Retro Game Design Workshop
Eastern Regional Libraries
These after school events at Lilydale and Ferntree Gully libraries will teach participants to employ game design principles as they use block coding to create a retro arcade game. These sessions will provide an opportunity to discuss core games design concepts, and where we can see these in popular arcade games. We will ask participants to think about what kind of arcade games they would like to create, and what they would need to include to achieve it.
Exploring Careers in STEM
Melton City Libraries
An in-conversation style panel discussion will be delivered with three members from the STEM Squad to converse about their career pathways and possibilities in the STEM industry, now and in the future, to help inspire other young people and community members. The panel will be moderated by Western BACE's Community Manager, with plenty of time for question and answer from the audience.
Deadly Science: Science Through a First Nations Lens
Torquay Community House
Join respected First Nations educator and proud Gunditjmara woman Nikki McKenzie for an evening of knowledge and storytelling:
learn about innovations and practices developed by First Nations peoples over thousands of years;
discover sophisticated systems and ways of caring for country; and
learn scientific principles embedded in cultural practices passed down through culture and story.
Butterfly Adventures
Kingston Libraries
This program by Butterfly Incursions combines a live butterfly interactive tent with four rotating activity stations; science table, drawing table, book table and word activity table.
This Play Was Written By Chat GPT
Pint of Science
What kind of play shall we write? Using input from the audience, witness captivating short plays written by ChatGPT! Between each segment, delve into enlightening explanations about AI, ChatGPT's inner workings, and the future of Machine Learning and AI. Join us for an hour of thought-provoking drama and insightful discourse, as we unravel the potential of AI-generated art and explore the ever-evolving landscape of technology.
Sparking Science
Merri-bek Libraries
A fun-filled interactive event aimed at pre-school and school aged children and their parents to discover the many facets of science, helping the diverse Merri-bek community discover how science fits within our daily lives and encourage discussion and deeper understanding what science means and how it can contribute to all areas of our lives. The program will initiate interest in science for young children and promote use of the Library's new science kit collection.
Meet Einstein
Campaspe Library
A Twisted Science workshop for a special Science Week Storytime. The workshop is made for preschoolers and is a session that combines literacy and science together. As the story is being read, the team will stop at various points to do simple experiments, demonstrating concepts such as the force of gravity. Other experiments include baking soda and vinegar, water tension experiments and electromagnetism.
Professor Bunsen
Northern Grampians Libraries
Professor Bunsen, a skilled educator and scientist, will visit the Stawell & St Arnaud libraries to thrill and excite with the science of forces & motion. Experience the amazing power of push & pull. Objects will stick, pull, push, duck and dive. Floating objects will balance and beat gravity, and a student will float around the library – no magic! Other exciting demonstrations include gas bazookas, swirling buckets, smoke cannons and toys being launched from a water rocket (weather permitting).