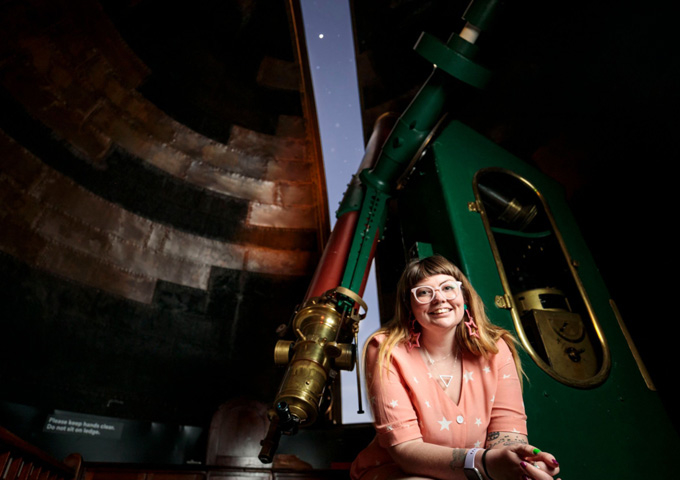 National Science Week acknowledges Aboriginal and Torres Strait Islander peoples as the traditional custodians of the land, sea and waters, and their continuing connection to Country. We pay our respects to Elders past, present and emerging.
As a celebration of science and technology, National Science Week also acknowledges Aboriginal and Torres Strait Islander peoples as the first scientists, makers and innovators of this land.
Indigenous Knowledge systems contain a wealth of scientific information and contribute significantly to STEM research in Australia. The value of two-way knowledge approaches – integrating Indigenous science and Western science – is widely recognised in modern science.
Indigenous perspectives can also be incorporated into our classroom to add value to Western science perspectives, and to create more inclusive learning environments and an increased awareness of Aboriginal and Torres Strait Islander culture.
This year, the Australian Science Teachers Association have developed a complementary Indigenous perspectives teaching resource book (8.3 MB, pdf) to sit alongside the 2021 Food: Different by Design Teacher Resource Book. A First Nation's Perspective of Food and Agriculture contains a selection of available materials for teachers when addressing Aboriginal and Torres Strait Islander Histories and Cultures during National Science Week, as a part of the Cross-Curriculum Priority.
We love seeing the range of events registered each year which celebrate Indigenous Knowledge and value Indigenous perspectives and participation. A sample of these events is included below – we encourage you to search further for events in your region or online.
National Science Week truly is a celebration of all STEM knowledge.
Please note – events may be cancelled due to lockdown arrangements.
Indigenous Food and Agriculture – online
6.30 – 7.45pm, Friday 13 August

Join us to yarn about native foods and Indigenous farmers — everything from practising agriculture as a traditional custodian, growing bush foods and making sure they're safe to eat, preparing amazing meals and getting Australian native foods to market.
Indigenous Science Experience Online
Various online events from 14 – 22 August
What can Aboriginal astronomy tell us about the night sky? How is our native flora used as bush medicine? What can we learn about sustainable living from 60 000+ years of Indigenous culture? Find out the answers to these questions and more during the Indigenous Science Experience Online – a series of workshops and webinars that will run through National Science Week.
Our Deadly Science – online
5.00 – 6.00 pm, Sunday 15 August

Australia's First Nations Peoples have the longest continuing culture on Earth, passing on the lessons of land, sea and sky to future scientists through stories, song and dance. As the 2021 Sydney Science Festival Ambassador, Corey Tutt will deliver a keynote address celebrating the breadth and depth of knowledge of our first scientists – from bush medicine, astronomy, engineering and forensic science to chemistry, land management and ecology.
7 Decades in 7 Days – Aboriginal Astronomy Lesson – online
5.00 – 6.00pm, Sunday 15 August

Tribal Warrior and the Science Teachers Association NSW will be bringing you an Aboriginal Astronomy lesson as part of 7 Decades in 7 Days, a week-long celebration of the 70th Anniversary of the Science Teachers Association for NSW in and around National Science Week in a Virtual 7 Decades in 7 Days world.
Australian Bushfoods and the Northern Australia Aboriginal Kakadu Plum Alliance (NAAKPA) – online
10.30 – 11.30am (AEST), Monday 16 August

Join Paul Saeki as he presents a fascinating look at the Australian Bush Food Sector and the amazing work of NAAKPA. Learn about the amazing research the National Measurement Institute has been engaged in with the Northern Australia Aboriginal Kakadu Plum Alliance. See how this scientific work has been a game-changer for this unique industry. Learn about the Kakadu Plum and some other bush foods and the challenges to increasing Indigenous participation in the commercial bushfood industry.
Mid-Afternoon Masterclass: Dating Australia's rock art – online
2.00 – 2.45pm, Monday 16 August

Australia hosts the oldest ongoing culture in the world with aboriginal rock art providing an important window into what Australia's first people were doing and the things that were important to them when it was created. However, in order to understand how these remarkable artworks might relate to things like changes in the climate and environment, we must know how old it is.
In this talk, Dr Helen Green will discuss the different scientific techniques being used to date Australia's rock art and the importance of integrating traditional knowledges and western science.
Our Treasured Earth – online
7.00 – 8.30pm, Monday 16 August

Join us to explore the complexity and beauty of Earth's climate, the impacts of how it is changing, and hopeful messages as we move into an uncertain climate future.
First Peoples of Australia have looked after this land sustainably since time immemorial. As the world's oldest living cultures and the first scientists in Australia, they continue their connection to Country, physically and spiritually. Continuing caring for Country, Indigenous youth in Australia and around the world are inspiring action and leadership critical to address our climate crisis.
Simultaneously, researchers across many disciplines are working together to confront this crucial challenge of our time, and Museums Victoria Sciences will share insights from their research on different facets of climate change.
Southern Sky Livestream – online
7.30pm – 8.30pm, Wednesday 18 August

As the 2021 Sydney Science Festival draws to a close, we bid our inaugural Astronomy Ambassador Karlie Noon, Gomeroi astronomer and science communicator, farewell on a livestreamed final stroll through the cosmos, featuring a tour of her favourite astronomical objects combining both Western and Indigenous understandings of the sky. Join Karlie as she travels light-years away to explore the late winter, August skies through the telescopic eyes of the historic Sydney Observatory.
Ikuntji Kuula STEM Expo – Haasts Bluff, NT
11.30am – 2pm, Thursday 19 August

At the Ikuntji Kuula (Haasts Bluff) STEM Expo there will be a series of STEM-based activities for all the whole community to engage with. The activities are planned to be fun and hands-on where participants can share, explore, problem-solve, investigate, collaborate, learn, and invent.
Urrbrae Wetland Open Day – Kingswood, SA
Various sessions, Saturday 21 August

The Urrbrae Wetland is inviting families, individuals and small groups to attend and experience some of the scientific aspects of this urban, artificial wetland.
The day will showcase a series of interactive workshops hosted by Urrbrae Students focused on the natural environment and sustainability including fish, turtles, reptiles, invertebrates, plants, human impacts and Indigenous perspectives.
BRAWL by the River – Bega, NSW
10.00am – 1.00 pm, Sunday 22 August

Bega River and Wetlands Landcare (BRAWL) is hosting a family-friendly, community engagement event fusing bush tucker education and re-vegetation on the Bega River with indigenous plant species. Participants will collect, soak & grind seeds on grinding stones, to cook up a damper for morning tea. This will be followed by a discussion on the agro-technologies used to grow commercial foods locally from indigenous plants, and tree planting of 100 seedlings. The activities will be led by Indigenous educator.