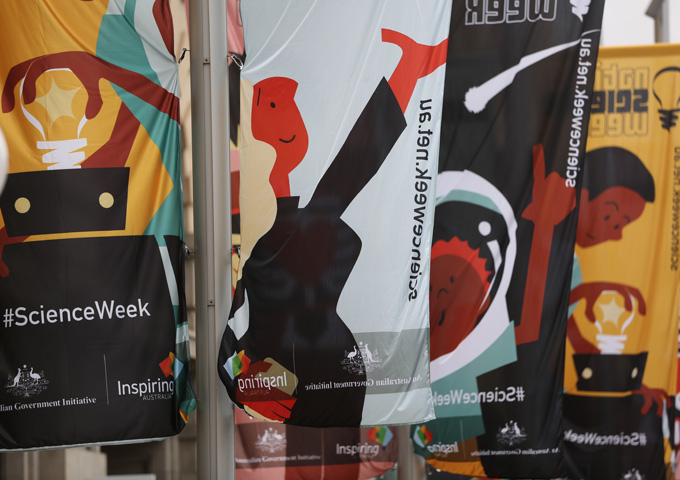 Each year National Science Week has $500 000 worth of grants for supporting events across Australia. Here are all of this year's recipients and what they'll be doing:
National Projects
CSIRO Discovery Centre: SCINEMA Festival of Science Film 2012
$21 000
SCINEMA explores the latest collaborations between science, film and art in over 400 cities and towns across Australia, introducing the latest in science and natural history filmmaking at screenings in museums, theatres, libraries, schools and universities. SCINEMA will also include a young filmmaker's competition.
ARC Centre of Excellence for Particle Physics at the Tera-Scale: Collision
$13 000
Collisions will be a competition targeting young artists and writers in order to encourage engagement with a non-scientific audience. Participants will be asked to represent particle physics in any artistic format they wish, such as a comic book, graphic piece, filmic (YouTube/Vimeo). The aim is to get young people interested in the world of particle physics—in particular the Standard Model; Higgs boson; Supersymmetry; dark matter and dark energy; and to reach beyond regular channels to do so. Participants will have access to scientists in order to assist with their entries. The event will culminate in the online and physical exhibition during Science Week.
Numbercrunch: The Fame Algorithm
$21 000
A 50 min stand-up comedy show for ages 16+ to tour regional areas and capital cities in 6 states during National Science Week. The show by National Numeracy Ambassador Simon Pampena combines maths with comedy and provides the general public with an enjoyable and engaging entry point into the world of maths. One aim is to get audiences thinking about maths in a new way. The other is to challenge the general perception that maths is an impenetrable subject.
Echelon Productions: WipeOut! Energy Evolution Musical
$8000
Wipeout! is an educational musical that celebrates National Science Week and its 2012 theme 'Energy Evolution' by inspiring students with the limitless fun and possibilities offered by science. Wipeout! will focus on the value and possibilities of developing clean, renewable sources of energy and its impact upon the evolution and preservation of our Earth's biodiverse ecosystems. The theatrical performance will be highly interactive with loads of comedy, songs and high energy dancing that will captivate and engage. Free public performances will take place in Melbourne, Sydney, Brisbane and Perth.
Australian Capital Territory
CSIRO Discovery Centre: Canberra Family Science Spectacular
$10 300
Based at CSIRO's Canberra Discovery Centre, the Canberra Family Science Spectacular will launch Science Week in the ACT region. Across the weekend the atrium space will host booths from the region's major science and science-related organisations, with ANU, University of Canberra, UNSW@ADFA, Australian Catholic University Signadu, Bureau of Meteorology, CIT, as well as science departments from some of the region's schools and colleges. Visitors can try fun hands-on science activities in the EXPERIMENTATHON. The spectacular will play host to Science Week speakers as well as local performers, science shows from the likes of the Science ShowOFFS and the Discovery Centre's Live Creatures talks. The SPECTACULAR will link with other Science Week events in the Black Mountain precinct, while tours of CSIRO's collections and other science facilities will be available to see.
Geoscience Australia: Open Day
$8200
The public will be able to visit Geoscience Australia in Symonston and explore science displays, listen to talks from researchers, visit the rock dating instrument the SHRIMP, the Australian Tsunami Warning Centre and tour the Fossil Labs. There will also be other activities including gold panning, rock identification, pet rock making and sediment column creation.
Griffyn Ensemble: Cloudy with a Chance of Rain
$6000
The Griffyn Ensemble and well-known geomorphologist and weather presenter Rob Gell will present Cloudy with a Chance of Rain concerts in Canberra, Albury, Bendigo, and Melbourne. Part weather forecast, part concert, and part lecture, this staged performance will bring the science of the weather and environment into a musical and artistic context.
New South Wales
Powerhouse Museum: Ultimo Science Festival
$24 800
The Ultimo Science Festival is an independent, cultural event. Over 10 days and nights more than 100 events attract 17 000 people to engage with and be inspired by science ideas, science activities and to interact with scientists. The festival has evolved into a sophisticated yet very accessible celebration of science and a significant highlight for Science Week in Sydney and NSW. The Festival has a strong following in the 18-25 year old group who attend the night time events such as maths comedy and food science in licensed venues.
Macquarie University: The Indigenous Science Experience
$20 000
An extension of a 7 year collaborative project between the Indigenous Science Education Program (ISEP) team, high schools and Aboriginal people in northern NSW. It will incorporate interactive science activities using household and environmental themes, and immersive practicals exploring Aboriginal technology, bush foods and medicines. It will also highlight cooperative research investigating the chemistry of bush medicines with seminars and demonstrations from academics and Indigenous partners. It will feature Aboriginal elders speaking about customary practices and ways of life, lectures from academics and elders on Indigenous and western scientific approaches and live video seminars with Indigenous people from around Australia. The event will be held over 3 days at the Australian Museum and the Redfern National Centre for Indigenous Excellence.
Newcastle University: Amping up Transport – the exciting world of electric vehicles
$20 000
Amping up Transport will be the leading activities for the 2012 Hunter Valley Electric Vehicle Festival. The events are designed to engage industry, government and the community in fun and informative science and engineering based activities. Electric vehicles will be a platform for engaging audiences in a range of physics and chemistry concepts including materials science, fluid dynamics, energy generation, smart grids and sustainable transport. Events include a relay race of different remote controlled electric vehicles through an obstacle course and the two day Electric Vehicle Show at Newcastle Foreshore Park.
National Marine Science Centre: Science Under the Sea
$8100
The National Marine Science Centre in Coffs Harbour will promote greater awareness of the marine environment and scientific processes during National Science Week through a series of hands-on activities, displays, publications and presentations for the general public.
Gresford Primary School: Taking Science to the Streets
$2000
Students from Gresford Primary School will be involved in planning and presenting a range of interactive and informative demonstrations and experiments in the main street. Displays and interactive presentations will include robotics; electricity; plant sciences; water quality testing; design and make activities; environmental education displays; earth sciences; DNA structuring; diamond structuring; testing of fabrics for UV absorption and making water and wind turbines. The project will operate in collaboration with the local council and local businesses.
Northern Territory
Darwin Festival: The Gardens of Stone Country
$24 500
The Gardens of Stone Country is an environmental art project for Darwin Festival. The project acknowledges the accumulated wealth of Indigenous knowledge about the cultural importance and varied uses of native plant and animal species, which is now being developed by scientists for use in western health and medical practices, pharmaceuticals and a growing food industry.
The project includes a visual arts exhibition involving seven prominent indigenous artists and arts workers from Injalak Arts in Western Arnhem Land, depicting their native plants and animals. The artists' works link their common interest in cultural knowledge, heritage and the environment. Talks, public showcases and demonstrations, workshops and activities and a culinary dinner event, will also compliment the original exhibition and a publication.
Arid Lands Environment Centre: desertSMART EcoFair: Science, Sustainability and Community Participation
$20 000
An educational community event engaging the social, ecological and economic challenges of living sustainably in central Australia. Under the banner of 'Participate, Learn, Create' – the EcoFair hosts workshops, forums, stalls and local performances to promote sustainable living in the arid zone. In 2012, the International Year of Cooperatives and Sustainable Energy for All, the EcoFair will bring high profile scientists and science communicators to Alice Springs, providing a platform for science communication and sustainability in the desert.
Alice Springs Desert Park: Under the Stars at the Desert Park
$2700
A free evening astronomy event, with the Alice Springs Astronomy Club setting up telescopes and focussing on a variety of stars, planets and constellations. Guests can meet with local astronomy experts to see first hand and learn out the Central Australian night sky and the science behind the stars. Traditional owners of the region will provide interpretation and the Indigenous cultural stories of the sky. SCINEMA will be on display on Desert Park's big screen cinema. Visitors can also book a Nocturnal Tour to spotlight for an hour in a Mulga habitat to explore and learn about rare and endangered desert animals.
Queensland
Gold Coast City Council: Gold Coast Science Fair
$25 000
The Gold Coast Science Fair is a fun and exciting hands-on science experience for the whole community. In the past two years education, industry and government have collaborated to deliver interactive activities and events that showcase the Gold Coast's achievements in science, technology, engineering, maths and innovation.
CSIRO Wealth from Oceans Flagship: Oceans in the Outback
$23 000
Oceans in the Outback will create an interactive marine science experience for those that have limited access to the ocean or coast. It will take an ocean experience to Dalby, Roma, Charleville and Longreach, to showcase and engage people in marine science. The display will include online games, equipment and demonstrations, as well as information materials for all ages with a focus on ocean and coastal science. It will also feature a tweet up to launch the exhibit and help raise awareness of marine science. CSIRO communication staff and a marine scientist will be on hand to conduct demonstrations, answer questions and facilitate the display.
AIP-WiP Queensland: Star Optica: the physics of light
$7000
The Star Optica exhibition will travel from Brisbane to Yeppoon, incorporating Hervey Bay and Rockhampton and smaller inland centres in the Wide Bay and Darling Downs regions. The show covers a range of topics in optics, including: the use of miniature solar car races to discuss the energy of the Sun; astronomy nights for discussing what stars are made of; holograms for discussing how we can use the concepts of optics to trick the human eye; public lectures on cutting edge science; and science trivia nights at local pubs and RSLs.
CoralWatch: Corals at Your Doorstep
$9800
CoralWatch will run two citizen science coral monitoring workshops for the general public, set up a series of Corals at Your Doorstep public displays throughout south east Queensland and establish an online Corals at your Doorstep resource, incorporating a reef quiz with prizes.
South Australia
National Science Week Coordinating Committee SA: Science Alive!
$40 000
Science Alive! 2012 will be the seventh version of this constantly evolving mass participation interactive science event. The aim is to broadly engage people of all ages, but especially young families, with a wide range of interactive science and technology experiences. The event will be held once again at the Adelaide Showground and will consist of a Careers Day for high school students on the Friday; a Business Networking event and National Science Week Launch on the Friday evening; and a weekend event for the general public. Attractions will include over 50 interactive booths from government, research, community and industry organizations involved in science or science education; spectacular science shows; native animal shows and experiences; technology and robotics presentations; Stardomes; magic shows for younger visitors; Bugs Alive! Shows; amateur radio demonstrations; food tastings; and a myriad of hands-on experiences.
South Austraian Museum: Science as a Human Endeavour
$14 800
This event will highlight the achievements and discoveries of South Australian Museum scientists in the field of evolutionary biology using specimens from the Museum's natural history collections and scientific drawings from the Museum Archives as examples. Museum staff will partner with the Department for Education and Child Development and performer Michael Mills, in developing a program for participants, especially children in primary and middle years of high school. This program will provide participants with access to the Museum's natural history collections, scientific knowledge and expertise in hands-on workshops. This program will also be offered as part of the community engagement program for visitors focusing on science and art.
Royal Institution of Australia: Rocket Town on Tour
$10 000
Rocket Town is an award-winning new play about teenagers growing up in Woomera, the defence town in the SA desert originally established as a base for experimental rocket research. Co-presented by RiAus and Emily Steel at the 2011 Adelaide Fringe, the original production of Rocket Town was critically acclaimed and provoked interest regionally and nationally. The event organisers proposed to tour this production to four regional locations in SA during the two weeks prior to Science Week 2012. Performances will be hosted in local theatres, with at least one evening performance and workshop for the community in each town and additional daytime performances and Q&A sessions for schools.
SciWorld: SciWorld Sunday in Mt Gambier
$8000
SciWorld Sunday in Mount Gambier aims to bring SciWorld's unique brand of interactive science to one of SA's largest rural towns. This will be a science fair from 10am until 4pm on the day and will involve SciWorld's science shows, Stardomes, interactive exhibits, robotics workshops, maths puzzles, electric circuit kits and a science shop. There will also be a whole range of additional education service providers involved including UniSA, Remabi Park native animals and Bugs n Slugs as well as local industry, community group and Council involvement. This event aims to engage those who don't normally attend science-related events as well as those who do. The event will be free and family-friendly.
Tasmania
University of Tasmania: Celebrating the STARs of Regional Communities in Tasmania
$19 900
Celebrating the STARs celebrates the successes of Science and Technology Achievers and Researchers (STARs) with their home communities, particularly in regional areas of Tasmania. Reconnecting with their home town, the STARs will share stories of their career pathways and current research activities through locally-supported events, interactive presentations and online. Their aim will be to inspire interest, increase understanding, and provide insights into different areas of science and technology, as well as to highlight opportunities for further engagement, both in their local communities and further afield. The STARs will also be widely profiled ambassadors for Tasmanian science during National Science Week.
Circular Head Council: Power Up Science GIG and Road Show
$8500
The event will engage  from pre-kinder to adults in two joint projects. The evening "gig" features specially designed competitions and visual or interactive displays, team competitions and promotion of science as a career. The other project is science field trips with high school students highlighting the association between food production, energy evolution and science in energy and agriculture. This council lead project fosters partnerships between science, industry, community and school students.
Queen Victoria Museum and Art Gallery: Science Open Season at QVMAG
$5200
Over the nine days of Science Open Season at the QVMAG, members of the public will be able to experience science careers, enjoy SCINEMA, explore science through playgroup and other hands-on activities, engage with the planets, enter Map It 2012, be enthused by Women in Science at breakfast time and have fun at Energise 2012. QVMAG is the largest regional museum and art gallery in Australia.
Elizabeth College: The Evolution of Energy in Tasmania; Wood to Water to Wind
$5000
This project focuses on providing science activities, scientific open forums, seminars and science career information to Tasmanians of all ages and occupations through 5 events:
the National Science Week 2012 Launch Luncheon;
the 12th Annual National Science Week 2012 Elizabeth College Workshop;
the inaugural Prepare a Practical for a Parent evening;
the Evolution of Energy in Tasmania symposium Wood to Water to Wind; and
the Government House Science Week reception.
Victoria
CSIRO Education: City Science 2012
$40 000
City Science 2012 will be made up of a series of key events based in central Melbourne. Similar successful events have been run for the past three years. The project manager will work with research, community and industry partners to develop a variety of performances, presentations, forums, demonstrations, hands-on activities and discussion sessions based in well-known Melbourne venues. This series of events will be designed to engage a range of different audiences, including those disinterested in science, encouraging them to explore and learn about exciting Australian science, technology and innovation.
Discovery Science and Technolgy Centre, Bendigo: Science Favourites
$8900
Discovery will box up a host of Science Favourites for the people of Central Victoria. With the mission to inspire scientific curiosity, the event will be using the seemingly unrelated fields of multimedia, wine, astronomy, dance and music to show people that in science there is something for everyone, just like a box of chocolates! With science too often type casted or stereotyped, the aim of Science Favourites is to shed those stigmas and draw people's attention to the vast discipline of science and the huge amount of influence it has on our lives.
Monash University: TrySci
$5200
TrySci has been designed to showcase the study of science. Building on raising awareness of the presence of and need for science in our everyday lives, the event will introduce the significance of the study of science and the implications of its application on society. Taking place at Monash University's Gippsland campus the event will engage the community by providing them with an experience traditionally reserved for and undertaken by tertiary science students. Members of the community will be provided with the opportunity to attend a practical laboratory session, a mini lecture in science, technology, engineering or maths, meet students currently undertaking research projects in these areas and visit local employer career displays.
Gene Technology Access Centre: DNA Fun Day
$3100
DNA Fun Sunday is will give students and their families the opportunity to meet and experiment with some of the country's brightest young scientists. The event will be hosted in the modern laboratories at the Gene Technology Access Centre, a specialist science education centre dedicated to enhancing learning in the life sciences with a focus on cellular and molecular biology.
Participants will be joined by practicing scientist 'mentors' where they will spend one of two two-hour sessions completing a range of hands-on experiments and activities (there will be 8 workstations). Experiments will focus broadly on DNA and microbes, and will include tasks such as investigating patterns of inheritance, decoding and extracting DNA from cells, exploring the strange world of microbes living in pond water, and more. Participants will have the opportunity to talk to scientists about their own research and discover what it's like to be a scientist.
Strathewen Primary School: Strathewen Science Week Round Robin
$2000
The event will involve the Strathewen School and local community working together in a round robin with action stations set up around the school investigating different science theories and activities. The children will be working with members of the local community to solve the problems. It will also include the launch of the great spud growing competition.  The school was relocated for 2 years to another community after the 2009 bushfires and this is a great opportunity for the community to get together for learning experiences in a hands-on fun environment.
Western Australia
Northern Agricultural Catchments Council: Sustainable Energy and Innovation Expo
$20 000
The Expo will focus on four key activities including:
a Sustainability Exhibition for business, community and agency groups to showcase their sustainable activities and services;
workshops and presentations culminating in the Sustainability and Innovation Awards;
tours and excursions to showcase regional initiatives and activities: and
Energy and Innovation Challenges to engage the public and media.
Scitech: Molecular Origami
$16 000
Scitech's Molecular Origami is a hands-on science activity with the design based on the concept of monomers which can be repeated to create a model of a polymer. Audiences will be able to access the Molecular Origami activity nationally (online), regionally (printed packs to libraries/community groups), and in metropolitan Perth (workshop and installation activity hub). Scientific information about Australian polymer research will be included.
Labs Without Walls: Mozzie Mash & Mud Pie
$13 100
The Lab Without Walls will visit a series of remote communities across the Kimberley with the Lab-in-a-box and invite participants to "mash" any mosquitoes they've been able to catch biting them and test them on the spot for arboviruses. Collaboratively we will re-draw the map of mosquitoes and their viruses across the Kimberley, and collect Indigenous stories of insects and their diseases.
Association for Environmental Education, WA: Colours of Science Community Expo
$7500
The Expo will explore the visual medium of colour. It will showcase activities ranging from photography competitions to collaborative community artwork, from observing of the microscopic world and exploring colour and patterns in nature, to discovering the physics of drumming and didgeridoo music, as well as exploring how animals utilise colour for camouflage or attracting a mate. Participants can explore how rainbows occur and how the sun can be an efficient use of energy. A range of visual mediums will be utilized to explore relationships with light and energy, including sustainable energy sources. Modern and Indigenous science knowledge will be showcased.
ARC Centre of Excellence for Plant Energy: Scientific Posters
$3800
Scientific information will be displayed on posters on washroom doors in locations across Perth such as shopping centres and the Perth Airport. The posters will be developed by the Centre and include scientific facts & figures, science concepts and eye catching images that draw attention to National Science Week as well as highlighting Australian science.
Gravity Discovery Centre: The Sun – Powering our Planet
$3700
How does solar energy work? What can solar energy can be used for? These questions and many more will be answered at The Sun – Powering our Planet. Hands-on activities include solar cooking, solar viewing, solar car and boat race demonstrations and information sessions about the sun as a reactor and the importance of solar energy as a renewable resource. A guest speaker from Energising SEA will tell visitors about how we can utilise solar power in our homes. An Indigenous astronomer will talk about the aboriginal night sky and the significance of the Sun in their culture. The evening will be concluded with participants experiencing the wonders of space through telescopes.