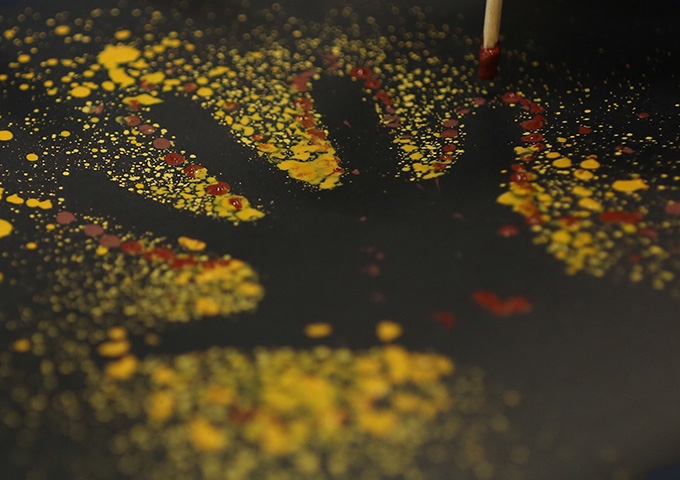 This is a rich year for diversity and inclusion, involving several historically under-served and under-represented communities. The range of topics explored by grant recipients reflect the diversity of Australian science, from quantum and particle physics presented by young astrophysicists to marine scientists sharing the science of sharks, jellyfish and whales.
Thirty-two grants were awarded including:
Several events and activities that feature Indigenous science and scientists, have been designed for Indigenous audiences and/or organised by First Nations providers.
The Multisensory Science Book Exhibition for Blind and Low Vision People shares the science of immunology, cancer, nutrition, and gut health with people who have low vision.
MicroToons is microbiology in animation, made by neurodiverse people for neurodiverse people and other audiences.
The Drag Experiment features four scientists who are also drag performers, bringing queer representation into science engagement.
Science Play Matters! involves early childhood audiences.
Several events and activities in remote, regional, or disadvantaged areas.
The Hon Ed Husic, Minister for Industry and Science said "Last year 1.9 million Australians – the highest number ever – joined in National Science Week celebrations around the country.
"This year's celebrations will help promote diversity and inclusion in Australian science and technology, with exciting and engaging events planned in a number of regional and remote communities.
Nearly $500,000 was allocated to projects from across Australia.
Skip to a state or territory*:
*grants are listed in the jurisdiction where the recipient is based, not necessarily where the activity will take place.
New South Wales
Science Week 2023 LIFT OFF!
Newcastle City Council
Science trivia, a meet-a-scientist pizza lunch and awe-inspiring science shows from the University of Newcastle's SMART team are some of the events at LIFT OFF!, a day of science fun in western Newcastle.
Novocastrians will meet real scientists, learn about their research, and engage with them on current science topics. High school students can learn more about career pathways.
This region is home to a less-advantaged demographic of science lovers, including a higher proportion of people from Indigenous and diverse linguistic and cultural backgrounds. This initiative hopes to encourage more people to take up STEM careers and be fascinated by science in daily life.
Project/event location: NSW
Indigenous Science Experience @ Redfern
Macquarie University
What can Aboriginal astronomy tell us about the night sky? How is our native flora used in bush medicine and soap making? How do Indigenous Australians make axes from stone and other artefacts? What can we learn about sustainable living from 60 000+ years of Indigenous culture?
The Indigenous Science Experience will showcase the value of traditional and contemporary Indigenous knowledge in science and technology, and the relevance of science to our everyday lives.
The event will bring together First Nations peoples, science academics, and Indigenous and STEM outreach organisations to provide immersive activities for primary school students and a community open day at the Redfern Community Centre.
In addition, online presentations and workshops will provide inclusive opportunities across Australia to engage in science.
Indigenous students from National Indigenous Science Education Program (NISEP) partner schools will lead activities, building pride and growing exceptional role models for other Indigenous youth.
Project/event locations: NSW, online
Remediate!
Macquarie University
Can nature's recycling systems be put to work to help save the planet and grow a greener economy? Built around a bespoke card game, Remediate is a series of in-person events to be held around the country to highlight innovative solutions to environmental damage.
The events will teach the science and strategy behind genetic selection. They will also highlight the jobs that are emerging in the burgeoning bioeconomy, and provide a platform for conversations in rural areas: Could they become hubs for transforming waste into useful products?
Project/event locations: NSW, QLD, VIC
Coleambally Community Science Engagement Project
Coleambally Central School
Coleambally Central School will provide an opportunity during National Science Week for students and the broader community to see unique practical science experiments that link to growing infrastructure and job opportunities within the region.
Coleambally is an innovative and robust agricultural centre in the Riverina. It is also home to plenty of wildlife, including kangaroos, the Southern Bell Frog, and a vast array of water birds.
However, as a rural and remote town, Coleambally has limited opportunities for hands-on science engagement. This event aims to encourage and support students to participate in science, including those from historically under-represented groups
Project/event location: NSW
Empowering Future Generations through First Nations Science Knowledges
TIPIAC

Indigenous people were Australia's first scientists, engineers, zoologists and astronomers. A series of live interactive webinars will provide participants with a deeper knowledge and understanding of First Nations scientific and technological development.
This initiative is the brainchild of TIPIAC (Teaching Indigenous Perspectives In the Australian Curriculum), an Indigenous-led organisation that takes the perspectives of First Nations scientists and knowledge holders into classrooms around Australia.
Project/event location: Online
Invasion and Extinction: The Myrtle Rust story told thru Science and Music
Dr Mark Temple
Myrtle Rust is an introduced plant pathogen causing widespread destruction to Australian native plants. We will use music performance, video projection and scientific data to promote awareness of how invasive Rust is causing extinction. The Rust genome has just been sequenced and I have used computer code to translate the DNA sequence into AUDIO patterns. These audio patterns have been taken into the recording studio with live musicians to compose MUSIC.  
There will be science conversations describing the Myrtle Rust narrative. There will be video projections and live music performances of compositions made from the genomic data.  Combining science and art to tell a story will promote science to a wider audience.
Project/event location: NSW
Sydney Science Trail Community Days
Australian Museum
See rare orchids, learn about First Nations medicine, talk to scientists, and meet puppet dinosaur Winny the Muttaburrasaurus at the Sydney Science Trail Community Days held at the Australian Museum and the Botanic Gardens.
They aim to bring science alive in meaningful and accessible ways for visitors through hands-on activities, family-friendly activities, expert talks, silly science, spectacular demonstrations, and a STEM expo.
The Australian Museum is home to the Australian Museum Research Institute, and the Australian Botanic Garden Mount Annan is home to the Australian Institute of Botanical Science, including the new NSW National Herbarium and the Australian PlantBank.
Project/event location: NSW
Science in the Swamp – Superpowers of Nature
Centennial Park and Moore Park Trust
Which animals are the fastest, the strongest, have the best vision, or the best hearing? Learn the science of nature's superpowers, wander the wetlands, try daytime astronomy, ID a frog, meet Centennial Park's bats, and learn about Indigenous knowledge.
Science in the Swamp will return to Centennial Parklands for a free, outdoor family and community event celebrating science and providing a range of diverse and exciting hands-on science activities accessible for all ages.
This community event will focus on nature's superpowers showcasing the work of some of Sydney's biggest science institutions and grassroot community science organisations that will open the eyes of a new generation to the wonders of nature.
The event is a partnership between Centennial Park and Sydney's science community.
Project/event location: NSW
Science Showcase UOW
University of Wollongong
An evening in the planetarium with a presentation exploring the Universe from the roles of molecules to Indigenous astronomy, guided tours of science labs and research spaces, and an opportunity to meet top local scientists: all at Science Showcase UOW.
Science Showcase UOW includes an open day at the UOW Wollongong and Shoalhaven campuses, with presentations and interactive activities at the UOW Science Space.
The open days will include live ABC Illawarra radio broadcasts, and will introduce the general public to local scientists, research ideas and facilities. 
Project/event location: NSW
The Drag Experiment
Naomi Koh Belic
The Drag Experiment is the show of the year for drag lovers, science nerds, and people across the LGBTQIA+ and STEM spectra.
Four people who are scientists by day and drag performers by night will headline the event. They will give drag performances interwoven with scientific concepts and research and the audience will vote for their favourite to be crowned.
The drag scientists will join a panel discussion where the audience can ask their own questions to get to know them for the dazzling people they are; both in and out of drag. After the curtains close, online videos and science explainers from the event will be posted to social media.
Project/event locations: NSW, online
Endless Universe at the Melbourne and Brisbane Planetariums
Leopold Entertainment
All of this is temporary. How long will humans be able to live on Earth? What cosmic endings and new beginnings await humanity? How do we make sense of all of this?
Endless Universe is a full-dome planetarium work exploring these questions through a poetic integration of science and art. This work by artist-scientist Jenna Robertson inspires human belonging and purpose within the wonders of astronomy, astrophysics and cosmology. It will be presented in six live performances at the Melbourne and Brisbane Planetariums.
This project engages historically under-represented groups, trials an innovative form of science communication, and attracts new and existing audiences towards science.
Project/event locations: QLD, VIC
Science by the Sea: Collecting Microplastics with AUSMAP
Total Environment Centre
Plastic pollution is a pressing environmental issue, with microplastics at the forefront of concern. Microplastics can harm the environment and human health. They're easily ingested and various chemicals can leach from them, the effects of which are compounded as plastics bioaccumulate through the food chain.
Experts from AUSMAP, Australian Microplastic Assessment Project, will share the science behind the monitoring and reduction of these plastics on Australian coastlines through a series of community sampling workshops in the field.
Focused on regional beaches in NSW and SA, the project will allow participants to become citizen scientists in their own communities to help monitor and quantify microplastics on their local beaches
Project/event locations: NSW, SA
Northern Territory
HealthLAB – Sharing health innovations from Big Rivers to the Tiwi Islands
Menzies School of Health Research
The Menzies HealthLAB is taking innovative science and health education around the Territory. The interactive health education program will give people an opportunity to see their heart and kidney ultrasounds, measure hydration levels, choose their future with the time machine, test muscle strength and much more.
HealthLAB will travel to locations around Darwin and travel to the remote communities of Naiuyu and Wurrumiyanga, giving locals the opportunity to talk to a range of scientists and health professionals about the science behind the inner workings of the human body, the technology behind the equipment used, and exciting future careers in science.
Project/event location: NT
Gurraj Region Science Week
Kalkaringi School
The Gurraj Region Science Week will host all the schools in the region for workshops with the team from Deadly Science, and other culturally relevant learning sessions provided by Gurindji people, and a science show presentation by Street Science.
This week of science aims to provide a high quality and high impact week for remote Indigenous people. All the people in this region are from linguistically diverse backgrounds and speak multiple languages such as Kriol, Gurindji, Warlpiri and more.
Project/event location: NT
CodProg Drone Lab
Charles Darwin University
Young people in Katherine and Darwin will learn about drones, code them, program them, and fly them!
This event will include workshops, activities, videos and presentations.
Participants will explore the application of drone technology in problem-solving in real-life contexts and learn to code and program drones. They will conduct the fundamental coding and programming of a flight map for their drone to fly an uncrewed mission.
Project/event location: NT
Queensland
Townsville STEM Faire
Smart Precinct NQ
The Townsville STEM Faire is a free, one-day, community focussed event which connects the Townsville community with the extensive range of STEM learning opportunities, study and career pathways, and organisations in the research, business and industry sectors of Townsville and surrounding region.
It will be conducted by Smart Precinct NQ, an innovation hub and non-profit organisation that aims to build and strengthen the regional innovation ecosystem and economy.
Project/event location: QLD
Healthy Forests = Healthy Us Family Activity Day
Jay Ridgewell
What do trees have to do with the physical and mental health of humans? Sunshine Coast organisations will bring the intersecting sciences of human and forest health to the community through hands-on workshops, short talks from scientists and experts, walking tours and an optional picnic in a central bush setting.
People will learn about the health and ecological sciences behind these activities from local researchers, citizen scientists and health practitioners.
At the same time, they will enjoy the benefits of relaxation, fascination, joy and awe that come with time spent being active in nature.
Project/event location: QLD
The Enigmatic World of Sharks, Whales and Jellyfish
Griffith University
Sharks, jellyfish and whales are iconic marine creatures that spark people's interest in ocean sciences. An interactive and engaging event in the Gold Coast will bring marine scientists and their knowledge of the ocean's wildlife to the community, submerging young and adult minds in the science and charisma of marine animals.
The audience will learn about the marine environment through creative presentations and interactive exhibits, and the event will be live streamed for online viewing. It will also highlight local citizen-science projects, inspiring community participation in scientific research.
Project/event location: QLD
Science Play Matters!
Playgroup Queensland
Three events and thousands of activity kits will bring science to pre-schoolers. Play Matters Australia (PMA) delivers and supports hundreds of play experiences and playgroups. PMA will deliver events engaging families and communities − including culturally and linguistically diverse and Aboriginal families − with science activities during National Science Week.
The events are designed to help inspire interest in scientific pursuits, encouraging children to become fascinated by the world we live in and promoting wider community participation in STEM. Additionally, a digital 'Science Play Matters' activity kit will be developed and distributed to over 10,000 families, and shared through PMA's playgroup network. Physical activity kits will be distributed at events.
Project/event location: QLD
South Australia
Palaeo Jam-Live
Michael Mills

A prehistoric podcast exploring fossils, dinosaurs and palaeontology will hit the road for a series of live events that will become future podcast episodes. Palaeo Jam- Live takes the Australian palaeontology podcast Palaeo Jam on tour.
Host and award-winning science communicator Michael Mills will visit a network of palaeontologists in key locations around Australia in a touring roadshow with live events. They will share local prehistoric stories with each community they visit, record podcast episodes at each event, and then broadcast the stories with the broader Australian community.
Project/event locations: NSW, QLD, SA, WA, online
What is the Value of Urban Forest?
University of Adelaide
What are trees good for, aside from looking pretty? And can we count their climate action and carbon-capturing benefits? A series of workshops and activities will help participants to understand and measure how trees store carbon, increase biodiversity, reduce temperature under the canopy, and move water from the soil to the canopy; in addition to appreciating the amenity value of urban forest to people.
Each family group taking part receives a small tree sapling and the book The Gentle Genius of Trees by Philip Bunting. Families can plant their tree at home or in a nearby approved area and take annual measurements described during the workshop. These measurements will be added to a public database as the tree saplings grow, so the total impact of the project can be seen by everyone.
Project/event location: SA
Tasmania
Young Tassie Scientists: Sharing Our Research Across Our Island
University of Tasmania
A computer scientist tracking space junk, an ecologist tracking tabby cats, a brain researcher seeking a stroke of genius, a cheesy microbiologist studying food-making microbes, and an 'insectologist' who can tell you all about bugs and why we should eat them. These are just a few of last year's Young Tassie Scientists (YTS), a group of 30 early-career researchers who volunteer their time to share their passion for science with audiences across Tasmania.
These widely profiled Science Week ambassadors focus public awareness on local Tasmanian research and highlight career opportunities through engaging presentations and hands-on activities covering a wide range of science topics. The YTS travel around Tasmania throughout August, supporting a variety of public Science Week events and providing in-school visits along the way, with a focus on reaching regional, rural and island communities state-wide.
Project/event location: TAS
National Science Week 2023 at Hive
Central Coast Council
Hive Tasmania is a major new cultural precinct in Ulverstone, featuring a planetarium and the state's first Science Centre. Hive's Science Week program will include stargazing evenings, extra planetarium shows, special workshops, a scientist-in-residence, and the marquee Family Science Day event featuring workshops, shows, science centre activities, and an expo of partners.
All events will showcase the amazing science activities Hive has on offer, such as a maker space, a beehive, and the Derby Track where visitors can build and race mini cars.
Project/event location: TAS
Beaker Street Festival
Beaker Street
Learn and laugh with science comedy from Dr Karl, join a Dark Sky party on the East Coast, see the entries in the Beaker Street Science Photography Prize, or chat with one of 150+ roving scientists.
Beaker Street Festival is an annual celebration of science and art in lutruwita/Tasmania, introducing Australia's public to today's most exciting scientific minds and ideas. The 10-day festival features fascinating talks and hands-on workshops by world-leading scientists, interactive science/art installations, live music and pop-up bars, and Tassie food and drink at multiple locations around the state; with a hub at the Tasmanian Museum and Art Gallery, and the Beaker Street Crawl around Hobart.
Project/event location: TAS
National Science Quiz 2023
University of Tasmania
Charlie Pickering hosts a battle of the brains to determine the winners of the National Science Quiz, with the losing team slimed, live on stage. Two teams of Australia's top scientists will discuss and ponder their quiz answers and the live and online audience can play along for the chance to win cash prizes.
The National Science Quiz is designed to provide a night of science, laughter, fun and slime that sparks curiosity in the world we live in, celebrates the contributions of Australian scientists, demonstrates scientific thinking and problem solving in action, showcases the talent and diversity of local scientists, and provides insights into the various career pathways offered in these fields.
Project/event locations: VIC, online
Victoria
Multisensory Science Book Exhibition for Blind and Low Vision People
Monash University
'Read' about immune system cells through your sense of touch or learn about food and nutrition through a 3D soundscape. The Multisensory Science Book Exhibition features a series of interactive works designed for late primary through to secondary students with low vision, blindness, and diverse needs. The exhibition explores scientific topics including the importance of human immunity, infection, cancer, nutrition and gut health; and were created by preeminent Australian scientists and researchers.
Works will include interactive multisensory books, tactile art, posters, sculptures, and data sonification. The exhibitions will be hosted by project partners and leaders supporting blind and low vision children with special needs, including the Victorian
Project/event locations: NSW & VIC
The National Quantum and Dark Matter Road Trip
University of Melbourne
A band of physicists are taking dark matter on a road trip. The National Quantum and Dark Matter Road Trip is an interactive travelling science and art show, bringing quantum physics, mysterious dark matter particle physics, and creative expression to capital cities, regional and remote areas. Scientists from two ARC Centres of Excellence will visit community hubs in regional Queensland and Victoria, and run public events in other capital cities during a fortnight inclusive of National Science Week.
Dark matter accounts for 85 per cent of all the matter in the Universe…but we don't yet know what it is. Australia is a key player in the quest to find out. Quantum technologies are crucial in the hunt for dark matter, and they're already used in smart phones and cars, medical imaging, manufacturing, and navigation. But today's technologies capture only a small fraction of the potential of quantum physics.
The road tripping scientists will enlighten the public on the importance of fundamental scientific research taking place in their own backyards that are vital to unravelling the mysteries of the Universe.
Project/event locations: NSW, QLD, VIC
Inspired By Tech Regional Festival
DTAC Wangaratta
The Inspired By Tech Regional Festival is a suite of events designed to encourage creativity, collaboration and problem solving both schools and in the wider Wangaratta community. 'Pre-Science Week' activities will provide innovative technology-based learning experiences including challenges, interactive webinars and a community 'Pint of Science' style event. Then a National Science Week showcase event, which will provide an opportunity for students, community members and industry stakeholders to come together, connect, and discover the technology that surrounds them every day. It will also help regional students and their families explore technology as a field of study or career pathway.
Project/event location: VIC
Shirty Science – Favourite Science Shirt
Madison Hartill Law
Which artist-researcher duo will win the battle to design the top Shirty Science t-shirt?
Scientists from two ARC Centres of Excellence will be paired with artists to create unique science shirts about their research. Each pair will present their final design to the Australian public and a panel of esteemed scientific and creative judges through a live stream event, hoping that their creativity and teamwork will be enough to win them the title of Favourite Science Shirt.
All shirts will be available to purchase online, with profits donated to an organisation that supports diversity and inclusion in STEM.
Project/event location: Online 
Footy Oval Astronomy
Mount Burnett Observatory
Mount Burnett Observatory volunteers will take over a football oval to run Footy Oval Astronomy − a free event for the local community and emergency services volunteers, bringing the wonders of astronomy to a wide audience, in person and online. Observatory telescopes will be on hand to show visitors the night sky and demonstrate that astronomy is accessible to everyone. This will be complemented by: indoor activities including astronomy talks, computer simulations of the night sky and objects of interest, information on Indigenous astronomy, a live Facebook stream to allow questions and answers throughout the night, a live band, and food vans. The three-hour event will be broadcast via Facebook and on free-to-air television by Channel 31.
Project/event locations: VIC, online
Bionics Institute 2023 Open House
The Bionics Institute of Australia
Find out how biomedical technology is being developed to treat conditions such as dementia, tinnitus, Parkinson's disease, arthritis and hearing impairment. Visitors will meet world-class scientists, engineers and researchers at the Bionics Institute Open House. They can hear how STEM study pathways lead to a career in biotechnology, engineering, neuroscience, data science and more. Tours of the Institute's laboratories will showcase the pioneering biomedical therapies being developed in Melbourne, and how these technologies can change the lives of people living with hearing loss or certain degenerative or neurological diseases.
Guests will learn about the Bionics Institute's track record of translating medical device concepts into clinical reality, dating back to the ground-breaking work of the Institute's founder Professor Graeme Clark, the mind behind the cochlear implant.
Project/event location: VIC
Western Australia
Microtoons
Dr Rina Wong

People with autism can struggle to engage with science, technology, and art; but when they manage to, it can empower them. MicroToons-Scab is an animated science story produced with autistic and neurodiverse talents. The project is a partnership between microbiologist, artist and 'My Mad Scientist Mummy' children's book author Dr Rina Fu, animation studio Red Bird Creative, and disability services provider 4lifeskills.
Neurodiverse people will be involved with the design of story characters − such as blood cells and microbes − from pencil sketches to computer graphics that are then animated to moving characters. The resulting five-minute animation will premier at a launch event organised by the 4lifeskills network, with science activity stations tailored to include people with disabilities.
Project/event location: Online
Broome STEM Festival
Telethon Kids Institute
A school session, a community day, and a community Q&A panel and networking event will be held as part of the Broome STEM Festival, organised by Telethon Kids Institute along with partners from the Broome region. The festival will highlight scientists from the local community and pay respect to the knowledge of Indigenous Australians as the country's first scientists. This initiative aims to inspire local students to connect with science and consider STEM careers in the future.
Project/event location: WA