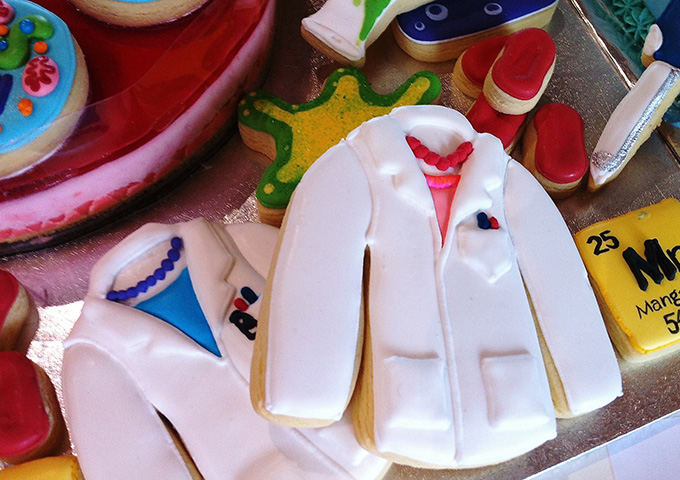 Congratulations to all of the recipients of grants for National Science Week in 2020. Thirty three projects have been awarded a total of $500 000 that has been provided by the Australian Government.
National Science Week events will be held throughout Australia. In Sydney, paintings will be patients when art meets medical science. In Perth, science will be discussed using sign language.  There will be cancer puzzles in Queensland and fake meat in Melbourne. Across the country there will be stand-alone festivals, music, comedy shows, expert panel discussions, interactive displays, open days and online activities.
Minister for Industry, Science and Technology, the Hon Karen Andrews, MP said that "people from all walks of life right across Australia will have the chance to get involved in science through interactive workshops, discussions and demonstrations.
"National Science Week is also an opportunity to meet scientists and for educators to promote the study of science, technology, engineering and mathematics (STEM) subjects both in the classroom and beyond."
The grants are highly competitive, and aim to support a spread of projects across Australia in a variety of scientific fields.
The projects listed below are grouped in the state or territory where the recipient is based.

ACT | NSW | NT | QLD | SA | TAS | VIC | WA
Australian Capital Territory
The Great Aussie BioQuest Challenge
Earth Guardians

Submit your wildlife sightings to help scientists map biodiversity and study how climate change is influencing where the wild things are. The Great Aussie BioQuest Challenge is a competition: any Australian with a smartphone can use the QuestaGame app and compete as an individual or a virtual team by logging sightings of real plants, animals and fungi. A large expert community identifies and verifies the sightings, gives feedback, and rewards "scientific remarkability" points. High scoring players and teams receive prizes. The sighting data is shared with leading biodiversity databases. QuestaGames players are finding new species, helping stop invasive species, and creating a map of Australia's biodiversity for scientific research and conservation.
Health, Country and Culture Forum
W Brookman & J.D Fitzgerald
Research shows the keys to improving Indigenous health and wellbeing are spiritual and cultural, as well as physical and biomedical. The Health, Country and Culture Forum will explore the importance of understanding connection to country and culture for healthcare that works with and for First Peoples. The Forum brings together experts from the National Aboriginal Community Controlled Health Organisation, the National Centre for Excellence in Youth Mental Health, Australian National University College of Health and Medicine, and peak Aboriginal and Torres Strait Islander organisations. It will also share findings from 'Mayi Kuwayu: The National Study of Aboriginal and Torres Strait Islander Wellbeing'.
New South Wales
Indigenous Science Experience at Redfern
Macquarie University
What can Aboriginal astronomy tell us about the night sky? How is our native flora used in bush medicine and soap-making? How do Indigenous Australians make axes from stone and other artefacts? What can we learn about sustainable living from more than 60 000 years of Indigenous culture? The Indigenous Science Experience at Redfern is a celebration of Indigenous and Western science, and Indigenous youth and Elder achievements. This four-day event at the Redfern Community Centre will demonstrate the value of traditional and contemporary Indigenous knowledge in science and technology, and the relevance of science to our everyday lives. Indigenous students from National Indigenous Science Education Program (NISEP) partner schools will assist in demonstrating activities.
How to Fix a Pixie: treating paintings as patients
Sydney Children's Hospitals Network
Fourteen Pixie O'Harris paintings from The Children's Hospital at Westmead art collection are in bad shape and need treatment. They will be x-rayed and 'treated' by an art conservator with the help of children and families at The Children's Hospital at Westmead. Each Pixie painting becomes the patient and is examined using imaging and sampling techniques. Children will make swabs, remove varnish layers and 'operate' to replace paint losses in a simulated environment. Clinicians and educators will describe parallel processes used in medicine and present behind-the-scenes tours of diagnostic and laboratory spaces, exploring the parallels between the applied science of art conservation and medical science.
Our Outdoors: the science of healthy cities
University of Sydney
Parks, gardens and shared outdoor spaces can help prevent chronic diseases — just ask public health experts Dr Yvonne Laird and Dr Samantha Rowbotham. Our Outdoors: the science of healthy cities is an interactive family event featuring a drop-in Experimentarium, guided nature walks, and a scientists' picnic. Participants will learn the role that shared outdoor spaces play in health and wellbeing, how science is tackling key issues affecting cities, including climate change and air quality, how they can get involved to help tackle these issues, and what actions they can take to enhance their own outdoor spaces. The event will take place in Fairfield, Western Sydney — literally a hot spot for the urban heat island effect, which can make heatwaves even more extreme.
Cabinets of Curiosity: Science Week at Byron Bay Library
Lismore City Council
Slugs, snails and scientists' tales: the Australian Museum is coming to Byron Bay in a series of boxes full of Australian floral and faunal exhibits. Cabinets of Curiosity uses borrowed 'Museum in a Box' kits to turn the local library into a temporary museum for National Science Week and Book Week. The library will host a Science Week display, a special story session, talks from local scientists, poster design competitions, and a movie night screening of the film Night at the Museum.
The Innovation Games at Sydney Olympic Park
Sydney Olympic Park Authority
What's the physics of football? How much energy can you generate on a skate ramp? What's the latest in sports-science innovation? The Innovation Games is a free family fun day full of sporting, science and technology action at the town centre of Sydney Olympic Park. Held between the Summer Olympic Games and the Paralympic Games, the event includes activities such as drone simulators, virtual reality gaming, a scooter and skate challenge, a corporate coding competition, a schools robotics competition, Australian wildlife shows, sports and fitness challenges, wellbeing talks, participatory Indigenous art, chemistry shows, films, and social media live-streaming throughout the day.
Dark Science – Discover a world where art meets science
Lismore City Council
Dark Science is a two-day science and art festival held in and around the Lismore Quadrangle by the Northern Rivers Science Hub. The event will use new media, face-to-face engagement, workshops, online discussion platforms, art and music, performance, discovery tours, bio-domes and traditional science talks and panels. The festival is a curated, accessible and free program celebrating the intersection between provocative art, performance and the sciences.
Sapphire Coast Science Festival
Bournda Environmental Education Centre
Recently the Bega Valley Shire Council voted to support a climate emergency declaration and there is a huge amount of interest in how science and technology can contribute to climate change mitigation, adaptation and survival. The Sapphire Coast Science Festival is a suite of events that celebrate and explore the importance of science and innovation in the region, given the local economy's dependence on primary industries and tourism. The festival will explore how digital technologies, renewable energy and sustainable land management can build community resilience to climate change. Activities include opportunities to learn about astronomy and climate, cultural burning and how climate influences birds; a science themed film night; and a fun Science in the Pub event.
Northern Territory
HealthLAB across the Arafura
Menzies School of Health Research
What's going on inside your body? And how do your lifestyle choices affect your health? HealthLAB is a free health education clinic on wheels, offering an interactive science education experience that helps people answer these questions and more. Participants assess their own health in a pop-up laboratory, learn about healthy lifestyle choices, and find out about careers in health science related fields. Look inside your body with ultrasounds of the heart and kidneys, watch and hear your heart beating, see how the heart changes after exercise, and try on 'alcohol goggles' that mimic raised blood alcohol levels. Test your body composition and measure your muscle and fat percentage. Interactive displays and demonstrations encourage visitors to get involved with their own health. The HealthLAB team will be on hand to guide your experience and explain your measurements. HealthLAB starts in Darwin at Parliament House and local markets, before heading to Ramingining in East Arnhem Land.
desertSMART EcoFair
Arid Lands Environment Centre
Gardening Australia's Costa Georgiadis, keynote speakers, and local and interstate scientists will descend on Alice Springs for the desertSMART EcoFair, Central Australia's premiere science and sustainability event. In 2020 the three-day festival will focus on the International Year of Plant Health, with desert scientists, Indigenous educators, renewable energy professionals and health experts encouraging discussions about science and sustainability. The program also includes an ABC Radio outside broadcast featuring the Great Science Quiz, documentary screenings, and the Eco-Science Schools Day for local students.
Queensland
Queensland Tour of a Cancer Puzzle Room
Excite Science
Have you wondered what cancer is, how it occurs, and why some cancers are curable while others are not? To address these questions, melanoma researcher Dr Ken Dutton-Regester has created the world's first cancer-themed puzzle room, commonly known as an escape room, in which participants solve a series of puzzles that have been designed according to the underlying principles of cancer biology. Participants will take part in an engaging physical experience, learning about the complexities of cancer while breaking down misconceptions surrounding the disease. Following its Brisbane debut last year, 2020 takes the room on the road across Queensland to reach more people.
Science of the Sea
Gold Coast City Council
Gold Coast Libraries' Science of the Sea is a week-long program of free events and interactive exhibitions that focus on the ocean sustainability. Oceans and surf culture are an integral part of the identity of the Gold Coast. The program will inform, inspire and connect the community with cutting-edge research and science experiences. It will showcase the science taking place to combat climate change impacts on marine life, and inspire the community to become involved. The program will feature an 'in conversation' exchange with a high profile scientist, a science event for children, a range of Luminary Lectures at the Library, and interactive science exhibitions.
Mozzies in Your Backyard: friend or foe?
Queensland Institute of Medical Research
Which exotic mosquitoes have taken up residence in your neighbourhood and what does it mean for public health and the spread of diseases? This initiative introduces four Australian citizen science projects contributing to mosquito science: the Zika Mozzie Seeker project (Metro South Health), STEM Champion Mozzie Hunters (QIMR Berghoher), the Mozzie Augmented Reality project (Queensland University of Technology) and the Mozzie Monitors project (University of South Australia). Attendees will have the opportunity to participate in a variety of innovative and interactive activities, from extracting DNA to studying the mosquito lifecycle; meet the scientists; and understand the vital role citizen scientists play in their success.
Gold Coast Pop-Up Science Centre
Griffith University
Featuring a shark lab and 150 hands-on activities from more than 45 exhibitors: the Gold Coast Pop-Up Science Centre will provide local Gold Coast, Logan and northern NSW residents with a feast of science and technology-related activities. The Pop-Up Science Centre will also serve to raise awareness and direct action toward the creation of a much-needed permanent science centre for these communities. The event will be organised and coordinated by the Griffith University's Science on the GO! outreach program.
Brisbane Science Festival
Liddell Education
Smoke cannons, liquid nitrogen, flame tests, explosions and cool chemistry experiments will all be seen on the streets of the Queensland capital. Brisbane Science Festival will bring science to life using a range of interactive activities, guest presentations, and captivating demonstrations. This event is produced and presented by Street Science in partnership with government, universities, research organisations, leading Queensland businesses and science institutes.
South Australia
SCINEMA International Science Film Festival Community Program
The Royal Institution of Australia
SCINEMA International Science Film Festival showcases a selection of features, shorts, documentaries, animated and experimental films from around the world. In early 2020, the hunt for the best science on screen began. Following a judging process in autumn, the selection of finalists will premiere in major cities across Australia. SCINEMA culminates in a Community Screening Program during National Science Week, where schools, councils and community groups anywhere—from a school gym in Geraldton to a library in Lismore—can register to host their own free screening of a curated SCINEMA film playlist.
Makings of a Malignancy: a pop-up escape room experience at MOD.
University of South Australia
Have you wondered what cancer is, how it occurs, and why some cancers are curable while others are not? To address these questions in an engaging and interactive way, the world's first cancer-themed puzzle room is coming to MOD. at the University of South Australia, as part of the 2020 exhibition IT'S Complexity. The cancer puzzle room was created by melanoma researcher Dr Ken Dutton-Regester and will be presented during Big Science Adelaide. Visitors will take part in an engaging physical experience, learning about the complexities of cancer while breaking down misconceptions surrounding the disease.
Deep Blue Marine Festival
Star of the Sea Catholic Parish Primary School
Microplastics impacts, sustainable fishing, iconic sea life, dune care and corrosion – scientists from around South Australia will join thousands of children and their families to help the community understand our marine environment, how humans are changing it, and how science is addressing emerging issues. The Deep Blue Marine Festival will feature scientist-guided trail tours, virtual reality marine experiences, a visit from Adelaide's singing palaeontologist Professor Flint, and exhibits from Birdlife Australia, SA Museum, Port River Dolphin Sancturay and more. The festival will be held in collaboration with The Science Collective at the Marine Discovery Centre, along the Henley Beach coastline.
Tasmania
Beaker Street, a Celebration of Science and Art in Tasmania
Margo Adler
Beaker Street is a pop-up science bar and a unique celebration of science and art, in and around Hobart's iconic Tasmanian Museum and Art Gallery – a scientific wonderland for adults. The two-day program will feature the inaugural City of Hobart Science/Arts Trail, scientist-led expeditions, interactive science-art installations and performances, the annual Science Photography Prize, live music in the Speakeasy Bar, talks and hands-on workshops by world-leading scientists, Tassie food and drink, and more than 150 roving scientists.
Young Tassie Scientists: Sharing Local Research Across Our Island
University of Tasmania
An oceanographer using seals to collect data, a budding botanist studying flowering plants, a glaciologist who uses ice to peer back in time and an 'insectologist' who can tell you all about bugs and why we should eat them. These are just a few of the Young Tassie Scientists — early career researchers who bring STEM presentations and activities to schools and public events state-wide during August. Young Tassie Scientists are Tasmanian science ambassadors who make serious, local research accessible and entertaining for everyone. With a focus on reaching regional, rural and island communities state-wide, the group aim to inform Tasmanians about the wonderful work happening in STEM research across Tasmania.
TastroFest – Tasmania's Astronomy Festival
Brittany Trubody
In 2020, TastroFest—Tasmania's Astronomy Festival—will mark the 50th anniversary of Apollo 13 with a focus on how astronauts with limited resources get out of trouble in the confines of space. Tasmania is the only state with regular auroras and has some of the clearest skies in the world, making it a hot spot for the art and science of the night sky. TastroFest is held over three days in Ulverstone, with a program that includes talks on current trends in astrophysics, health science in space, NASA's Orion project, Space X, black holes, space history and archaeoastronomy, NASA models and artefacts; and activities including 3D printing, robotic displays, live science shows, Space Station telemetry, planetarium programs, night sky viewing sessions, a virtual reality space station experience, cosplay, brain-games, an aurora and astrophotography gallery, environmental science demonstrations, author talks, and more.
Victoria
A Taste of Tomorrow: fake meat, sauteed spider and lobster lollies?
La Trobe University
What will we eat in 2050 when the world's population will reaches 10 billion? Agriculture will need to increase food production in a changing climate, growing more with fewer resources and harsher circumstances. Doing so sustainably will require new technologies and changes to what we eat. A Taste of Tomorrow is a series of events exploring what these new foods will look like and how they will be made, from the technologically enhanced to the downright bizarre, including fake meat, insect flour, lobster lollies, farm-to-plate disease-free animals, bioengineered crops, super soils, and more. Scientists will pitch their food security solutions in public forums, followed by interactive discussions. Hands-on experiences will give people the opportunity to taste and analyse future foods, and experiment to determine 'fake' from the real thing. Events will take place in Mebourne, Bendigo, Shepparton and Albury-Wodonga.
Aboriginal Science and Sustainable Futures with Bruce Pascoe
Greening Australia
Australia's First Nations people lived sustainably in our harsh continent for tens of thousands of years: can Indigenous knowledge give us a more hopeful future? Aboriginal Science and Sustainable Futures will feature three events focussed on the Aboriginal perspective informing sustainable futures. The project will include an Aboriginal Field Day at Bangor, an Aboriginal Immersion Workshop on the Patrula Trail at the Sustainability Learning Centre with an Aboriginal Science Expo, and a public forum, Reading the Land for a Sustainable Future.
Forensic Science: Fact vs. Fiction
Victorian Institute of Forensic Medicine
Just how close to the truth is the science on CSI, NCIS, Law and Order: SVU and other crime shows? Ask a real forensic scientist. The "CSI Effect" has led to widespread misunderstanding of what forensic scientists do and how their science is used to investigate cases. A panel of experts from The Victorian Institute of Forensic Medicine will reveal the real world of forensic science and how it differs from the characters, labs, tools and techniques that appear in books, movies and TV shows. This Q&A-style event will give people the opportunity to find out what a day in the life of a forensic institute is like, and have their own questions answered on everything from DNA testing to decomposition.
Exciton Luminescence and Fluorescence Pop-up Laboratory
University of Melbourne
How do materials turn light into electricity and back again? What is the chemistry of luminescence and fluorescence? How far can we go with solar energy technology? A pop-up lab, workshop and exhibition space in Melbourne's CBD will show audiences what light is, how it can be transformed, manipulated and harnessed in the development of new solar and lighting materials. The project will be an immersive and educational fluorescent wonderland, with workshops, experiences and demonstrations by researchers and educators from the ARC Centre of Excellence in Exciton Science (ACEx). They will reveal the science behind nanomaterials, quantum dots, and solar tech.
New Scientist Live, Australia
Talk2 Media & Events International
You've read the magazine; now see the show. New Scientist Live is a three-day festival held at Melbourne's Royal Exhibition Building, bringing the popular New Scientist magazine to life. Visitors will see the latest technologies, engage with real scientists, and learn from the best of the best. In three theaters, visitors can hear talks from high-profile scientists and expert speakers, discussing topics including space, climate, environment, robotics, digital technology, engineering, the human body and more. The exhibition spaces will be filled with interactive activities, features, experiments, virtual reality, AI and dozens of exhibitors. This is the first Australian event, launching off the back of successful shows in the United Kingdom.
Immersive Science IV: Science Champions
Swinburne University of Technology
Realise the power of stars, delve into the latest gravitational wave research, and explore the Universe — all without leaving town. Science communicators and researchers Professor Alan Duffy and Dr Rebecca Allen return to share the latest wonders of Australian-led research in astronomy through SciVR, an immersive astronomy experience enabled by a virtual reality (VR) smartphone app. Guided by Alan and Rebecca, regional libraries and science centres will transform into virtual exploriums. With two live-streams (one adapted for younger audiences) and social media Q&A, audiences can connect with the presenters and learn about the most explosive events in our Universe. Anyone with a smartphone can join in from home and enter to win one of hundreds of free SciVR headsets. There will also be a live event in Melbourne with Alan, Rebecca and an Auslan interpreter.
Making For All: reaching people with disabilities
Monash University
All people in Australia should have the opportunity to take part in scientific activities, including people with disabilities. This project will develop and deliver modified maker activities that meet the requirements of people with different abilities. Maker workshops provide opportunities for engagement with scientific principles in a creative and hands-on manner. The activities will be custom-designed to engage participants who have sensory disabilities, significant motor or cognitive disabilities. The focus will be on engaging people in the scientific activities focused on what they are able to achieve rather than any limitations. Activities will be delivered through workshops at Monash University's Clayton and Peninsula campuses, and by sending kits and training materials to a range of local and regional disability support organisations.
Western Australia
National Science Week in the Great Southern
Western Australian Museum
From wave energy and marine ecology to Noongar knowledge and plant diversity, southwestern WA is home to some great science. National Science Week in the Great Southern offers the opportunity to explore it and meet the people behind it through a series of activities and events in and around Albany. The program features the 'Great Southern, Great Science' research forum, a public lecture from an eminent scientist, a WA Museum curator visit, Science Café panel, on-country traditional Indigenous science, technology of drones and robotics, early-years ocean discovery, science toolkit thinktank, citizen science experiences, and other activities in regional locations.
Intergenerational Biology Experience
Murdoch University
Fingers will twitch, cells will be explored, the young and old will play with and wonder about science, and each other: it's like science meets the TV show Old people's home for four year olds. The Intergenerational Biology Experience will travel to aged-care facilities across southwest Western Australia as some of the youngest and oldest members of the community engage in hands-on biology activities together. Led by Murdoch University biological scientists, in partnership with community organisations from the aged care and early childhood sectors, intergenerational teams will explore the topic of 'How we move', investigating interactions between bones, muscles and nerves and how these systems transform with age.
Goodness Festival
Pollinators Inc
Goodness Festival is the premiere annual science engagement activity in the mid-west, and a leading community event in WA. This year's Festival will include a mix of community science nights, tours, exhibitions, open days, in-depth astronomy workshops and after-hours events such as a quiz night and a women in science breakfast. Events will also include a high-profile celebrity guest for broad appeal beyond the science audience. The festival will take place in and around the Museum of Geraldton, City Hive, and Champion Bay Senior High School, with behind-the-scenes tours throughout the region.
Meet the Scientists – Sign me up!
West Australian Foundation For Deaf Children
Meet the Scientists – Sign me up! aims to engage Deaf and hard-of-hearing children aged six to 15 years, their siblings and peers with science, providing them with exposure to the discipline as a career pathway, building confidence in scientific concepts and inspiring them. Two three-hour accessible events will be held in metropolitan Perth and Bunbury, each with six scientists from different fields sharing their research field and engaging the children in relevant hands-on activities.