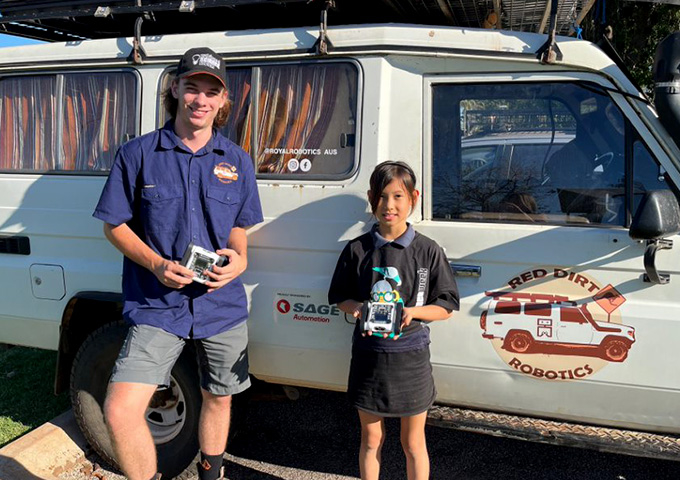 A total of sixteen events will be funded across the state. Applications which demonstrated that they partnered with, or engaged, under-represented groups, involved novel or innovative programs, and were delivered in partnership with local organisations and STEM professions were the most successful. Congratulations to all of the recipients.
Read about the grant recipients and their activities:
Hologram Printing Competition
ARC Centre of Excellence for Transformative Meta-Optical Systems, The University of Western Australia
Learn how to manipulate the properties of light while competing in a Hologram Printing Competition. Participants will be immersed in the latest advancements in laser technology, 3D printing, and optics. This workshop will provide participants with access to desktop hologram printing kits, 3D printers, and first-hand knowledge from photonics experts.
Habitat Restoration: Nest Box Workshop
Black Cockatoo Preservation Society
The south west region of WA is one of the most diverse in the world, but its diversity is threatened by habitat destruction and introduced species. A hands-on session will be held for participants to meet the Conservation Centre's resident dingoes and black cockatoos, gain a deeper understanding of their important role in maintaining biodiversity, and build artificial nest boxes. The session will support children and their families in getting directly involved with conservation and habitat restoration.
Return of Red Dirt Robotics
Broome Public Library
Red Dirt Robotics is a program which aims to take robotics to the outback. After the roaring success of the 2022 program in Broome, it's returning for a second time. Five 3D design and printing sessions will be delivered at Broome Public Library. The local tech exploration group, Innovation Station, will work with the founder of Red Dirt Robotics to deliver these workshops to their community, inspiring like minded teens to get involved in the local group.
Makedo Maker Space
City of Karratha Libraries
STEM is all about creativity and collaboration, this is exactly what the City of Karratha Libraries will be demonstrating through their family friendly Makedo STEAM sessions. Makedo is a reusable, versatile, low tech, safe, cardboard construction system that is open-ended and easy to use. The sessions will encourage children and their families to use their imagination to create 3D constructions from reclaimed or recycled cardboard in a fun and engaging environment.
Living and Learning the Biosphere
Fitzgerald Biosphere Community Collective
The Fitzgerald Biosphere is internationally and nationally recognised for its high biodiversity richness, species endemism, but also it's high level of threats. Despite this recognition many people who live in the Biosphere often don't get exposure to this research or understand its value. The Living and Learning the Biosphere events aims to connect people to foster an understanding, and take ownership, of the Fitzgerald Biosphere through presentations in the East and West Biosphere by local experts and community members in the fields of ecology, biology and Aboriginal science knowledge systems.
Gascoyne Rocks
Gascoyne Junction Community Resource Centre
Participants will discover what links Mt Augustus rocks, crystals, and minerals to the rocks in space through a night with experts at Gascoyne Junction Town Pavillion. There will be challenges to identify the rocks on display and to solve the Great Rock Challenge. The Perth Observatory team will join the event with their telescopes for participants to learn how to observe the night sky and get involved in astrophotography.
Super Sunday Science Funday
Kondinin Community Resource Centre
Delivered in partnership with the Kondinin Shire, Supersonic Science will be making their way to Kondinin to deliver a spectacular science stage show and a number of interactive hands-on experiments that participants can rotate through. Demonstrations in the show will include combustible gases; colour changing chemistry, liquid nitrogen, exothermic reactions, foam explosions, toroidal vortices, phenomenal physics, and burning bubbles.
Birds of a Feather, Nannup Flower and Garden Festival
Nannup Garden Village Inc
How do birds fly? Do birds fly in different ways? How have different bird feathers evolved? Experts from the Blackwood Valley Raptor Centre, with the help of a few feathery friends, will be talking about all thing's birds at this exciting session during the Nannup Flower and Garden Festival. Live birds will be in attendance for participants to meet and gain a better understanding of their specialist adaptations.
National Science Week in Carnarvon
Shire of Carnarvon
The Youth Team from the Shire of Carnarvon are delivering three events:
a Young Rocketeers workshop at the Carnarvon Space Museum, participants will learn about the upcoming Artemis project and simple rocket science;
an agriculture workshop, run in partnership with Central Regional TAFE and DPIRD, participants will be immersed in the past, present and future of the town's agricultural industry; and
a Young Engineers Challenge where participants will be given two challenges to solve, prizes are on offer for the best engineering.
On the Road with STEM Kids
The Geraldton Community Toy Library
Volunteers from Geraldton Community Toy Library are on the road with STEM Kids during National Science Week visiting three locations over three days to deliver exploratory play sessions targeting future scientists, innovators, engineers and mathematicians. Children aged 3 – 8 and their families will discover how to ask questions, problem solve, experiment, hypothesis and evaluate with 8 curated STEM play environments to investigate.
Curious Minds
The Shire of Harvey Libraries
An exciting, multi-interactive program encompassing a range of STEM activities, is scheduled to take place for children aged 4 – 14. Placing a focus on technology, activities will include; virtual reality, 3D printing, Scratch coding and stop motion animation, and the use of AR and reading apps. Other activities will include Lego Mindstorm, Turing tables, and challenge activities such as structure and bridge building, algorithm games, and marble runs.
Robotics Day
Toodyay Community Resource Centre
Facilitated by EDGYX, interactive experiences in technology and robotics will be run in Toodyay. Participants will learn how to interact, service, program and build humanoid robots with advanced digital technology and artificial intelligence. There will also be Quest2 VR headsets and controls for those wanting to experience VR, a projector will enable other participants to see what the players are seeing.
First Scientists
Victoria Park Community Centre
In partnership with local Noongar man Dylan Collard, three experiential workshops will teach participants about our First Scientists. Workshops will be centred around the 6 Noongar seasons, innovations that have, and continue to, contribute to modern practices – such as fire stick farming and utilising the bush for food and medicine, and how our First Scientists designed and secured a balance between human beings and the natural world for the benefit of future generations.
Bird IQ: Getting Curious About Birds and Bird Intelligence
Wanneroo Library Services
This series of 12 free community events highlights bird intelligence, behaviour, conservation and ecology. Several scientists and leaders in bird conservation and education in WA will present an inspiring program of interactive events. There will be workshops about the latest research projects from three scientists based at The University of Western Australia, sharing the valuable discoveries they have made about local birds and their latest adaptations to environmental impacts.
Kaarakin Education will allow the community to observe a black cockatoo up close and present about their work in the rescue, rehabilitation and release of the three threatened and endemic black cockatoos. Birdlife WA will lead bird walks allowing participants to do some bird spotting and hands-on bird identification.
York's STEM Embrace for All
York Community Resource Centre
The CRC will be transformed for a STEM facilitation day, stations showcasing science, technology, engineering and mathematics will be set up. This will be included activities like, Lego maze coding, building a hand crank winch, stop motion animation video creations, jellybean building and so much more. The Science Alive team will run two interactive shows for the community.
Elemental Energies
Hopetoun Community Resource Centre
A series of hands-on workshops for children and adults will teach participants how to create energy from the earth's elements. Three workshops will be run during National Science Week with each harnessing a different element to create a source of energy, the sun, wind, and water. Facilitated by Noongar bush educator Belinda Swift, an on-country excursion will go to the Fitzgerald Biosphere for participants to learn about the importance, and cultural significance, of the area.