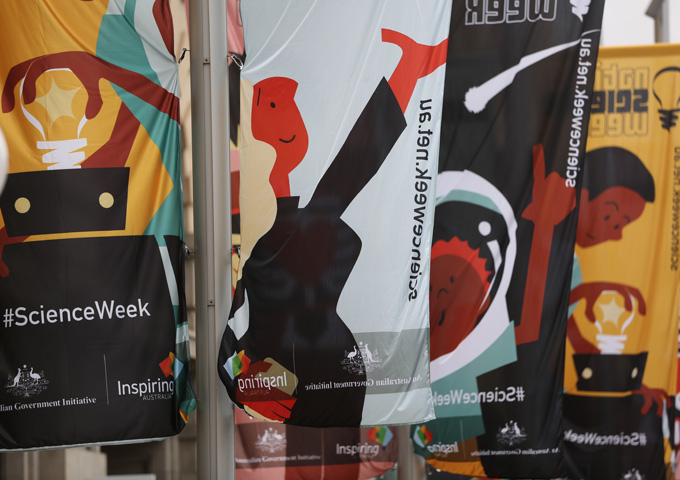 Science teachers at Lismore High School have been connecting with teachers from other schools in the region to ensure that as many students as possible attend its popular Sustainability Festival that will be held during National Science Week.
This will be the third Sustainability Festival presented by Lismore High School, and the science teachers behind the scenes are confident that this year's event will appeal to the whole community.
Event coordinator Jimmy McInerney said that the Festival grew from questions posed by a group of students.
Lismore High School students preparing for the 2012 Sustainability Festival.
"They asked me what difference we could make given that the climate problems facing the earth are so big. We've created this Festival to show our students that there are solutions and they can make a difference."
With experts on hand from nearby Southern Cross University, Lismore High is well placed to host this popular event that last year attracted around 700 people. This year Jimmy was successful in securing a National Science Week grant and was able to attract a funding boost of $3,200 for the 2013 Festival.
Over the past weeks, fellow science teachers Justine Jacob, Sharon Templeton and Graham Wallace have been reaching out to teachers from neighbouring schools to find ways to extend this event to more students.
Science teacher Pauline Macleod from Mullumbimby High School agrees that there's great value in opening up these kind of dynamic science learning experiences to more students.
"It makes sense that we bring students from around the area to a central event like the Lismore Sustainability Festival so that we make the best use of the valuable time donated by our visiting experts," she said.
Pauline's challenge is to now find funds to cover the transport costs involved.
Teachers from Lismore and Mullumbimby high schools would like to build on the momentum of National Science Week to establish a Regional Science Hub in the area to ensure that strategic relationships can be developed over the longer-term.
"We're really keen to develop our Sustainability Festival into an annual community event that is a fixed item on the regional events calendar and supported by local councils and organisations with an interest in sustainability issues," Justine said.
"There are lots of other opportunities for science engagement in our region throughout the year. Our plan is to work cooperatively with other schools and organisations in the coming months so we can roll out more hands on science experiences for both students and the community alike."
The Lismore High School Sustainability Festival will take place on 22 August from 9:30am to 4:30opm.  Members of the public are welcome to attend after 3:00pm.
Find out more from James McInerney via email or call Lismore High School on 02 6621 5185.
Guest blog post by Jackie Randles.