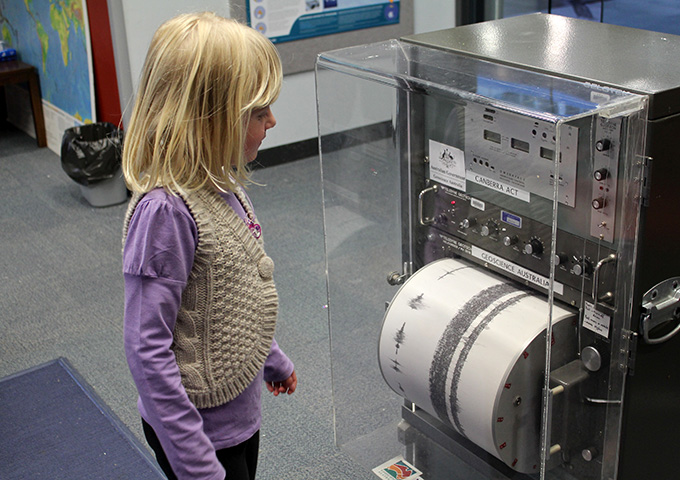 Young children are natural scientists, filled with curiosity to discover and understand the world around them.
As Dr Kate Highfield from Early Childhood Australia says, "Research shows that children naturally engage with scientific concepts and processes in their play and as they explore their world."
It's no surprise then that every year, National Science Week is filled with events for early childhood audiences, and 2019 is no exception.
This year, we developed a free Early Childhood Activities booklet (5 MB, PDF) filled with ideas, case studies and experiments to support anyone planning events and activities for early childhood participants in National Science Week and beyond. This resource will remain available on the website for future years.
We are excited to see a range of registered events from many schools, childcare centres and early learning centres. While many of these events are restricted to attending children and their families, having them listed on the website allows us to share activity ideas, and get a more accurate snapshot of the range of organisations participating in National Science Week.
For example, Shine Bright Early Learning Centre at Picnic Point in NSW believe that STEM plays an important role in children's early learning. They will be running the Shine Bright Little Scientist program this week, with children being given the opportunity to investigate, manipulate and experiment with a wide range of resources and materials.
Warilla Baptist School in NSW are holding workshops for pre-schoolers with activities including a bubble station, a reaction station with bicarb soda and vinegar, truck building and rocket launching.
Of course, there are plenty of public events designed for early childhood audiences coming up this week too – below is a list of some of these. There are also loads of events for family audiences across the country – you can search for events in your area on our website.
And if there aren't any early childhood events happening near you, you don't have to miss out! As part of their celebrations for National Science Week, the ABC will be focusing on science-based jobs and facts this week in their Create and Play program on Kids Listen.
From the 12 – 16 August, you can explore the Letter of the Day and learn new science facts along the way, with topics such as Quantum Physicist, Radiologist and Science Journalist.
If you miss the programs live from 9-10.30am daily, you can hear them again via the KIDS listen app on demand for 7 days.
With so many wonderful activities happening this National Science Week, it really is never too early to science!
Digby's Moon Mission – Story Time Session – Swansea Library, NSW
Join author and performer Renee Price for a special interactive show incorporating theatre, song and storytelling, based on her book Digby's Moon Mission.
9.30 – 10.30am Friday 16 August
Little Bangs Discovery Plus – Clare Town Hall, SA
Junior scientists and their adult lab assistants will conduct new experiments to discover, learn and explore. Each child will be issued with a Discovery Plus box with tools and materials to use for investigations to do at home. Booking is essential. A free program for 3.5-6 years.
10.30 – 11.30am, 24 July to 11 September
Young Explorers August: What is Science? – South Australia Museum, Adelaide, SA
Young Explorers is our fun and educational program for children aged 3 to 5 years. This August, we explore what science is and why it's so important. Discover why we have museums and how museums choose what goes into the galleries!
10am – 12pm Monday 12 to Friday 16 August
Story Time – Hamra Centre Library, Hilton, SA
Stories, Songs, Rhymes and Craft celebrating Science, Technology, Engineering, Art and Maths. Suitable for children aged 2 and over.
10.30 – 11.30am Wednesday 14 and Friday 16 August
 
Hello Possums X National Science Week – Carlton, VIC
Channel your inner scientist! Every Monday to Friday the Pauline Gandel Children's Gallery comes alive with adventures and mysteries from the Hello Possums Story Time collection. From the Moon to tiny microbes and everything in between, join us as we explore stories and museum collection items that bring the pages to life.
Dress ups welcome. Suitable for 0 – 5 years. Cohildren must be accompanied by an adult.
10am – 12pm Mon 12 to Fri 16 August
Body and Senses Storytime – Sunshine Library, VIC
A Body and Senses themed preschool story time session where children will learn about the human body and their sense organs. They will be provided with opportunities to experiment with their sense of touch, hearing and vision using musical instruments, sensory feely bag with different textures and bubbles.
10.30 – 11.00am Wednesday 14 August
Robot Kids Expo – Wangaratta Digital Hub, VIC
Robot Kids is a free hands-on robotics expo designed especially for children aged 2 – 8 years old. Kids will have fun exploring the special children's robots, getting them to move, make noise, light up and detect the world around them, all with the help of the talented Wangaratta VEX Robotics Team.
10am – 1pm Saturday 17 August
Science Storytime – Subiaco Library, WA
Join us for this special science themed Storytime in celebration of National Science Week.Storytime is a story telling session for pre-schoolers, followed by a fun craft activity.
10.30 – 11.30am Tuesday 13 and Friday 16 August
To the Moon and Back: An Early Years Program – Museum of the Great Southern, Albany, WA
An early years science program for years 0-5. In this fun filled program the children will discover space travel, past missions to the Moon and areas of space operations. Through hands-on activities that are engaging and experiential we will explore space science and Earth observations. Simple science concepts will be reinforced through a series of short activities that include song, movement and craft.
10.30am – 12pm Thursday 15 August