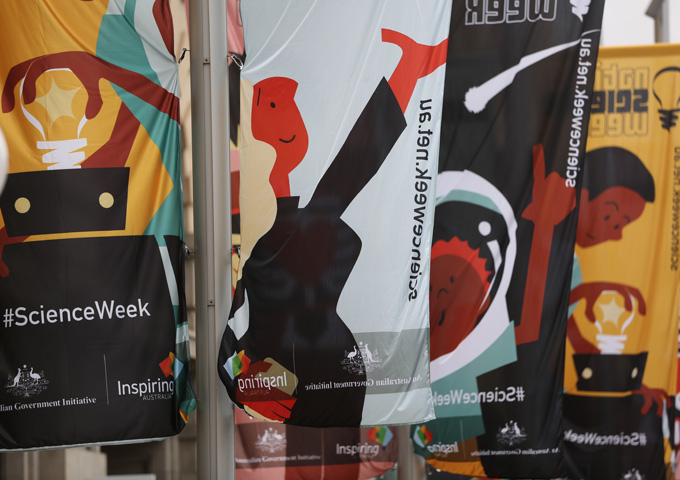 The WA National Science Week Coordinating Committee's small grants program supported 22 activities in 2016 which engaged over 4300 West Australians in National Science Week. In 2017, we aim to further increase the footprint of community science engagement across the state.
The committee is offering TWO types of event grants in 2017.
Small grants
Support for up to $2000 (ex GST) is available for organisations to run community activities.
Micro grants
Support for up to $500 (ex GST) is available for Community Resource Centres.
Purpose of the grants
The purpose of these grants is to facilitate new events or projects that add value to National Science Week in Western Australia. These grants are not intended to fund existing activities.
Get creative with your events and projects! 2017 is the UN International Year of Sustainable Tourism Development and school theme of Future Earth will provide platforms to get creative and address Australian sustainability science this National Science Week!
From astronomy to zoology, technology to engineering and innovation, National Science Week events provide the platform to engage with Western Australians through our shared love of science.
Applications that provide meaningful inclusion for multicultural, Indigenous or minority groups and collaborations are encouraged.
Past examples
Some activities run by successful small & micro grant applicants in 2016 included:
Robots! In My House? (Wickepin Community Resource Centre)
Science in the Garden (Nannup Garden Village Inc)
Make and Move – Robotics and Coding (City of Kalgoorlie-Boulder, William Grundt Memorial Library)
Rockets! (Cunderdin CRC)
Orienteering – The Path Encompassing Science (Nungarin CRC)
Application criteria
Applicants are required to the following criteria to be eligible for a grant:
The activity engages the general public with an innovative and science based event or project.
The activity is held in August, ideally between 12 – 20 August (events may occur anytime during the month of August and still be promoted as a part of National Science Week).
The activity is free for the general public to attend.
Your organisation and other partner organisations did not receive a small grant from the WA Committee in 2016.
The grants can cover the cost of consumables, promotional materials, and costs for invited speakers if required, but not event coordination or staffing costs.
You plan to evaluate the activity by collecting feedback from participants.*
You will be able to complete a report upon the conclusion of your activity.*
*Feedback and reporting templates will be provided.
Desirable criteria include:
Two or more organisations working in partnership to coordinate the event.
Event or project partners with, or aims to engage underrepresented, or disadvantaged groups with science (e.g. minority groups, multicultural, indigenous, low socio-economic, disability, regional or remote groups).
New or emerging programs that have not been part of National Science Week before.
Creating an opportunity for attendees to further explore science activities in their local area after the event or project.
Using National Science Week as a launching point for a broader program or event with lasting impacts or outcomes.
Successful applicants will also be given the opportunity to promote their activities through the WA National Science Week Coordinating Committee as part of existing promotional materials. Strict deadlines will apply to this opportunity.