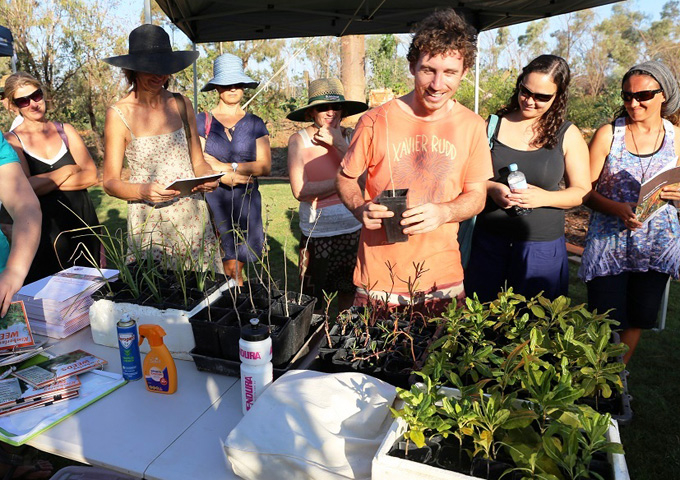 Congratulations to all of the successful applicants, and thanks to all of those who applied for support for their National Science Week events in Western Australia.
Medium Grant Recipients
All of the medium grant recipients events will celebrate this years theme Glass: More than meets the eye. Events will be held in metropolitan Perth, during National Science Week and will be free of charge to all participants.
From Eyes to Glass to Aluminium: A History of Astronomy
International Centre Radio Astronomy Research

Octagon Theatre UWA, Thursday 18 August
ICRAR will run a public lecture by Dr Sabine Bellstedt, a dynamic 2021/22 Superstar of STEM and widely-published local ICRAR astrophysicist, to promote and share the history of astronomy from the first people to stare at the skies, to the hand made telescopes of Galileo, to the modern day instruments probing the universe. The lecture will explain how Indigenous Australian knowledge of the night sky was observed and used with the naked eyes, how glass was used to develop telescopes, and how the silicone, which uses sand that is also used to make glass, is now used in supercomputers and radio astronomy.
Glass: More than Meets the Eye Festival
Victoria Park Community Centre
Saturday 20 August
Through a range of activities, scientists, creative practitioners, and play makers will fire up, bend, and stretch participant's understanding of the material's origin story, properties, and role in everyday life. The activities aim to captivate and educate by offering hands-on engagement with glass. Think glass making demo's, a pop up glass science lab, a giant PVC pipe marble run and much more – all exploring how the materials characteristics, uses, and potential absolutely extends to more than meets the eye. By partnering with Umbrellas & Footprints the centre have designed a day that will be inclusive, immersive, and full of discovery for all ages.
Microscopy: revealing the hidden detail of our world
University of Western Australia
Saturday 13 August
Microscopy underpins discoveries across the breadth of all science disciplines. The modern microscope combines advances in optics, light generation, computing, and engineering. However, at its heart remains the fundamentals of the first microscope; a simple glass lensed optical instrument. Participants will have the opportunity to observe the hidden details of the human body in a hands-on microscopy workshop, view microscopy images at the Lawrence Wilson Art Gallery and attend a public symposium featuring internationally renowned photographic artist Martine Perret alongside imaging experts from the Centre for Microscopy, Characterisation and Analysis.
Connecting the community in expanded visual perception via interactive media art and multispectral sensing
Forrest Research Foundation
Making use of an LED truck this event will light up community spaces across the Perth metro area. Participants will have the opportunity to explore the invisible spectra using a multispectral camera and experiment on plants and other object. Researchers from the foundation will discuss this technologies application to daily life, including routine health checks, growing plants, and food production. Participants will also interact with superimposed images, used to explain image manipulation and play with machine learning models (commonly used for social media filters) to get a general idea of how computers see the world.
Glass: the Great Preserver – Explore the How and Why of Pickling
Clarkson, Girrawheen & Wanneroo Libraries
16, 19 & 20 August
Glass has many uses in STEM but also in the household, participants will have the opportunity to explore glass through it's practical uses in the kitchen. Workshops run at each library will look into the role of glass in food preservation and pickling. A talk, led by Dr Jo Rees from Edith Cowan University, will dive into the benefits to the microbiome of fermented foods. Participants will also be joined by local chef and cookbook author, Jenny Lam, who will discuss, and provide samples of, her favourite dishes that incorporate pickled foods.
Small Grant Recipients
All of these small grant events will be held throughout regional WA in the month of August and will be free of charge to all participants. The events aim to engage communities in local science, instilling an appreciation for STEM's role in our daily lives.
Community Garden Science Week
Frankland River Community Research Centre
Utilising their community garden, the centre will host workshops on weather station data recording, making seed balls for planting, worm farming and composting, and an insect and bird count. These activities will teach the STEM principles of curiosity, problem solving and communication and will work to excite and encourage the community to make use of the gardens which fosters waste reduction and sustainable practices.
Fast and Furious
Plantagenet – Mount Barker Library
The Fast and Furious program aims to create learning opportunities for children who have limited exposure to STEM based activities by providing a fun, interactive experience of building and racing model cars. Children aged 7 – 16 years who do not engage with the local school will be invited to participate in a 3 week project, guided by a science teacher, mechanical engineer and local mechanic. They will learn about different methods of energy to power their vehicles and will develop engineering and design skills to build their cars from scratch, refining their designs to create robust racing machines.
Red Dirt Robotics
Broome Public Library

Red Dirt Robotics will come to Broome to hold a series of five coding and robotics workshops. Four of the workshops will be targeted at students, while one will be targeted at adults in the community. The library currently runs a coding club, it is hoped that these exciting workshops run by Red Dirt Robotics will inspire more community members to partake in this club.
Chemistry in Remote Aboriginal Communities in WA
Curtin University & Edith Cowan University
An exciting and interactive series of science demonstrations will be streamed live from Curtin Chemistry Laboratories for students in remote Aboriginal communities in WA. The aim of the activity is to spark a curiosity of chemistry and to demonstrate the link between current scientific methods and Aboriginal science. Schools will be sent materials to follow along with the demonstrations being run at Curtin. Topics covered will include the absorbance properties of polyacrylate polymers in nappies as compared to the Zamia Palm wool, analysis of different chemicals present in various plants using chromatography, identification of smells found in the bush and identifying components of bush glue. Better still, the session will be recorded and shared online.
South West Science Fair
South West Science Council
A consortium of Bunbury based organisations have partnered to deliver the South West Science Fair. The fair will see multiple organisations, businesses and community groups collaborate and exhibit together to form what will be a Science themed activity fair with various exhibitors and STEM based activities to bring the community together for an afternoon of learning and fun. The Science Council will support the fair by sourcing three guest speakers for the event from; Discover Deadly, Leschenault Catchment Council and GreenTeach who will discuss Herpetology and the local environment.
Seeing the Shore
Bunbury Museum & Heritage Centre
For the South West Science Fair the centre will present an array of replica navigational instruments from the 18th & 19th centuries set up for public with views across the city to the coast. Instruments including a sextant, telescopes, spyglasses and replica binoculars as used in marine navigation at the time. The community will have the opportunity to find landmarks using these visual aids and compare changes in navigation from early astrological wayfinding to current satellite technology navigation.
Tots & Science
Kondinin Community Resource Centre
To promote science language and the concept of science experiments, STEM sessions will be held in Kondinin and in Hyden for young children and their families to run experiments with household items. The grant funding will also support the centre in creating STEM backpacks, filled with STEM activities, equipment, and books that will be available for the community to borrow from the Kondinin and Hyden libraries for years to come.
Sustainable Living Expo
Scinapse: Midwest Science Engagement
The inaugural Sustainable Living Expo, coordinated by Midwest Carbon Zero, will attract a variety or stalls, workshops, panels, guest speakers, and interactive displays to the Midwest to demonstrate how the community can decrease their environmental footprint. Local makers, menders and creatives will present side-by-side with scientists and industry partners who will communicate and demonstrate sustainable solutions to daily living and beyond. Scinapse will partner with the community group to source guest speakers for the event.
Pollinator Workshop
Ravensthorpe Community Research Centre
Partnering with Ravensthorpe Regional Herbarium and Ravensthorpe Wildflower Show, the centre will deliver a two-day workshop on pollination. Workshops will include a field walk in the UNESCO-listed Fitzgerald Biosphere, led by entomologist Dr Sue Jaggar, a specialist in pollination ecology. Collections of insects and flowers will be taken to the Ravensthorpe Regional Herbarium where participants will study the detail of both the insects and the flowers using microscopes to learn about the pollination process. Dr Jaggar will also deliver a presentation on pollination to the community.
National Science Week in Murchison
Shire of Murchison
Home to the SKA telescope and CSIRO's Murchison Radio-astronomy Observatory, Murchison is an important region for world renowned STEM research and observation. For National Science Week the Shire will host a STEM day for the families and children living at the Murchison Settlement and from pastoral stations in the region, alongside the local indigenous Pia Wadjarri community. They'll be visited by Scitech who will run an exciting public science show and workshop, CSIRO and Shire representatives will be present to give talks on astro tourism in the area.
Lego Club
Newdegate Community Research Centre
Utilising National Science Week as the launch, the centre will run a monthly Lego Club for children in the local area. The first session will enlist Lego to teach Newton's Laws of Motion, demonstrated through Lego cars and balloons.
STEAM Ahead with Play
Goldfields Regional Toy Library
A series of stations will be set up for participants to get involved with STEM based activities. STEM stations will encourage participants to learn more about computer programming through coding robots, civil engineering through building and experimenting with magnets, art through colour and light panels and biology through observing scans of important organs of in human body and observing life cycles of insects.
Cunderdin Super Science Show
Shire of Cunderdin
In collaboration with the Cunderdin Youth Council the Shire will host a Super Sonic Science show on colour changing chemistry and phenomenal physics, a STEM workshop will also be run for the community. The event hopes to promote STEM as a fun and exciting subject to Wheatbelt children, inspiring more young children to engage with STEM subjects. Families will receive a home science experiment book – encouraging continued science learning opportunities.
Combining Western & Indigenous Science to Measure Landscape Ecological Functioning
Great Southern TAFE College
The TAFE will host a STEM day to excite students about the extraordinary and unique biodiversity of southwestern WA. Led by Menang teachers and Landcare land managers, students will be given the opportunity to learn about Indigenous boodja knowledge and connection to country and use some of the tools that Menang People used to find food and manage country. They'll also learn about monitoring equipment by carry out practical baseline ecological data measurements.
Looking through Lenses and Working with Rainbows
Museum of the Goldfields
Held in the local shopping centre, the community will have the opportunity to explore a variety of glass lenses, observing how light reacts when shone through the lens and how it reacts through concave, convex and flat lenses. Participants will also get to explore how a combination of the lenses can react together to create telescopes and microscopes.
3D Printing Spectacular
Broome Community Research Centre
To encourage sustainability in the community, the centre will promote 3D printing and its many uses, from printing and replacing broken parts of machines to bringing a design to life. The library recently updated their 3D printing equipment, which is available for community use. Participants will be able to choose a design, choose their materials and see the printer in action producing their chosen design.
South West Science Fair
City of Bunbury
Bunbury Public Library will host and deliver the South West Science Fair. The fair will promote National Science Week, the importance of STEM in the modern world as well as the programs and services each exhibitor offers. Supersonic Science will put on science shows and demonstrations throughout the event to inspire and engage participants.
Out of this World! Kids Activities & Astronomy Night
Toodyay Community Research Centre
The centre will run two events during National Science Week. An activity day to engage children in simple, yet fun space model activities such as creating a bottle rocket, make your own telescope, sun-dial, 3D holograms and more. The astronomy night will be facilitated by the Perth Observatory at the Toodyay Showgrounds oval. Two telescopes will be available for participants to look at space and observe Saturn, nebulas, star clusters and more. Perth Observatory staff will provide exciting facts, information and knowledge about the objects in the beautiful night sky.