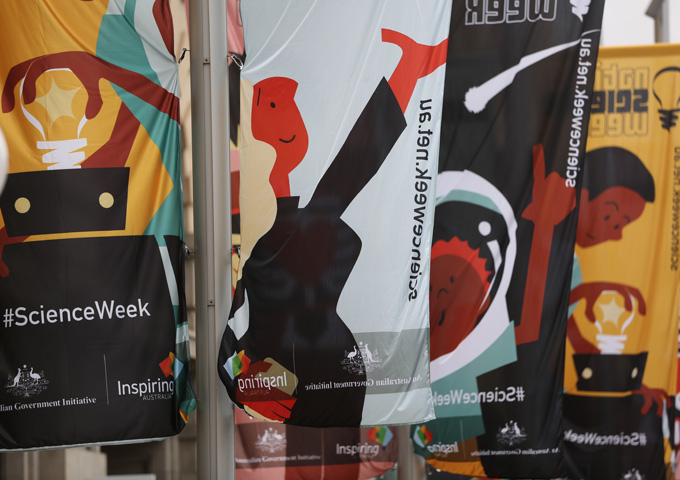 Congratulations to all of the successful applicants for National Science Week grants that were announced by Senator the Hon. Arthur Sinodinos AO, Minister for Industry, Innovation and Science.
Australian Capital Territory
The Great Australian Biodiversity Challenge 2017
KR Consultancy (trading as QuestaGame)
Game on! With QuestaGame, biodiversity mapping and education has become a game that everyone can play. This year QuestaGame launches the Great Australian Biodiversity Clan-vs-Clan Challenge. To play you simply download the free QuestaGame app for your iOS or Android device, join your favourite Botanic Garden "clan" and start submitting wildlife sightings. The game will identify what you find and reward points for you and your clan. The clan with the highest score wins exciting prizes – while the wildlife data you collect helps researchers make better decisions about protecting biodiversity.
'greenlight for girls' day
Girl Guides Association of NSW
150 girls aged 10 to 16 from the ACT and surrounding area will get together with 30 science sector role models for fun demonstrations, hands-on workshops and even a bit of personalised lab-coat decorating. Girl Guides ACT & South East NSW Region will partner with the international organisation 'greenlight for girls' (g4g) to bring their signature STEM event to Canberra.
Scienceability
Sian Ellen Keys
Scienceability will challenge your ideas about who 'does' science. In the lead up to National Science Week, Scienceability will run six science workshops for people with intellectual disabilities where they will explore a range of science demonstrations and activities. This will then culminate in an event during Science Week, where the Scienceability workshop participants will run their own workshop of science demonstrations and activities for the public.
SciScouts 2017: Environment – Trees, Bees and Seeds
The Scout Association of Australia ACT Branch
Scouting is all about building enquiring minds and exploring the natural world. Through a suite of displays, talks, games and activities, Scouts and Guides will work with local environmental researchers and conservation organisations to learn about waste and recycling, bushfires, floods and storms, renewable energy, chemistry, biodiversity, environmental monitoring and more.
Co-Lab: Science Meets Street Art
Lee Constable
10 Canberran street artists; 10 young local scientists; and one blank wall. Co-Lab: Science Meets Street Art is a creative collaboration between street artists and young scientists that aims to bring local science into the public space. See the artists, inspired by the work of the scientists, transform a blank wall at the Kingston Bus Depot into a hub for science-inspired art, with the scientists on hand to answer questions. Visitors are encouraged to come and go throughout the day and enjoy the Science in ACTion festival nearby.
New South Wales
The Indigenous Science Experience @ Redfern
Macquarie University
Explore the knowledge gained by forty thousand years of continued culture and a close relationship with the land, and meet today's Indigenous experts. This four-day initiative will celebrate western and Indigenous science and achievements of Indigenous youth and Elders, with interactive science activities on household and environment themes demonstrated by Indigenous youth, and Aboriginal technology and customary practices explored and explained by Indigenous representatives from across Australia. The event will be held at the Redfern Community Centre and will culminate in the Family Science Fun Day.
Science in the Snowies
Snowy Monaro Regional Council
Science in the Snowies will involve a series of five science shows and community science events through the Snowy Mountains region, in a partnership between the library network, local community groups and schools, and science communication professionals. The project will fuse tried and tested science show performances with content relevant to the region (from the Snowy Mountains Hydro Scheme to a leafblower powered snowboard-hovercraft). Pathways for further activity will include take-home science activities, and integration with an online and mobile library STEM catalogue and book reviews.
Science in the Swamp
The Trustee for Centennial Park and Moore Park Trust
A free, outdoor family and community event at Centennial Park celebrating science and providing a range of diverse and exciting hands-on science activities accessible for all ages, from meeting a dinosaur to potting a plant. Science in the Swamp is a partnership between Centennial Parklands and science exhibition providers.
Life on Mars at the Sydney Opera House
University of New South Wales
As part of Science Week, UNSW's Big Questions Institute presents a series of talks at the Sydney Opera House, showcasing the latest scientific thinking on the origin of life on earth and how this research applies to NASA's Mars 2020 Rover project. The talk will involve scientists and researchers from UNSW, NASA and other pre-eminent institutions across the globe. The talk will be at an introductory level for a general public audience, including adults and children.
Are your genes your destiny? Genomics and the science of Gattaca
University of Sydney
2017 marks the 20th anniversary of the science fiction film Gattaca, a modern classic that explored the ideas of genetic engineering and the human spirit. Free public screenings of Gattaca in Brisbane, Perth, Sydney and Melbourne will be followed by panel discussions with local content experts and commentators—scientists and creatives—about the film's themes and accuracy. In the twenty years since Gattaca debuted, there have been huge advances in human genetics and revisiting Gattaca on the 20th anniversary offers an opportunity to explore how the science has developed and enrich a national conversation about where the science is taking us.
Riverina Science Hub Festival 2017
Wagga Wagga City Council
The Riverina Science Hub Festival is a week of opportunities to participate in science events and activities on topics such as Indigenous Sky Stories, Star Gazing, Technology of Flight, Environmental Science, Fermentation, Nerd Nite at the Pub, the Microscopic World, Kitchen Science, and the National Indigenous Science Education Program (NISEP) Indigenous Program with Elders, youth, scientists and the community.
Northern Territory
desertSMART EcoFair 2017
Arid Lands Environment Centre
The desertSMART EcoFair 2017 will involve a series of community events in Alice Springs, featuring keynote science communicators, desert scientists, ecologists, renewable energy experts, Indigenous land managers and sustainable tourism operators. Events will include school hands-on activities, science quiz's, film screenings, workshops, panels, presentations, community information stalls, and a science of gardening workshop with ABC Gardening Australia host Costa Georgiadis.
HealthLAB: from Arafura to Arnhem Land
Menzies School of Health Research
HealthLAB is a mobile laboratory that brings health science and scientists to the broader public in communities around the Territory. Visitors will have a hands-on experience with modern technology through self-assessment of their own health. HealthLAB is designed to improve public awareness of the consequences of lifestyle choices on later health and increase public exposure to biomedical sciences and their career opportunities. In 2017, HealthLAB is planning to travel from the Tiwi Islands in the Arafura Sea across to west Arnhem Land.
Darwin Insect Festival
Sarah Nicole Bonney
From biosecurity to bug collecting, and from ecosystems to the 'insect olympics', the Darwin Insect Festival will be a half-day community festival with information stalls and activities celebrating the diversity and importance of insects and other arthropods in the environment.
Queensland
Catch a Rising Star – Women in Science in Regional Queensland
Margaret Hardy, University of Queensland
Where are science and technology's women role models? And what are their stories? First run in 2016 to great success, this initiative will provide communication training for early and mid-career women scientists, and then take them on a roadshow of events. Teams of researchers will visit remote and regional school, libraries, pubs and other public places to talk about their work.
National Science Week at the Tanks: Science in the Tropics Rocks!
James Cook University
In 2017, Cairns will host 'National Science Week at the Tanks: Science in the Tropics Rocks!', with three feature activities. The 'Come and try!' art-science collaboration space will encourage people to interact directly with scientists and their research via an interactive platform. The 'Café Scientifique: Why I became a scientist in the Tropics' event will provide an open forum to hear from local researchers and postgraduate students. And a PechaKucha Night will sell science through stories. These events will bring together scientists, artists, musicians and the general public, both young and old, to explore and celebrate science in the tropics.
Explosive Science@Ekka 2017
Liddell Education ('Street Science')
This initiative brings science to life at the Royal Queensland Show (the Ekka), using a range of interactive activities, guest presentations and captivating science demonstrations to show the relevance of science in everyday life. Activities include stage shows, food science, robotics, and microscopy. The event will involve partnerships with local education providers including the major universities, research organisations and institutes and run for 10 days.
2017 Pop-up Science Centre
Griffith University
The Pop-up Science Centre will be a free event held on the Gold Coast as a final celebration for National Science Week. It will aim to emulate what a science centre could look like on the Gold Coast, and provide the communities of Gold Coast and surrounding regions with practical, hands-on science experience featuring interactive exhibits that encourage visitors to experiment and explore.
South Australia
Indigenous Scientists in the Media
Australian Science Media Centre
The project will involve a media training program for Aboriginal and Torres Strait Islander scientists to support their participation in National Science Week 2017 through mainstream and new media channels. The main objective is to trigger coverage of indigenous scientists and their research during August.
The project will also present positive role models and showcase STEM jobs for indigenous children deciding on careers.
Southern Cross Outreach Observatory Project
Muhammad Akbar Hussain
Southern Cross Outreach Observatory Project (SCOOP) is a mobile astronomical observatory, designed and built to promote astronomy among communities and launched in August 2016. The observatory is equipped with a computerised telescope and can travel to distant communities. The project will involve further outreach events, planned to include Port Augusta, Broken Hill, Mildura and smaller towns around the Adelaide region.
Naracoorte Caves Connection – fossils, world heritage and more
Naracoorte Lucindale Council
What secrets of Australia's past animals are hidden in the Naracoorte Caves? And what's the science of this World Heritage site? A free event for schools and members of the public in the Naracoorte Lucindale Council and surrounding areas, offering a range of concurrent activities on one day running for around 45 minutes each. Activities will explore the science of Naracoorte Caves, how this relates to the geography and story of the Limestone Coast, and other agricultural and environmental science topics relevant to the region.
Coding is Cool
Salisbury East Neighbourhood Centre
The project aims to engage audiences in interactive coding workshops. The workshops will be delivered from the Salisbury East Neighbourhood Centre and libraries across the City of Salisbury. The project has three target groups being children, youth, and youth with autism spectrum disorder.
SCINEMA International Film Festival Community Screening Program
The Royal Institution of Australia
Each year SCINEMA International Science Film Festival celebrates the best in science film and screens to audiences around Australia. The Festival attracts entries from film makers around the world. Community Screenings take place during National Science Week. Any interested organisation, school or community group can register and host their own free screening of a curated SCINEMA film playlist.
Tasmania
Beaker Street SciBar @ Tasmanian Museum & Art Gallery
Margo Adler
The Beaker Street SciBar is a three night pop-up science bar in Hobart's Tasmanian Museum & Art Gallery, featuring hands-on workshops, interactive demonstrations, engaging talks, on-site experiments, competitions, games, films, and plenty of prominent local and visiting scientists to chat with over a drink. A scientific wonderland for adults filled with the weird and wonderful, SciBar will enchant visitors with an endless supply of interesting people to meet and new ideas to discover.
Science Open Season
Launceston City Council
Science Open Season will involve a program of 17 events over seven days, including exhibitions, workshops, expo/open day, presentations and activities relating to the 2017 Science Week school theme of Future Earth. 'Future Launceston' the regions hub, will be explored as a healthy, resilient, productive city of the future. Plus, Night at the Museum, The Big Day of Science, the Crazy Scientist and science-based education activities will be available to the public.
Young Tassie Scientists – Local Science Stories in Our Communities
University of Tasmania
The Young Tassie Scientists are a group of young, passionate scientists who will be involved in local science festivals, schools, libraries, and formal events during National Science Week. This group of early-career researchers are given science communication training to aid them in sharing their stories with audiences across Tasmania's regional and island communities. The Young Tassie Scientists become widely-profiled Science Week ambassadors for Tasmania, highlighting the relevance of science and science careers in society through highly engaging, interactive presentations and activities.
TastroFest – Tasmania's Astronomy Festival
Central Coast Council
Tasmania has some of the clearest skies in the world and this has inspired a festival that explains the complexity of the night sky to all levels of interest in the community. The festival will involve three days of lectures, workshops, tours, art, photography, science shows and exhibitions in Ulverstone. The organisers will involve local interest groups such as droid makers, and cosplay, to enhance the visitor's experience, and connect with the latest technology groups and speakers from around the world to enable future driven themes for the festival.
Victoria
Immersive Science: The Next Frontier in Australian Astronomy
Swinburne University of Technology
How are Australian astronomers leading the world in understanding the extremes of nature, from black holes to dark matter, using light and gravity to see the Universe as never before? Associate Professor Alan Duffy and Dr Katie Mack, co-hosts of the astronomy YouTube series 'Pint In The Sky', will guide local and remote audiences through the next frontier of Australian astronomy using interactive virtual reality technology and answering burning questions via social media. Alan and Katie will excite, educate and inspire families at a daytime talk; share a pint of science with an evening audience; and link up with remote audiences and local astronomical societies via an online video stream to regional viewing parties.
Science Gallery Melbourne: 'Blood' for National Science Week
The University of Melbourne
Science Gallery Melbourne is a new gallery and program designed to engage 15-25 year olds through the collision of art and science. Science Gallery Melbourne launches in 2017 with an inaugural season Blood, exploring the scientific, symbolic and strange nature of blood. The full Blood season will run for six weeks and include an exhibition and public program. The National Science Week project will be focused on three high profile activities as a component of Blood: a discussion panel exploring the science and taboo of menstruation, multidisciplinary interactive performance and a blood culture workshop.
Translating Science and Technology
Discovery Science and Technology Centre, Bendigo
A visit to the Discovery Science and Technology Centre can be part of a journey into innovation, creativity and scientific curiosity. This project sees Discovery partner with Loddon Campaspe Multicultural Service to invite members of refugee and culturally and linguistically diverse (CALD) communities to take part in workshops and a visit to the Centre, overcoming language barriers and enjoying experiences with science and technology.
Family Science Games Nights
Deakin University
Deakin University will develop and run a series of Family Science Games Nights, showcasing the latest in educational science games and introducing families to fun and relaxing ways to learn science at school or at home. The program involves sessions run on the weeknights of National Science Week. In each session, children and their families will be able to play and explore games about science, with each child leaving with a showbag of science game goodies. Iterations of Family Science Games Night will take place at separate Deakin University campuses in Melbourne, Geelong and Warrnambool. Community groups and schools will also be offered a session template and kit to run their own Family Science Games Nights.
Science in the Park: Wildlife Counts
Swinburne University of Technology
Care for a spot of frog calling, water bug identification, bird watching or koala spotting? The Science in the Park: Wildlife Counts event at the Coolart Wetlands and Homestead Reserve in Somers, will be the focus of free science activities on the Mornington Peninsula catering for all ages. PrimeSCI!, along with universities, state and local organisations and volunteer groups, will host a day of science presentations, science displays and hands-on activities, wildlife monitoring, and education on sustainable practices in the unique wetland environments of the Coolart Reserve. Ian Temby, author of Wild Neighbours, will be a key speaker. The event will promote the National Science Week school theme of Future Earth and will also compliment the International Year of Sustainable Tourism for Development.
Global Gamble – A Climate Change Comedy!
Echelon Productions
Global Gamble will combine high energy sketch comedy with improvisation to entertain and educate audiences through a fun and interactive experience. The program is a behaviour changing, science education program focused on four key science based messages encouraging sustainable consumption, energy efficiency and water conservation, with a core focus on Global Sustainability Science. Free public performances will tour into major general public venues across Melbourne, Sydney, Canberra, Brisbane, Adelaide and Perth as well as ticketed shows for schools in each of these cities.
Western Australia
Soil Secrets
City of Gosnells
Soil Secrets will introduce soil science to new audiences through 14 activities, engaging 2000 people across the Perth and Peel regions of Western Australia in interactive workshops, community planting days, book displays and a cohesive digital campaign delivered across Facebook and switchyourthinking.com. Soil Secrets is founded on strong partnerships with community groups, businesses, researchers and 13 local governments and links to resources from the school's theme for 2017, Future Earth.
Pantry Blitz
Department of Agriculture & Food
Pantry Blitz 2017 will be a citizen science event open to all Western Australians and South Australians, to learn more about how everyone can help to protect our food, environment and livelihoods from damage caused by household pests. Registered participants (Pantry Blitzers) will place a sticky trap inside their pantry for one month and use the free MyPestGuide Reporter tools to send standardised pest observations back to the Department of Agriculture and Food, Western Australia (DAFWA) for identification. DAFWA will identify the insects, respond back to the Pantry Blitzers' reports, publish all reports online for everyone to view and publish a summary report on the Pantry Blitz webpage.
The Virtual Plant Cell: exploring cell science through virtual reality
University of Western Australia
The Virtual Plant Cell is an educational virtual reality resource being developed by the ARC Centre of Excellence in Plant Energy Biology. It allows users to experience the microscopic inner world of a plant in an immersive way, interact with a cell and learn about the complex processes that researchers study, and serves as a platform on which to create scientific dialogue between scientists and community. The project will be exhibited publicly on mobile devices at National Science Week 2017 festivals around Australia.
Frontiers of Science – Community Expo
Australian Association for Environmental Education (WA Chapter)
Frontiers of Science is an exciting, innovative expo that will showcase leading edge science and ideas to extend and challenge scientific thinking about the world around us. The Expo aims to increase public awareness and understanding of science by bringing people of all ages and backgrounds together to take part in one on one conversations, hands-on demonstrations, open forums and presentations that explore advances in science across a range of disciplines including the physical sciences, agriculture and medicine, engineering, mathematics and the environment.
Goodness: Science, Sustainability and Innovation Festival
Pollinators
Pollinators and its project partners will aim to extend the reach and impact of Goodness Festival, an annual science engagement activity and community. The Festival will involve at least 12 major events including community activities and in-depth workshops. These will be clustered around several physical hubs, include tours and webcasts, and leverage off the presence of a high-profile celebrity guest.
Scitech Future Earth
Scitech Discovery Centre
Scitech is planning a series of events under the Future Earth theme. These include a marquee at the Perth Science Festival and follow up two-day family event at Scitech. A keynote speaker will be engaged to share their global experiences with local audiences in at least three sessions.