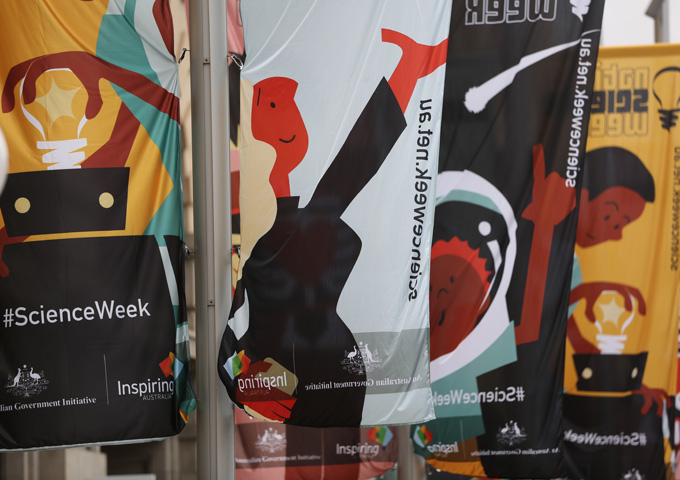 Masterchef meets Mythbusters this National Science Week, at the first ever Sunshine Coast Solar Bake-off! There's even a science themed cake decorating competition.
Want to try out your engineering skills? Fancy yourself a whiz in the cupcake department? Great! Grab some friends and register a team in the Sunshine Coast Solar Bake-off.
The challenge: build a solar oven and whip up a batch of cupcakes.
Don't worry if you haven't got a clue about building a solar oven. We'll start the day with a tutorial and make session where all the materials will be provided for your team to make your own solar oven.  Then we'll head to the kitchen, where you'll whip up a batch of cake batter to go into your solar oven.
Solar ovens don't cook as fast as regular ovens, but you don't have to worry about getting bored while you wait for your cupcake masterpiece to rise. We have heaps of things planned to help while away the time. There will be stacks of fun (and educational!) activities for the kids, and you can take a tour of the Centre for Growing Sustainability to find out what wonderful things they're up to.
The more artistic types can get their creativity cooking and enter "The Eating of Science" cake decorating competition. Cakes must be decorated in a science theme and there are awesome prizes up for grabs for the cake the judges think is the most imaginative (and scientifically accurate, of course).
Register your team now to build and bake with a solar oven for your chance to win glory and renown (and cool prizes) as the first ever winner of the Sunshine Coast Solar Bake-off.
Where: at the Centre for Growing Sustainability, Nambour Connection Road, Woombye, Queensland
When: 10am on Saturday 17 August 2013
Guest post by Blue Sky Science