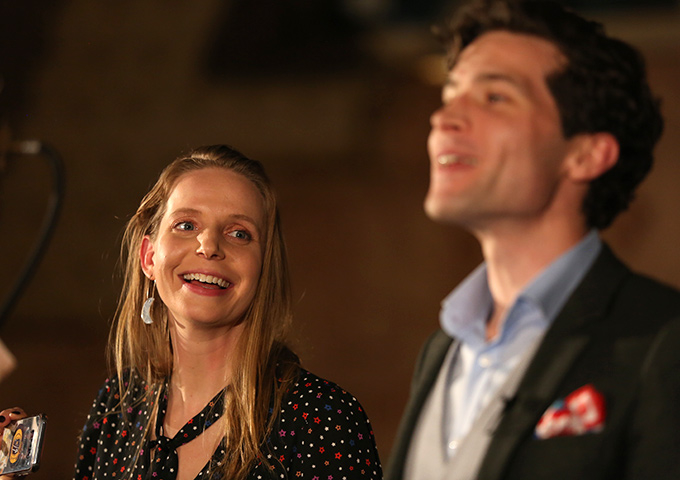 Our $500 000 grant round for 2021 has just been announced with great projects from around the country preparing to celebrate science. Many of the projects took inspiration from the National Science Week school theme of Food – Different by Design, including Food – Now and into the Future which is all about making healthy food choices and will be presented by the Wesley Mission in Logan City just south of Brisbane.
STEAM Ahead – Foodlovers is an exploration of traditional Indigenous food and modern food production techniques at the Western Sydney Parkland. If you're thirsty for more, four boutique brewers will conjure special brews for ExBEERimental Science in Hobart and share their techniques and tastes with both live and virtual audiences.
And while they may not be delicious, the Donut Shooting Robots in Adelaide will fight it out as 15 teams go head to head in a design – build – program competition.
Minister for Industry, Science and Technology Karen Andrews said the Australian Government was proud to support inspiring, innovative and accessible projects as part of National Science Week.
"Science is everywhere, and National Science Week is for everyone," Minister Andrews said.
"Even in the midst of last year's lockdowns, more than one million Australians took part in events across every state and territory. This year, we're looking to boost those numbers even higher.
"From concerts to VR tours and everything in between, this year's National Science Week grant recipients have something to offer every Australian."
The grant recipients are:
ACT
The Science of Outdoors!
Scout Association of Australia (ACT)
Scouting has always been strong on STEM skills even if they weren't called that back in the day. Maths to calculate catering quantities and navigate, the science of water purification, the physics of abseiling, and the engineering and construction of pioneering structure – they all had their place.
A new award scheme and program for our youth members, STEM and Innovation forms one of six explicit Special Interest Areas that enable Scouts to set goals and pursue ideas that could be beyond some of our imaginations.
Scout troops across the country will screen the films in local halls and other venues, with kids following instructions to build the projects. The fun will culminate in a national finale webinar hosted in collaboration with Fizzics Education in late August.
Plant Science Safeguarding Our Future Food Security
Australian Society of Plant Scientists
By the middle of the century there will be almost 10 billion people on Earth – an awful lot of mouths to feed, especially when a warming climate makes agriculture more challenging. Scientists may save the day by helping crop species adapt and thrive as growing conditions change.
The Australian Society of Plant Scientists is organising visits to laboratories and field sites across the country. Through talks, displays and demonstrations they give rare insight into the challenges faced by farmers, and how food scientists are working to help.
NSW
STEAM Ahead: Foodlovers
Western Sydney Parklands Trust
There's not much in life that isn't covered by food and science and you'll find both in Western Sydney Parklands.
STEAM Ahead Foodlovers will combine Aboriginal and science educators and The Urban Farms with Sydney's leading science institutions – and people who just like to eat – to explore Australia's traditional food sources, the science of food production and the latest research in food recycling.
Other groups involved are the Australian Museum, Western Sydney University, UNSW, Macquarie University with community groups like the Frog and Tadpole Study Group, Eaton Gorge Environmental Theatre, and citizen science projects like Frog ID.
Indigenous Science Experience @ Redfern
Macquarie University
What can Aboriginal astronomy tell us about the night sky? How is native flora used in bush medicine and soap-making? How do Indigenous Australians make axes and other artefacts from stone? What can we learn about sustainable living from more than 60 000 years of Indigenous culture?
The Indigenous Science Experience at Redfern Community Centre is a celebration of Indigenous and Western science, and Indigenous youth and Elder achievements. A four-day event at the Redfern Community Centre, it will demonstrate the value of traditional and contemporary Indigenous knowledge in science and technology, and the relevance of science to everyday lives.
Indigenous students from National Indigenous Science Education Program (NISEP) partner schools will assist in demonstrating activities.
Science in the Swamp: Superheroes' kitchen
Centennial Park and Moore Park Trust
Who are the superheroes among Australia's wildlife, and what keeps them going? Which are the fastest and strongest and who has the best vision and hearing? Learn about the food that powers them – and humans too.
Explore the science behind Australia's traditional food sources, the scientific processes used in food production, the latest research around food recycling, and what we are doing to conserve essential food sources.
Science in the Swamp is a free, family outdoor community event with a range of hands-on shows and activities. The event is a partnership between Centennial Parklands and Sydney's science community.
Live From the Lab
University of Sydney
What happens when you combine musicians with scientists? Find out by listening to Live from the Lab.
Musicians and scientists will be united on FBi Radio each weekday morning of National Science Week to share conversation and to reveal new songs and compositions inspired by Australian science. There will also be two live events: a live gig featuring the musicians involved in the project, and a listening party featuring immersive conversations between scientists and musicians.
STEAM: Intersections between science and art – Engaging Communities
University of Newcastle
Explore how brain health changes through life, the emerging problem of eco-anxiety, and how our wellbeing is inextricably linked to our environmental footprint through two National Science Week events, 'Brain' and 'Biomes'. These interactive exhibitions and experiential workshops showcase innovative collaborations with artists, technologists, industry and community, creating a genuine and continuing exchange of information with a broad audience.
'Brain' explores the impressive inner workings of our brains. 'Biomes' re-engages us with the wonders of the natural world. Together these exhibitions show how connected to our environment we really are.
Student lead science: Evaluation of natural and urban soil soundscapes
Seedscape
Healthy soil supports wildlife, helps our food to grow, and has huge potential to store carbon and slow climate change, but who knew it also has a story to tell?
This initiative takes students, landholders, and other participants to the field to measure and record sound, which tells a lot about soil's health and the state of the wildlife it supports. You can learn about the vital role of sound in nature and day-to-day life, from the tone of a ripe melon, to the melodies that help birds define territory, find a mate, and defend themselves.
Riverina Science Festival
Wagga Wagga City Council
Paint a portrait of a parasite, join the fun at a Nerd Night or be challenged the future foods of deep-fried grasshopper or cockroach flour bread.
The week-long Riverina Science Festival returns for 2021 in multiple venues throughout the region. This festival includes activities for all age groups, including a Food Odyssey, science for pre-schoolers, talks from plant scientists, sustainable gardening, and Indigenous science and engineering. This event is presented by the Riverina Science Hub and partner organisations.
The New England Table: Different by design
University of New England
Great food has a great story and there's both on offer through an exploration of the culinary culture of the New England Tableland. A community dinner with local produce, featuring talks by local scientists, will reveal the complex science of digestion throughout the dining experience. Great Hops brewer Sam Martin will later share his passion for the scientific process of fermenting fresh ingredients and crafting the perfect beer, while in the marketplace you can challenge yourself to see if you can tell designer food made in the lab from nature's own.
Significant Figures
Tom Gordon
Can you work out who the mystery scientist is and what they researches in their lab? That is the challenge for panellists on a live recording of science communicator Tom Gordon and his popular STEMpunk podcast. It all looks a lot more like a game or variety show than a science panel, as non-experts try to figure out what the expert does in and out of the lab.
The team will stage four live recordings during National Science Week – one in Sydney and three in regional locations. Each one will see a local scientist playing games and answering questions about research, hobbies and homelife.
Young Scientists of Australia: Celebrating National Science Week
YSA Sydney
Teabag rockets, magic snow, strawberry DNA and other experiments are among a series of science activities organised by young people for young people.
The program includes a Science in the City stall at The Australian Museum, the Big Science Show at Hyde Park, and a social event at the Powerhouse Museum.
These events connect with students and increase the visibility of the emerging STEM workforce within the Australian community. By demonstrating weird and wacky phenomena in our everyday lives, they hope to inspire young people to consider further studies in STEM.
NT
desertSMART ecoFair
Arid Lands Environment Centre
Many Australians living on the coastal fringe think of the centre of the country as a hostile place. But if you look at it through the lens of sustainability, there are myriad possibilities.
The 2021 EcoFair is all about sustainability and creativity. Gardening Australia host Costa Georgiadis, for example, tackles the challenges of growing fruit and vegetable in a dry climate and tech entrepreneur Eytan Lenko, Chair of Beyond Zero Emissions, describes a bright renewable energy future. While we're at it, Dr Amanda Cahill says we can make our economy fairer and more sustainable, too.
Organised by the Arid Lands Environment Centre, to mark the UN International Year of Creative Economy for Sustainable Development and the International Year of Fruits and Vegetables, the desertSMART EcoFair is Central Australia's premier science and sustainability festival held across a range of local venues.
HealthLAB: from Timor Sea to the Arafura Swamp
Menzies School of Health Research
How healthy are you really? A mobile health lab that lets people see ultrasounds of their heart and kidneys, hear their heart beating, and try on 'alcohol goggles' that mimic raised blood alcohol levels, is aimed at giving a firsthand, practical experience of the outcomes of health choices. An interactive Time Machine will show how those choices might affect people's looks.
This health education clinic on wheels – HealthLAB – will travel to locations around Darwin and the remote island community of Wurrumiyanga on the Timor Sea and Ramingining in the Arafura Swamp.
In collaboration with Charles Darwin University's HIVE, participants will have the opportunity to use the latest virtual reality technologies along with displays and demonstrations that cover topics of pre-conception health, nutrition, sugar in soft drinks, poisons in cigarettes, and other health topics. Students can find out about careers in health science-related fields.
QLD
CQ Festival of Food: the scientific processes involved in food
Central Queensland University
Central Queensland is a rich source of a wide range of food from beef to black sesame seeds – and even Bundaberg ginger beer. The region ships mangoes and market vegetables around the country and beyond. But the growth and sustainability of the region's agricultural economy relies heavily on science and innovation.
The CQ Festival of Food highlights what is being done through a series of engaging scientific experiments for students and the broader community. Industry, the education sector, and university experts will work together to develop the content, giving people a unique opportunity to explore the science of Bundaberg food production, Gladstone's fisheries, the Rockhampton beef industry, Mackay sugar production, and more.
Food – Now and into the Future
Wesley Mission Queensland
A good diet is vital to keep us healthy but for some people in our communities, day-to-day survival may force them into poor choices. The solution starts with a better understanding of the issues – how does the food we eat influence our health? What are the foods of the future? And what career opportunities does food science offer?
In one delicious day of activities and talks organised by Wesley Mission Queensland, residents of Eagleby, a low socio-economic community in the Logan City Council area of Queensland, can hear from the experts from a range of local community and science organisations. This free and disability accessible event will create a fun environment in which locals can learn about food in general and the science behind it.
Actually, it's Phytoplankton! Planet Ocean
GO2Q
How does the oceanic food web work? How does light behave in water? Or, did you know the ocean is an incredible climate machine? – these are some of the topics and episodes of 'Planet Ocean', the second season of the podcast 'Actually, it's Phytoplankton!'
Host Jamie Coull, and oceanographer co-hosts Lachlan McKinna and Ivona Cetinić present six lessons via podcast, with resource packs for primary and middle school kids. With the help of expert guests, they explore topics including the food web, the carbon cycle, ocean acidification, optical properties of water, arts in science, and DIY experiments. A live event in Toowoomba will feature a panel discussion and a marine illustration lesson by award-winning undersea artist Kirsten Carlson.
SA
Donut Shooting Robots – Feed your senses
Student Robotics Club of SA
Who can design, build, and operate the ultimate goal-shooting robot?
The SA Student Robotics Club will run a Robot Scrimmage in National Science Week – a program of robotics education, workshops, fun and learning. More than 15 Scrimmage Teams will take on the challenge to design, manufacture, assemble and program robots. The robots will compete to launch 'donuts' and score goals, both static and moving targets.
SCINEMA International Science Film Festival Community Program
Royal Institution of Australia
The hunt for the best science on screen began in late 2020. Following a judging process in autumn, the selection of finalists will premiere at the SCINEMA International Science Film Festival. It showcases a selection of features, shorts, documentaries, animated and experimental films from around the world.
SCINEMA culminates in a community screening program during National Science Week, where schools, councils, and community groups anywhere – from a school gym in Geraldton to a library in Lismore – can register to host their own free screening of a curated SCINEMA film playlist.
Dinner with the Dinosaurs
Michael Mills (HeapsGood Productions)

How does a dinosaur grow to 20 tonnes on a vegetarian diet? The singing palaeontologist, Professor Flint, explores the ways plants can adapt to a changing world by examining them and their prehistoric landscape through the eyes and tastebuds of the creatures that devoured them.
Dinner with the Dinosaurs compares significant moments of ecological change in the past, how the food of herbivorous dinosaurs adapted, or didn't, and how dinosaurs themselves then responded. The performance will take place at the Adelaide Botanic Garden with Professor Flint supported by performers from the Australian Classical Youth Ballet and will be broadcast live on social media.
Seeing Things Differently – The science behind X-ray imaging
Micro-X
How does X-ray imaging work? How is it different to photography? And how will it change in the future? Find out about X-rays and see the high-tech equipment involved, without breaking an arm or leg.
This series of events will give people the opportunity to see inside Adelaide's Micro-X factory, which develops and produces new generation X-ray imaging equipment incorporating innovative design and carbon nanotube technology. There, they can also take part in visible light photography workshops. In addition, science and engineering talks at Flinders University will explore physics of X-ray production, engineering and problem solving, 3D printing, and how photography works.
TAS
Beaker Street Festival
Dr Margo Adler
Meet an Antarctic scientist, learn about fermentation from a local winemaker, or follow in Darwin's footsteps along kunanyi/Mount Wellington.
Beaker Street Festival is a one-of-a-kind celebration of science and art, introducing exciting scientific minds and ideas, in and around Hobart's iconic Tasmanian Museum and Art Gallery. Featuring talks and hands-on workshops led by top scientists, interactive science/art installations, the annual Beaker Street Science Photography Prize, live music in the Speakeasy Bar, Tassie food and drink, and 150+ roving scientists to chat with. Beaker Street Festival returns in 2021 with an all-new line up, the inaugural Sci Art Crawl, scientist-led expeditions, and more.
Young Tassie Scientists: Sharing Local Research Across Our Island
University of Tasmania
Meet Young Tassie Scientists this August! Matt the 'raven-mad' bird scientist, Allanna the bioinformatician, Dipon the cheesy microbiologist, and Shasta the entomologist who can tell you all about bugs and why we should eat them.
These are just a few of the Young Tassie Scientists team — passionate early career researchers who bring STEMM presentations and activities to schools and public events state-wide during August. Young Tassie Scientists are science ambassadors who make serious, local research accessible and entertaining for everyone. With a focus on reaching regional, rural and island communities, the group aim to inform Tasmanians about the wonderful work happening in STEM research across Tasmania.
ExBEERimental Science
Matthew Fielding
Four breweries, four brews, two thirsty scientists, and a live audience.
ExBEERimental Science is a beer tasting event sampling the science behind brewing and beer. Four Australian independent breweries will craft an experimental beer to be explored in depth during the live-tasting panel event. Each of these beers will feature in the exBEERimental 4-pack, which science and beer nerds from across Australia can pre-order to enjoy at home while watching the live stream of the event.
There will also be limited live audience tickets to attend the in-person event (COVID dependant). This event is organised by Science Made Beerable, the brainchild of plant scientist Kelsey Picard and ornithologist (bird scientist) Matthew Fielding.
Build your own Artificial Intelligence (AI)
Secret Lab
We hear a lot about artificial intelligence – or AI – but how does it really work? And is AI going to take over the world and destroy us all?
Using video game technology as an engaging gateway, two sessions for the young and young-at-heart will show people how AI really works, focusing on the inputs and sensors AI can use to perceive its environment, and the impact it can have on the world it exists in. As the attendees contribute to create an AI, they find out how AI involves the clever combination of ethics, maths, computer science, video games, and engineering.
VIC
My Goodness: Interactive multisensory science books
Monash University
Read about immune system cells through your sense of touch or learn about food and nutrition through a 3D soundscape. 'My Goodness', a Rossjohn Sensory Science Multisensory Science Book, is an exhibition of 10 interactive 'books' designed for low-vision, blind, hearing-impaired, deaf, and non-disabled audiences.
The Books explore the relationship between infection, immunity, food, and nutrition. They make science accessible to more people by using large print text, braille, tactile artworks, haptic and 3DAudio, visual tracking and tactile sensor interaction technologies.
Immersive Science V (SciVR): A virtual Universe for Australians everywhere
Swinburne University of Technology
See the stars, fly by Jupiter's red spot, and delve into the latest gravitational wave research — all without leaving town. Astrophysicists Professor Alan Duffy and Dr Rebecca Allen return to share the latest wonders of Australian-led astronomy research through SciVR, an immersive astronomy experience enabled by a virtual reality (VR) smartphone app. Guided by Alan and Rebecca, 75 regional science centres, observatories and libraries will transform into virtual exploriums.
Mini VR headsets are given to participants to enhance their experience and allow them to continue exploring after the event. With two live streams, one adapted especially for younger audiences, and social media Q&A, audiences can interact with the presenters and learn about the most explosive events in our Universe. Subject to distancing requirements, Melbourne will host a live pub talk.
The National Science Quiz
University of Melbourne
Why do cornflakes floating on milk attract each other? The National Science Quiz brings scientists together to apply their brains and knowledge to see who can nut out the best answers to curly questions like this.
Organised by the ARC Centre of Excellence for Mathematical and Statistical Frontiers, two teams will compete to answer a series of thought-provoking questions that delve into multiple branches of science, using humour and reasoning. While the teams discuss and ponder their answers, the live event and online audiences can also play along, test their knowledge, and compete for prizes.
Exciton Science Workshops: Shining light on an energy efficient future
University of Melbourne
Exciton Science offers a compelling vision for a renewable energy future in which we can transform light into electricity and electricity into light more efficiently. A series of workshops will unpack the scientific principles and provide a hands-on demonstration of the future possibilities of solar and lighting technologies.
A pop-up exhibition on campus at the University of Melbourne will show how the solar panels on your roof work and reveal how our science is contributing to even more efficient technologies.
Discovery's Dinosaur Hullaballoo
Bendigo Science and Technology Museum
Small humans aged six years and under come face-to-face with big beasts for Discovery's Dinosaur Hullaballoo. What little one can resist dressing up as a dinosaur, especially when they have the Discovery Science & Technology Centre all to themselves (and their carers) for a day of science activities, including a dino costume competition, meet and greet with a 'real dinosaur', a 40-minute live interactive show, a planetarium show, story-time, a fossil hunt, and more.
WA
StoryBursts 2021: WA Monologue Program
University of Western Australia
The challenge: can you take a scientist's research and turn it into a creative five-minute monologue for performance?
Western Australia is home to exciting STEM research, including the search for previously unknown galaxies in the local Universe and the wonders of the oceans, flora and fauna around us on earth.
The StoryBursts 2021 WA Monologue Program invites Western Australian writers of all ages to collaborate with researchers and write science-inspired monologues. The monologues can be performed in any of 14 languages including Auslan, and can include diverse performance styles such as puppetry, dance, and song.
The monologues will be performed and recorded as a stage performance, video or podcast and be made available to a national audience during National Science Week.
Gosnells Science Trail
City of Gosnells
Make a native bee hotel, garden with microbes and microscopes, or discover bush medicine through the Gosnells Science Trail.
This free series of 20 workshops, nine performances, and two tree-planting events will explore the science of sustainability, restoration ecology, chemistry, astronomy, and more. Held across multiple venues in the City of Gosnells, the program also includes a solar cooking workshop, the 'Burning, Melting, Saving' show about recycling from the Don Russell Performing Arts Centre, archaeology workshops at Wilkinson Homestead, and an astronomy talk from Perth Observatory.
MicroToons
Dr Rina Fu

People with autism can struggle to engage with science, technology, and art, but when they manage to it can empower them. MicroToons is an animated science cartoon designed to do just that. It is based on a short story of cells and nasty microbes, written by microbiologist and 'My Mad Scientist Mummy' children's book author Rina Fu.
MicroToons is a joint effort between Dr Rina, disabilities service provider 4LifeSkills, and animation studio Red Bird Creative, harnessing their budding artist Dafa and budding animator Sam, who has autism. The animation will premiere at a launch event involving the 4LifeSkills network and the public, with science activity stations tailored to include people with disabilities.
Bruce Rock Astronomy Night
Shire of Bruce Rock
The rural community of Bruce Rock, 240 kilometres east of Perth, may not have the city's astronomy facilities and experts. But it does have clear, dark skies away from Perth's light pollution that are ideal for stargazing.
The Shire of Bruce Rock will bring a professional astronomer to town for an Astronomy Night, a rare opportunity for a regional town. The event will feature a Sky Talk, exploring how stars, planets and galaxies are made; identify the different constellations and tell the stories behind them; and show members of the community how to use provided telescopes or their own ones, brought from home.