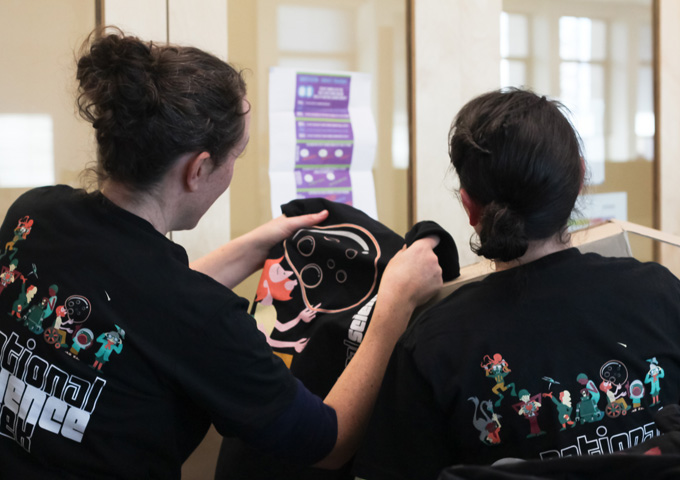 National Science Week is a truly national community festival with events, activities and experiences happening all around the country during the nine official days each August and beyond. But this just wouldn't happen without hundreds of dedicated and hardworking volunteers clocking up some seriously significant hours during August and throughout the year to bring Science Week to life.
National Science Week is fuelled by volunteers – from helpers guiding crowds at large events, gofers running around organising lighting, sound, and equipment, connectors bringing together folk from diverse organisations and backgrounds, to event holders conceiving, developing and producing such a range of amazing experiences. It really does take a lot of time and energy from go to whoa to make it all possible!
Critical cogs in the machine that is Science Week are our State and Territory National Science Week Coordinating Committees. These committees are staffed by enthusiastic and energetic volunteers who come from various backgrounds and experiences but all share the love of STEM. The committees organise events, connect event holders and science talent, and drive state based promotion. They provide support and advice to their local event holders, sometimes including seed grant rounds to stimulate activity in their community. And they are all volunteers!
The coordinating committees are also importantly supported by our Inspiring Australia State and Territory Managers, who facilitate connections and participation in STEM engagement activities year round.
As the official start of Science Week 2018 ticks closer we want to do a big shout out to everyone involved – thank you! We and your fellow Aussies are so grateful for your passion, perseverance and hard work that results in some incredible and diverse science engagement opportunities.
We know you have already put in the hard yards in preparation – so amongst all the craziness of Science Week in action, don't forget to take a moment, look around and savour the delight, curiosity and enchantment on the faces in the crowds. This celebration and recognition of science in Australia is all because of you!