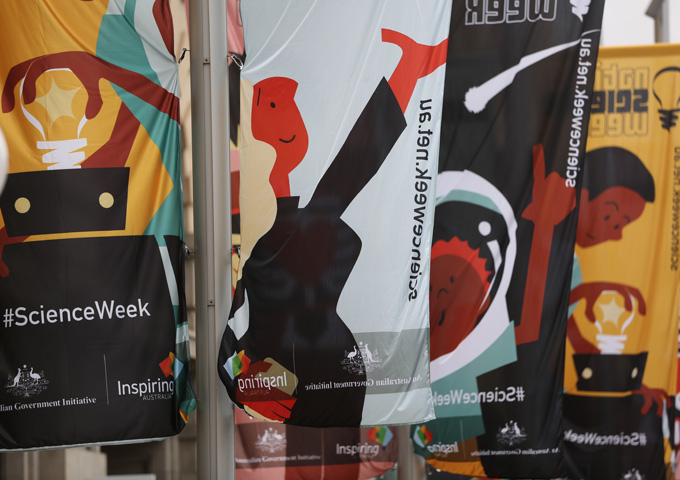 This Saturday Questacon will be turning up the music with the exploits of Dr Graham Walker and DJ sixfootsix in their explosive new science show 'Double Decker Science'.
The free event held at Questacon, located on King Edward Terrace in Parkes, is part of the National Science Week program being held in the ACT on the 23rd of August 2014.
The thirty minute show, starting at 11:00am, will combine the explosive talent of Dr Walker's science demonstrations with the music and skills of Canberran DJ sixfootsix, also known as Chris Foster.
Dr Walker is a professional science communicator from the Australian National University combining his talents with local DJ sixfootsix, known for his energetic techno music and emotive soundscapes.
In an exciting approach to get Canberran's enthusiastic about science during National Science Week, they will combine music and experiments in a novel way to communicate science.
National Science Week takes place from the 16 to 24 August and is national celebration of science, scientists and an opportunity for people to engage with science in their local area.
Dr Walker said: "National Science Week is an amazing opportunity to take science out to the community – especially the bits of it that don't usually get into science all year round.
"That's one reason I'm trying this DJ show out; it should appeal to a different demographic. Hopefully we'll see some music lovers getting a bit more into science, and vice-versa."
'Double Decker Science' will explore the themes of the 'human body and movement' as well as 'innovation and technology' in an explosive new science show.
In an unconventional twist, the science content of the show will be explained without verbal explanations, rather Dr Walker and DJ sixfootsix will be relying on mime, music and visual aids to get their subject matter across.
"We're super excited about the new show as the format is so different to anything we've tried before – usually I'm talking through the science, but instead Chris's music (the DJ) will communicate the science in a less structured, less detailed way.
"I'm hoping this combination will get people curious – they'd see all this astonishing stuff happening, the music will lubricate their interest and attention, and by the end of the show they'll be dying to find out how it all worked – that's the plan anyway!" says Dr Walker.
With their debut the previous night Friday the 22nd of August at 6pm, 'Double Decker Science' aims to engage and inspire more ACT residents to engage with science in their Saturday performance on the 23rd.
'Double Decker Science' is a free event as part of National Science Week at Questacon and has wheelchair access.
For more information regarding the event contact Jared Wilkins at Questacon on 02 6270 2848.
Guest blog post by Caitlin Miller.