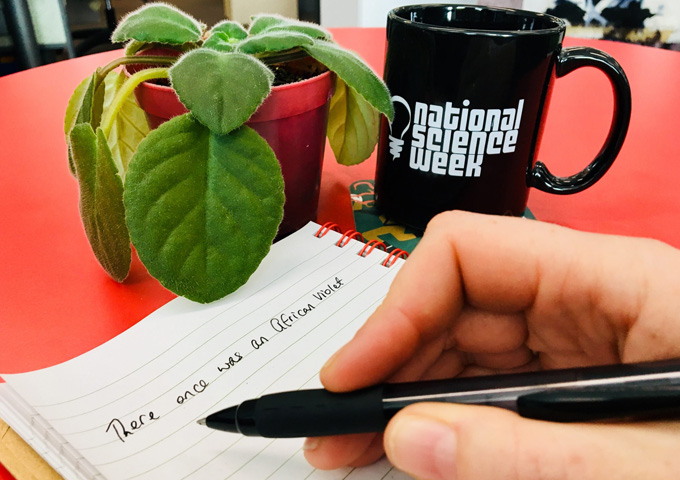 Do you find technical talk and scientific jargon sometimes feels like an alien language or scrambles your brain into mush? Do you sometimes feel creative writers are also speaking another language full of colourful flourishes, mixed metaphors and abstract concepts? Can the two be combined successfully?
Scientific and artistic endeavours have always intertwined throughout our society as we try to understand, interpret and communicate the universe around us.
This National Science Week we are celebrating this interaction with a science poem of the day. These poems cover a diverse range of scientific and engineering themes and sentiments, and are a great way to start your morning every day this Science Week! Follow @Aus_ScienceWeek, #scienceweek and #poemoftheday on Twitter to get your daily hit.
Around the country there are lots of other activities, events and experiences happening that explore the world of STEM, art and poetry.
Queensland poet Celia Berrell, a regular contributor to CSIRO's Double Helix magazine, has invited children to submit a rhyming verse about someone who should go into a Science Hall of Fame. These poems are being published online to celebrate these game changing figures. 17 August.
The pub is always a great venue to start sprouting some poetry – and on the evening of Friday 17 August the Australian Institute of Physics is sponsoring a night of stand up, poetry, songs and demos, with Stephen Hawking, galactic puppets and heart-stopping science: Physics in the pub.
And if you are up for a second night of science-y bards and rhymesters, on Saturday 18 August the University of Adelaide is hosting Perform your Science! where early career researchers are joining forces with performance artists to communicate ground-breaking science in unusual ways. There will even be a People's Choice award!
The ultimate in poetic enlightenment just might be delivered through The Poet's guide to Science – A sceptic think tank, a lively performance and discussion around age-old questions of facts and data, truths and untruths in Canberra on Friday 24 August.
So make sure you fit some poetry somewhere into your National Science Week and celebrate with powerful prose!