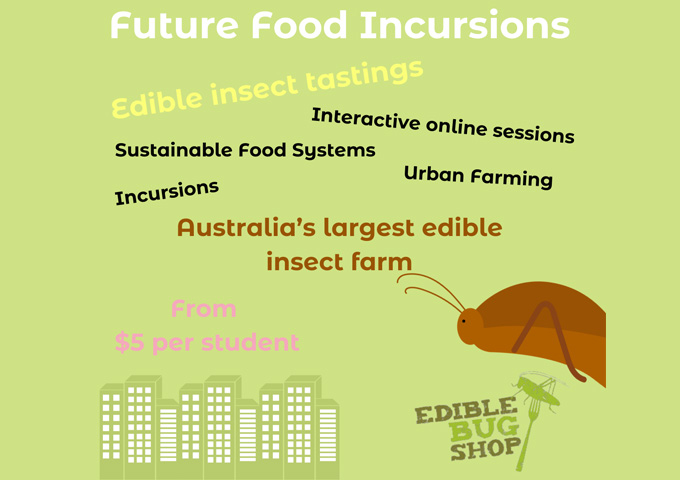 Are you teaching about the future of food and would like to give your students a taste of something new? 
Edible insects will play an important role in the future of food and these interactive virtual and in-school incursions are a fun and exciting way for students to learn about this important topic. And yes… there will be samples!
Virtual incursions are now available world wide and are a fun and memorable way to learn more about edible insects. In-school incursions are also available for schools within New South Wales.
Circle Harvest have been running programs in schools since 2007, and each interactive incursion is customised to to suit the level of your students.
The program objective is to make a difference to student's understanding of edible insects, and the role they will play in out future food system. Each package is customised to suit each school's requirements, but some examples of items that can be included:
connecting over your chosen meeting platform (Zoom, Skype, Google Hang Out etc) where students will receive a detailed, interactive presentation from an edible insect farmer;
on-site incursions are available for schools in New South Wales;
samples can be provided in advance, so that students can try them during the incursion – these may include cricket corn chips, BBQ flavours crickets or edible insect marshmallows;
older students might enjoy cooking with cricket powder, so there is an option to provide some recipes for them to try in advance or after the presentation;
follow-up activities and lesson plans customised to the school's requirements. 
During the presentation, students will learn about sustainably farming edible insects, ways in which they can be used in our diet, as well as health and nutrition.
All sessions are conducted by food science and education professionals that work on an edible insect farm.
Please email for available dates and prices (from $5 per student).