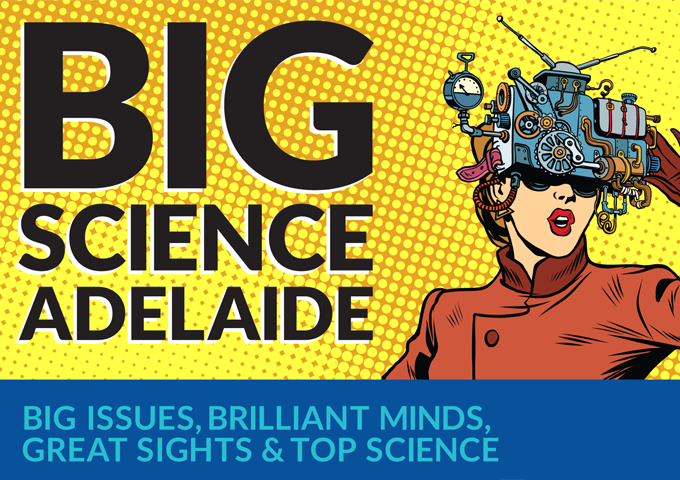 Congratulations to the organisers for receiving grant support for these Big Science Adelaide events in 2021.
Would I Lie to You?
Superstars of STEM and Science in the Pub Adelaide
Join the Superstars of STEM and Science in the Pub Adelaide at this fun and informative  event. Can you tell scientific fiction from scientific fact? Can pigeons detect breast cancer? Do leopards roar? Are bananas actually berries? Astounding observations will be made to inform or to fool the audience. Grill the contestants to ferret out the truth in this evening brimming with facts, fiction and laughter.
Adults Only Zone: Demystifying and Decoding Robots
RoboRoos

Are your kids waaaaaay ahead of you when it comes to coding, robotics and technology? Interactive coaching sessions, conducted by the RoboRoos, will provide a greater understanding of robot design, coding, fabrication and construction, and final testing. The sessions will include "hands-on", so that adults reeeeeely get it. RoboRoos will also record and publish the sessions on their YouTube channel.
Taste and Explore the Future of Food
Post Dining
Discover the future of food in a tasty and playful workshop exploring what and how we might be eating by the year 2050 in Australia. Take a deep dive into four possible future worlds which explore the themes of Growth, Restraint, Catastrophe and Transformation –  with plenty of tasty treats along the way. You'll learn about native food from First Nations perspectives, discover the benefits of edible insects, measure the water footprint in our foods, and test your knowledge about food waste. Take-home gifts and resources included. Suitable for ages 15+
Future Thinkers at Lot Fourteen
Lot Fourteen

Lot Fourteen is an innovation precinct and collaborative ecosystem making a global impact by accelerating innovation, entrepreneurship, research, education, culture and tourism. This series of 3 forums will bring together some of our leading minds to tackle key focus areas about how we are shaping the future. Expert panellists include SA's Chief Scientist and Chief  Entrepreneur.  The forums are:
The Science of Space
The AI Revolution
The Cyber Frontier
Makers after Dark @ Makerspace Adelaide
Makerspace Adelaide

This is a show-and-tell by selected Makers who will demonstrate what is under the hood of their creations and inventions, from how you build giant smoke ring generators, to musical cosmic ray detectors and conductive thread fashion. Using the range of sophisticated digital and analog-making resources at Makerspace's disposal, participants will be able to go away with an artefact they have made or personalised.
AI IoT Science Spectacular
STEMSEL Foundation
The public is invited to a science arena of stunning spectaculars and exciting discoveries revolving around the themes of Artificial Intelligence (AI) and the Internet of Things(IoT). From nanoscale biophotonics to AI object recognition in diagnosing diabetes and early detection of skin cancers, join in the live and interactive demonstrations, including an AI IoT Drone that can gather data remotely.
Innovation in Science & Entrepreneurship – Adelaide Masterclass
The Australian School of Entrepreneurship

The Australian School of Entrepreneurship (ASE) will deliver a full-day masterclass which is open to young people aged 16 to 24 years old. Participants will hear from inspiring guest speakers and industry leaders, network with like-minded entrepreneurial young people, and participate in an interactive and informative ideation workshop that will involve identifying local problems and brainstorming micro-business solutions.
Into the Slimelight
MOD.

Are brains overrated? There's life that can solve mazes and tell time without a single brain cell. Welcome to the world of slime moulds, single celled super organisms capable of surprisingly complex behaviour. Join in an evening of mould, film and food as you taste, feel, watch and listen your way into the micro world of mould. Includes cheese, a drink and a surprise to take home.
Scuba in the Pub
Scuba in the Pub

Scuba in the Pub provides a platform for the community to be informed on how to protect our marine environment and creatures. Learn interesting facts and hear about opportunities to be involved with marine projects from qualified and entertaining guest speakers in a friendly social environment. Guest presenters will be:
Dr Barbara Wueringer, Director, Sharks and Rays Australia (SARA); and
Mark Caney, Chairman, Project AWARE Foundation and Industry Relations and Training Executive (PADI).