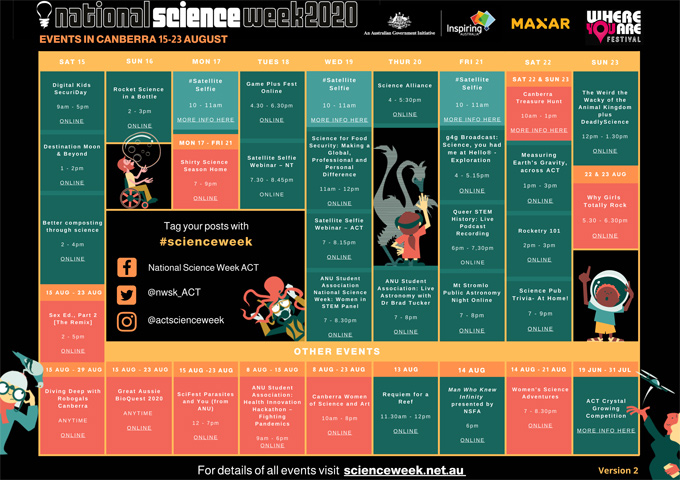 This year National Science Week includes a variety of events that you can take part in from the comfort of your own home. The Week features over 30 different local events.
"There are events for all ages and interests including at home science pub trivia, an online film screening, making rockets at home and hearing awe inspiring stories from local STEM role models" says ACT National Science Week Committee co-chair Michelle Kothe.
"It is great to see the amazing variety of events that are happening across the region and how well all these events have pivoted to an online format".
The Week kicks off on Saturday 15 August with an online workshop on how to improve your composting with science, run by Capital Scraps Composting, and for the young ones there is Destination Moon & Beyond, an online event exploring the science of space. On Sunday 23 August the Week concludes with Deadly Science showcasing the weird and wacky world of the animal kingdom.
In between there really is something for everyone including adults only events with Sex Ed., Part 2 [The Remix] presented by Phish and Phreak productions, and Shirty Science Season Home where you can learn about how science and shirt design collide.
There are also events showcasing the wonderful women in STEM through an online panel on Wednesday 19 August, a broadcast of a special episode of 'Science, you had me at Hello' on Friday 21 August and through the week you can hear about amazing Canberra women in STEM with Canberra Women of Science and Art and Women's Science Adventures.
The main event this year will give everyone the chance to take part in an out of this world event; a selfie from space. The Satellite Selfie event will see a satellite fly over Canberra and the surrounding area and take a snapshot of everyone out and about. People can create large artworks or messages that will be seen in the photo.
The satellite that will be used for the flyover is provided by Maxar. This event is presented by the Where You Are Festival with the support of the ACT Government and is co-hosted by Australian National University.
You can check out the full array of events in our handy one-page calendar (754kB, pdf) or download the full program of events (2.2MB, pdf).