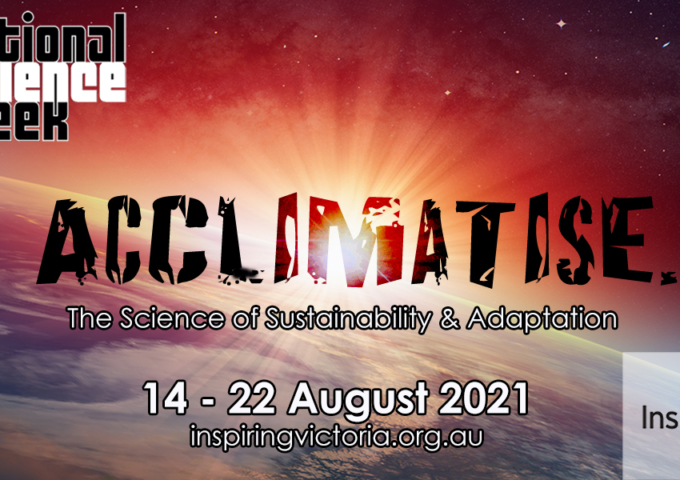 How do we fire-proof our forests? How do we save endangered species?  What can you do to help?
ACCLIMATISE is a festival jam-packed with live and online events investigating insights into sustainability and adaption to climate change.
Australian temperatures and sea levels are rising. Droughts and bushfires are becoming more common. Around one million native species are on the brink of extinction.
Join us to explore the challenges of Earth's complex climate and the search for creative solutions by bringing multidisciplinary fields of science together.
ACCLIMATISE delves into First Nations people's knowledge of Country, citizen science that measures and manages local impacts, and the work of Victorian scientists who are mitigating the impacts of climate change.
This unique series of free, family-friendly events as part of National Science Week, brings together leading experts in sustainability and adaptation from Museums Victoria, Royal Botanical Gardens Victoria, Zoos Victoria, Public Libraries Victoria, Phillip Island Nature Parks, Neighbourhood Houses Victoria, Parliament of Victoria, State Library of Victoria, and the Royal Society of Victoria.
Featuring new musical works by Australian composers exploring the emotional impacts of climate change, the Royal Botanic Gardens' Climate Notes is a multimedia installation that invites us to contemplate the impacts on our lives through music, letter writing and video.
Museums Victoria and the Royal Botanic Gardens will both host events that discuss the knowledge of the First Peoples of Australia, who have cared for Country since time immemorial. What can we learn from Indigenous knowledge to combat the climate crisis?
Conservation experts at Phillip Island Nature Parks and Zoos Victoria will discuss how we can save our Little Penguins and the Baw Baw Frog, and other endangered Australian animals.
There is plenty for everyone to experience the science that is all around us.
ACCLIMATISE is presented to Victoria for National Science Week.