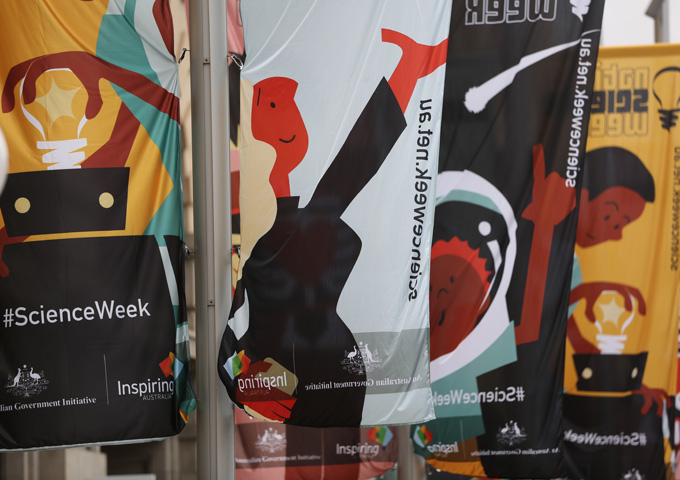 On Thursday night the Canberra Glassworks aimed to shed some light on the science behind glassmaking at their National Science Week event.
The evening showcased the creative efforts of the Glassworks artists and was a valuable insight into glass making, explained by artists and Questacon staff.
The evening was kick started with a performance by musician Paul Bong playing a glass didgeridoo made by artist Jenni Kemarre Martiniello and his explanation on how the instrument can produce indigenous music.
Artists showcased their creative talents demonstrating techniques they use in the hot phase of glass production and the later finishing processes, while giving explanations to attendees. The image shows artist Cole Neering making a glass marble at the event.
Patrick Helean, Excited Particles Coordinator at Questacon Science and Technology Centre, illustrated the properties of glass in his many demonstrations during the course of the evening. One of Patrick Helean's experiments included his own modified version of 'glass blowing' with a cigarette lighter and a CD made of a glass polymer.
Amanda Coleman, Glasswork's Education and Public Programs Co-ordinator, said "Our aim was to celebrate connections with glass and science.
"As an arts organisation we focus on the art of making and less on the science, but we know all artists have science in their making process."
Glass is material we encounter in our everyday lives, from window panes to the fibre optic cables in the National Broadband Network, yet the science behind glass creations is often not widely known.
Amanda Coleman explains, "Glass is an awe inspiring material that has many properties: it can melt, yet be a solid or a powder, is strong yet fragile.
"Glass is all around us and used in everyday life from drinking glass, windows, fibre optics, mobile phones, scientific research and telescopes."
Rachel Rayner, a staff member at Questacon Science and Technology Centre who gave her own presentation at the event said "bringing the arts and science together is so important, I think it's a great thing we can do.
"There is so much science in art and art in science, it's wonderful to see them coming together for National Science Week."
The evening was an excellent opportunity not only for the artists to share their practices and processes with the general public, but also to inspire people about glass as a material and the science behind it.
Guest blog post by Caitlin Miller.