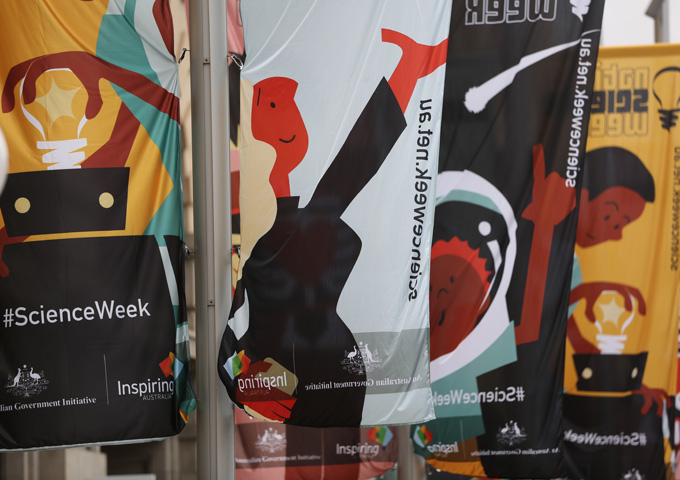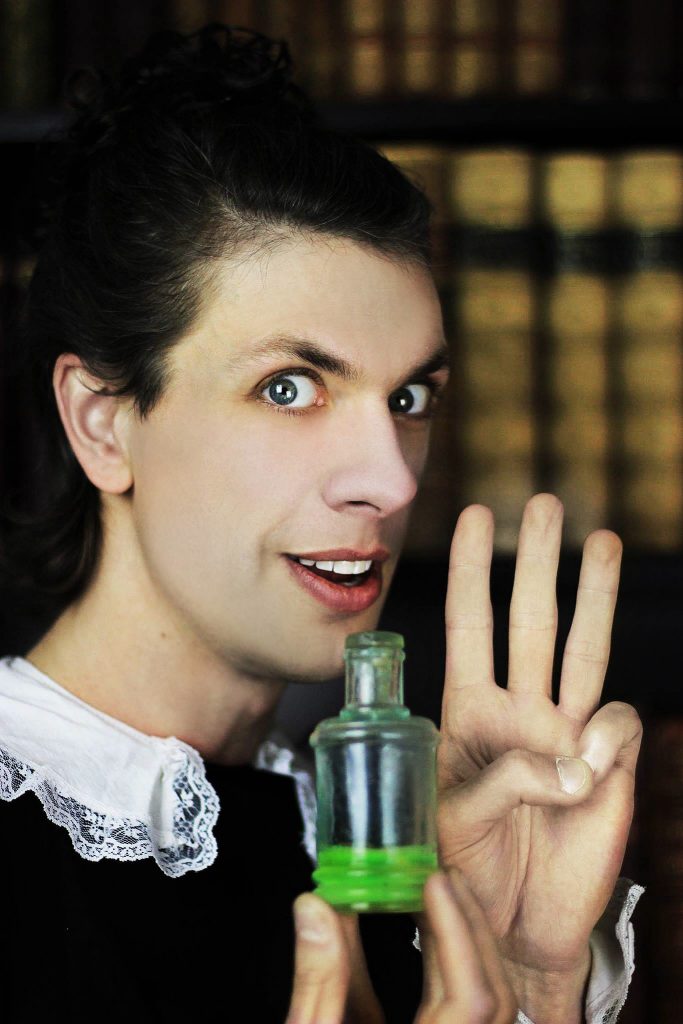 Each year, National Science Week is celebrated with a wide variety of event styles and approaches sharing the stories of science, and sometimes incorporating different or unusual projects.  As STEM continually evolves so too do science engagement opportunities and practice. Science and technology as a part of the performing arts is an engagement opportunity that is increasingly explored through events in Science Week.
On the weekend, two of our team members from the Science Week national office attended performing arts events in opposite ends of the country. Here's what they said about the engaging performances they saw.
Element in the Room: A Radioactive Comedy about the Death and Life of Marie Curie
What do you know about Nobel winning scientist Marie Curie?
Considered the defining scientist of our era, the winner of two Nobel prizes in Physics and Chemistry and the discoverer of Polonium, Radium and Radioactivity, her life was filled with both triumph and tragedy.
For those who've ever wanted to know more, John and Jo of Tangram Theatre Company have you covered. Touring in Australia all the way from the UK with the support of an Inspiring Australia grant, be entertained as John dons a dress and (more importantly!) the role of Marie Curie.
The play follows Marie on her visit to the United States to obtain a gram of radium. John performs the role spectacularly, switching between characters with breakneck speed in a manner that never feels disjointed or confusing. Invoking an irreverent humour throughout, the play still manages to respectfully capture the tumultuous ups and downs of Marie's life during this period.
The winner of multiple accolades and awards, Tangram Theatre Company provides the ultimate blend of art and science, designed not only to entertain but to get you thinking. As John spouts off the radium extractive process, Jo's accompaniment with the accordion adds levity.
Although in theatrical format, don't be fooled. Be prepared for a chemistry lesson compatible with any high school science class as you fumble along the radioactive decay chain in an interactive component of the play.
If you've ever wondered about the etymology of the word 'atom' or wanted to sing about radium, palladium and vanadium then this show is definitely for you.
Tangram are touring with their two award winning plays about Marie Curie and Einstein during National Science Week. These are the remaining performances:
The Element in the Room: A Radioactive Comedy about the Death and Life of Marie Curie Questacon in Canberra 16 – 18 August 
Albert Einstein: Relatively Speaking Questacon in Canberra 17 – 19 August
R.U.R. 2020
Inspired by the 1920s science fiction play Rossum's Universal Robots by Karel Čapek, and set in a real life top medical research facility BioFab3D at St Vincent's Hospital, R.U.R. 2020 is an incredibly thrilling, confronting, thought-provoking, dynamic, humorous and moving production.
A truly immersive art science theatre experience, the audience was taken for a ride through the potential implications of advancing biomedical technology as the characters explored decisions around ethics, sharing research, clinical trials, mass production, stock prices, regulations, success and failure, as we sticky beaked on them inside the real working lab that literally builds body parts using living cells.
Here's what others have said about R.U.R. 2020:
"Sensational world premiere opening night of modern adaptation of the Sci-fi RUR play by Karel Capek in our very own @BioFab3D@StVincentsMelbfor #scienceweek." @Vic_LeadSci
"This performance piece is a brilliant example of #SciArt and innovative #scicomm." @pattond_studios
R.U.R. 2020 was a recipient of support through Science Week's 2018 national grant round.There are just a few tickets left for some of the remaining sessions on Saturday 18, and Sunday 19 – hurry before these are sold out!
https://www.scienceweek.net.au/r-u-r-2020/
Go to the National Science Week events list for more science theatre opportunities, such as:
Megafauna: In the Shadow of Great Beasts Darwin, NT 17 – 18 August
Moving Climates Braddon, ACT 17 – 19 August