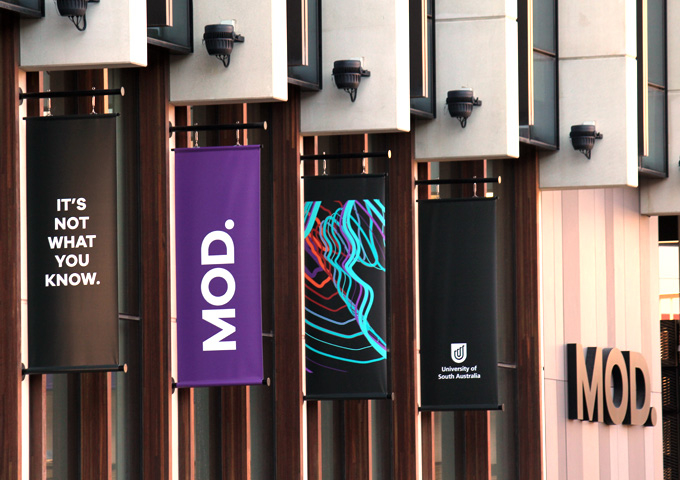 The Big Biofilm Hunt
Animate Your Science and the University of Adelaide
Microbes are known to form communities and excrete a slime, called a "biofilm", that protects them from the environment. While the rise of superbugs is well-covered in the media, the importance of biofilms is typically overlooked.  This project will produce an animated video to elucidate important microbiology and public health information in an engaging way. Also, a call to action will encourage viewers to participate in "The Big Biofilm Hunt", an activity to first find biofilms in, on or around us and then create a biofilm art piece.
Our Marvellous Mammals
BandiBunch and the University of Adelaide
This public event at Brown Hill Creek Recreation Park will promote native mammal conservation, including that of endangered bandicoots. The event will include three components:
Walkshop – focusing on habitat for threatened mammals
Wildlife Ecologist Careers – science stories around 'a day in the life of a wildlife ecologist'
Marvellous mammals by night – night walks focusing on behaviour and conservation needs of bats, bandicoots, brushtail and ringtail possums, and kangaroos.
North Terrace Science Trails
UniSA / MOD.
This project will showcase the diversity of science in connection with art, design and technology by showcasing people and places along North Terrace in Adelaide. Designed as a walking tour, the project consists of:
Three walking trails: Science/Art, Science/Design and Science/Technology.
Design of trail collateral to allow self-guided exploration on themes and sections.
An audio recorded narration for each tour stop.
Guided tours during National Science Week.
Stockport Observatory Star Party
Astronomical Society of SA
The Astronomical Society plans to hold a public star party at Stockport in National Science Week. Stockport Observatory (housing its 3 large telescopes) is located in the small town of Stockport approx 80 km north of Adelaide. This public star party will be an opportunity for everyone to check out the facilities and observe the stars and the heavens from a dark location. The evening will also include talks and demonstrations.
Soil Your Undies
Murraylands and Riverland Landscape Board
Landholders will join this citizen science project to assess the health of their soils, and contribute the results to a regional and a national scale project. The Soil Your Undies will demonstrate differences in biological activity between organic and non-organic vineyards and between soil types. Participants will be provided with undies and instructions on how to bury them and then exhume them after 8 weeks. They will then be dried, weighed, and their weight compared with the standard weight for the brand as a surrogate for the level of biological activity at the site. Landholders will also be provided with information about the sort of actions they can take on their properties to improve their soil health and function for improved sustainability.
Lone Lens on Science
SAHMRI
Event comprises an interactive photographic exhibition and scientific seminar that visually represents a day in the life of one of SAHMRI's researchers, neuroscientist Dr Cedric Bardy. His field of science centres on the use of a newly-patented innovation which enables his team to create 'brain avatars' by reverse-engineering stem cells from human skin cells. This means a range of drugs can be tested on the avatars, knowing that any response elicited is highly likely to be the same if administered to the person themselves.
Sustainable Science
Refreshing Memories
Sustainable Science activities will take place along the Dry Creek area with a particular focus on practical recycling and waste management to ensure the creek is safe from microplastics and other rubbish. A range of activities will include: endemic plant potting and garden advice; water chemistry; engineering challenges; AUSMAP surveys; and how to build a low cost, waste sorting station for the home. The event will also be used to launch the Dry Creek Augmented Reality Experience, with the unveiling of QR codes at six locations along the creek.
Royal Society Show Case Science
Royal Society of SA
The Royal Society "Show Case Science" aims to celebrate and promote to the public
the diverse research members undertake to advance knowledge in SA. The event will:
"Show" examples of cutting-edge and impactful research,
Make a "Case" for science in our society, and
Have a dialogue on the future of "Science" in SA.
The format will be a combination of live, high-energy 3-minute lightning talks presenting research and arguments for why we need science, followed by question time and a panel debate, with opportunities for informal exchanges between scientists and the public. There will also be prizes awarded for Best Talk and the Best Argument.
Roxby Mad Food Scientist
Roxby Downs Community Board
Roxby Mad Food Scientist is a free, hands-on event that will be held in rural Roxby Downs. The event will feature a range of activities (including safely managed explosions, polymers, acids, bases and pH indicators, mixes and emulsifiers and a solar oven) and food-related experiments available for children and youth to participate in. The program is designed to encourage the community to come together and expand its understanding of the many and diverse ways that science is used in the kitchen to create some of the foods we eat. Also participating will be a gastronomic chef and a scientist from within the community to assist in delivering these activities and experiments to promote science-based careers.
Night Lab: Hot and Spikey, Sweet and Slimy
South Australian Museum
The Museum will present a special, adult-only evening event that will encourage attendees to explore the Museum through a range of themed activations including scientific talks, tours, performances, guided and self-led hands-on activities that are fun, educational, surprising and even challenging. The event will focus on the theme of food sustainability and consider topics such as entomophagy, native food industries, foraging, and fears and phobias. The event would bring together the Museum's scientists and researchers, along with external science communicators, food experts and industry leaders (such as renowned South African/South Australian chef Duncan Welgemoed, colonial gastronomer and historian Jacqui Newling, Something Wild and Post Dining) to ensure the delivery of a rich and wide-ranging tasting program.
From Insects to Echidnas
University of Adelaide
This project will involve the Kangaroo Island community in two citizen science projects focussing on the KI echidna and insect communities. Echidnas on KI are the only population in Australia currently recognised as endangered, with the recent fires putting even greater pressure on them. There will be a fun day of talks and activities led by leading researchers. Topics include the unique biology of echidnas, the innovative approaches of combining science outreach with molecular biology for echidna conservation research, and the incredible world of parasitoid wasps, insect taxonomy and genetic barcoding.
This Show is NOT Rubbish
Port Augusta Performing Arts
This Show is NOT Rubbish! is a brilliantly inventive performance that playfully examines all those things that humans tend to absently throw away – using rubbish to create moment after moment of spectacle and surprise. From nails to newspaper, paper straws to plastic bottles, tea bags to plastic bags, each piece of 'junk' is treated as a unique and interesting thing with a past, present and future – in an epic exploration of sustainability. Through baffling, eye-opening and often spectacular demonstrations, This Show is NOT Rubbish! aims to bring attention to the act of 'throwing something away', to convey information about the changing science of recycling (driven by innovation), and to highlight some of the surprising do's and don'ts of rubbish disposal. A vast collection of peripheral science topics are also explored.
Space School for Kids
Uni SA / Adelaide Planetarium
Four hour fun-filled space sessions for kids aged between 7-12 years at the Adelaide Planetarium. Attendees will join highly experienced astronomers to learn about the stars and make a constellation. They will then head into the Planetarium for an interactive session where they can marvel at the immense scale of the universe and observe the breathtaking beauty of the night skies projected on the eight-metre domed ceiling, as well as watching a full dome movie. After the Planetarium session, kids will have the chance to create their own Solar System using play dough and other materials, while learning the facts about each planet.
Discovering Astronomy Stargazing
Mid Murray Dark Sky Reserve
This stargazing event will take place in the River Murray International Dark Sky Reserve, Australia's first such Reserve which covers 3,500 sq/km and includes the River Murray. This event aims  to attract more members of the public to the wonders of astronomy and stargazing. Participants in the hands-on field activities will use tools associated with astronomy, astrophotography, telescope operation, star chart interpretation and measuring light levels. Lessons on the history of astronomy, including SA leaders within the field, current innovative developments, and education on light pollution will also be provided. The activity is planned to be held on the evening of 08 Aug 21 to coincide with the new moon.
Zoo Homes and Wild Homes
Zoos SA
Creating zoo homes – do try this at home! Will explore how the methods used at Zoos SA may also be applied at home with your own pets. Using examples of their own training approaches from Adelaide Zoo and Monarto Safari Park, they will demonstrate the origins of behaviour in relation to animal success in wild contexts, and will also examine the design of exhibits with an animal's welfare in mind.
and
Wild homes – reintroducing and protecting species in the wild: It takes hard work, strong partnerships and serious science to both return species to places where they have become extinct and to prevent species from going extinct in the first place. Zoos SA seeks to re-establish locally extinct species and bring back ecological function to affected areas in SA and to ultimately facilitate improvements in the resilience and adaptability into the system.
Science of Distillation
Barossa Library
Barossa Libraries and Barossa Distilling Co. are blending science and fun in an evening exploring the science of distillation. Attendees will learn how traditional distillation is fused with contemporary science to create the botanical flavours enjoyed today. Listen to dynamic gin makers of the Barossa region as you tour the historical 'Provenance' site and see distillation in action. Cast your eyes over only one of two original remaining stills in the world. Following the talk/tour, participants will enjoy a community trivia night which will cover wider aspects of science and promote the library's collection of science related books, programs and materials. 
Zoodle in the Pub
ZoodleTV
Live performance during National Science Week that will bring science and comedy together for a diverse audience. The interactive event will involve comedian, Eddie Bannon, and scientist, Chris Daniels, engaging in banter while drawing out the science behind viral animal videos that feature native Australian wildlife. Zoodle in the Pub (and the broader ZoodleTV project) is designed to engage audiences with the science and conservation of Australian wildlife. By using comedy as a vehicle the aim is to attract people who are not necessarily already engaged with science but who often watch and share viral animal videos or who simply want to be entertained in a pub environment.
Robot Day
Campbelltown Library
Robot Day activities will include: live Science Shows & Talks; Hands on Robot Themed activities; Interactive displays by local robotics groups; VR experiences; Robotic Challenge Arena for local clubs and schools to present their robots and robotic coding expertise; and many activities.
Science Week at Ancient World
Ancient World
Event 1: The Future of Space Travel: Science and Science Fiction, featuring Dr Patrick Neumann (Neumann Space) who will explore topics of space travel and unravel the science behind emerging technologies while separating (and exploring the similarities between) science from science fiction. Includes 2 other speakers and Q & A session with the audience.
Event 2: The Science of Flavour and Taste, featuring Associate Professor Susan Bastian (University of Adelaide, School of Agriculture, Food and Wine) + a chef + a mixologist. Learn about the science behind how we taste, what is it that makes up flavours, and how do people experience these differently. This event will feature opportunities for the audience to taste samples from these experts and will also feature a Q & A session.
Both events will be recorded and live-streamed.
Science in Football
Adelaide Crows Foundation
The Science in Football project will engage with families attending the AFL match between Adelaide Crows and North Melbourne.  The free event will offer parents and children the chance to engage in science and begin the discussion around STEM in AFL and potential careers and applications of science. A designated area will be allocated at Adelaide Oval encouraging families to come and try a range of science practical applications, including the Science of Hydration and the Science of Sugar in Soft Drinks.
Science is Child's Play
Hawthorndene Kindergarten
With the help of the parent community and other scientists, the kindergarten will hold an exciting community science sight that has become known throughout the local district and widely acknowledged for its unique nature. It will be an evening of interactive, hands on science activities suitable for younger children and their families. There will be science projects to complete, as well as exhibits and demonstrations in keeping with the theme of science learning through play. Volunteer presenters include lecturers, school teachers and scientists.