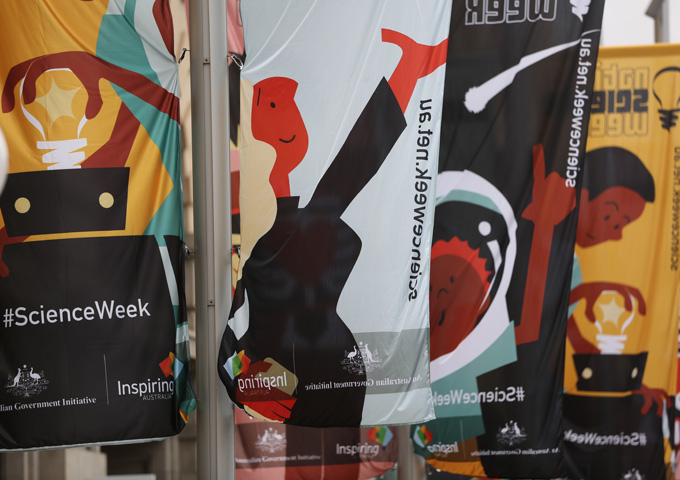 Thank you to each and every one of the 851 Australian schools who applied for school grants.
It is fantastic to have such a huge interest in running activities in schools during National Science Week.
Congratulations to the 365 schools that have been successful in receiving grants of up to $500 to help them conduct a range and variety of science activities during National Science Week.
Please note that the National Science Week in schools team were unable to award all applications, nor could they award all successful applicants the amount that they requested.
Recipients by state or territory
ACT | NSW | NT | QLD | Tas | SA | Vic | WA
AUSTRALIAN CAPITAL TERRITORY
Amaroo Preschool
Preschool students will work with older students from across the school in a peer-to-peer program to develop and experiment with science projects created during Science Week.
Belconnen High School
Science Fair.
Bonython Preschool
Drip, Drip, Drop! – Constructing a sustainable water system for the school garden.
Canberra Grammar School (Primary)
The Horizons Science and Engineering Club students will run National Science Week outreach activities.
Caroline Chisholm Senior School
Regional Science Fair – The Tuggeranong network will run a regional Science Fair that will include its eight primary schools and four junior schools.
Centre for Innovation and Learning
STEMCON 2018 – inaugural conference for selected year 10 students across the ACT network to attend a full day STEM conference.
Emmaus Christian School
Science Fair.
Erindale College
Science, Mathematics and IT Enrichment Day – a day of fun and challenging activities for high school and primary school students in our local area.
Franklin Early Childhood School
Series of investigations linked to the theme of Game Changers and Change Makers.
French-Australian Preschool
'Fête de la science' to foster an interest in science among our 3 to 5 years-old students.
Harrison School
A week of science investigations and challenges across lunch times to explore the nature of science and engage all learners.
Holy Family Primary, Gowrie
To run STEM activities through the school Peer Support groups (Vertical age groups)
Kaleen Primary School
Biannual STEM night – STEM night provides families and community members with the opportunity to immerse themselves in our interactive STEM projects.
Macquarie Primary School
Macquarie Primary Science Fair.
Marist College Canberra
Range of activities – Science quiz, student science demonstrations, science competition, and teacher demonstrations.
Mother Teresa School
Upper and lower primary grades will participate in a Science Fair / Exhibition titled 'Science Buddies'.
Mount Stromlo High School
Activities during National Science week relating to the celebration of the 50th anniversary of the Apollo 8 mission.
St Anthony's Primary School 
Ozobots, robotics kits and Spheros will be used in some challenges and problem solving situations.
St Francis Xavier College
Famous Scientist Scavenger Hunt.
St John Paul II College
The Science and Art Departments will co-run a series of STEAM activities.
Sts Peter and Paul Primary School
The Sts Peter and Paul STEM Science Expo – a wide variety of hands-on, fun and educational STEM-based science activities.
Taylor Primary School
School-based Science Fair – Students will complete projects and display these for the local community to come in and see.
Telopea Park School (Primary)
PROSTEM (Promote S.T.E.M. using Game Changers and Change Makers!) – a variety of activities over two afternoons for Yr K-3 families on and Yr 4-6 families.
Telopea Park School (Secondary)
Engineering Challenge. Yr 7 students will mentor/supervise Yr 6 students to carry out specific challenges that are STEM focused.
Theodore Primary School
A variety of science activities to extend students. Everyday class activities to include the possibility of producing a Science Fair entry.
Torrens Primary School
Enhancing bodiversity of bird life on the school grounds – Students will survey local bird life, identify and research desirable local parrot species and design appropriate nest boxes before Science Week.
Trinity Christian School
Rocketry for students in Year 7 to 10 during National Science Week.
University Preschool and Childcare Centre
Germs, Germs, Everywhere! – Over the week, the children will be learning about germs and hygiene.
Wanniassa School
P-10 STEMFest – The event will showcase STEM projects from both campuses to our community.
NEW SOUTH WALES
Anna Bay Public School
Robotics Olympics – students will participate in 'Olympic Learning Stations' developing their skills in coding using Spheros, robots, and Lego.
Ashfield Boys High
Science challenges including science atom scavenger hunt, paper plane building, bridge building with straws, paper boat water challenge, egg protector challenge, and candle making using scientific glassware.
Bankstown Montessori Preschool and Kindergarten
Students will experiment, plan and execute a Science Fair, which will be presented to the school community during Science Week. This science fair will be based around the theme Volcano so all experiment presentations will relate to this theme.
Barham High School
Creating a Facebook page and brochure about the science of our local area to be distributed in tourism outlets.
Binya Public School
Science Day to build on previous relationships and to promote science within our school and local community and local preschool group.
Blandford Public
Interschool Primary Science Day.
Bowral High School
STEMFest @ BHS for local primary schools – designed for students in Years 5-6 the STEMFest will provide hands-on activities in our labs and facilities.
Bulli Public School
Daily science activities during Science Week.
Bundarra Central School
Microbe plates and DNA modelling activities.
Canterbury Public School
Activities using Sphero Minis' facial recognition software. Students will upload footage of activities to our Seesaw platform.
Centaur Public School
Centaur Seniors – Creating critical thinkers of the future!  Year 5 and 6 students will lead and demonstrate science as a problem solving platform where creativity and critical thinking meshes together.
Clarence Town Preschool
It all begins with Observation! Students use their power of observation through a week of tinker tray provocations.
Coopernook Public School
Community Science Discovery Day.
Coutts Crossing Public School
Students will present experiments and information that show aspects of the contributions of scientists who are game changers. Students will explore the printing of 3D replacement parts for toys, microscopic investigations of elements of their school environment, experiments on gravity, magnetic fields, density and floating, electrical circuits, forces and simple coding activities.
Darlinghurst Public School
K-6 Science Fair – students will interview scientists at the local medical research centres near our school – The Garvan Institute, The Victor Chang Institute and St Vincent's Hospital.
EA Southee Public School, Cootamundra
Rotation of science activities in mixed year groups.
Eleebana Public School
Propulsion Power – students will design a vehicle/form of transport that can relocate a specific item across a designated distance. Each class, in collaborative groups, will design a vehicle or form of transport. They will build and test their class model and choose the most efficient model to compete in the school wide activity during Science Week.
Ellerston Public School
Inter-school science discovery day K-6 including design and building of catapults, musical instruments, lava lamps, milk carton generators, rain in a jar, solar ovens and rubber gloves.
Empire Vale Public School
Celebration of Sustainable Science – exploring the use of sugar cane as a sustainable energy source, creating a biofuel using sugar cane, glucose and yeast, through a fermentation process to possibly run a lawn mower.
Georges River Grammar
Building 16 prosthetic hands, from 3D printed parts, to be donated to those in need.
Gorokan Public School
Producing STEAM projects such as 'Metamorphosis in our frog pond' and 'Chemical changes in the kitchen'.
Harrington Street Pre-School
Water Works – Targeting science and engineering skills to design and build a working water distribution system from a teacher designed water tank to a community garden.
Helensburgh Public School
Science Fair – Other schools will be invited to visit and participate.
Hennessy Catholic College
Recycling cage for plastic bottles and cans – Students will construct the cages and conduct an audit of plastic, cans and bins mapped against student use of the school grounds.
Hill End Public School
Hill End Public School K-6 Combined Schools' Science Day – Hill End Public School will host three other small schools within our district for a full interactive day of science activities.
Hill Top Public School
Student science displays and/or experiments will be showcased – Students will be assisted and encouraged to develop interactive science displays to promote the role of science in day-to-day life.
Iona Public School
'Science Spectacular' – Roller Coaster Challenge – Students will construct a roller coaster to deliver a ball bearing from table height in the longest time possible.
Jesmond Early Education centre
Extending engagement with science and maths within the pre-school curriculum.
Jumbunna Community Preschool and Early Intervention Centre Inc.
Preschool Science Fair – A rotation of science experiences.
Kahibah Public School
Twenty-five hands on and interactive demonstrations for students to be engaged in.
Kanahooka High School
A week of engaging lunchtime science workshops and competitions.
Kincumber High School
A science 'Hall of Fame' will be created within the school – Stage 4 students will create a painted canvas and short biography as part of their research task on a famous scientist of their choice.
Kirrawee High School
Students will solve a variety of engineering challenges, such as bridges, rescue devices and earthquake proof buildings that promote collaboration and problem-solving skills through the scientific method.
KU Cheltenham Memorial Preschool
Preschool Science Fair – Collaborating with our local high school we will host a Science Fair on two afternoons during Science week.
KU Peter Pan La Perouse Preschool
'Pre-schooler's Colour and Light Projection Pageant' which will highlight to the children the way in which STEM can enhance their inventiveness and imaginations and give them inspiration and momentum for future work.
Kyogle High School
Game Changers and Change Makers STEMxpo.
Kyogle Preschool
Science Spectacular – Pre-schoolers will explore and discover science through simple experiments. i.e. simple machines, walking water, Smartie party, mini volcano, lava Lamps, Humpty Dumpty and soap boats.
Lane Cove West Public School
LCWPS will focus on the cartoonist, engineer and inventor Reuben Goldberg, and the Rube-Goldberg machines, which are named after him. We will have a whole-school Rube-Goldberg Day.
Lismore Preschool Inc.
Extending the learning opportunities for the pre-school's current native stingless beehive. In August the hive will need to be opened, emptied (by a professional) and procedures put in place to split it into two hives (including safe movement of a new queen). This is a wonderful opportunity for children to build on their current understandings of the nature (social and structure) of native bees and the historic and contemporary use of their honey and wax (including for Indigenous medicines and instruments).
Lowesdale Public
STEM Day for students K-6 with visiting scientists – Students will take part in bridge building, dropping egg parachutes, boat challenges, floating and sinking, balancing robots, magnetic exploration).
Lucas Heights Community School
Students will undertake a Scitech Matters Challenge Week with three days of interactive STEM activities
Manly Village Public School
You can Change the World! – Exploring science innovations that have made our world a better place. Each class from K-6 will collaborate in groups to devise a new science invention to change the world in a positive way.
Marian Catholic College, Griffith
Students will learn about the dependence that Australian science has on space technologies, including GPS, satellite communications and imaging and the dangers that increased levels of space junk will have on the ability for humanity to progress into the future.
Menai High School
Science Escape Room – Students will take part in a science escape.
Montgrove College
Science Exhibition – Year 6 students can display their projects/investigations into electricity in everyday designs. Students will explore electricity and also look at ways to show conservation though the use of solar power.
Mount St Thomas Public School
Chariot racing event – Students will be given a design brief to make a chariot or shell and will use robotics equipment as the 'motor' to drive their chariots.
Mountain Preschool Lowanna Inc.
Creating a solar powered oven for the children to make their own nachos. This will involve converting pizza boxes into a solar oven using the box, foil and glad wrap.
Mungindi Central School
Building a robotic artist to create a take home artwork, building a hydraulic arm to 'grab' an item, designing and developing an interactive video game using Bloxels, creating a LED wired name-tag, building a solar powered car for a Solar Challenge and a Great Sphero Code Challenge Grand Final.
Narellan Public School
Introduction to Spheros – Students will learn how use coding to develop engineering, mathematical thinking, computational thinking and coding.
Narrandera East Infants School
Exploring magnetism, surface tension, static electricity and microscopy. Using natural resources and other materials, students will undertake challenge-based activities as well as using Makey Makeys and other equipment for coding.
Orange Grove Public School Preschool
Hands on learning related to floating/sinking, measurement and capacity, movement in water i.e. water wheels such as those found on paddle boats, power generated by water, how do fountains work, sustainability such as recycled water and tank water, as well as the environmental aspect of keeping our water ways clean.
Peakhurst South Public School 
Interactive expo where students design their own science experiments to demonstrate to K-4 students.
Peats Ridge Public School
Bees! – Dehydrated bee vomit, investigation and biosecurity competition, bush tucker and useful natives audit. Investigating Bees, researching hive design and developing a beehive on site.
Pelican Preschool & Long Day Care @ Shellharbour
Students will explore UV light (and other accessories) to see germs on hands and surfaces. Students will learn good hand washing and hygiene practices.
Pennant Hills Public School
Makerspace evening to engage in STEM through planning, designing and creating.
Pinjarra Pre-School, Pymble
Investigating the impact of plants in improving air quality in the pre-school rooms. The students will research and choose the plants that would help with this project.
Plumpton High School
Leading up to Science Week students will lead a #hashtag campaign, evoking student engagement and curiosity. A mural/tribute to Game changers/Change Makers will be installed which will include pictures of scientists and innovators.
Port Macquarie Community Preschool
Science Fair – Through a science fair, students will engage in a variety interactive learning experiences.
Prairiewood High School
Importance of sustainability – We will use specialised yellow bins for students to dispose of recyclable drink containers that are eligible for a 10c refund. The money generated from this initiative will go towards the installation of filtered taps which will be installed around the school.
Rozelle Public School
Plants – Propogation of succulents in glass jars (terrariums). Hands on examination/observation of roots, stems and leaves. Learning about plant care.
Sathya Sai College
Water Bottle Rocket Launch – The aim of this activity is to create a bottle rocket that will fly straight and stay in air for as long as possible. Students will make rockets using plastic bottles and use cardboard as fins and nose cones.
Seaham Preschool 
Create an area for conducting open-ended science activities on a regular basis with an emphasis on light, patterns and life cycles of animals/insects for Science Week.
Shellharbour Anglican College
Students will conduct a series of experiments regarding various aspects of vehicle design. Experimental data will be processed mathematically to find optimal values and the Design Process (DT) will be used to design the actual cars.
Shine Bright Early Learning Centre
Science Fair – 'Ideas that changed the world as we know it' including hands-on experiences in the areas of technology, engineering, mathematics, medicine, marine science and agriculture.
Shore Preparatory School
Year 6 students will design interactive projects using Makey Makey kits. These projects will then be shared with students in Years 3, 4 and 5 during Science Week in a Science Fair experience.
Smith's Hill High School
Students will build shoebox-sized, balloon powered cars and race them. They will also design and build robotic arms.
Soldiers Point Public School
A 'Creating Tomorrow's World' Construction Day.
South Wagga Public School
STEM Day – Students will investigate the properties of matter through guided lessons which will provide them with the background knowledge to lead and support younger students.
Sts Peter and Paul Catholic Primary School
Science innovation challenge with engineering tasks including constructing catapults that can launch a tennis ball into a 2m-diametre basket from set distances.
St Bede's Catholic College
Science Fair – Students will be offered opportunities to make links with their learning, locally and globally, and to develop partnerships with community members.
St Catherine's Catholic College Singleton
Festival of Science – K-2 students will participate in hands-on activities and experiments, including dissections, pH indicators, elephant toothpaste, stick insects/reptiles.
St Francis Catholic College
Years 5-8 will conduct eye dissections and learn about the work of Fred Hollows in restoring vision. Years 3-4 will conduct STEM challenges such as building bridges and boats to hold the most weigh. K-2 will take part in STEM challenges.
St Francis Xavier Primary School
Students will be running a variety of hands-on activities demonstrating various science investigations. The activities will cover mixing colours, melting, making and learning about fossils, mirror pebbles, sink or float, making 3-D wooden rockets and slime.
St Ives Preschool Kindergarten
'Science is Easy' – Exploring simple science with an invited family member or special friend. Stations will be set up to explore light/ colour and sound, magnets, electricity and movement.
St John Vianney Primary School Morisset
School Science Fair.
St Joseph's Catholic Primary School South, Murwillumbah
Joey's Kids Teach Coding Day – A day for family members to learn from their children about coding – what it looks like, how it works and its uses in the real world.
St Joseph's Primary School East, Maitland
Step into STEM – Students from Kindergarten through to Year 6 will be involved in a variety of activities to engage them in the discovery of science, and living in the shoes of change makers.
St Mary's Primary, Grafton
Each class will participate in STEM activities to explore the impact that science, engineering, technology and mathematics has on their lives. We will develop a makerspace culture within the school community through making, learning, exploring and sharing using low tech tools.
St Mary's Primary School, Warners Bay
National Science Week STEM Buddy Challenges – Students from K-6 will participate in a morning of STEM challenges at school.
St Matthew's Catholic School 
Students will investigate eco-friendly building designs that could be incorporated into the design of a 'future/new school' and will produce the design plan for one component.
St Peter's Primary School Stockton
Bridge building – Students will investigate natural and processed materials to build a bridge to meet set criteria.
Tara Anglican School for Girls
'Close Encounters' will be a night to celebrate all things astronomy, which will be run by our SPOT (Space Odyssey Team) club members and will feature lectures and Q&A sessions with invited astronomers, telescope viewing, activities for younger children, a planetarium and even a few Star Wars-related surprises.
The Channon Public School
Students will conduct science and engineering activities. The students will prepare their presentations in small groups and present scientific reports while conducting their experiments to their fellow peers, the staff and wider community.
The Crescent School
Around the house science fun – Students will use STEM activity boxes appropriate for our special school students. They will conduct experiments relating to pushing and pulling objects.
The Rivers Secondary College Richmond River High Campus
Students will explore Scinema, robotics, stem cell ethics, plant genetics, the use of bionics and will create graffiti art.
Towamba
Robotics across all year levels – Upper primary will mentor and teach the early years students using WeDo kits.
Tucabia Public School
A showcase of coding and robots in the K-2 classroom environment through problem solving real life situations. K-2 will demonstrate to a community audience real life problems they have identified and will explain how they chose to use robotics to solve the problems.
Tuggerah Lakes Secondary College, Berkeley Vale Campus
3D printing solutions: students, in groups, compile draft designs on paper then design their product on Tinkercad, then individually 3D print their product and design a poster which explains what they have printed.
Tuggerah Lakes Secondary College, Tumbi Umbi Campus
Students in the Year 9 iSTEM elective class will plan a range of activities to conduct with Year 7 students.
Warilla Baptist Pre-school
Activities will be set up to allow students to make volcanoes, flying objects, and shadow puppets.
Warilla North Public School
An Island is in danger of being swamped by the Pacific Ocean – Using STEM skills and the design engineering approach, makerspace equipment and resources gathered from the community, students will attempt to solve four challenges. PAR and the Indigenous community will be asked to bring their expertise and experience to bear in the designing process and to hear the student's final solutions.
Warrawee Public School
Science Fair and Experiment Tour with guest speakers.
Willawarrin Public School
Students will undertake a variety of experiments and hands on science activities, including solar energy circuits, investigating contents of soil samples (taken from school gardens), using microscopes, and exploring changing states of matter.
Willyama High School
Various activities – Immersive VR experiences, neural knitting, paper planes throwing competition and science dress-up day.
Wilton Public School
Students from Years 4-6 will direct a Science Fair by leading STEM activities and interactive displays/experiments which will have been researched, designed and prepared in class.
Wingham Brush Public School
Game Changers of Matter – Classes will create a display focusing on a prominent scientists who have contributed to the chemical science fraternity (e.g. Thomas Graham, Robert Boyle, Joseph Priestly). These will be displayed during a Science Fair day and will also be shown during Education Week.
Woolomin Public School
Students will research revolutionary scientists throughout history over the weeks leading up to Science Week. They will then assume their scientists persona while people visit their exhibit: they will need to inform people of their research, demonstrate their discovery/invention/theory and answer questions from the perspective of their scientist.
Woy Woy Public School
Electric Vehicle Challenge – Students will utilise mini electric vehicle kits to explore solar power and the engineering challenges of making and racing an electric vehicle.
NORTHERN TERRITORY
Acacia Hill School
Family STEAM Day.
Bakewell Primary School
Whole school Science/STEM Day.
Casuarina Senior College
Making a parabolic solar cooker.
Darwin Middle School
Science Fair.
Driver Primary School
'Game of Drones' Fair.
Durack Primary School
Micro Bits moisture and temperature investigations.
Forrest Parade
Change makers in our own Forrest garden.
Girraween Primary School
School farm open day.
Good Shepherd Lutheran College
Daily science activities during Science Week.
Gray Primary School
Bridge building competition.
Henbury School
Annual Science Fair.
Jingili Primary School
Primary Science Fair.
Karama School
Planting a native garden based on the Larrakia calendar.
Katherine South Primary School
Mad scientists meet-and-greet.
MacFarlane Primary School
STEM education program using Ozbots in breakfast area.
Malak Primary School
'Science in our Lives' Day.
Maningrida College
The Diving Tarantula Showcase.
Manunda Terrace Primary School
Whole school Science Expo.
Mataranka School
STEM hub day for surrounding remote schools.
Nakara Preschool
'Wild Thingz' – learning about native Australian wildlife.
Nakara Primary School
Rocket launching in After School Science Club.
Nhulunbuy Primary School
Where is Science? Science fair day.
Nightcliff Primary School
School forest – plant native trees to restore habitat.
Owen Springs Education Centre
Full day of science activities.
Pine Creek School
Science Week event with local schools.
Sacred Heart Catholic Primary School
Rotation science – investigating and experimenting.
St Joseph's Catholic College
Making an invention with 'junk' or recycled materials.
St Francis of Assisi Catholic Primary School
STEM Expo.
St Mary's Catholic Primary School
Sustainability Superheroes Week.
Stuart Park Primary School
Special class lessons on the National Science Week school theme and hands on activities and a science show.
Taminmin College
Science Week Spectacular – a week-long event.
Taminmin College
Science competition.
The Essington International School 
Science Expo.
The Essington International School 
Building an aquaponics system.
Wulagi Primary School
Explore hidden worlds using microscopes.
QUEENSLAND
AB Paterson College 
Banjo's STEAM Arcade, will launch STEAM programs across our Junior School (Prep to Year 6). During National Science week students from Prep to Year 12 will research arcade style games then plan and design their own arcade game made from mainly recycled materials.
All Saints Anglican School
To purchase materials to run the sessions, to produce a short film based on the sessions to promote science in the school.
Alpha State School
Who did it? Running a whole day where students, parents and members of the community have to solve a mystery.
Blackheath and Thornburgh College
Rural Futures – Game changers and change makers with guest scientists, Rural Innovation Fair, and family science evening.
Blackwater State High School
The Blackwater State High School Annual Science Night.
Bowen State School 
Bowen Science Day – rotating science activity day.
Caboolture Special School
Science activity relating to push and pull using different types of vehicles and finding out which vehicle will travel the furthest down a ramp.
Capalaba Kindergarten
Creating a backyard pond (mini-ecosystem).
Charters Towers State High School
Family Science Evening/Science Experience Night.
Collinsville State School
Collinsville State School Science Fair
Deception Bay State School
Game Changers and Change Makers Fair.
Dimbulah State School
Dimbulah Science Fair – Year 10s will host a science fair with interactive activities and competitions to be attended by all year levels.
Dysart State School
Dynamic Dynamos – Students will use a dynamo attached to an exercise bike to generate kinetic energy, converted to electricity to power a 'Scalextric' toy car on a track.
Earnshaw State College
Solar powered cars.
Gaythorne Community Kindergarten
Science Week "Stop and Swap" experience – We invite our families to come in, engage with STEM concepts and support the children.
Helidon State School
STEAM Day.
Highland Reserve State School
STEAM/Science Night.
Islamic College of Brisbane
Primary Science Fair.
Jambin State School
Small Schools STEM Spectacular – Five small schools in the Callide Valley CQ, will attend Jambin SS to participate in a day of STEM rotations.
Jinibara State School 
Game changers throughout the ages – Activities that link with famous inventors will be done in the Makerspace area.
Kingston State College 
Kingston State College STEAM Challenge 2018 for Years 7-12.
Kirwan State Primary School
Science show, 'One Little Spark' to look into the game changer that is electricity.
Longreach State High School 
Change Maker Science Festival for senior school students.
Mackay State High School
A week-long event of holding lunchtime practicals not normally performed in the curriculum.
Mango Hill State School 
Inaugural Mango Hill State School STEM Challenge.
Millchester State School
Science fair for our pre school children guided by Year 5 and 6 students.
Mooloolaba State School
SolarBuddy Lights – DIY solar light kits.
Mount Gravatt High School 
Digital Interactive Storyboard – Year 7 students will be asked to develop a digital interactive storyboard based on an historical or contemporary change maker.
Normanton State School 
Our school robotics club would like to build and code bigger and better robots for robot challenges. Students from across our school both participate in robotics club or come to watch the robot battles.
Oxenford State School
Oxenford Riverland – Oxenford SS students will work collaboratively to create an imaginary new residential development nestled on vacant land along a section the Coomera River.
St Dympna's Parish School
Whole day Science Convention – Students will be invited to research a topic of interest. Their display will be multi-modal and may involve 'live' demonstrations throughout the day. Although much of the work will be carried out at home, the children will be required to attend the weekly science club to feed back their research and display ideas.
Vera Lacaze Memorial Community Kindergarten
'Building STEM skills through play' – Introduce children to simple robotics and programming using Bee Bots and related resources.
Wadja Wadja High School
Study on the water quality of our local swamp area within the community.
Yeppoon State School
Yeppoon Science Expo will include interactive displays from Council and local environmental groups, along with interactive activities led by the schools STEM club.
Yuleba State School 
Change Maker Science Festival for the entire school.
SOUTH AUSTRALIA
All Saints Primary School
A Science Fair of activities.
Avenues College
STEMlympics for Years 8 to 10
Cardijn College
Use SolarBuddy kits to investigate solar panels.
Clovelly Park Primary School
United by Science – Year 6/7 students will lead Science stations set up in the gym. These older students will have investigated and set up an activity/challenge using robotics.
Cowell Area School
STEM 'Come and Try' activities and exhibition.
East Murray Area School
Karoonda Area School students will join East Murray Area School for two workshops presented by SciWorld on light, chemistry, forces and energy.
Elizabeth East Primary School
Game Enablers Expo – Upper primary classes develop game controller and/or game for a person with a disability.
Elliston Area School
Science afternoon – Experiments, challenges and problem solving activities that students will rotate through in mixed age groups.
Faith Lutheran College TLS Campus
Creating wicking beds for our school vegetable garden.
Findon High School
STEMathon – Range of activities including STEM Shark Tank (Year 9), Avatar (Year 8) and Moments of Discovery activities (Year 10) to be showcased.
Galilee Catholic School
Galilee Youth Environment Committee (YEC) comprising of Year 5, 6 and 7 students will be organising and implementing a 'Kids Teaching Kids sustainability and science focus on energy' during Science Week.
Garden College
Science fair. Students will work on different projects on renewable energy, physical sciences and mathematics.
Hawthorndene Primary School
Students in Years 3-7 will work collaboratively in small groups to identify situations where the design of conventional game controllers restricts the access of people with special needs.
Highgate School
Science Expo – A science afternoon to display student entries into our school wide science competition based on the theme of science based games.
Hillcrest Primary School
Whole school STEM Challenge and Year 6/7 students will lead an experiment in classrooms across the school.
Kangaroo Island Community Education, Kingscote
Middle years STEM Day – Different activities related to STEM.
Kangaroo Island Community Education, Parndana
Maths and science challenges for Years 6 to 9.
Klemzig Primary School 
Create vertical gardens with students as a lunchtime activity. Each class will have a garden bed to grow produce.
Loxton High School
STEM activities – Year 9 will develop a mechanical hand and make their own prototype. Year 10 will look at use of algae for food and energy production.
Loxton Lutheran School
Ships Ahoy! – The 3/4 class will challenge a local DECS school to plan, design and engineer Sphero powered pirate ships to transport doubloons.
Margaret Ives Community Children's Care Centre
Parents with scientific backgrounds (such as pharmacists and vet nurses) will read books, share information and engage the students in experiments and experiences.
Morphett Vale East School
'Science Alive' day as a culmination of Science Week activities. Classes need to work together to create an interactive display based on their chosen topic for other classes and the school community to visit.
Munno Para Primary School
Gardens of Scientific Delight – Develop a 'Bush Tucker Delights' garden involving the Kaurna community and a 'Sensory Delight' garden.
Murray Bridge Preschool Kindergarten
STEM fun for girls (and boys!) family event with activities that centre on learning science through play.
North Haven
North Haven Science Extravaganza.
Northfield Primary School
Science Expo – Year 6/7 students will complete and inquiry research project based around a scientific question of their choice.
Nuriootpa High School
Using Hummingbird kits to kick-start the school's interest by promoting the coding and STEM with a robotics focus. Students will be set a couple of challenges to solve a problem.
Ocean View College B-12
Nature by Play Design – Years 6 to 9 students will run a competition to design and build a nature play area for the school.
Orroroo Area School
STEM Around Us – A day where learners take part in a range of teacher, student and community run activities that investigate how STEM applies to our lives in a small remote town. Activities will include demonstrates, hands-on investigations and problem solving challenges.
Our Lady of the Sacred Heart College, Enfield
The science faculty will provide all students with the opportunity to be engaged in various activities and experiments for an entire week including a STEM bridge building challenge, a visit by SAAB Australia to showing latest technologies in augmented reality devices and guest speakers from Uni. of Adelaide.
Parafield Gardens High School
STEM Student Leaders Forum – STEM leaders from PGHS Yrs 8-10 and primary school Yr 6/7s will help run workshops (with specialist teachers) around a STEM focus including Digital Technologies (Robotics) for local primary schools.
Parafield Gardens R-7
Science Spectacular 2018 to celebrate game changers who have played a pivotal part in shaping the Australian scientific landscape.
Prospect North Primary School
Game Changer: Student Workshop Day – Students will choose 2 x 90 min workshops that student leaders and teachers will plan and run together based on historical and current game changers in various STEM fields.
Risdon Park Primary School
One Week of Wow! – Lunchtime 'Come and Try' activities for the whole of Science Week.
Salisbury Park Primary School
The History of Science Invention – Key inventions and discoveries made in science. Science rotations. STEM focus and multi disciplinary.
Springton Primary School
To facilitate a school partnership-based recycling system that manages the waste from 3D printers across multiple sites, and converts it back into usable 3D printer filament. This will manage waste from this learning resource across several sites.
St Augustine's Parish Primary School
Science Week exhibition focusing on game changers and change makers.
St George College
R to 12 students will take part in a variety of activities including a display of student work (posters and models), a Science Challenge Quiz and science competitions (guessing what is displayed on photos etc). Science boxes will be developed for primary students (magnets, skeleton, microscope, toy car, plant).
St Martin's Lutheran College
Investigating VR science apps and videos. Using VR clips on the solar system, glow worm caves and great white sharks.
St Spyridon College
Whole-school series of STEM Challenges to promote problem solving. Practical based challenges will be set for each year level.
Stirling Community Early Learning Centre
SciWorld Science Show then continue the science learning throughout the week with a range of science experiments across the centre, run by our educators.
Streaky Bay Area School
Science Showcases – Year 8 to 10 students will visit younger students to present interactive shows and activities.
Sturt Street Community School
In Terms 2 and 3 students will work on science/ technology challenges. These will culminate in a Science Open Day in Science Week.
Swallowcliffe School R-7
STEM Fair – Classes will rotate between the different activities throughout the day, which will include logic puzzles, building challenges, food science, coding and robotics, and problem-solving tasks.
Two Wells Primary School
Science evening for students and families – The science room and new STEM Works Space will be open. Students will present their work and our school's proposal for the SA Schools Space Mission.
Uraidla Primary School
Demonstrations and experiments on scientists in action, biology, chemistry, earth and space and physics.
Warradale Primary School
Whole Day Science Fair – Students (reception to Year 7) will sign-up for various hands-on science experiments and hands-on STEM activities in 25-50 minute workshops throughout the day.
West Beach Primary School
Bye Bye Bushfires! – Year 5 to 7 students will be set the task of developing an anti-bushfire system using current and perhaps future technology to protect the Hills area. They will use technology, maths, science and art to create the systems to protect and regrow the area.
Williamstown Primary School
Science Week Fair for P to 7 students and families. An upper primary class will lead a range of science activities.
TASMANIA
Albuera Street Primary School
Albuera's 8th annual Science and Sustainability Fair 2018 – Workshops and booths will be created by each class to celebrate their science learning and give students the opportunity to share their learning.
Andrews Creek Primary School
Andrews Creek Bridge Challenge – Small teams of students will be issued with a set of building materials with the goal of making a small bridge across our creek.
Bothwell District High School
Science Fair – Our fair will involve our Year 7-10 students presenting concepts to our K-6 students. Students will work around the fair in small groups, on a rotation basis.
Bracknell Primary School
Family Science Night – We will invite our students' families to an interactive night of age appropriate, fun, science curriculum related activities in our classrooms.
Burnie Primary
Annual Science Expo – All students will participate in hands-on science learning through a 'kids teaching kids' experience.
Campania District School
STEM Open Day – The whole school community and general public will be invited to view STEM activities that the students have been involved in.
Campbell Town District High School
'Eggscellent Week' – CTDHS is a rural school that has recently built an outside classroom. During Science week we would like to introduce poultry. Poultry would allow all grades to learn about biology, reproduction, food production and life cycles, whilst turning garden beds and keeping down the pests.
Dunalley Primary School
Be a Science Buddy – All students, Prep-Year 6, will be a peer teacher, teaching their student buddy about science in our school.
Edith Creek Primary School
'Tell me a Tale of Science' – The school will hold an open day where parents, grandparents and family members are invited to come in and share books (both fiction and non-fiction) containing science content with their children.
Exeter High School
Whole day science event conducted at Exeter High School by Year 9 and 10 students that will allow primary school students to experience the fun side of science while learning important science concepts of chemistry, physics and biology.
Hilliard Christian School
Kindy will explore a range activity stations with their class and their buddies from different year groups as well as participating in whole school initiatives.
Huonville High School
Recycled Land Yacht Challenge – Students from nine schools in the Huon Valley will be invited to design and construct 'land yachts' made from recycled materials.
Invermay Primary School
Interactive STEM Fair Game Changers and Change Makers – Our school will host a community event to showcase our student's work in STEM and the value of hands-on learning activities and inquiry-based learning.
John Paul II Catholic School, Clarendon Vale
Whole school 'Science Discovery Day' where classes rotate through a number of activities and explorations learning about the many ways science influences their daily lives.
Kings Meadows High School
'STEAM Real World Problems Challenge' led by STEAM extension program students.
Mount Carmel College
STEM Fair 2018 – All classes, ELC to Yr 10 will cycle through the activity stations, set up in the labs, hall and in our makerspace.
Mowbray Heights Primary School
Science Expo – We will have many displays and activities that follow the theme, as well as individual teachers each organising a hands-on activity to share with all visitors.
New Norfolk High School
STEM lunchtime activities including a paper plane competition, science demonstrations, famous scientists quiz, science relay, science race around the school and engineering competitions.
New Town High School
Sustainable Science – A series of events will be held throughout the week to engage the school community.
Newstead College
Science Showcase – Primary and secondary schools in Launceston will be invited to enter a project of their choice that demonstrates a particular science or mathematics concept.
Port Dalrymple School
Port Dalrymple school's first ever science fair for our primary students utilising a group of our senior students and representatives from local industries to run a series of strategically designed activities to engage our junior school in science.
Queechy High School
Tasmanian Engineering Firsts! A focus on a 'local' first – Launceston, in 1895, was the first city in Australia (2nd in the world) to be lit by a publicly owned hydro electric supply 'Duck Reach Power Station. Students will design and construct their own turbine and check its efficiency by collecting data using electronic equipment.
Ravenswood Heights Primary School
Ravenswood ScienceCon – Whole day of science related activities for Kinder to Year 6.
Ridgley Primary School
Science Expo – Students will be challenged to plan and implement a range of activities appropriate to each specific grade level highlighting sustainability now and into the future.
Riverside Primary School
Local science experts from a variety of fields will be invited to come along to our school to share, demonstrate and explain their job and how it links to science.
Rokeby Primary School
Science Fair – The whole school community will be bought together for Science Week with an interactive 'Science Fair' to enable children and families to participate in 'hands on' activities that promote science in everyday life.
Rosebery District High School
STEM Family Challenge Afternoon – Parents and community members will be invited into the school to participate in several STEM challenges with students.
Rosetta Primary School
The Wonderful Women of Science – Each class in the school will focus on the achievements and impact of a significant woman or group of women in the world of science.
Scottsdale High School
Scottsdale STEM Olympics – Students from science classes will elect to compete in a number of school wide challenge tasks held in National Science Week.
Snug Primary School
Starlight Science Fair – An amateur astrological society will provide telescopic viewings and interpretation of the night sky for a community event.
Somerset Primary School
Making Changes, Making Games STEAM Challenge – A whole school STEAM challenge to develop a game or display, which highlights the benefits of reusing and recycling.
St John's Catholic Primary School, Richmond
Science Fair – As part of a culminating performance to a range of science units, students in Years 2-6 will have the opportunity to engage/participate and lead a range of science experiments in our School Science Fair.
St Mary's District School
A Science Spectacular Show and Fair will be presented by secondary students (with science teacher support) for the primary school classes. The community will be invited to attend.
St Paul's Primary School, Bridgewater
STEM Immersion Day – A science experiments and investigations round robin day will be run by Year 5 students. All classes from pre-primary to Year 6 will participate and spend the day immersed in science.
Taroona Primary School
Bubbles: Lets Investigate! The whole school will participate in a Science Expo that will involve a range of bubble Investigations.
Trevallyn Primary School
STEAM Expo – Classes will display work, research investigations and provide hands-on learning opportunities for other classes to try.
Warrane Primary School
Science Fair – Students will be involved in participating in different Science activities over the day to highlight science and its importance in our lives with a focus on this year's theme.
VICTORIA
Alice Miller School
Monitoring bush animals.
Allansford and District Primary School
Cluster STEM action day.
Australian International Academy, Caroline Springs Campus
Gardening week.
Bacchus Marsh Primary School
Food for Thought Café – reuse and recycle.
Bittern Primary School
Water conservation.
Cape Clear Primary School
Building a small aquaponics system.
Carnegie Primary School
Talking to a NASA astronaut.
Chelsea Primary School
Working with a Korean primary school using the program 'Zoom'.
Chewton Primary School
Working with an aboriginal leader and weed forager.
Cobains Primary School
Rural schools combined day.
Colbinabbin Primary School
Rural schools combined day.
Collingwood Alternative School
Developing a food garden.
Edgars Creek Primary School
Developing students' own video games using tactile and ICT tools.
Elmhurst Primary School
Science around us, science above us.
Emmanuel College
Looking for the heat thief.
Epping College
Using digital technologies to understand real life situations.
Fairfield Primary School
Applying science to the global community.
Horsham Secondary College
Science Extravaganza.
J.S. Grey Kindergarten
Hatching chickens.
Macedon Primary School
Studying the environment using drones.
Maiden Gully Primary School
Design and construction.
Mentone Girls Grammar School
Female scientists meeting year 11 and 12 female students.
Mill Park Secondary College
Prosthetics.
Mitta Mitta  Primary School
Developing a meteorological station.
Moolap Primary School
Bringing light to impoverished communities.
Mount Alexander College
MAC science showcase.
Mount Evelyn Primary School
Changing the behaviour of drivers.
Napoleons Primary School
Recycling plastics.
Northern Bay P-12 College
Biotechnology a life saving science.
Northside Christian School
Sustainability around the environment.
Notre Dame College, Shepparton
The fascinating world of insects.
Panton Hill Primary School
The creation of an experimental play area.
Parkmore Primary School
Developing a small community garden.
Patterson Lakes Primary School
Creating a STEAM experience.
Phoenix P-12 Community College
STEM reading and design challenge.
Port Melbourne Primary School
Creating a sustainable future.
Portland Bay School
Constructing an aquaponics garden.
Preston South Primary School
Looking at the environment using digital microscopes.
Rochester Secondary College
The world of physics involving the local primary schools.
St Bernard's Primary School, Coburg East
Setting up a sustainable garden.
St John's Regional School
Using VR to gain insight into STEM related subjects.
St. Michaels Parish School, Ashburton
How science can help people living with disabilities.
Stawell 502 Primary School
Making insect hotels.
Tawonga Primary School
Making pancakes using pedal power.
Tempy Primary School
Exploring space beyond the moon.
The King David School – Pre-school
Pre-schoolers doing science with their grandparents.
Warrnambool East Primary School
Family science night involving an aerial repopulation strategy, entomology and looking at jobs for the future.
Wellington Secondary College
Creating an enhanced species.
WESTERN AUSTRALIA
Bannister Creek Primary School
Super Science Day – Students from PP to Year 6 will participate in a tabloid science day.
Boddington District High School
Primary 'Elastic-band Powered Car' and high school 'Land Yachts' Competitions.
Churchlands Senior High School
Run 10 minute 'Introducing (insert Scientists name)' session in each science lesson. Students and teachers will take part in a quiz and vote on the top six science game changers of all time. Art classes will then produce themed graphic designs to represent each of the top six scientists work. The six best designs will be printed and framed and hung in a gallery walk in the corridor of the new science block.
Donnybrook District High School
Polymers! In a whole school celebration of Science Week we want to make different types of polymers.
Endeavour Schools
Science class rotations – Hands-on science activity in all classrooms.
Forest Crescent Primary School
Science Fair – Year 6 students will be organising science activities for the other year levels to participate in during Science Week.
Goldfields Baptist College
GBC Science Festival – A week-long immersive science festival that engages community STEM professionals with the students of our school and our community.
Halls Creek District High School
Science Fair and astronomy night.
Hilton Primary School
A day of interactive rotations that focus on electric vehicles.
Hollywood Primary School
Science Faction Carnival – This will be similar to a sports carnival but points will be awarded based on the ability to complete the challenges with accuracy, creativity and speed.
Honeywood Primary School
Whole school science day as well as lunchtime activities throughout the week.
John Wollaston Anglican Community School
Using Google Cardboard headsets, the Google expedition's app and student smart phones, we will conduct a series of virtual reality classes.
Kalamunda Senior High School
A set of hands-on, engagement focused science activities to excite students about science during Kalamunda Day.
Kununurra District High School
Week long celebration of National Science Week including a bridge building competition, an interactive lab session run by our Yr 9 students for our younger students and science-based food for students to try in the canteen.
Leeming Senior High School
During after school workshops students across years 7-9 will research the application of new technologies and make predications on how these technologies will change the world in the future to address the theme of Game Changers and Change makers.
Mandurah Catholic College
Science Week Games Arcade – Creating innovative game controllers using Makey Makeys, building pinball machines and pool tables out of recycled materials.
Miling Primary School
Community Science Afternoon – Senior students will lead the junior students and parents/community members in a series of different experiments that they will rotate through throughout the afternoon.
Mundaring Christian College
Student digital newspaper launch and all-school communications day, participating and presenting experiences and activities to showcase different forms of communication.
Newton Moore Senior High School
Running MakeyMakey sessions, along with spatial awareness training and allow our Aboriginal girls STEM project to be showcased.
Oakwood Primary School
Garden Gala Day: create a garden area in our playground to encourage our students to observe and be part of the growing process.
Ocean Reef Primary School
Dream and Sail Away with Awesome Science @ Ocean Reef Primary School – Hands on science tabloid of investigations and a cardboard miniature boat building competition to implement STEM skills and to celebrate National Science Week 2018 along with our school links with the Australian Navy.
Our Lady of Good Counsel
Science class rotations including children creating beeswax covers as our school is trying to become waste free.
Paraburdoo Primary School
Paraburdoo Primary's Science Spectacular – Lots of experiments.
Perth Individual School
Shared projects – Science Fair where students display self-directed projects based on the chosen theme, which have a participatory element for younger students.
Riverton Primary Campus
Whole school from P-6, including the Special Education Centre, will be constructing jumping bugs using recycled material and suction cups.
Rockingham Early Learning and Child Care Centre
Create a barefoot sensory path meandering through a sensory garden to provoke curiosity and conversation.
Roseworth Primary School
Whole school biology investigation.
St Francis Xavier Primary School
Parent and Child Stargazing Night with Geraldton Astronomy Group on school grounds.
St Stephen's School, Carramar
All Year 7 to 9 students will research an innovation in the fields of renewable energy (Yr 7), transportation (Yr 8) and medical technologies (Yr 9), then build an annotated and labelled model of the innovation.
Wanneroo Secondary College
Wanneroo STEM Fair – Running an interactive, game-changing science/robotic fair featuring robotics, 3D printing, our very own student projects, chemistry demonstrations, physics and biology displays and other interactive activities such as virtual reality expeditions.
White Gum Valley Primary School
A range of Game Changers have been selected and an age relevant activity has been chosen. Bridge building, robot designing, boat making, forensic evidence collecting, animal creating, plane designing and making are just some of the activities planned.
Wilson Primary School
Four rotational activities for the middle and senior school, which will empower students to think creatively and critically about how to generate sustainable change. Activities will include making beeswax wraps (one per child) with the opportunity to extend this across the school and to even create a brand: 'Wilson Wax Wraps'.