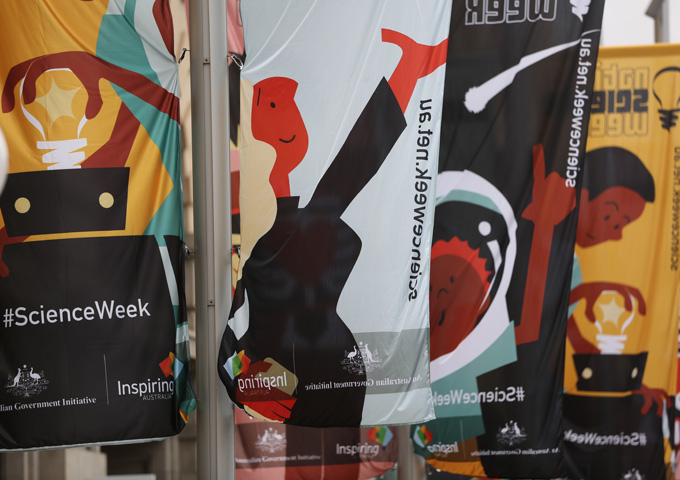 Congratulations to all of the successful projects in our $500,000 grant round for 2015. For more information see the media release from Minister for Industry and Science Ian Macfarlane.
AUSTRALIAN CAPITAL TERRITORY
National Science Week on ScienceAlert
National Science Week online – engaging with Science Alert's huge audience through video, images, articles, polls, livestream and more.
Is This how You Feel?
Letters written by Australia's leading climate scientists will be shown in a Melbourne based exhibition as part of National Science Week. The exhibition is designed to provide a new avenue through which people can connect to climate change, it uses emotion to reach the apathetic and disengaged public.
The Little Scientists Puppet Show
This program of science themed puppet shows will visit seven libraries in the ACT and one in NSW (Queanbeyan; three shows), as well as Science in Action (a large ACT science week event; two shows) – 12 shows in total. Each 40 minute show will be followed by free exploration and 'make-and-take' science activities.
The League of Remarkable Women in Australian Science
Sharing the amazing stories of 40 highly successful female scientists who have followed their passions, despite the hurdles they faced along the way. This exhibition will provide the general public with role models, to draw their attention to what it means to be a woman in science. It will also give positive examples to the next generation of female researchers, making them realize that they can succeed in science, that girls are just good at science as boys.
The Sound of Light
'Sound of the Aurora' will be result of a trip to see the Aurora Borealis by composer Michael Sollis and astronomer Fred Watson. The piece will be performed as part of a concert-lecture at Belconnen Arts Centre in Canberra as part of National Science Week. It will also include other works relating to astronomy written for mandolin orchestra by Estonian composer and astronomer Urmas Sisask.
Aboriginal Science in Wiradjuri Country
Presenting Aboriginal science through exhibits and talks, including to early learning and childcare centres and families in a number of venues libraries, cultural centres, early learning centres and potentially shopping centres.
Can Science Save Humanity?
This event targets a wide audience concerned about global issues. It aims to present not just the scale of the problem, but a sense of what can be done, and why science is necessary. It will comprise a debate with six prominent speakers with high public profile, engaging style, and proven credentials. Following the debate, the audience will be invited to participate, with questions to the panellists.
NEW SOUTH WALES
The Indigenous Science Experience @ Redfern
An exciting celebration of Western and Indigenous Science, The Indigenous Science Experience @ Redfern provides a unique experience of science that highlights Aboriginal culture and traditions. Run by the National Indigenous Science Education Program team, and hosted at the Redfern Community Centre, this initiative builds on the momentum drawn from three previous and highly successful events. The 2015 program will be run over four days and includes school excursion days for local primary and secondary students, an Indigenous Astronomy Night and ends in an exciting Family Science Festival. Open to the public, the festival includes local vendor market stalls, face painting and musical performances as well as interactive workshops and presentations, many of which will be exhibited by Indigenous Elders, youth or community members.
Under Sea Survivor
A series of events which examine the fascinating question – What does it take to live, work and survive underwater? The event will uncover the science behind how humans could exist in underwater environments. The program of events feature internationally acclaimed star of STEM education, Lloyd Godson, an avid science communicator, adventurer and aquanaut who is currently creating the ultimate underwater headquarters, building a home that can withstand the toughest underwater conditions. Highlights of the program include a public forum and webcast, a family themed program for children aged between 5 -12, a mini mariners program for the under 5's, a school's virtual excursion program and an event designed specifically for young adults which will be held in the museum's new Warships Pavilion.
Sapphire Coast Science Festival
A week-long celebration of science which will deliver high-profile science engagement activities for the entire community to participate in. The program of events aim to highlight the impact that science has on people's lives and the world in which they live. Events include talks, demonstrations and activities which illustrate a variety of fascinating areas of science that will aim to appeal to all, but particularly those who may be not currently engaged in science. Highlights include "The Wonders of Wallagoot"– a focus on the science of estuaries, a visiting insect and invertebrate specialist, Indigenous astronomy events, and a Science in film night
Science Fair on the Border
An exciting Science Fair for residents in Albury, Wodonga and surrounding regional areas. Distinguished key note speaker Dr Ian Frazer will deliver a series of presentations throughout the festival. A portable imax theatre will feature to inspire the community through astronomy based presentations and a student outreach program that promotes and encourages young people to pursue careers in science will also feature.
The Australian Museum Science Festival
The project is a three week celebration of National Science Week and the Australian Museum's contribution to science. The Museum will invite scientific institutions from around NSW and Australia to share their own research and knowledge to all attendees. They will facilitate this through a series of workshops, talks, shows and an expo that will increase the participants' awareness of science and their own abilities and potential to pursue a career in science and/or general knowledge of the benefits of science in society.
Sydney Science Festival 2015
A city-wide showcase of rich and personally meaningful science activity drawing on the strength and diversity of key science stakeholders, a partnership program will focus on fostering a scientifically engaged Sydney society. The festival will offer a diverse range of events which are easily accessible for various audiences – peaking the scientific interests of those currently indifferent and further engaging those who were previously only interested.
Spotlight on Science
An exciting program of events put together by the Riverina Science Hub. The programme has been developed to appeal to a diverse cross section of the community, and will be conducted in a variety of venues and times to ensure accessibility. Key events include a Microscopic Digital Projection Exhibition which will project science related microscopic images two stories high each evening of Science Week on the side of the Civic Centre, a science story time event for pre-schoolers and family friendly Sky Gazing events.
Neural Knitworks – Craft a healthy brain
An innovative community art–science engagement project that invited participants to 'knit, craft, wrap, or knot' a neuron, at the same time engaging with brain health messages. The project is based on the principle that yarn craft, with its mental challenges, social connection and mindfulness is good for the brain. Participants will be invited to create their own event and contribute to a giant virtual neural network with concurrent events across Australia during Science Week. The activity will be facilitated by providing downloadable patterns, podcasts, event poster templates allowing a wide audience to be reached.
Arts vs Science Festival
The 2015 Northern Rivers "Arts vs Science" Festival will engage the whole of the Northern Rivers NSW community in conversations, workshops and activities in celebration of the art science nexus. The festival will explore the role of arts & science in understanding & managing our natural world for a sustainable future. The Festival includes panel discussions, live science shows, interactive science/art workshops and a science art competition.
Science Under the Sea
Promoting greater awareness of the marine environment and scientific processes during National Science Week through a series of hands-on activities, displays and presentations to the general public. The Science under the Sea event will be held over three days at two major shopping areas in Coffs Harbour and at Southern Cross University's National Marine Science Centre.
Science Week on ABC3
Well known science ambassador, Ruben Meerman aka the Surfing Scientist will join the ABC3 presenters on set and online to perform fascinating science demonstrations, raise awareness of National Science Week and encourage viewers around the nation to participate in their local science week activities. The segments will air in the morning and evening of every weekday during National Science Week.
The Newcastle Time Walk
Several geologists will lead the general public on a slow-paced 6 km walk along Newcastle foreshore, from Merewether to Nobbys Head and will discuss the numerous spectacular geological features. Participants will be encouraged to make their own observations, with the geologists helping them interpret how the environment has changed over the past 300 million years. The trip will give participants a chance to be a field geologist for a day.
NORTHERN TERRITORY
desertSMART EcoFair
The desertSMART EcoFair is Central Australia's premier sustainability and science event connecting thousands of people to science and sustainability in Alice Springs since 2009. The EcoFair is a 3-day sustainable living festival which connects science to the realities of living sustainably in the arid lands. In 2015, the EcoFair will build on previous events to combine all elements of desertSMART –exploring options for energy, water, waste, food, transport and planning in the arid lands; connecting with the international year of soil and light.
HealthLAB
The Menzies HealthLAB is an innovation relating to lifestyle disease prevention. It will help raise awareness of health and lifestyle choices through an exciting educational experience using modern technology in a health laboratory. A 'meet the scientist/doctor' session incorporated into the HealthLAB will give participants an opportunity to engage with local scientists and doctors. During 2015 National Science Week the program will be staged in Darwin and remote Indigenous communities, Alice Springs and the Tiwi Islands.
Science in the Field
The Northern Australia Hub of the National Environmental Science Programme brings together approximately 80 scientists to improve land and water management science in Northern Australia. The project will produce a series of short films (3-4 mins in length) that highlight the stories of these researchers in the field. The aim of the project is to promote the value of the science being undertaken, and the importance of partnerships with local people. The films will be shown prior to feature films at Darwin's Deck Chair Cinema during Science Week. The films will also be utilised at other Science Week events, and be viewed online.
QUEENSLAND
Explosive Science @ Brisbane Ekka
This project will inspire the Queensland public by bringing the EKKA to life using a range of interactive activities, public seminars and community workshops to demonstrate the relevance of science to everyday life. By purchasing space at the Royal Queensland Show, we will make quality science available to hundreds of thousands of keen attendees
DANsciencCE Festival
The 2015 DANscienCE Festival is a curated series of events over three days that will bring together national and international scientists, artists, researchers, educators, and the general public to further explore, understand, and celebrate the synergies between these two fields of creativity. Participants will be able to engage in panel discussions, present papers, observe demonstrations, watch performances, and actively participate in experiential activities.
Gold Coast Science & Tech Fair
Gold Coast Science & Tech Fair is the Gold Coast's annual celebration of science and technology, providing a fun, interactive, inspiring community event that showcases education, industry and innovations within the science & technology sector, and promotes our city's ongoing commitment to increasing STEM education. It provides local education providers, industry representatives, industry leaders and innovators alike the opportunity to feature their organisation, projects and technology applications.
Citizen Science: Connecting Catchments to Coral
This project aims to raise the profile of citizen science on the Great Barrier Reef by engaging with diverse communities. It will focus on the importance of connectivity, both in a broad sense by strengthening community connectedness to the Reef and the threats it faces, and more specifically by raising awareness of the connectivity between our terrestrial and marine environments. A festival of citizen science events will be hosted along the Queensland coast, linking catchment inputs and waterway health, through to seagrass and mangrove ecosystems, through to coral reefs.
National Science Week at the Tanks
This project features Science Express, an event for young people, a PechaKucha Night and Café Scientifique themed on Science, Art & Comedy. A series of events will bring together scientists, artists and the general public, young and old, to explore and celebrate science in the tropics.
Faith Creates
A series of workshops provided by university, industry, community and school to bring the community in and experience the joy and wonder of 'making, creating, innovating' at a three day maker event hosted by Faith Lutheran College in the Lockyer Valley.
Living Science at Eagle Farm Markets
Takes science out of the lab and brings it to the local community. With themes of sustainability, new technology, food security and health, the event engages the community with relevant science in a market setting. By hosting a range of hands-on activities, cooking demonstrations and presentations from science education staff and current researchers, Living Science targets a number of audiences including school-aged children and their parents.
SOUTH AUSTRALIA
Spotlight on Science
The South Australian Museum will offer a range of programs that provide greater access to the collections and expert Museum staff. The two key components of this program include Unweaving the Rainbow, a musical museum performance for family audiences about Sir Issac Newtown and Science After Dark, an entertaining after hours event for 18-35 year olds
SciWorld Sunday in Renmark
SciWorld Sunday in Renmark will bring interactive science to a regional town. This will be a hands-on science fair from 10am until 3pm on the day and will include science shows, Stardomes, interactive exhibits, robotics workshops, maths puzzles, electric circuit kits and a science shop. There will also be a range of additional education service providers involved including UniSA, Fab Lab and Bugs n Slugs as well as local industry, community group and Council involvement.
Kids Navigate Neuroscience
The goal of this event is to show children in the South Australian community that neuroscience is accessible and, more importantly, fun. In a twist on the traditional science fair, we will actively engage students (aged ~6-11) while they explore how the brain and nervous system work. This event is designed to encourage students to enter into tertiary education in science or health sciences. As such, it aligns perfectly with the STEM Skills Strategy, allowing students to explore the amazing world of science and to increase participation in science training.
Pop-up Science at AFL Matches
Positioning a science cart with two Heaps Good Productions science communication presenters outside Adelaide Oval for five AFL matches during August 2015. The science demonstrations would alternate between those based on chemistry and those based on physics and would occasionally be LOUD and MESSY. The aim would be to engage with as many football fans as possible over the two hours.
Light Up the Darkness – Let's talk caves, calcite and fossils
During National Science Week Kelly Hill Caves will have an Open Day where guiding staff and visiting scientists will be on hand to provide demonstrations and talks on caves, calcite and fossils. During this day visitors will have the opportunity to get hands on with fossils as there will be fossil sieving, sorting and identification activity stations. The Open Day will be available to local school children and the general public.
TASMANIA
Science Open Season
The program will showcase the Museum's collections scientists to explore the world of light, including a northern Tasmania launch event, the effect of light on museum artifacts, a photographic exhibition and competition, architectural projections, an industry breakfast event and exploring bioluminescence.
Young Tassie Scientists
The Young Tassie Scientists are widely profiled ambassadors for science during National Science Week. They travel to regional communities around Tasmania to share their science stories, their career pathways and their current research at locally-supported events, such as community science expos, open days, Brain Break activities at local libraries, and school visits. The Young Tassie Scientists program involves early career researchers who are passionate about their work and who have the ability to connect with a range of audiences.
Shining the Light on Science
A cluster of free community and school events that will enlighten and illuminate the general public, school students and parents of Southern Tasmania. The events will take place over National Science Week, starting with an official launch at Government House and ending with a celebratory luncheon at the Premier's Office.
Dunalley 2015 Community Science Expo
The Expo will be an all-inclusive event open to all members of the Dunalley and broader Tasmanian community, and to all age groups from toddlers to great grandparents and everyone in between. The Expo aims to engage and excite everyone in the broad field of science, with a particular focus on scientific research in our own local community.
Feeling the Effects of the East Australian Current
Presentation and discussion by a physical oceanographer, a biologist and an atmospheric scientist on impacts of the East Australian Current on Tasmania. A45-minute panel Q&A will allow audience members interested in the sciences to engage with the speakers. Events to be held in both Hobart and Launceston.
VICTORIA
Living Science at the Queen Vic Market
Takes science out of the laboratory and brings it to the local community with relevant science links. With themes of sustainability, new technology, food security and health, the event engages the community with science in a market setting. Presenting science in this non-traditional-science setting may target a new audience not looking for science engagement or National Science Week events. Hosting a range of hands-on activities, cooking demonstrations and presentations from science education staff and current researchers.
What's the Matter!
An educational theatre performance that celebrates National Science Week and the 2015 Schools Theme 'Making waves – the science of light', while marking 100 years since Albert Einstein documented his famous Theory of General Relativity. Audiences will take a journey to understand how gravitational waves in space and time is affected by the presence of matter. Free public performances in Melbourne, Sydney, Canberra, Brisbane, Adelaide and Perth.
Marine Life Exposed – Under the lens at Ricketts
An engaging nine days of marine science events and activities at Ricketts Point marine sanctuary for over 1300 participants. Family groups, adults and school groups will be engaged through a showcase of the marine life studies, science and research that underpins management of the marine sanctuary such as habitat mapping, fish, algae and marine pest species monitoring and recording. Hands-on activities will engage family groups and adults in rockpool, birdlife and marine life recordings that the Marine Care volunteer group undertake using Parks Victoria Sea Search monitoring protocols.
National Science Week Energized Fashion
Fashion Runway aims to showcase and inform the general public of the significance of programmable wearable technologies. The Fashion Runway will be featuring applications of wearable technology in a number of domains including fashion, communications, entertainment and infotainment, medical and healthcare, occupational health and safety, high visibility apparel, sports and other fields where physiological sensors, wearables and smart clothing is significant.
Astronomy and Light Festival
Showcasing astronomy and light in current research, industry and communities in Victoria. The festival will target the public, particularly in the North-Western growth belt. It will include talks by local leading researchers, hands-on demonstrations, telescope observing, planetarium and light room shows, displays by research and industry leaders, incorporating stakeholders from universities, amateur astronomers, professional optical and astronomy groups, Museum Victoria, schools, Telescopes in Schools and industry groups.
What is a good life for the planet, cities and individuals?
Exploring the interaction between science, religion and culture in Australia. In a culture saturated with science and technology there is a widespread view of an inherent conflict between science and religion. We aim to promote a constructive relationship between science and religion, relevant to people seeking to form a robust world view that informs their living.
Pocket astrophysics for pocket-sized towns
Introducing astronomy to a rural and regional area, to highlight how this science allows us to pose some of the larger questions about humanity, to show how narrative story-telling can be used in science and to describe and showcase a career in science. The project will include an online competition and school activities as well as public presentations in Chewton, Castlemaine and Bendigo.
Discovery After Dark
An adults-only evening event at the Discovery Centre. The Discovery Centre's exhibit floor, Vertical Slide and Planetarium will be open exclusively for an adult audience, with additional activities to entice visitors. The night will feature a performance from Ashley Barnett 'Appearance vs Reality: The Science and Psychology of Magic'. Ashley has successfully performed the show at the Melbourne Magic Festival. A partnership with Museum Victoria's Outreach Program will see taxidermied animals and a Museum Victoria demonstrator present on the night.
Sunday Science Spectacular
A fun day of learning in the laneways of Melbourne. We will have short, informal classes (75 minutes each) about quirky topics in science, as well as stalls, exhibits, and other opportunities to get involved. We will engage scientists and science enthusiasts from our community of teachers and students to be part of it.
WESTERN AUSTRALIA
Gingin Science Festival
The first annual Gingin Science Festival which will celebrate the International Year of Light, the Centenary of Einstein's Theory of Gravity (General Relativity) and the science behind numerous regional and rural industries from ground water management to intensive agriculture and gravity separation of minerals. The festival will be operated by a community based Gingin Science Festival Committee led by the Gravity Discovery Centre and the Shire of Gingin.
Goodness Sustainability & Innovation Festival
The Goodness Festival 2015 will showcase and celebrate innovation and achievement towards sustainability in the Mid West. Its purpose is to inspire and engage more than 3000 people in science-related engagement activities through a week-long festival around a central Hub. The Hub will be both geographical (in the Geraldton CBD) and virtual (a website featuring videos, webcasts and social media), with tours, talks and events extending out on various themes e.g. natural sciences, astronomy, health, engineering, energy, sustainability and social innovation.
Helena Payload for Oxygen & Art on Mars
The Helena payload is a scientific payload being developed for Mars One's 2018 Mars lander by the University of Western Australia, and supported by a diverse range of Australian education & aerospace industry partners. Helena will be the first example of a life-support technology on the surface of Mars and a precursor to the arrival of the Mars One colonists in 2025. The team will run outreach events in Perth, Brisbane, Sydney & Melbourne; visiting schools during the day and running general public science outreach events in the evenings.
Cleaning Chemistry
A series of three hands on workshops, interactive experiments at two major National Science Week events and the distribution of 1500 science showbags, Cleaning Chemistry will bring National Science Week into the kitchens, bathrooms and bedrooms of the people of Perth. Targeted specifically at people who think science is not relevant to them, this initiative will engage people interested in home hygiene and will also have broad appeal as learning more about cleaning chemistry can help people save money.
Red Earth Night Sky Astro Fair
This astronomy festival will be an engaging celebration of astronomical science. As well as optical and radio telescopes observing throughout the day and night, Astro-Fair will feature a myriad of interesting, engaging and exciting indoor and outdoor activities for the whole community. The community will be invited to participate in viewing the Pilbara night sky under the guidance of expert as well as local/amateur astronomers.
Community Science Expo – Patterns in science
Patterns in Science will be the exploratory theme for the Community Science Expo at the Canning River Eco Education. This one day event aims to ignite curiosity about the wonders of patterns in all different aspects of our lives including patterns found in nature, climate, the seasons, animal behaviour, sounds and in movement. Interactive and innovative activities will inspire people to look more closely at the relevance of science in their daily lives.